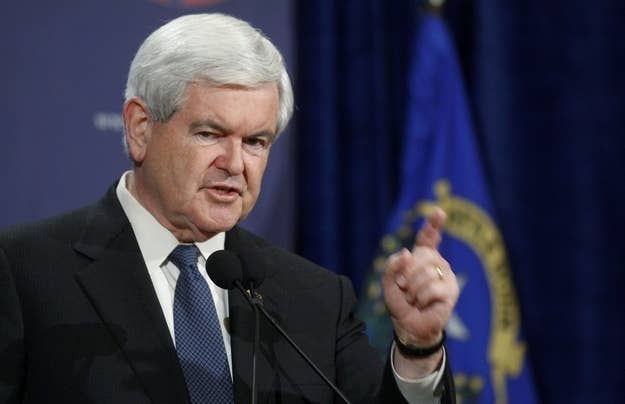 In a press conference after his loss in the Nevada primary, Newt Gingrich made clear that his new strategy — coming off a series of defeats and facing a bleak February — is no strategy at all.
Gingrich offered no fewer than a dozen proposals, messages, or plans in an angry, rambling, 20-minute press conference, pledging to stay in the race through the Republican Convention this summer, and accusing Mitt Romney of leaking rumors that he'd quit the race.
Gingrich promised that by the Texas primary on April 3, he will have achieved "relative parity" with front-runner Mitt Romney, but few indications of how he intends to survive that far.
Moments after admitting that Rep. Ron Paul has a built-in advantage in caucus states, Gingrich said he's looking to compete in Maine, which has two-week-long voting process.
Gingrich brushed reports that he will return to a positive campaign lashing out wildly at Romney as a "George Soros-backed candidate." He also called Romney a liar, and accused the former Massachusetts governor of unspecified "voter suppression" in Florida.
Still smarting from his loss in the last two debates, Gingrich became Professor Newt, offering his professional assessment that it is "weird" that the Romney campaign fired his well-regarded debate coach, Brett O'Donnell.
When asked about his defeat last week in Florida, Gingrich refused to answer the question, saying, "I'm not going to defend the outcome of a state where I was outspent five to one." The response did little to assuage concerns that his campaign is running short on money — just as he will be forced to contest several states simultaneously.
Gingrich said of his strategy in the coming states: "We're going to be all over the place again and again and again." Perhaps that best describes Gingrich's inability to find a coherent message — and why he's unlikely to see another upswell of support.