Marco Rubio Is Underwater
"Never get involved in politics if you have to win an election to pay a mortgage," dad told Mitt. Rubio has two mortgages, a home equity loan, and a student loan.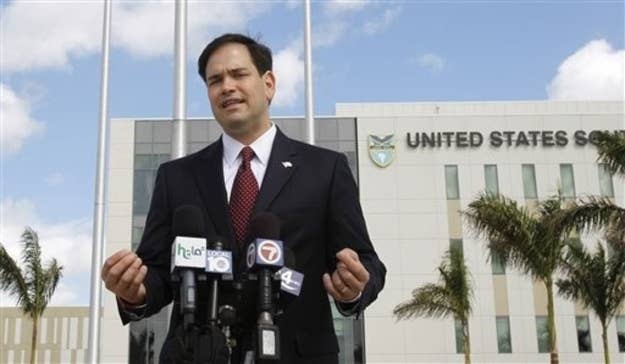 Marco Rubio is underwater.
The junior senator from the state that is ground zero for the housing crisis – and an oft-mentioned likely Vice Presidential nominee – is also deep in debt, with two homes on which he owes more than the value of the house, an aide confirmed.
On top of his two mortgages, Rubio, who makes $174,000 as a Senator, is paying off a home equity loan and a student loan. It's an unusual position in a legislative body that has become often known as a "millionaires club," and has left him subject to suggestions in the Florida press that he's mixed politics with his personal finances.
It also, his aides say, puts him in touch with the struggles of average Americans who find their cast of ultra-wealthy politicians a bit hard to take.
"He's seen them first hand — he's right in it," Rubio spokesman Alex Conant told BuzzFeed. "Houses on his block have been foreclosed on, bringing down his own home value."
Rubio has even faced foreclosure. In June 2010 Deutsche Bank filed to foreclose on the home co-owned by Rubio and Rep. David Rivera after they failed to make payments for five months. They provided the bank's attorney with a check for the delinquent payments the day after the foreclosure notice, with the delay termed a "misunderstanding" between the men.
(Rivera is the subject of a federal investigation into payments from a Florida dog track and casino, masked as consulting fees paid by the U.S. Agency for International Development.)
According to his 2010 Senate financial disclosure — the latest one available — Rubio owns stock in just one company — the South Florida-based telecommunications company Terremark.
He's also among the poorest members the Senate — worth between -$75,987 and $834,998 according to his Senate disclosure, but likely on the lower side as Florida home prices remain depressed.
Earlier today Reuters published a story arguing that Rubio's financial difficulties made him an unlikely choice to serve as a running-mate with the eventual Republican nominee, but on the contrary, many view his real-world upbringing and finances as a move to balance Mitt Romney's extraordinary wealth on the GOP ticket. (Reuters subsequently corrected the story several times.)
"His background is something most voters would find familiar," Conant said.
Rubio also pays private school tuition for his four children.
Questions about money have at times spilled into his public life.
In 2007, Rubio sold his then-home in Miami to the mother of a chiropractor lobbying him on a legislative matter. The issue was raised by Gov. Charlie Crist in the heated 2010 race, though the fact-checking site PolitiFact said there was no evidence of pay-for-play, just a perception issue.
The likely nominee, Mitt Romney, has suggested that people who are subject to that kind of influence should stay out of public office.
Romney said in a debate earlier this month that his father, American Motors CEO and Michigan Gov. George Romney, told him "never get involved in politics if you have to win an election to pay a mortgage."
"If you find yourself in a position when you can serve, why you ought to have a responsibility to do so if you think you can make a difference," Romney added, quoting his father.
Update: Previous version listed George Romney as former CEO of GM.