Like Romney, Bain Had An Illegal Immigrant Problem
And like Romney, the issue was a contractor with a bad record. Romney aides don't comment on Waters Corp. issue.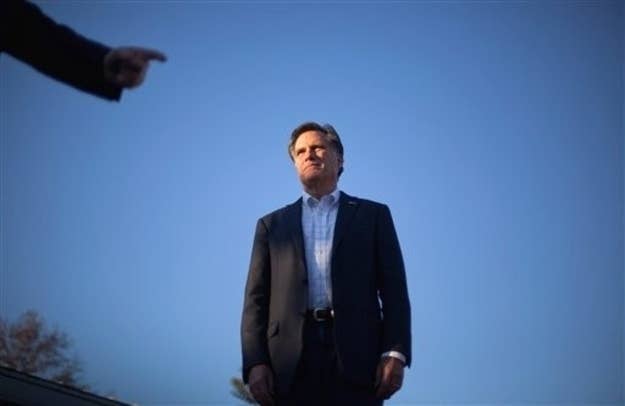 Mitt Romney has been trying for years to live down the Boston Globe reports that illegal immigrants were at work on his Boston lawn.
But Romney's business career also included a notable encounter with the wrong side of immigration law.
The incident took place in the late 1990s, when Romney was at the helm of the private equity firm Bain Capital. It's a similarly arms-length story that parallels Romney's personal issue, in which he said he didn't know a lawn-care contractor employed undocumented workers.
In 1998, Bain owned Waters Corps., a chemical screening equipment manufacturer, which used Providence-based Aid-Maintenance Co. to provide janitorial services at its facility in Massachusetts.
But Aid-Maintenance had a long history of hiring illegal immigrants — and getting caught doing so. In 1992 immigration officials arrested 17 janitors working for the company, the Providence Journal-Bulletin reported at the time. The following year the company's president was fined $134,500.
In 1998, when the company was doing work for the Bain-owned company, an audit found over 500 social security number irregularities, the paper reported. Additionally, it found that many of the company's 474 workers were paid less than minimum wage.
Waters Corp. did not immediately cut ties to the company as two other major clients did. Aid-Maintenance denied the allegations at the time.
While it is unknown whether the issue ever rose to Romney atop Bain Capital, it does raise questions about controls at the company and its subsidiaries. Romney has been among the most hawkish on immigration issues in this campaign, criticizing Texas Gov. Rick Perry for offering in state tuition rates to illegal immigrants.
In South Carolina, Gov. Nikki Haley pledged that Romney would fight for laws like the one blocked by a federal court last month requiring police officers to check the immigration status of anyone they arrest for something else and suspect is in the country illegally.
Both companies and the Romney campaign did not respond to requests for comment.