Immigration Advocates Split On Whether Border Security Measures Should Come First
The enforcement "trigger" is a key point of debate in the push for reform.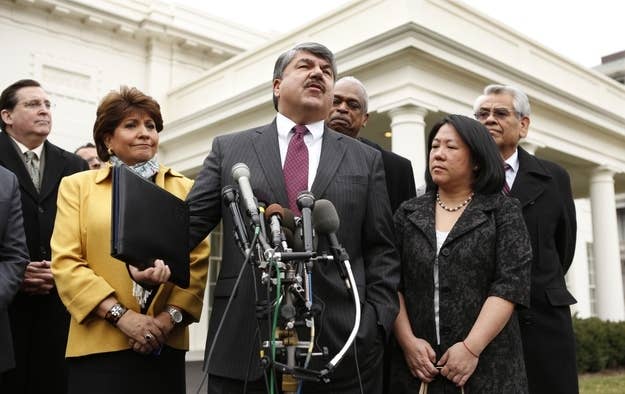 WASHINGTON — Advocates of immigration reform were split following a meeting with President Barack Obama on proposed "triggers" to hinge immigration reform on securing the border.
"We were very clear with the president that what we are demanding is a road to citizenship that is clear, that is direct, and that is not contingent at all on additional enforcement — whether it's border security or additional types of enforcement," said Marielena Hincapié, the executive director of the National Immigration Law Center, when asked about the Senate proposal to do just that.
But other advocates told reporters following the meeting that they agreed with the president that there must be a clear path to citizenship, and that enforcement triggers aren't necessarily deal breakers.
"It can't be a contingent, conditional path to citizenship — it's got to be clear at the outset," said Marshall Fitz of the Center for American Progress, adding that defined enforcement efforts could be okay.
"It may be that there is a push for say 1,000 more border patrol and have five more UAVs — something along those lines," he added. "Would that be a deal-breaker? Absolutely not. But if it was a future Secretary of Homeland Security has to certify that the border is under control — who knows what the border is going to look like in 10 years...that's the kind of vagueness that we're all opposed to."
White House officials point to the lack of definition of the Senate triggers — lawmakers haven't yet determined what it should entail — saying they won't weigh in on proposals until they see legislative language. Obama's proposal does not include any linkage between citizenship and border enforcement.
The mechanism was devised to help secure Republican votes for the bipartisan compromise — and failure to include at least something may doom the bill.
"Unless there's real enforcement triggers, we're not going to have a bill that moves on," Republican Sen. Marco Rubio said last week in an interview with radio host Rush Limbaugh.