Huntsman Exodus Begins
Some staffers have departed, others wish they could. "We're not going to quit, but we don't really want to keep going either."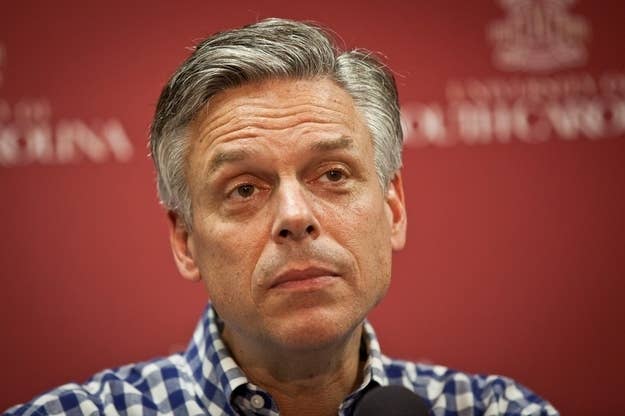 Days after his third place finish in New Hampshire, some Huntsman for President staffers have already left the campaign, while others tell BuzzFeed they wish the former Utah governor would drop out so they could join Mitt Romney's team.
One top volunteer told BuzzFeed that he was shocked Huntsman didn't drop out on Tuesday. "I was hoping he would. I don't want to be disloyal or anything, but he doesn't have a chance anymore. Once he quits, then I can go work for a winning campaign."
A current staffer echoed those sentiments, saying Huntsman should have gotten out after New Hampshire to allow those who've worked for him to find another job. "We're not going to quit, but we don't really want to keep going either."
According to one former staffer, "many New Hampshire-focused staffers are no longer with the campaign," though he said that was always the campaign's plan.
"Some of the staff dedicated to New Hampshire aren't going on to South Carolina as we have had seasoned South Carolina staff in place for months," said Tim Miller, Huntsman's press secretary.
But that was not universally true: Granite State spokesman Michael Levoff followed Huntsman down south on Wednesday.
Texas Gov. Rick Perry's staff is likewise disgruntled after he announced last week that he was staying in the race after an embarrassing finish in Iowa on Twitter, before informing his aides.
Reached en route from New Hampshire to the Palmetto State, Miller took aim at the anonymous staffers.
"It's unfortunate that an anonymous person would want to undermine Gov. Huntsman's efforts when we have so many dedicated staff and volunteers who are working hard to ensure Gov. Huntsman beats expectations once again," he said.
Miller added that Huntsman is opening his second South Carolina office this week, and is quickly adding volunteers in the state.