Huntsman Says He'll Fight On. Is He Delusional?
His "ticket to ride" is a ticket home.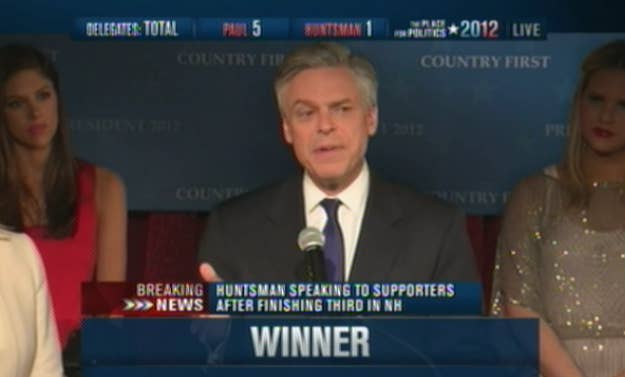 MANCHESTER, New Hampshire—Jon Huntsman declared victory here after his third-place finish in the New Hampshire primary, saying he will continue his campaign in South Carolina.
"I say third place is a ticket to ride, ladies and gentlemen," he said moments after entering the emptying restaurant here to U2's "Beautiful Day. "Hello, South Carolina," he added.
Despite the upbeat song and the confetti — yes, there was confetti — Huntsman's path forward is non-existent.
Here's the reality: Huntsman is out of money after a last-ditch advertising push in the Granite State, and his father is unlikely to continue pumping money into his Super PAC after the disappointing finish.
Huntsman is polling in last place in Florida and New Hampshire — and had only a barebones operation in the two states.
In short, he's not going anywhere but home.
Asked by BuzzFeed whether Huntsman will continue his schedule in South Carolina, spokesman Tim Miller said he was.
"It's going to be a long race," Miller said. "We have a ton of momentum coming out of this state. We are hottest candidate in the field. As long as we can continue to show movement and show progress, we'll stay in the race."
And Huntsman can have tonight — he did rise from single digits a week ago to 17 percent — but he has no path to the nomination after his loss here. He's just postponing the inevitable.