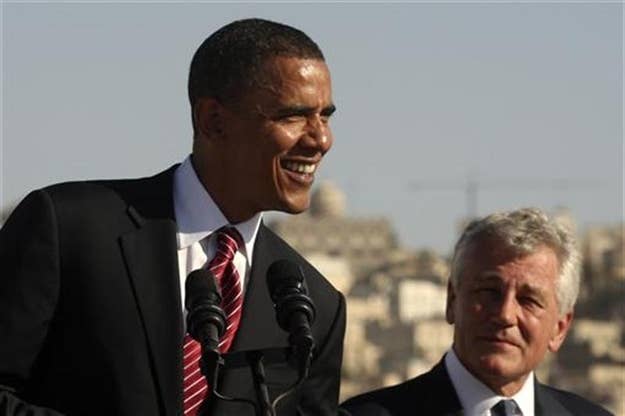 WASHINGTON — As president Barack Obama gears up for a heated confirmation fight in coming weeks over his nominee for Secretary of Defense, Chuck Hagel, the White House has drawn up a battle plan designed to placate Republicans anxious to defend Israel, and win over Democratic critics by ensuring that he'll "right-size" the military.
The plan, according to administration officials, is to cast Hagel as a war veteran, a Republican who still shares ideals with a party that has largely shunned him, and — above all else — someone who won't set official U.S. policy.
The strategy is only now surfacing, after the White House spent weeks largely declining to defend Hagel against mounting bipartisan criticism against the rumored nominee. Aside from a token statement of defense from press secretary Jay Carney and a couple brief sentences from Obama on Meet the Press last Sunday, the White House was radio silent when it came to Hagel.
Now, however, the administration is readying for a fight.
"What we learned from Susan [Rice's failed bid for Secretary of State] is that nobody is going to put political skin in the game before a nominee is announced," one administration official told BuzzFeed.
The White House's strategy seeks to sell Hagel as a technocrat with an impeccable record of military service whose only sin against the GOP in the Senate was his opposition to the Iraq war — a conflict that is now immensely unpopular. Once that image is articulated to the public, an administration official said, Obama will dare Republicans to vote against him.
"If the Republicans are going to look at Chuck Hagel, a decorated war hero and Republican who served two terms in the Senate, and vote no because he bucked the party line on Iraq, then they are so far in the wilderness that they'll never get out," the official said.
That sales effort started hours before Obama took to the East Room to announce his pick to head the Pentagon, with the White House Press Office pushing out a statement from Rhode Island Sen. Jack Reed supporting the nomination — all before officials would confirm it on the record.
Hagel also sat for an interview with the Lincoln Journal Star, his hometown paper, in which he said his record on Israel has been "completely distorted."
And with the official selection, Democratic critics of Hagel are getting on board. One Jewish Democratic activist who previously bemoaned the potential pick as "nearly indefensible for pro-Israel Democrats," is already changing his tune.
"I think what it says most about is that President Obama is serious about reforming the Department of Defense and making the necessary cuts," the activist said Sunday evening. "When it comes to foreign policy issues where Senator Hagel's record and President Obama's record differ — such as how to best approach Iran and it's pursuit of nuclear weapons — the President will obviously be the one setting that policy. President Obama has been crystal clear on his promise to prevent Iran from getting nuclear weapons and on his commitment to a robust defense cooperation between the US and Israel. No member of his cabinet will change that."
Heather Hurlburt, the Executive Director of the National Security Network and a Hagel supporter, hailed his nomination to BuzzFeed, striking the exact tone the White House has been trying to set.
"He's nominated someone who doesn't share all of his views, who isn't beholden to him politically, and who, as an enlisted soldier and a war hero, will have a strong independent base of popularity with men and women in uniform," she said. "It also shows awareness that strength and independence are what's needed to deal with the challenges of shaping a post-post 9/11 military; right-sizing from the post-9/11 surge in Pentagon-spending; and moving not just the Pentagon but US expectations to align with a 21st-century world where force will have to be on the table but will seldom be the best first response."
Administration officials have also been circulating talking points prepared by Hagel staffers pushing back on attacks that he isn't committed to Israel.
"He has said that Israel's identity as a Jewish state must be protected as a part of any peace deal," the official said of the administration's outreach to pro-Israel groups. "And as Secretary, he will continue to carry out President Obama's unprecedented security cooperation with Israel. And yes, at the end of the day Obama sets the policy on Israel."