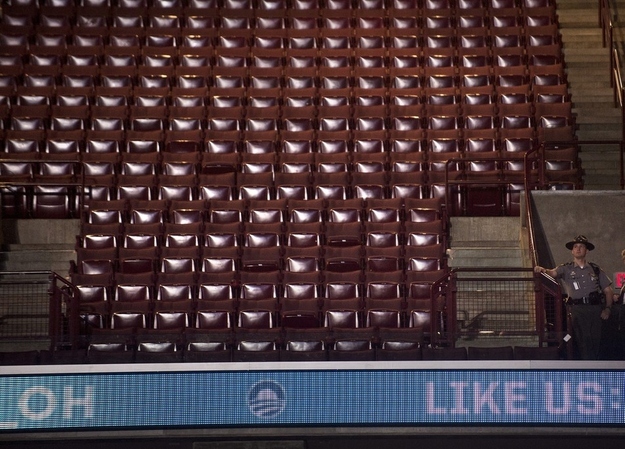 COLUMBUS, Ohio — Saturday was supposed to be President Barack Obama's day, dominated by headlines of successful campaign holding its first rally. Instead, reports prominently included references to thousands of empty seats at the president's first rally here — just as the Romney campaign wanted it.
At The Ohio State University, over 5,000 seats in the 20,000-person venue went unfilled on the upper seating deck and behind the press cameras —a sharp contrast to Obama's events in 2008, and even a 2010 event with then-Gov. Ted Strickland which drew 35,000.
ABC News had reported Saturday morning that the campaign expected "overflow" crowds at each event, crowds which never did materialize.
The New York Times quoted Obama senior adviser David Plouffe, not about the president's remarks, but about the crowd size — with reporter Mark Landler comparing the rallies to "a concert by an aging rock star."
Reporters had some help in noticing the empty seats. Romney spokespeople made it into both events, waiting in line like everyone else. They worked their way close to the press risers, ready to provide rapid response to Obama's speech.
Romney Deputy Press Secretary Ryan Williams was in the audience at the OSU rally, and tweeted a picture of the empty seats — which instantly got picked up by conservative blogs. After Obama's remarks he was swarmed by local reporters, and after giving them a standard response to the speech, he commented on the empty seats.
References to the crowd size made it into local papers and television reporters, all distracting from Obama's message.
Democrats fired back with references to "Ford Field," and Romney's infamous speech to the Detroit Economic Club and the bare football stadium.
But as the Romney campaign sees it, they had the last laugh — with Obama falling short of his own campaign's expectations.
"They spent the day defending why they couldn't sell-out the arena, not pushing their own message, so that was a big win for us," one Romney aide said.
Correction: Obama's 2010 rally was at the OSU Oval not at the Schottenstein Center where his rally was on Saturday.