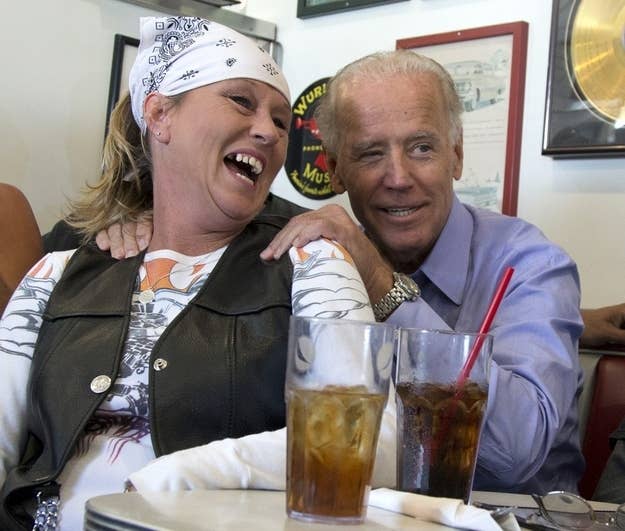 MILFORD, OH — A 6'3" giant lifted the President of the United States off the ground to celebrate Barack Obama's visit to his Florida pizza shop Sunday, and political observers thought: This is the sort of thing that happens to Joe Biden.
Constantly.
As it happened, the Vice President was 842 miles away, in the midst of his own bizarre and viral moment: An Associated Press photographer caught him in a biker bar, hands massaging the shoulders of female member of the Shadowmen MC, a local biker club, who appeared to be sitting — where else — but on Biden's lap.
"Never know who you might run into when you are out riding around," the bikers captioned their version of the immediately ubiquitous photo.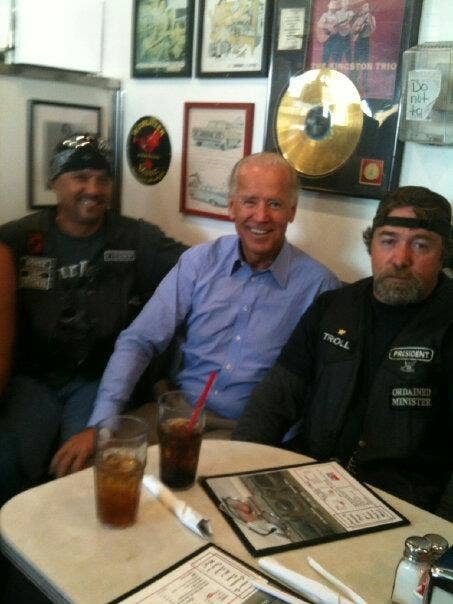 In this late stage of his difficult and hard-fought re-election campaign, President Barack Obama has been Biden'd. Before his pizza flight, Obama had taken a beer tour across Iowa and felt the spiked-up died-blue hair of a boy in Oak Harbor, Ohio, seeking connection through authentic and somewhat odd moments preserved and spread virally not in slick television ads or fawning press accounts, but in off-kilter images from onlookers' mobile phones.
There's a reason for this new looseness: Call it the "More Human Than Mitt" campaign. But Obama's posture also reflects a recognition that the YouTube era of 2008 — in which any small slip would explode into a centralized public conversation — has been replaced by a goofier new atmosphere, in which moments of surprise and emotional connection can resonate through the culture at astounding speed, leaving aides and critics alike flabbergasted.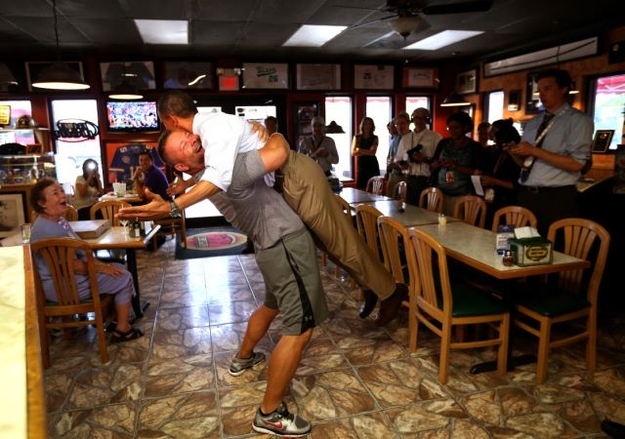 This staged social authenticity is a new form of political propaganda, but its rise has come just in time for the Obama Administration's eminence grise. This is a Vice President so gaffe-prone that out-of-line statements are no longer even news, generating what critics have called a "Biden Pass;" but also a figure so gifted and obsessed with the emotional connection that he once said he couldn't stop talking until he had persuaded every single person in a crowded room of the justice of his cause.
Democratic attacks on Mitt Romney's running mate, Rep. Paul Ryan, produced a wave of tit-for-tat Republican attacks on Biden last month, and even a television ad portraying him as voters' "drunk uncle" (he is a teatotaller) and unready to lead if called upon. They appear to have had no effect: Biden's approval ratings, never sky high, ticked up slightly, to 44%, in a USA Today/Gallup poll taken in late August. Biden is still at times a liability: His mistimed support for marriage equality and a racially-charged comment about "chains" both put the Administration on the defensive.
Biden sees his "brand," an adviser recently told New York Magazine's John Heilemann, a "saying exactly what he thinks." And Biden's reputation — part deserved, some amplified by a ubiquitous parody in the humor publication The Onion — appears to have turned the Vice President teflon. And beyond the man himself his style of politics appears to be ascendant. At least, Joe Biden, loose and garrulous as ever in Ohio this weekend, seems to think so.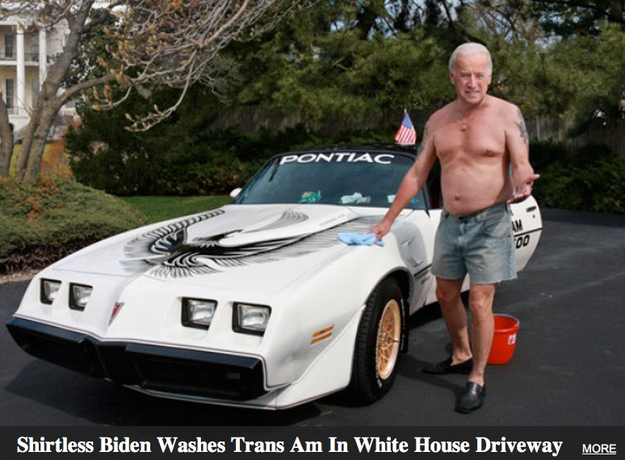 This is Joe Biden who orders girls across the country (on behalf of their fathers) not to date until they are 30. He did it no less than three times during a single stop on Saturday.
And as Biden did what most politicians do — giving the same speech four times in a two-day swing across Ohio — he also kept his staff and the press on alert.
Biden declared a Golden Retriever a Democrat by looking at the animal's face. He recalled, at length, his own football career to a group elementary school football players. And, in an image now seared in the minds of political junkies everywhere, he got very friendly with that biker.
This was all par for the Biden course. Two weeks ago at a Greek restaurant in Warren, Ohio, Biden walked up to a table and declared, "I'm Joe Bidenopoulos." Two weeks before that he complained on behalf of a high school football team that school had started before August 15th.
"That's un-American!" he joked in Danville, Virginia. "We're going to have to do something about that."
When Biden invited members of the press to his residence earlier this summer, he engaged their children in an extended water fight.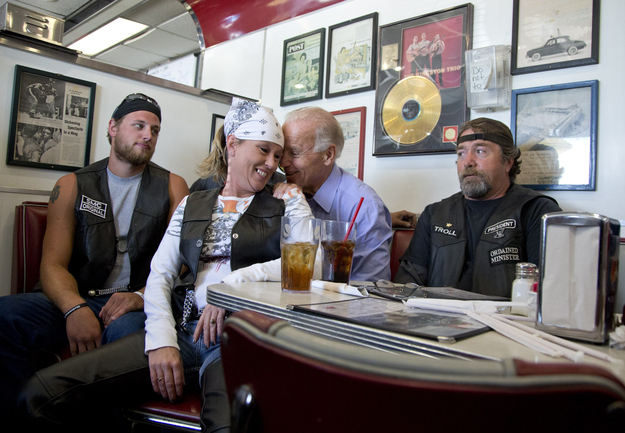 The Romney campaign, meanwhile, has mocked the Biden-isms, hoping to capitalize on the mistakes to paint him and his boss as sloppy, dimwitted, or worse. Spokesman Ryan Williams accused Obama of "channeling his inner Biden, when he declared that products would be stamped with "three proud words - Made In The USA!"
Romney aides have also taken to mocking Biden's gross misuse of the word "literally" when he often means anything but.
The Obama campaign, however, has refused to be put on defense about its goofy Vice President, who appears to be planning to make the crucial swing state of Ohio his second home for the next two months.
"The President and Vice President enjoy meeting people where they work, where they eat lunch, and even where they watch football," said Obama spokeswoman Lis Smith. "And — if the President and Vice President's stops today are any indication — the feeling is clearly mutual. Maybe if Mitt Romney and Paul Ryan did a little more of these types of events, they'd do a better job of relating to what most middle class Americans are facing."