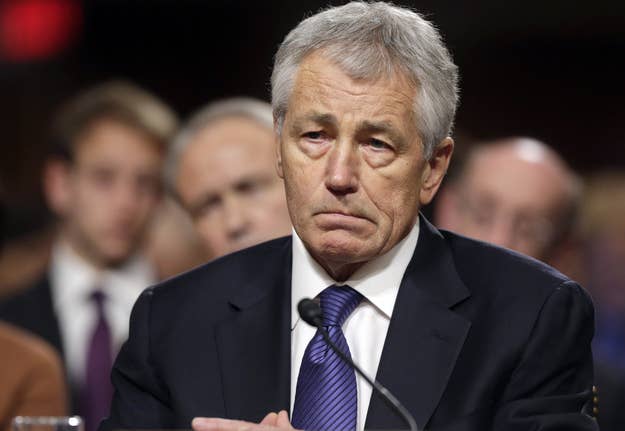 WASHINGTON — President Barack Obama's nominee for Secretary of Defense, Chuck Hagel, has informed the Senate Armed Services Committee that he will not provide foreign financial details for the corporate and nonprofit organizations he was affiliated with since he left the Senate in 2009.
Republican members of the committee asked Hagel last week for information on whether any of the organizations received funding from any foreign government, individual, or corporation — a request he declined late Tuesday in a letter citing confidentiality agreements.
"[T]he information you seek is legally controlled by the individual entities and not mine to disclose," he said, adding that he was not involved in the day-to-day operation of the organizations. "As a board-member, I have a fiduciary duty that includes the obligation to maintain the confidentiality of non-public corporate information. The information may also be subject to various other legal requirements or contractual arrangements that prohibit its disclosure."
According to a senior GOP aide close to the confirmation process, "Senators are not reacting well to this response."
"Hagel is refusing to answer any of the questions or make any effort to get them the answers," the aide said. "He is basically telling Senators they have no right to know if he has been unduly influenced by foreign governments or foreign agents over the last five years. What is he hiding? I'm told several Senators, including McCain, who have previously expressed opposition to a filibuster said privately yesterday that failure to disclose foreign funding information would change their thinking."
"Committee members have specific concerns with regard to foreign contributions to the Atlantic Council by Saad Hariri (or the Hariri family), Dinu Patriciu, Kazakhstan, Bidzina Ivanishvili (his supporters/network) – and the nexus between Chevron's investments in Kazakhstan and their involvement with Hagel at the Atlantic Council," the aide added. All of those groups have paid chairs or programs at the foundation.
The committee also requested the transcripts or recordings of any paid speeches delivered by Hagel since he left the Senate — a request Hagel also said he could not accomodate. In his letter to lawmakers, Hagel said his contracts stipulated the speeches were off the record and not to be recorded. He added that he never prepared written remarks before his speeches.
UPDATE: An official working on Senator Hagel's confirmation told BuzzFeed that "we continue to expect the Senate to move quickly to confirm Senator Hagel as our next Secretary of Defense."
Since his confirmation hearing, more Senators on both sides of the aisle have announced their support for his confirmation, including Senators Johanns, Gillibrand, Udall, Hagan, and Blumenthal. It's clear that Senator Hagel has significant support in the Senate. So with 66,000 troops serving in Afghanistan and other defense issues to deal with, it's time to move beyond these distractions and move forward with a vote on his nomination.

Senator Hagel has conducted an exhaustive search for all of his speaking engagements over the past five years, as the Committee requested. He has provided all available prepared texts and transcripts from those speeches to the Committee. There are some speeches Senator Hagel gave for which there were no prepared remarks and no transcripts. A list of those speeches has also been provided to the Committee.
UPDATE: A McCain spokesperson said the Arizona Republican has not wavered in his opposition to using the filibuster to block Hagel's confirmation.
"Senator McCain believes that Members need to have their questions answered, but his position on filibuster is unchanged," he told BuzzFeed.
The original letter to Hagel: