Gingrich Goes Negative
Former Speaker asks if Romney "can take the heat." Says the choice was to drop out or go negative.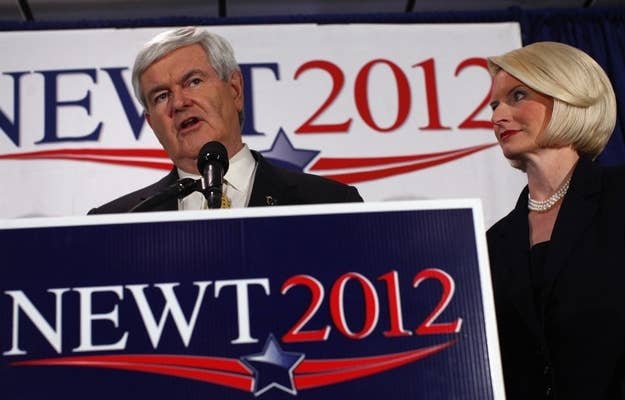 MANCHESTER, New Hampshire—Weeks after pledging to run a wholly positive campaign, former Speaker of the House Newt Gingrich is going full speed in the opposite direction.
In a brief media availability here, Gingrich told reporters it would have been impossible to continue "unilateral disarmament" without dropping out of the race, claiming that 45 percent of ads airing on television were negative attacks on him.
"I have broad shoulders and I can stand the heat. Now we will find out if [Mitt Romney] has broad shoulders or if he can stand the heat," he said.
And he continued his attacks on Romney's career in the private sector.
"You have to raise questions when somebody goes out and invests $30 million and takes out $180 million, six-to-one returns, and the company goes bankrupt," he said. "Is capitalism really about a handful of rich people to manipulate the lives of thousands of people and then walk off with the money?...I do draw a distinction between looting a company, leaving behind broken families and broken neighborhoods."
The Super PAC behind Romney, Restore Our Future, spent millions on negative ads in Iowa against Gingrich, as did Ron Paul's presidential campaign.
Gingrich maintained that he has not seen the 27 minute video that the Super PAC backing him, "Winning Our Future," plans to release in the coming days, but he said he supports billionaire Sheldon Adelson giving him the resources to compete against Romney.
Gingrich also asked his Super PAC to refrain from making any "factually incorrect" statements about his opponents, saying Romney should do the same.
His campaign also launched a new web video attacking Romney's record of raising taxes while governor of Massachusetts. (below)