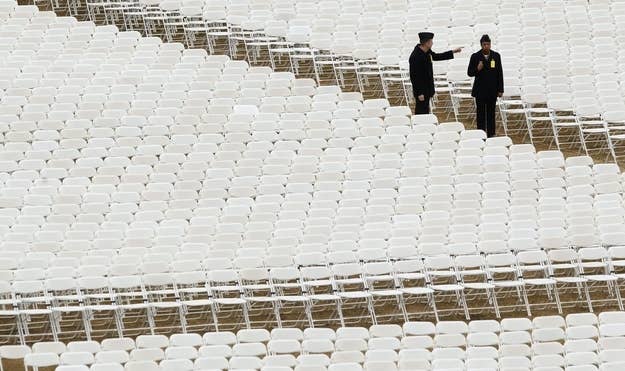 WASHINGTON — In a sour footnote to President Barack Obama's sweeping electoral victory last November, many of his campaign staffers have been shut out of the inaugural festivities, more than a dozen of them complained to BuzzFeed Monday.
"We worked our butts off, and I'm going to watch it on TV instead of being there," said one former staffer. "It's a huge bummer."
Former staffers — who spoke to BuzzFeed on the condition of anonymity to preserve their relationships, and possible jobs, in Obama's second term — say they have grown frustrated by what they see as inadequate communication from the Presidential Inaugural Committee, the group responsible for the inaugural balls, and in particular by its restrictions on access to the official events.
"I didn't hear anything from PIC until a little more than a week ago," said another staffer. "They knew this was happening. Instead of giving us details [of what we could attend] on November 7th, we found out so late that it would cost me $2,000 to go to Washington for a weekend as opposed to $1,000 or less if I booked two months ago."
More than 35,000 attendees are expected at Obama's consolidated formal Inaugural Ball Monday night, which replaces nearly a dozen separate balls. Many staffers complain that after the hard work of getting Obama re-elected they still couldn't snag tickets to the event — only a small number were made available to staffers. PIC outsourced the ticketing to Ticketmaster, whose system bungled the public distribution earlier this month.
Even the $10 entrance fee for the official staff inaugural ball on Tuesday has drawn criticism. Staffers haven't been told whether the president will attend the smaller gathering.
"That's so small it can't possibly cover the event, so why even make us pay?" asked a third former staffer. "Or worse, that is the entire cost per person which means the event will be really bare bones. The people that worked so hard, for so long, to raise a billion dollars and turn out millions of voters deserve better."
Claims that they were snubbed have consumed the conversation on the Obama campaign alumni LinkedIn group, said the first staffer.
Obama staffers were paid substantially less than Romney staffers in similar jobs in 2012, and many took pay cuts of $30,000-range from prior jobs, former staffers say. The final payday for staffers was the Friday after the election, as opposed to weeks later for the Republican campaign; health insurance was cut off in November as well.
Many remain unemployed.
A spokesperson for the inaugural committee — who would also only speak on the condition of anonymity — said the campaign is taking steps to take care of former staffers, including an "alumni week for staff and top volunteers that didn't exist after 2008 to help them navigate the jobs process and make sure they were fully included in the inaugural events."
This week former Obama staffers will be able to participate in a jobs fair with "actual employers" the spokeperson said, with those employers including the administration. Obama alumni also have the opportunity to take a tour of the White House and participate in a policy briefing.
Another spokesperson said staffers were also asked to pay for the inaugural balls in 2009.
But the sense of neglect is deep among many who worked their hearts out for the president's re-election campaign.
"They only told us who was the point-person for administration jobs last week," complained a fourth former staffer. Another said the White House tours were only being offered on the Wednesday before and after the Inauguration — long before many staffers are planning to arrive in Washington or after they depart.
"It's pretty clear that the PIC staff have no idea that anyone involved lives outside of DC," said a fifth staffer — a sentiment expressed by several.
Many staffers have also complained that tickets to the swearing-in must be collected by Saturday — a point not communicated until late in the process when many had already booked travel to arrive Sunday.
"After my hard work I'm unemployed, and that's okay," said yet another staffer. "I'm still flying to Washington because I want to see this through, but now I won't be able to see the swearing-in."
In 2009, the committee raised $54.3 million, according to FEC records. The goal for 2013, according to people close to the committee is $50 million, and Obama has relaxed self-imposed ethics rules capping private donations and barring corporate funds.
"There's been a lot of speculation about what OFA will become during the second term," said the third staffer. "If its being run in the same fashion as the PIC, that will be a real waste of the potential the President's supporters represent."
"It's sad that I put in my blood sweat and tears, and now I can't be a part of this," said West Coast-based former staffer. "It feels like staff is an afterthought and that's not what it was like during my 14 months on the campaign."
Of course, the campaign had other satisfactions.
"All I can do is remember my hug from POTUS the day after the election," the West Coast staffer said.
UPDATE: DNC Communications Director Brad Woodhouse tweeted "BS" in response to the complaints of former OFA staffers and retweeted a former OFA aide who said PIC is doing a "great job."