Former Bush Aide Wehner Joins Romney Campaign
Wehner helped shape domestic policy in the Bush years. He's also a sharp critic of Glenn Beck.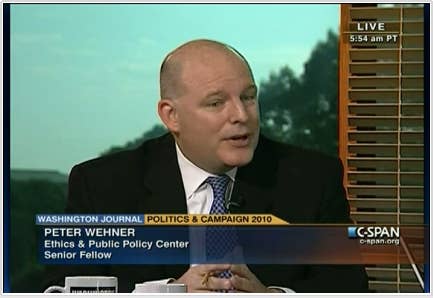 Peter Wehner, a former aide to President George W. Bush has joined the Romney campaign as a senior adviser.
"With three months left in the presidential campaign, and with all that hangs in the balance, it's right for me to jump back into the arena in this way; and in so doing, to help a team I believe in to give voice to the causes I believe in," Wehner said in an email obtained by BuzzFeed.
Wehner is best known as a conservative speechwriter and domestic policy hand, now at the conservative Ethics and Public Policy Center in Washington. But he's also been, at times, a critic of the right, and wrote a widely-circulated attack on then-Fox News host Glenn Beck in 2011 that helped marginalize beck inside the Republican Party:

Glenn Beck has become the most disturbing personality on cable television. One cannot watch him for any length of time without being struck by his affinity for conspiracies and for portraying himself as the great decoder of events. Political movements are not just wrong; they are infiltrated by a web of malevolent forces. Others see the shadows on the wall; Beck alone sees the men casting them. The danger when one paints the world in such conspiratorial terms is that it devalues the rational side of politics. It encourages a cast of mind that looks to expose enemies rather than to engage in arguments.