Forget The Expectations Game — Romney Just Needs To Kill It
"We need a clean win." The debate is Wednesday.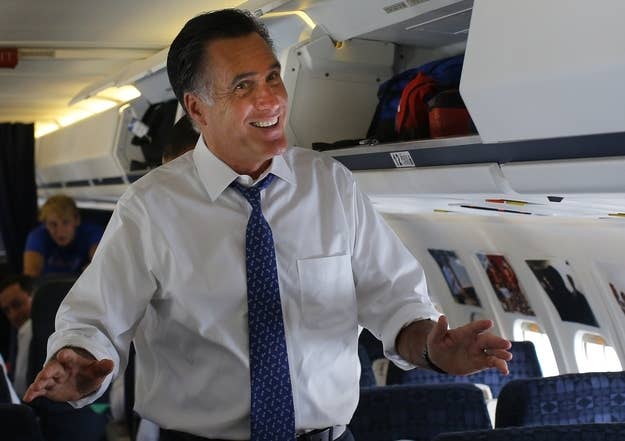 BOSTON — On the sidelines of Mitt Romney's endless debate prep, and below the radar of his half-hearted expectations game, Mitt Romney's staff says the Republican's real goal in Wednesday's debate is clear: He has to blow President Barack Obama out of the water.
Conventional wisdom says debates are won and lost by beating the media's expectations. But in the trenches of the Romney campaign, more than a dozen mid-level campaign aides made clear in conversations with BuzzFeed in recent days that the bar for victory is far higher — he has to convince any reasonable neutral observer, and even any honest supporter of his opponent, that he has better ideas and a better command of the politics and policy than the president.
"If he doesn't bring it, I'm going to be looking for a job," said one state-based Romney aide.
The Republican nominee joined advisers for no less than the twelfth time last month in Boston on Sunday for debate preparation at the Back Bay Events Center — less than 80 hours before he takes the stage in the most important moment of his political career.
Romney has not had the luxury of lowering expectations, even as Democrats frantically cast their man as a windy, testy, rusty debater. His aides have been forced to raise expectations to keep his restless Republican base, demoralized by a run of dismal polling, in the game. And his top surrogates have joined that rhetorical cause.
"This whole race is going to be turned upside down come Thursday morning," New Jersey Gov. Chris Christie predicted on CBS "Face The Nation" Sunday.
Christie's line wasn't a slip. Every Romney debate session has been advertised to the press, while Obama has conducted debate prep during "political meetings" at the Democratic National Committee or in the privacy of the White House.
The Republican nominee has carried on an extraordinarily light campaign schedule — rarely more than a single event a day, if that — the opportunity cost of a high-stakes debate.
"I understand why he hasn't been out here more," said the state-based aide, "but he has to make it worth it on Wednesday"
Romney has had no such luxury of diminishing expectations. He's had to guarantee victory in the debates to keep the money flowing in and the volunteers knocking on doors. And if he doesn't perform, mid-level Romney staffers and aides, four of whom agreed to be quoted on the condition of anonymity, say all hope is likely lost.
"After the tough few weeks we've been having, we're hoping to see something from Mitt to turn this around," said another Romney aide who is not involved in debate preparation.
Romney's predicament is not without precedent. Ronald Reagan aides knew the debates would be a pivotal moment in his campaign — the former actor taking command of the stage from President Jimmy Carter with the line "There you go again," which had the effect of neutralizing months of attacks. John Kerry's assured debate performance in 2004 was seen as giving his campaign new life against President George W. Bush, though he fell short in the end.
But in an environment of "unskewed" polling, where most voters' views of reality are skewed by their partisan leanings, combined with a Twitter-dominated media universe, it's hard to determine what exactly is a win.
Staffers hope they — and everyone else — will know it when they see it.
"It will all come down to this debate and the next one," said a third aide. "He better be ready, or it's going to be a long slog to November 6th."
"It's more than expectations at this point," the aide continued. "We need a clean win, and that's going to be hard to pull off."
And so Romney heads to Denver looking to reset the campaign, and to persuade Republicans to return to battle along side him.
"How long until the base just stays home?" worried another Boston staffer. "This might be our last shot to show we can go the distance."