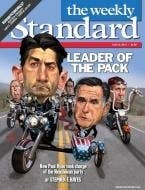 The rollout of Vice Presidential candidate Paul Ryan was, as far as the Romney campaign is concerned, pretty much perfect, save one thing: The amount of credit Weekly Standard editor Bill Kristol is getting for it.
Romney aides are, a person close to the campaign said, "miffed" at the perception that Kristol — a longtime thorn in Romney's side — could have influenced the Ryan nomination. That perception is, they have told allies, "a crock of shit."
It is also widespread.
"Once Again, Bill Kristol Gets His Way," read the Politico headline, one of many marveling at the editor, who had also pushed for the nomination of Governor Sarah Palin. The story continues:
"Bill Kristol?" Andrea Saul, the Romney campaign press secretary asked POLITICO, sarcastically, in response to a request for comment. She declined to say anything more.

Kristol is close to Ryan, and tells POLITICO that he "began to entertain the idea of Ryan as VP a year ago, the day after he announced he wouldn't run for president."

While Kristol's support may not have directly influenced Romney's decision — which, campaign sources say, was made Aug. 1 — his support for Ryan intensified the buzz surrounding the 42-year-old congressman and brought excitement over the possibility a Romney-Ryan ticket to a fever pitch, setting the tone for Ryan's introduction in Norfolk, Va., on Saturday morning.

"I'm sure [Romney] didn't pick Ryan because Bill was out there banging the drum, but his banging the drum makes it more feasible, more conceivable, lays the groundwork for the announcement," Michael Goldfarb, a contributing editor at the Weekly Standard and a longtime Kristol disciple, told POLITICO. "And I'm sure if Bill spent the last six months saying Ryan shouldn't be the VP, that would have made it a little harder."
Kristol, a longtime player in politics and policy with a penchant for political mischief-making, ran a one-man anyone-but-Romney campaign for much of 2011 and 2012. He implored Chris Christie and Marco Rubio to run. He praised Newt Gingrich and Rick Santorum.
After Romney won the nomination, Kristol kept poking: He said last month that Romney was "crazy" not to release his old tax returns.
"Speaking of losing candidates from Massachusetts: Is it too much to ask Mitt Romney to get off autopilot and actually think about the race he's running?" Kristol wrote in July.
And on August 9, he and Stephen Hayes offered Romney the "awfully strong case for picking Paul Ryan as your running mate."
That last editorial got another wave of attention when Ryan was, in fact, picked; but Romney's campaign moved quickly to make clear they hadn't been pushed: Romney made up his mind, aide Beth Myers said, on August 1.
A Romney spokesperson declined to comment on Kristol's role, but pointed to Myers discussions of the pick's timing.
And Kristol himself isn't claiming any credit. He was as effusive toward Romney as he's ever been on Fox News Sunday yesterday. He had, he said, had "cordial dealings" with the campaign all weekend.
"My sense is he's had it mind for a long time," Kristol said.