Chuck Hagel's Record On Guns, Abortion Raises More Questions
Few reasons for Democrats to support the would-be Pentagon chief.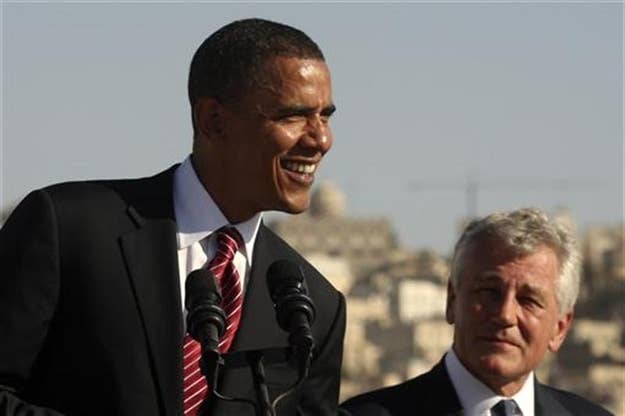 WASHINGTON — Former Sen. Chuck Hagel's conservative stands on gun rights and abortion are prompting a new wave of scrutiny on Democrats who are weighing their support for a potential Secretary of Defense already under fire for his words on Israel and on gay rights.
Hagel is reportedly a leading choice to replace Defense Secretary Leon Panetta, and would represent a strain of Republican "realism" that is generally skeptical of the use of American military force abroad, and specifically opposed to military conflict with Iran.
Hagel, who represented Nebraska in the Senate from 1997 until 2008, voted his party's line on a range of domestic issues.
In particular, he opposed congressional efforts to ban the import of high capacity magazines and to extend the Assault Weapons Ban — both items are high on President Barack Obama's legislative agenda after the shooting in Newtown, Conn. earlier this month. Additionally he voted against an effort to restrict the sale of firearms over the Internet, and to close the gun show loophole.
The votes are included in a document currently being among Democratic offices on Capitol Hill by Hagel opponents.
Hagel also repeatedly voted against amendments to allow servicewomen to access abortion services at military hospitals out of their own pocket. The pro-choice group NARAL criticized the ban as endangering the welfare of servicewomen.
"Prohibiting women from using their own funds to obtain abortion services at overseas military facilities not only discriminates against them but also endangers their health," the group said. "Women stationed overseas depend on their base hospitals for medical care, and are often situated in areas where local facilities are inadequate or unavailable."
Congress passed a measure overturning the decades-long ban earlier this month.
Hagel's stock has been sinking since gay rights groups raised questions about his prior positions, and a 1998 quote criticizing an ambassadorial nominee as "openly aggressively gay," was unearthed.