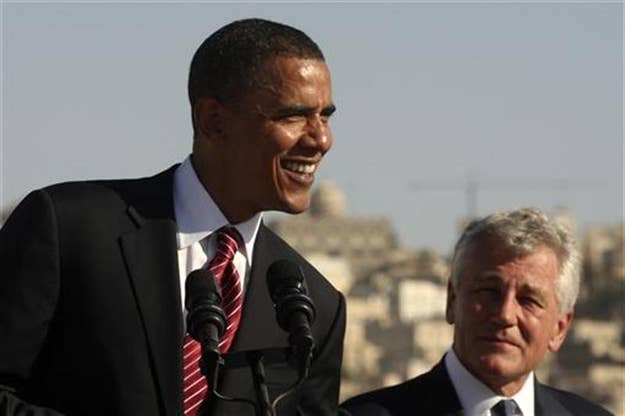 WASHINGTON — Former Sen. Chuck Hagel — a finalist for the post of secretary of defense in Obama's second term — once opposed a nominee to be U.S. ambassador to Luxembourg because he was "openly aggressively gay."
"Ambassadorial posts are sensitive," Hagel told to the Omaha World-Herald in 1998, opposing the nomination of philanthropist James Hormel. "They are representing America," he said. "They are representing our lifestyle, our values, our standards. And I think it is an inhibiting factor to be gay — openly aggressively gay like Mr. Hormel — to do an effective job."
Some LGBT rights groups are already criticizing the potential selection of Hagel to replace Leon Panetta.
Hagel was a longtime supporter of "don't ask, don't tell," which banned gays and lesbians from serving openly in the military. In 1999, he told The New York Times, ''The U.S. armed forces aren't some social experiment.''
And between 2001 and 2006, Hagel received a score of zero from the Human Rights Council, with no votes on the Employment Non-Discrimination Act, a job discrimination bill, and the Hate Crimes Prevention Act, which eventually was passed into law as part of the National Defense Authorization Act in 2009.
Hagel's record on LGBT issues did show some signs of change, as the country shifted dramatically on the subject. He voted in favor of a procedural vote on the 2004 constitutional amendment aimed at limiting marriage to one man and one woman, but opposed the marriage amendment in 2006.
UPDATE: Hagel didn't vote on the marriage amendment in 2004, though he voted in favor of a procedural motion to bring up the final vote.