Can Barack Obama Win The Tax Fight Again?
An unlikely victory in 2008. "It's an easy target for us now," says a House Republican aide.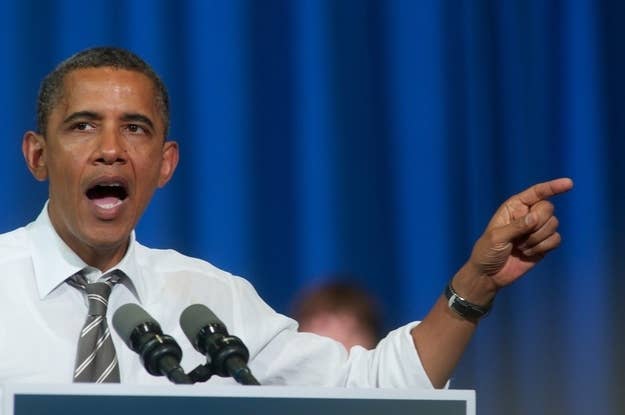 To Democratic strategists, one of the signature triumphs of Barack Obama's 2008 campaign was winning the argument about taxes. Republicans had long dominated the issue, casting any attempt to raise taxes on the rich as a new tax on "small businesses" and on Americans at large.
Obama spent heavily and spoke at length to make a distinction: He would not raise taxes for people who earn less than $250,000. And polls, for the first time in memory, suggested that voters trusted the Democrat more than the Republican on the issue. Now, Obama is returning to that earlier victory, and trying to regain ground that he appears to have lost over the last three years.
"I never saw polling that said the $250,000 message ever lost," said Rodell Mollineau, the president of the pro-Obama super PAC American and a former aide to Senate Majority Leader Harry Reid. "Regardless of what you think, a majority of American people would celebrate or support the end of these tax cuts for rich people. Democrats won't be hurt by it — and they might even be rewarded."
In 2008, Obama won a large majority of voters who believed that their taxes would stay the same or go down after the election — as well as 55 percent of the nearly 50 percent of voters in CNN's exit poll who believed their taxes would go up regardless of the winner that year
Democrats now argue that the message wasn't defeated — just muddied. Though Obama has not imposed any major new taxes — the ObamaCare mandate doesn't kick in until 2014 — and even extended the Bush tax cuts, he swiftly lost that temporary advantage he gained during the 2008 election.
But the 2010 congressional elections were defined by Republican opposition to health care reform, but also significant was President Barack Obama's call for taxing the wealthiest Americans at a higher rate with the expiration of the Bush tax cuts. A month after his "shellacking" that November, Obama dropped his opposition to an extension of the tax breaks for all Americans.
"His rhetoric on tax cuts for middle class [in 2008] made him sound a lot like a moderate Blue Dog Democrat or a Republican," said Brad Dayspring, a former aide to House Majority Leader Eric Cantor and senior adviser to the conservative YG Action super PAC. "But in 2010 he was selling tax increases, and they got their clocks cleaned."
And Republicans, who seemed for a moment to have lost their footing on their core issue, regained confidence. Now, they are reevaluating the very perception that they ever lost the issue.
"To the extent that Obama won the tax issue [in 2008]— and it was one of the few times McCain was on solid footing — it had to do with the sheer unpopularity of the incumbent," said a House GOP aide. "The Bush free puppy dogs and sunshine law would have been pretty unpopular."
"Nobody knew in 2008 that he was lying," Americans for Tax Reform president Grover Norquist. "We now know he was lying when he said he wasn't going to raise taxes on the middle class."
The sense of a tidal shift on the issue has been deepened by the reactions of House leadership to Obama's latest proposal.
Speaker of the House John Boehner and Cantor immediately issued statements condemning Obama's plan to raise taxes on "job creators," noting that some small businesses are taxed under the individual income tax and would lose needed tax breaks.
"In the wake of another weak jobs report, the president is doubling down on his quixotic call for the same small businesses tax hikes that have been routinely rejected by the House and Senate. How will these small business tax hikes create jobs?" Boehner said in statement.
The Democratic leadership quickly fell in line behind Obama, but some vulnerable conservative are already signaling they won't vote for it.
"Nancy Pelosi and Harry Reid who have to run candidates in all 50 states must be freaking out over this," Norquist added. "They're saying, 'my Senate candidates would lose running on this, my House candidates would lose running on this.'"
"There certainly are not the votes the House and there probably aren't enough votes in the Senate for a$1 trillion tax hike," said the GOP aide. "This is the president screaming at the wind."
Democrats and Republicans both acknowledged that Obama's proposal has next to no chance of becoming law before the election — leaving many of them wondering why he didn't set the threshold for the tax break at the cleaner political figure of $1 million, like House Minority Leader Nancy Pelosi and Sen. Chuck Schumer had proposed.
"It's an easy target for us now — he's to the left of Pelosi," bragged another House Republican aide.
And some Democrats are privately wringing their hands.
"$1 million would have been a far simpler message," said one Democratic operative. "That said it's better policy, but this was never going to be law."