Bill Clinton On Hillary 2016: "I Have No Earthly Idea What She'll Decide To Do"
On CBS's "Face the Nation," the former president says his wife is the best qualified, but admits "I'm biased."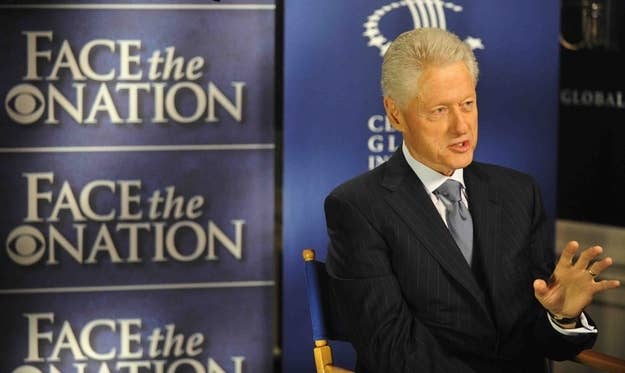 Bob Schieffer: Mr. President I have to ask you about your wife. She's getting ready to wind up her term as Secretary of State. Do you think she will run for president next time out? A lot of people think she ought to if Barack Obama's reelected.

Bill Clinton: I don't know. You know she's worked hard for 20 years. We had eight years in the White House then she ran for the Senate, she served in New York for eight years then she immediately became the Secretary of State, and she's tired. She's really worked hard. I think she's done a fabulous job. I'm very proud of her. But she wants to take some time off, kind of regroup. Write a book. I hope we'll be working together. She was doing this work long before I was and of what we do now in women and girls were driven by some of the things she started in the State Department. So I think we ought to give her a chance to organize her life and decide what she wants to do. I just don't know. She's an extraordinarily able person. I've never met anybody I thought was a better public servant. But I have no earthly idea what she'll decide to do.

Bob Schieffer: Do you think she'll be the most qualified person to run?

Bill Clinton: I've never met anybody I thought was any better than her at this. But again, we got a lot of able people in our party who want to be president. There's never a shortage of people that want to be president. Got a lot of bright young governors, we've got a lot of other people will probably run out of the Congress. We won't have to worry about people wanting to be president next time who are good people. But I just think, you know, it's a decision she'll have to make. But whatever she does I'm for her first last and always. She's the ablest, I know I'm biased, but I think she demonstrated as senator and as Secretary of State that she has extraordinary ability. A lot of commonsense. A lot of, you know, Stick-to-itiveness, she'll push a rock up a hill as long as it takes to get it up the hill.

Bob Schieffer: And if she decided to do it, you'd be right there to help her?

Bill Clinton: Whatever she wanted me to do, I would. But you know, who knows? It's her decision, her life. But whatever she decides, I'll support it.