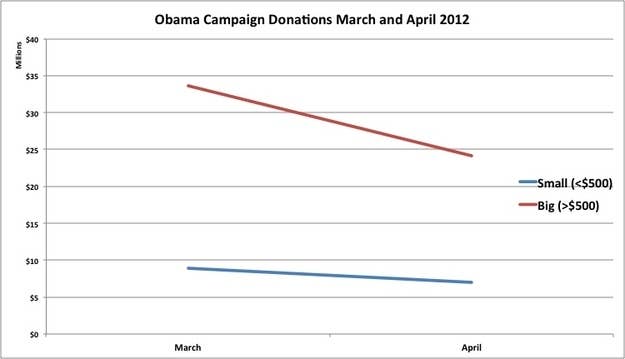 Donations to President Barack Obama's reelection campaign declined sharply in April, as many big-dollar contributors hit the legal maximum, a BuzzFeed analysis of Federal Election Commission data shows.
Obama's campaign took in $25.7 million, after raising $43.6 million in conjunction with the Democratic National Committee. That represented a drop from the $35 million in receipts the campaign saw in March on $53 million raised by the joint fundraising effort.
Most of Obama's drop is attributable to a decline in contributions of more than $500, which fell by more than $9 million. Many of Obama's top donors have already hit the legal $2500 maximum to the campaign, which — along with an apparent failure to recruit a new cadre of wealthy supporters — may account for the decline.
By contrast, Mitt Romney's presidential campaign took in $11.7 million on a $40 million haul raised in conjunction with the Republican National Committee — with the average contribution over $525.
Romney's fundraising surge is not unexpected, but provides new impetus to Obama's vaunted online money-raising machine to raise more from smaller donors as in 2008.
With Rebecca Elliott.