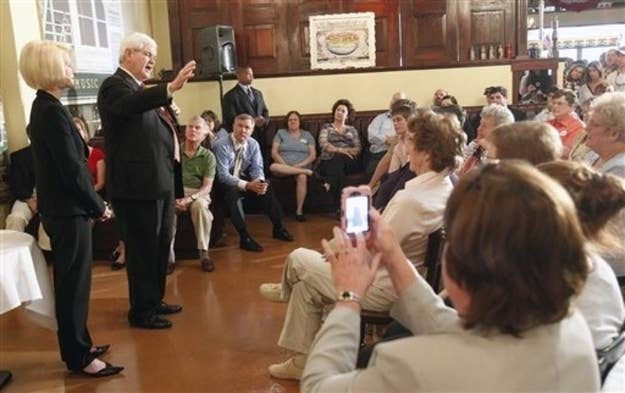 Though the former House Speaker's television campaign has been funded largely by a lone Las Vegas billionaire, Sheldon Adelson, he has also continued to raise money for his rolling tour of the zoos, restaurants, and occasional town halls of the primary states. Much of that has come from small donors, reached through the Internet and direct mail, who gave $2.6 million in February alone. BuzzFeed conducted interviews with more than 50 of those February donors in recent days, and most cheered the Speaker's decision to stay in.
"I think he still has a chance and I'm praying still he does. Romney is being forced on us just like Obama in 2008 by the media," said Charlotte Beck, 67, of Baker City, Ore., who donated $250 to Gingrich and grew frustrated when asked whether he still has a chance. Beck blamed the media with keeping him down in the polls.
"I think it would go a lot better if we didn't have the media anti-Gingrich," she said
Gingrich certainly shares that view. The candidate has billed himself as the "last conservative standing" in a series of emails to supporters, and on Fox News Sunday threatened to tattoo the words "all the way to Tampa" on his forehead.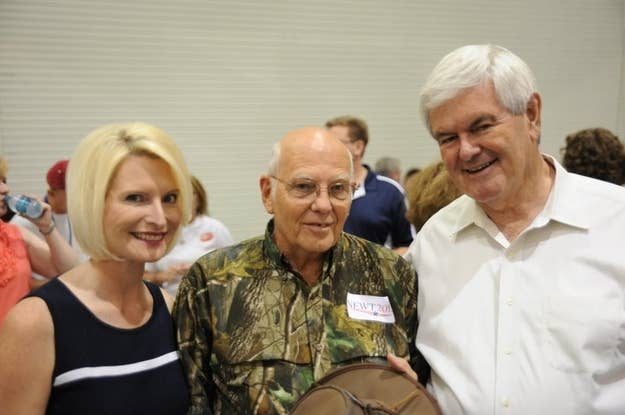 And if BuzzFeed's sample of his supporters is any measure, he is likely to have the funds to continue a scaled-down campaign that the candidates seems, if nothing else, to be enjoying.
"I think considering the stakes, [the donation] was warranted," said John Leach, 60, of Myrtle Beach, S.C., who's given Gingrich a combined $450 this cycle. "I've donated far more of my time as a volunteer, and I'll keep doing so."
"I've been a Gingrich supporter since the [Contract for America]," he said, before providing a reporter with a detailed — and implausible — path to victory for Gingrich. Leach sees Gingrich picking up most of Santorum's supporters, forcing another debate with Romney in which he can turn the tide of the race.
"If we get another debate, he'll be able to pull out ahead," he said.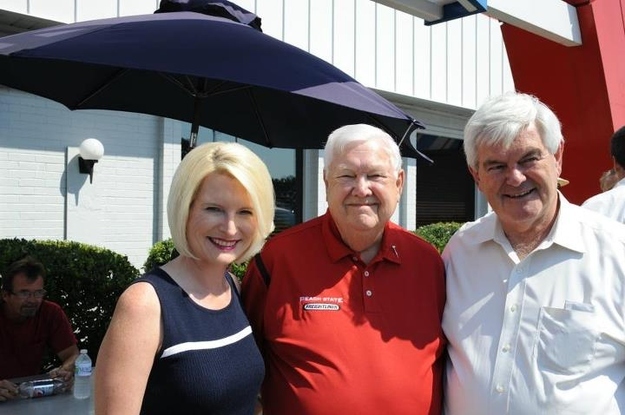 Like Leach, most of Gingrich's donors are from the South, older, and have been supporting his candidacy from the start. Gingrich's strongest base of support in nearly every primary has been among those voters aged 65 or older. His support from senior citizens seems to be driven in party by memories of his time as Speaker of the House January 1995 to January 1999, and partly due to his promise to restore America's bygone glories.
Those core supporters of the former speaker bridle at the suggestion — unsubtle from Romney's camp, ubiquitous in the mainstream media — that Gingrich should and will soon drop out.
"Hell no," said Oscar Nugent, 66, a financial planner from Slidell, La. who gave $2,175 to Gingrich, when asked if he should step aside. "Because he has an investment in the people — people like me and probably there were 100,000-plus others like me that thought enough of his ideas to send him some of our heard earned nondeductible money," he added.
"I still believe in the fight, and I don't give up easily either," he said.
Dozens of calls to Gingrich's late, small donors produced similar answers.
"Why should he drop out?" asked Earl Carson, 72, of Monroe, Ga. "Giving money to him is money well spent," said Jess Ayers, 74, of Westwood, Cal. William Stotz, 84, of Valrico, Fl., cheered on Gingrich, encouraging him to "Go all the way."
"There's not a man alive knows who's gonna win," Stotz added. "Things can happen, and I think things may happen."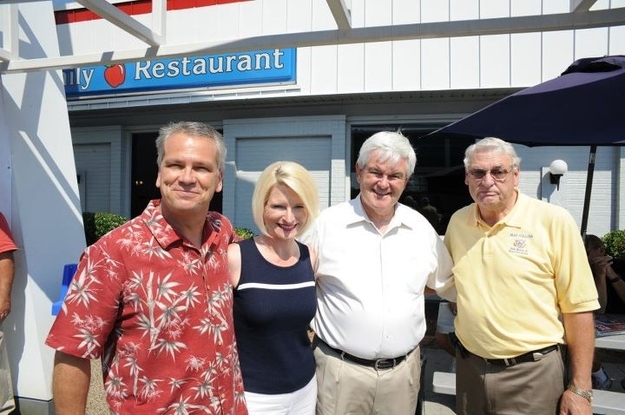 There are, in the ranks of Gingrich's small donors, a few dissenters.
"I wasted my money," C. Clyde Hooks, 79, of Belvedere, S.C. told BuzzFeed. Hooks donated $250 to Gingrich two weeks before Super Tuesday, and gave him $500 overall. "He should've dropped out earlier. He's wasted a lot of money. I like him as a person. I like him as a politician. But as far as running for president I don't think he can make it."
Others are simply grappling with the reality that their favored candidate has no real path to victory.
"I don't know what he's quite trying to achieve," said Richard Hett, 68, of Marietta, Ga, who gave Gingrich $600. "I think at this point, yes, he probably should [drop out]. He's just subtracting from the other candidates.
"I think everybody ought to drop out at this point because Mitt Romney has essentially won," Hett said.
Rebecca Elliott contributed reporting.