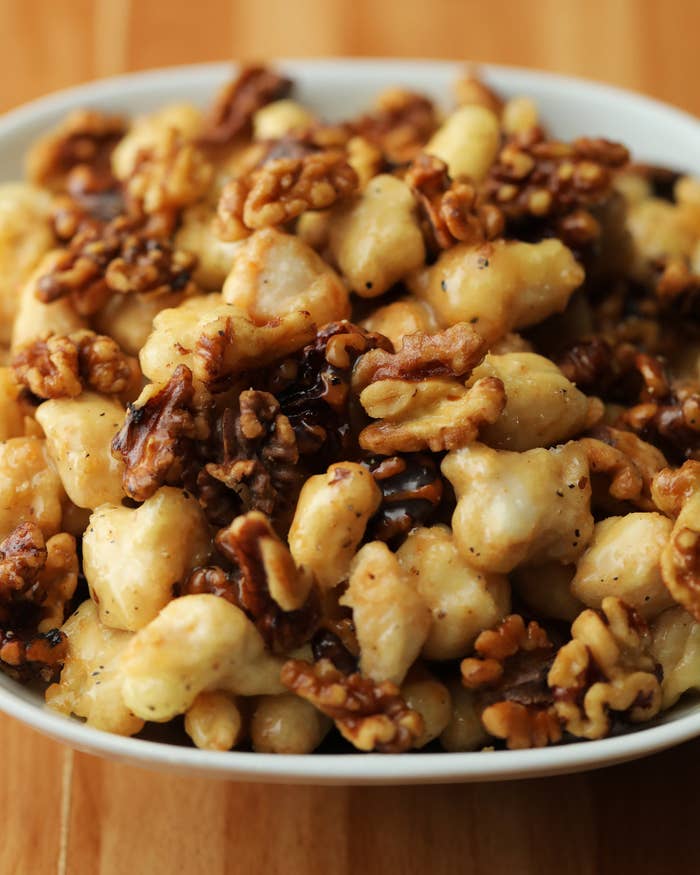 Honey Walnut Chicken Poppers | [ yellow tail ]
Serves 4
Ingredients:
1 pound fresh chicken breast

½ cup walnut halves

½ cup sugar

½ cup water

2 tablespoons mayonnaise

2 tablespoons condensed milk

¼ cup honey

¼ cup cornstarch

3 egg whites

1 ½ cup vegetable oil

Salt and pepper

Scallions

Preparation:
Cut chicken
into ½-inch cubes, then season with salt and pepper. Set aside.

Heat sugar
and water over medium-high heat until sugar dissolves. Cook walnuts for
2–3 minutes, strain, and cool. Discard syrup.

Combine
mayonnaise, condensed milk, and honey. Set aside.

Heat
vegetable oil to 350°F.

Beat egg
whites until frothy, then add cornstarch and whites together to form a
batter. Dip chicken pieces in
batter and fry in batches until golden brown and chicken is cooked
through. Drain on paper towels.

Quickly fry
walnuts halves until golden brown (about 30 seconds), being careful not to
burn sugar. Drain on paper towels.

Quickly toss
chicken in sauce and top with walnuts and scallions if desired.

Serve
immediately and enjoy!