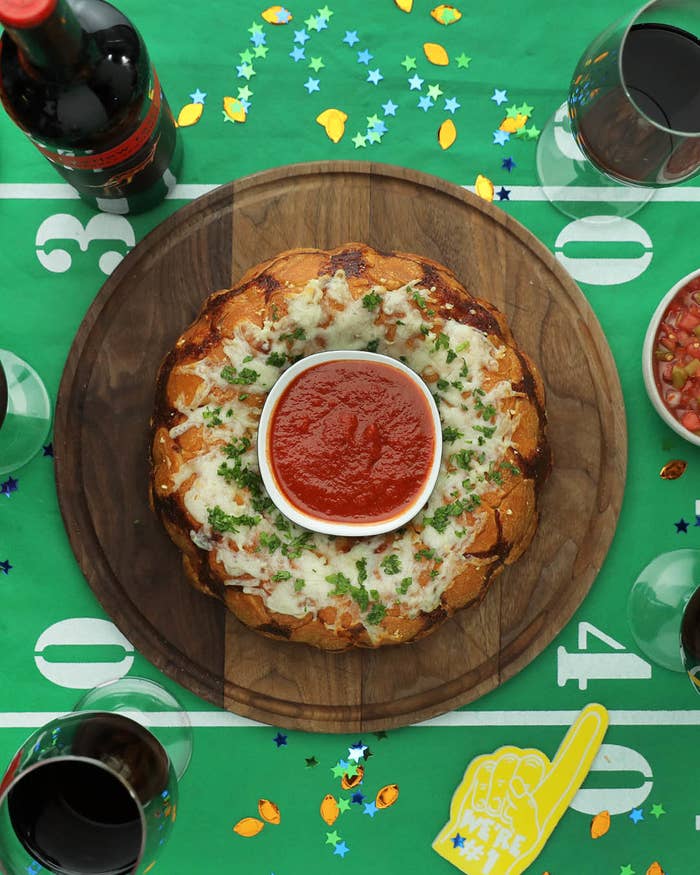 INGREDIENTS:
2 cans biscuit dough
1 bag frozen mini meatballs
½ cup unsalted butter (1 stick), melted
5 cloves garlic, finely chopped
1½ cups mozzarella, shredded, divided
½ cup Parmesan, shredded
2 cups marinara sauce
Chopped parsley
PREPARATION:
1. Preheat the oven to 325°F (165°C, 300°F convection).
2. Cut each biscuit into quarters. Gently flatten each quarter to form a 2-inch piece of dough.
3. Place one meatball in the center of each piece of dough. Wrap the biscuit dough around each meatball to form balls. Seal the edges tightly. Repeat until all of the biscuit dough has been used up.
4. In a small bowl, combine the melted butter and garlic.
5. In a separate small bowl, combine ½ cup Parmesan and 1 cup mozzarella.
6. Place half of the wrapped meatballs in a greased bundt pan.
7. Brush the tops of the balls with garlic butter and sprinkle with half of the mozzarella-Parmesan mixture. Add the rest of the wrapped meatballs on top. Brush with garlic butter, and finish with the rest of the cheese mixture. Reserve the remaining garlic butter.
8. Bake the monkey bread for 45 minutes.
9. Once the ring is golden brown and bubbling, invert the monkey bread ring onto a wire rack–lined baking sheet. Brush the top of the ring with more garlic butter and sprinkle the remaining ½ cup mozzarella on top of the ring.
10. Bake for another 15–20 minutes, until the dough is golden brown.
11. Transfer to a serving platter and garnish with parsley. Place a small bowl of marinara sauce in the middle of the monkey bread.
12. Enjoy!