1.
A pack of colorful hanging cups that you can attach to your fridge, if every time you sit down your kiddo asks for something to drink (mine does too!). There's something about them seeing us relax that just doesn't sit right with them, I swear. Now, your child will be able to easily reach for a cup (no climbing necessary) and get a sip all by themselves.
Promising review: "These things are amazing. We attached these to our water dispenser and the kids are 100% independent now with getting their own drinks of water and returning the cup. Saves me time and dishes daily! Sticker for the hooks are really sturdy, my 2-year-old tried to hang on them and they didn't budge." —Melissa S
Promising review: "We absolutely LOVE these hanging cups by Puj!! They make the always stacking and searching for cups a thing of the past! They are super easy for my toddlers to get to and help themselves to water or ask me to fill the cup. When they are done we rinse and let them hang them back up. The fact they can do that actually encourages their independence and I LOVE that!" —Majara
Get a pack of four from Amazon for $28.99 (available in three color combinations).
2.
And a pack of light switch extenders because they will allow your kiddo to easily switch lights on or off. They have moon-shaped handles that extend so your child will be able to reach the switch. Oh, and they glow in the dark!
These install in minutes on standard light switches.
Promising review: "Must-have for toddlers! Perfect solution! As my toddler's independence soars, so do frustrations. This light switch extender pack was a great buy. He can now turn on the lights in his room and bathroom. Installation was easy and works as expected." —AW
Promising review: "My 4-year-old uses this everyday in his bathroom and his bedroom. It makes life easier and he feels like a big boy!" —Danielle W.
Get it from Amazon for $9.99+ (also available in two and three packs).
3.
A pack of sink extenders that'll make it easier for your munchkin to wash their hands and brush their teeth without needing you to hoist them up (your back will thank you).
Promising review: "Must have for toddlers and small children! LOVE this! My 1- and 3-year-old love washing their hands now and my back gets a nice break. Adding the faucet extenders and a step stool to our bedtime/morning routine has been a godsend. Great bargain for the price." —TeaBea21
Promising review: "These are perfect to help our 2-year-old daughter reach the water when washing her hands. They fit all of our faucets and are so easy to install. Simple design, but really makes life easier. I would definitely buy again!" —Amazon Customer
Get a two-pack from Amazon for $11.49.
4.
A nonslip Montessori silicone place mat so your little one will learn how to set the table. It has images to show them where everything goes. This mat is also eco-friendly (it's made of food-grade, nonplastic silicone) and dishwasher safe.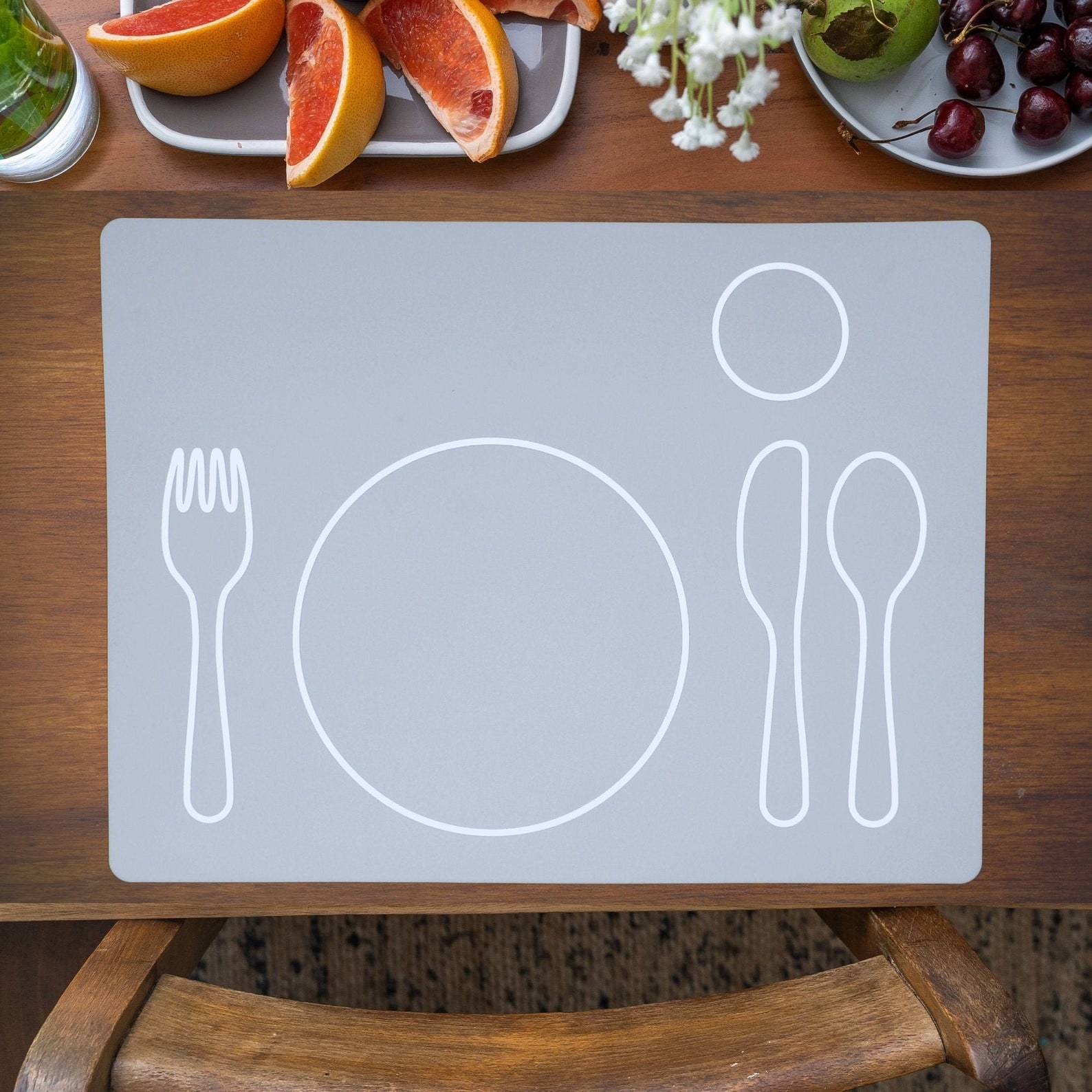 Kid's House UK is a small biz based in London founded by a mom who specializes in Montessori products to help nurture independence at home.
Promising review: "My 2-year-old loves being able to set the table. He makes sure the silverware and cup are lined up perfectly. I love the independence it gives him. The place mats clean easily, store nicely, and are of great quality." —Beth Steele
Get it from Kid's House UK on Etsy for $20.31 (available in more colors here).
5.
A Melissa & Doug wooden cleaning play set that has mini versions of cleaning tools. This set will encourage your child to sweep up a few messes, yet it'll feel like playtime. It includes a mop, broom, dust pan, dust brush, duster, and a stand.
Promising review: "These are just what I needed! I bought these for my 1-year-old and while I know she's not quite ready to really be cleaning, she really tries to help me when I'm doing it. I figured why not grab her her own set to foster some independence and start helping her momma out lol. The stand is easy as pie to assemble, literally stick it in and go. It's totally functional as well. We haven't tried the mop one out for real, but it is absorbent because she's used it while I was Swiffering. Packaging for this product is great as well." —Danae Baptiste
Get it from Amazon for $24.99.
6.
A detangling brush because it's easy-to-hold design means your kid will be able to tackle knots on their own. Reviewers say their kids can now comb their hair independently with it and it has over 48,000 5-star reviews.
Reviewers swear this brush works on all hair types: straight, wavy, or curly (from 3a–4c hair).
Promising review: "This is the one! My 9-year-old daughter has long, straight hair. Medium thickness. I told her if she wants to keep it long, she has to care for it herself. I can't stand over her any longer, killing my back as I comb out knots after her shower for 20 minutes. Or tangles in the morning when she wakes up. So I stumbled across this brush on Amazon and figured it was worth a shot. It arrived yesterday and my child is in love with it! She combed out her hair in no time and loved how silky it left her hair. She even brought it to day camp today to show her girlfriends. I love this brush!! I'm gong to need a second one. Insurance in case this one goes missing. I will not go backward! ;-)." —Amy D.
Get it from Amazon for $11.99+ (available in seven colors/patterns and two-packs).
7.
An anti-slip potty training seat with a ladder so your little one will be able to get on the potty without your assistance (and without falling in...not that this has ever happened to mine 🤫).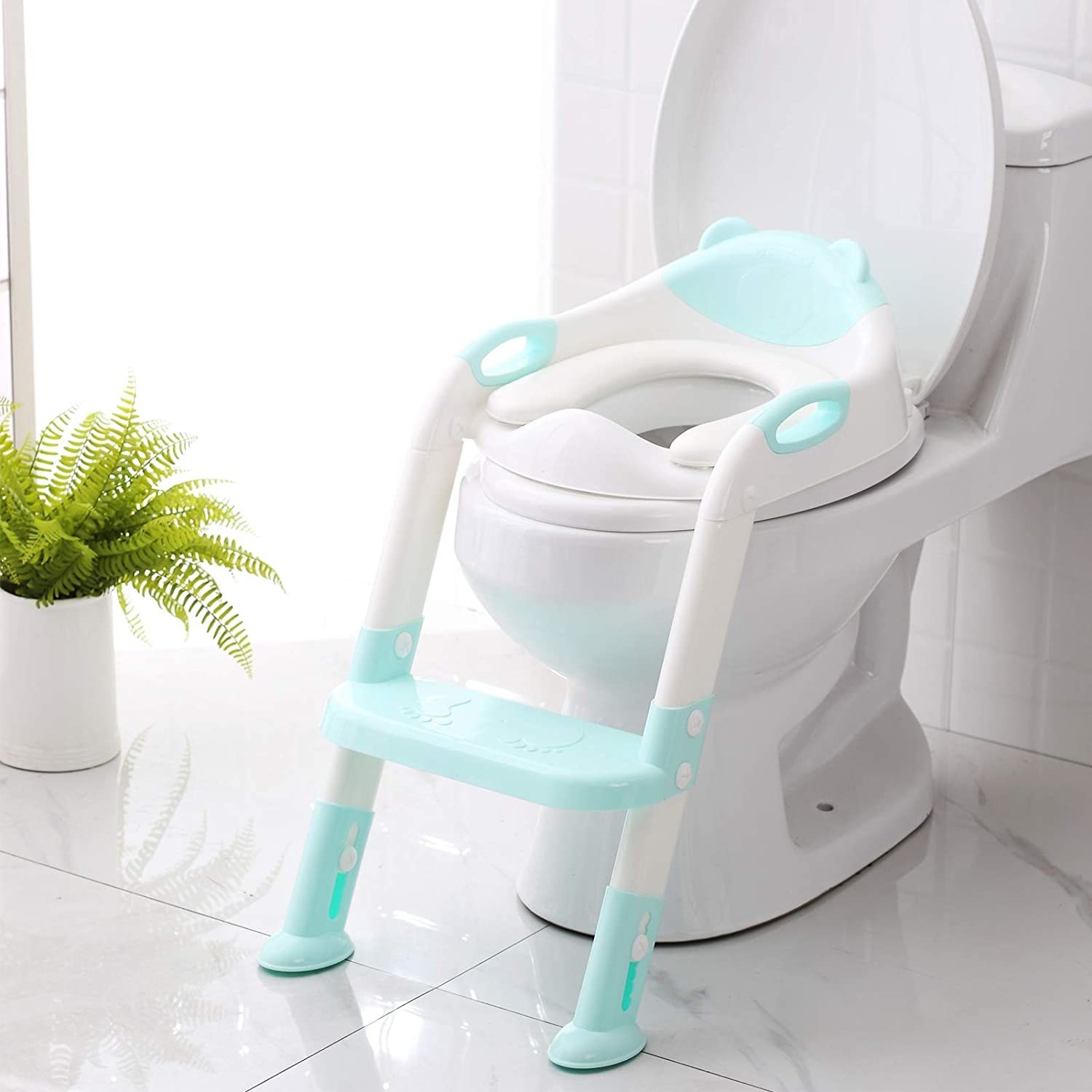 Promising review: "Bought this for our son who we are starting to potty train. It is made of durable plastic. It is easy to assemble (there is a one page illustration on how to assemble it) and there is no need for tools to assemble this. It is foldable for easy storage. Our son loves this as it gives him a sense of independence: (1) the step ladder enables our son to climb and sit on it on his own— yay!, (2) the handles on each side provide for additional support, and (3) it doesn't slip as it rests on our toilet. There is a removable cushioned seat included for added comfort. The height of the potty training seat can be adjusted to fit the height of the toilet. Would recommend this product." —Jhyza
Get it from Amazon for $35.99 (available in five colors).
8.
A double closet rod so your fashion forward child won't have to tug on clothes (and then cause an avalanche in their closet) when they want to dress themselves. This rod hangs clothes at eye level so they can pick out their OOTD all on their own.
There's no installation required — simply hang it from the top rod. 
Promising review: "This was exactly what I was looking for. My 5- and 3-year-olds love dressing themselves but could not reach their clothes so this is the perfect solution. I like that it was all metal and there were no straps or ropes they could get tangled in. Seems durable and held a lot of clothes. I saw others that were adjustable and that would have been nice but this seems sturdy. Would recommend.." —LuvShping
Get it from Amazon for $12.99.
9.
A waterproof potty-training watch that will remind your toddler to use the bathroom throughout the day so you don't have to keep nagging them.
You can preset intervals of 30 minutes, 60 minutes, 90 minutes, two hours, and three hours. The watch has a sensor and only sounds alerts when it is worn so no need to turn it off at night.
Promising review: "My son who will turn three next month, has been potty trained since April. Recently he started having accidents at school because he would get too distracted and not want to stop playing and go to the bathroom. His teacher recommended I get this watch and it has been amazing! Whenever the watch goes off he gets so excited and goes to the bathroom right away! He loves his watch and it's made it so easier not having to remind him that he needs to go." —Amazon Customer
Get it from Amazon for $26.95.
10.
A Melissa & Doug magnetic responsibility chart so you don't have to keep reminding your child to complete their chores. They'll be able to keep track of their responsibilities themselves with this easy chart.
The sets comes with two fabric hinged dry erase boards (one with spaces to track seven goals, and one that's blank for magnet storage), a hanging cord, and 90 magnets featuring behavior and rewards like get ready for bed, get dressed, take bath, clear table, put toys away, share, brush teeth, apologize, say please, thank you, help with indoor/outdoor chores, no teasing, show respect and more! Plus, there are two blank magnets to write your own personal goals.
Promising review: "It works great and my 4-year-old loves that she gets smiles every time she accomplishes something. It has helped tremendously with her becoming more independent and finishing her own responsibilities around the house." —Jennifer Bonner
Get it from Amazon for $14.89.
11.
Or printable PDF cleaning cards if you've implemented chores yet your child is barely getting any done. These cards allow you to jot down what your kiddo needs to clean so they can easily check off chores and stay on track.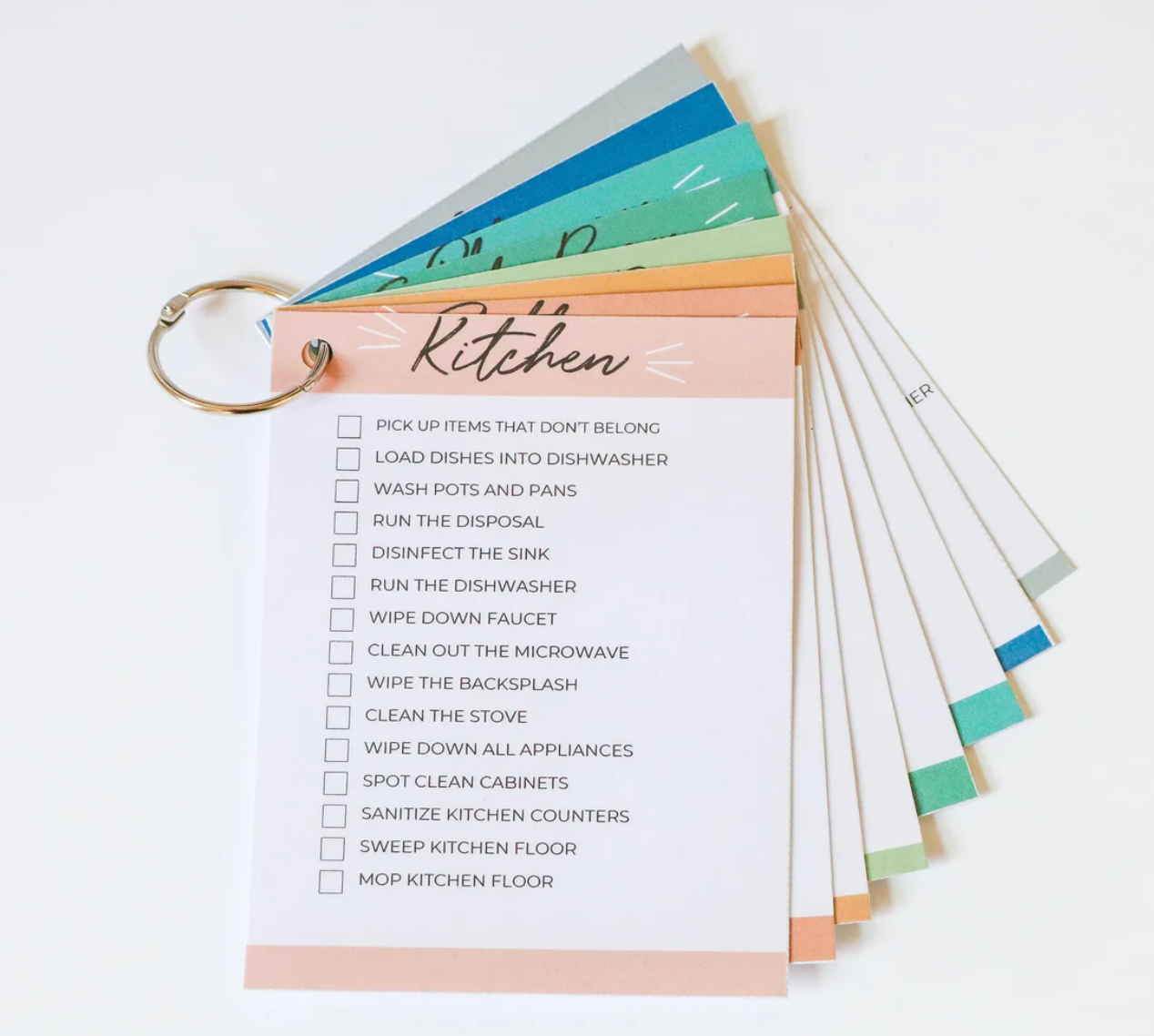 Practical Perfection 8/Etsy
FYI: This file comes with eight cards in various colors. And once you print these out, you can laminate them so they're reusable! 

Practical Perfection 8 is a small biz that sells items to keep your home clean and organized. 
Promising review: "This is perfect for my children, they carry them around when cleaning and everything gets done the first time." —Kimberly Lewis
Get it from Practical Perfection 8 on Etsy for $3.32.
12.
A rapid ramen cooker because kids are ALWAYS hungry! Older kids will be able to make a bowl of ramen on their own whenever hunger strikes.
BTW, it's BPA-free and dishwasher-safe! 
Promising review: "Don't want your kids using the stove...and yet...when they want Top Ramen you want them to do it themselves? Get this! Four minutes or so in the microwave and it's perfect. Thank me later." —Rik
Promising review: "If you have kids who like to make their own food, these are a must! My kids were making ramen noodles in glass bowls in the microwave and I just knew that someone would end up burning themselves. These little bowls keep their hands safe and lower my anxiety level. This way I can give my kids a little more independence and keep them safe at the same time. I have an autistic son who uses this (almost 13,) and his 10-year-old sister. So glad that I made this purchase! :-)" —Heather J.
Get it from Amazon for $9.99+ (available in 12 colors and multi-packs of two and four).
13.
A viral TikTok toothbrush holder and dispenser so your little one can brush their teeth without getting toothpaste everywhere. This dispenses just the right amount so they can be more independent without making more of a mess.
This bad boy includes a toothpaste dispenser (that'll squeeze out every last ounce!), four cups and holders, and a place to store your toothbrushes.
Promising review: "So glad we found this! With a 4- and 5-year-old I was constantly cleaning toothpaste off everything in the bathroom! This is great, they basically need zero help from me now. And it keeps my counter less cluttered with everything in one handy place. Highly recommend especially if you have kids!" —Maggie Byers
Get it from Amazon for $16.99+ (available in three colors).

14.
And a pack of motion-activated toilet night-lights to make quick bathroom runs at night way less scary. You won't have to leave a nightlight on because these will come on when needed.
Promising review: "I absolutely love this product. Especially because with a husband and a son, they tend to sprinkle on the toilet seat in the middle of the night. With the color set to any bright color (like white, yellow, green, or blue) it illuminates every single sprinkle on the seat! You will no longer have a bottom wet with pee in the middle of the night! When I purchased this I bought a case of AAA batteries thinking I would have to change them often (with six people in the house they get used often). However, I have not had to change the batteries once in a few months! Also the sensor is super sensitive so it turns on as you come through the door, or even a little before. Just a great product all around. Definitely recommend for households with children, you won't have to leave your bathroom light in all night anymore either! #MomWin." —Angela
Get a pack of two from Amazon for $13.90.