1.
A pancake batter dispenser and mixer so you will actually get more batter on the griddle instead of all over your countertop (or clothes, if you're like me). This is also great if you have little ones who like to help in the kitchen. You'll be able to mix and pour in one take with less dishes and less of a mess.
Promising review: "If you like to eat pancakes for breakfast a lot and want to avoid a lot of dishes, please get this! This is so worth it. I saw this on TikTok and had to get it. Just make sure you're putting the amount of water that's right for the amount you're going to eat." —Buchii
Get it from Amazon for $14.96+ (also available as a pancake art kit and two colors). 
2.
A Take-n-Slide medication tracker because it puts an end to wondering if you took your pills today or if you're just having a flashback about taking them yesterday. 
These are reusable and stick right on the side of your medication bottles.
Promising review: "This product has helped me SO much. I forget things a lot and forget to take my medications far too often. I was hesitant because of the price, but i am incredibly happy with this purchase. I would go as far as saying it has been one of the best things i've ever ordered. It is very easy to use, sticks well, and i've reused it on multiple bottles already. Id imagine at some point the stickiness will wear off, but I'm going to use glue dots then. And I will absolutely buy again. These are lifesavers… literally, for me. If you're on the fence about getting these, let this be your sign. I am really grateful for these. :-)" —Lexie P
Get a pack of five from Amazon for $19.99.

3.
An as-seen-on Shark Tank bug bite suction tool, invented by a mom, to quickly suck out venom and stingers from bug bites so you (or your child) won't have to suffer through a day of nonstop itching.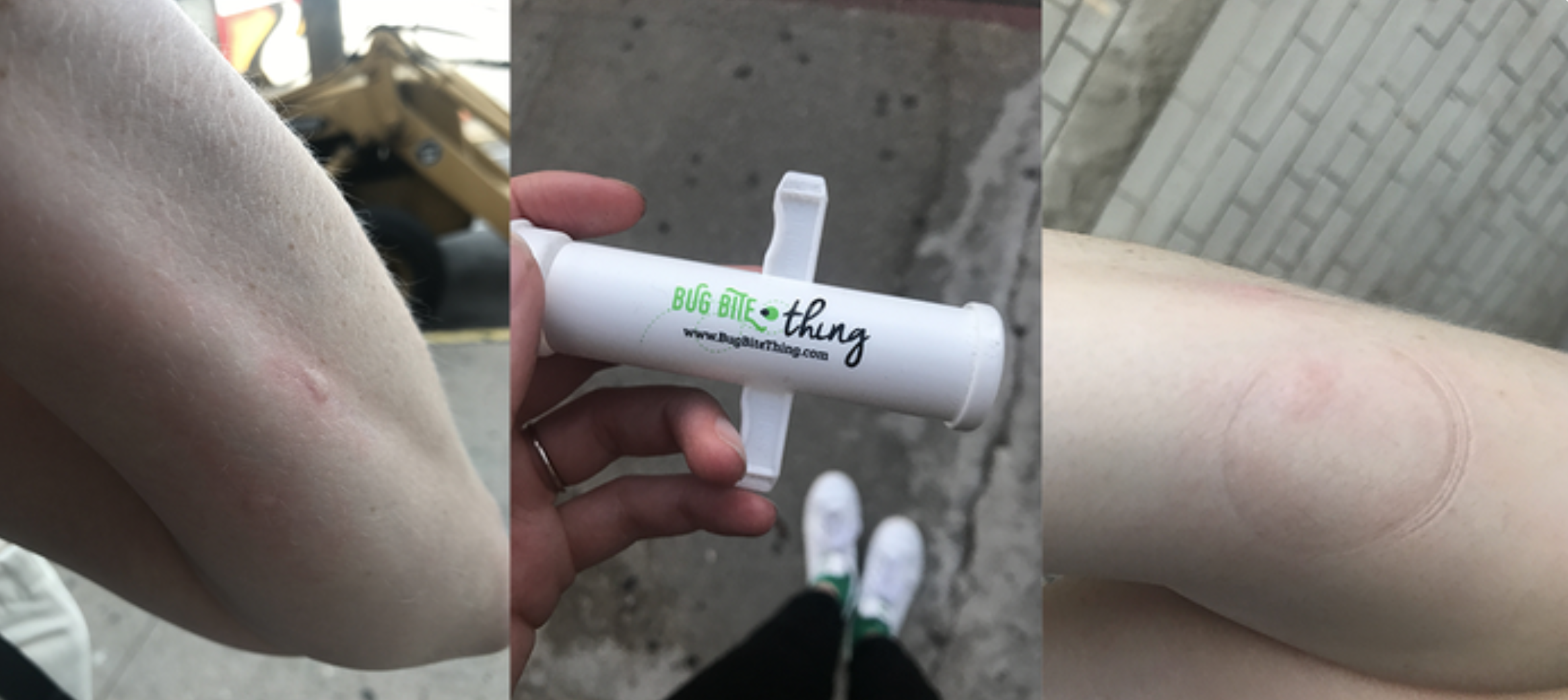 Rebecca O'Connell / BuzzFeed
This is a small, woman-owned business! 
Promising review: "This is a miracle worker for my toddler. I bought this after receiving a spider bite on my foot, that was already healed when it came in. Two days after delivery, my 2.5-year-old got stung by a bee or wasp and was screaming and in tears. I broke this out, and he immediately went from screaming to laughing as I used it. It was amazing. He got his second sting today, and the same thing happened: instant pain relief. I don't know what I would do without this thing. Plus, he likes to play with it afterwards which further calms him down. A+++" —Briley Black
Get it from Amazon for $9.90+ (available in four colors and in packs of two or three).
4.
A tub of TikTok famous The Pink Stuff, because it feels like half of being an adult consists of cleaning up messes. And man, there are a lot of messes! This stuff basically cleans anything — pans, sinks, floors, walls. It makes grease, grime, and dirt disappear. 
Former BuzzFeed Shopping writer Brittany Ross says: "After seeing countless videos on cleaning TikTok that raved about The Pink Stuff, I knew I had to try it out on my stained, grime-coated sheet tray. I mean, if it could make a dent in that, I'd probably believe in magic. Well, I started scrubbing one corner as a test, and lo and behold, the difference was nothing short of DRAMATIC (check out the photos for proof!). And I didn't even have to scrub very hard, though as someone with ~minimal~ upper body strength, I doubt any force I could physically apply would even constitute as heavy scrubbing. At any rate, it worked so well that I tried it on a pair of dirty tennis shoes and a blue stain that had been singed onto my toaster oven for months, and, yup, it worked. I will say, if you want your sheet trays to look brand spankin' new, you might need one of those cleaning scraper tools to get every last bit off, but as far as general stain removal goes, consider me a FAN."

Get it from Amazon for $5.97. 

5.
Wad-Free, if you're tired of all of the trouble that comes along with washing your sheets. This makes laundry day more manageable because it attaches to the corners to help your sheets dry faster and prevent them from becoming a tangled mess.

Plus, they're BPA-free, reusable, and created by a small business during the pandemic. 
Promising review: "THIS ACTUALLY WORKS!!!! I saw a TikTok about these and decided to order. Sheets balling all up in the washer and dryer has been a pet peeve of mine for forever. I was super skeptical of these, but I tried it, and it works as advertised! It's a little on the expensive side IMO, and that's kinda holding me back from purchasing a second set, but they really do work." —StrangerThings
Get a set of two from Amazon for $19.99+ (also available in a four-pack).
6.
A "Bagnet," which is exactly how it sounds: a magnet for your bag, because you'll be able to hang your purse in restrooms and restaurants without it touching the dirty floor. 

Bagnet is a woman-owned small business that specializes in magnetic bag holders and handbags. 
Promising review: "This is the best bag holder ever! I was completely blown away, the magnet is SO strong. Works in so many places, in restrooms (try the hinges if the door isn't metal), at restaurants (on tables, chairs, even under the table), at the gym to hold my water bottle and keys so they don't end up on the floor. But my absolute favorite place to use it is on my car! I can attach it to the side of my car while I unlock it without having my hands full and leaving me vulnerable. If you have ever felt nervous trying to fumble with all your stuff while trying to unlock your doors in a dark parking lot, you need this! My only regret is that I didn't know about it sooner. I am going to get one for everyone in my life for Christmas. Any person who carries a bag should have one (or two). Seriously, it's life changing​." —robert rodriguez
Get it from Amazon for $21.99+ (available in various styles).
7.
A waterproof potty-training watch because it will remind your toddler to use the bathroom throughout the day so you don't have to keep nagging them. It also lights up and plays three different songs to get your little one excited about going potty.
You can preset intervals of 30 minutes, 60 minutes, 90 minutes.
Promising review: "I was having a hard time trying to potty train my son, and this watch was a miracle! The instructions are very easy to read when setting the watch up, and the music isn't overly annoying like most toys/items can be!" —Destiny Fletcher
Get it from Amazon for $24.95+ (available with or without a battery replacement and sticker charts; more colors available here).
8.
A pack of detergent cup holders to prevent any drips from getting all over your floors. If laundry has taken over your life (because, same), you know that placing the cap back on the detergent just leads to a mess. This genius device stores the cup and catches all that before it makes a soapy puddle.
Tidy-Cup is a woman-owned small business started after the founder, Julie Reinhold, was tired of detergent containers dripping all over her laundry room floor.
Promising review: "This product is awesome. We never buy the large jugs of laundry detergent because my husband hates the mess they make. Whenever my MIL would buy us a large jug, we would pour it into smaller ones. Such a pain! We can finally buy the big sizes and not worry about a mess. Works exactly like expected!" —Cari A.
Get it from Amazon for $13.75.
9.
A clear toy blocker if you're tired of searching for you kid's (or pet's) toys in the dark abyss under your furniture and appliances. Or just dropping things that you can never find again. This comes in two heights and can be cut to fit into various spaces. 
Promising review: "A must-have for ALL pet owners. This contraption is genius and will save cat (and dog) owners so much time and frustration retrieving toys. We used this beneath our oven and it works PERFECTLY. Cat can't destroy it (the way she shredded the foam insulation we had stuffed under there before) and we no longer have to get the yardstick out when literally all of her toys are 'gone.' Yes, this is a challenge to install, but 100% worth it. I'd buy it again in a heartbeat." —Allison Goldstein

Get it from Amazon for $13.98+ (available in three sizes).
10.
A nonstick microwave pasta cooker for those days when you need to make dinner but barely have the energy to wait for a pot of water to boil after a long day. All you have to do is add your pasta and fill water up to the line according to the instructions included and microwave for about 12–13 minutes. 
It also doubles as a strainer, and you can use the holes in the lid to portion out long pastas.

Promising reviews: "I found out about this on TikTok and decided to give it a try. Boy, am I glad I did! This pasta cooker is incredibly versatile and cooks pasta perfectly. Just by following the instructions to add pasta and water and using the appropriate cooking time, I've been able to make spaghetti, penne and even shells for Velveeta mac 'n' cheese! I decided to buy a second one to keep just in case. I would definitely recommend getting this for yourself or for a gift." —Gaby Brillante
Get it from Amazon for $17.99.
11.
A pet hair remover if your cat or dog leaves a trail of fur behind on everything from the couch to your bed, all you have to do is roll this back and forth and it'll grab every piece of hair off of your furniture. The best part? Unlike a lint brush, this is reusable!

Promising reviews: "I saw this item on TikTok and ran to Amazon to buy it. I got it with same-day shipping and INSTANTLY started using it out of the box. When I say I'm honestly obsessed. I've finally found a product that was wellllll worth the money." —shae

"I have a golden retriever and the shedding is out of control. My fabric sofa is constantly covered in hair and I finally decided to try this after reading an article about popular TikTok products. The reviews do not lie, this thing works magic!! I wish I had taken a before and after picture because the difference is noticeable. I watched the video tutorial before I tried it to ensure I was using it properly and everything he says is true, you do really have to put your arm to work with vigorous back and forth movement! However, I find it's a great arm workout and it works wonders." —Joanne Ertel
Get it from Amazon for $29.99. 
12.
A "Bread Buddy" dispenser that's the best thing since sliced bread because it'll keep your loaves fresher for longer than if you kept it in the bag alone. This airtight container also lets you use the bread bag to dispense slices one by one. So you'll never have to deal with stale bread again.

Promising review: "The Buddeez Sandwich Bread Dispenser is great! It does exactly what it was intended for. I live alone and don't quite go through bread often enough before the last quarter section of the loaf starts to go stale. I was originally looking for something to put a loaf of bread in as a shell for my vacuum sealer, that would keep the bread from getting crushed from the pressure. This dispenser solved all of my problems. Thank you!" —DRMcQuaig

Get it from Amazon for$12.49 (available in two lid colors). 
13.
An under-cabinet lid opener for anyone who thought becoming an adult meant you'd develop super strength but in reality you struggle to open a jar of spaghetti sauce (OK, I'm talking to myself here). This device makes it way easier to pop open a jar without having to strain your wrists or bruise your ego when you try to find someone to open it for you.
Promising review: "I have tried a million different tools and gadgets for help in opening jars of all sizes, and each one had its own issues! Finally, someone has invented the perfect jar opener that is simple and requires no space in your kitchen drawers or counters. There was one person who suggested placing the opener with the sharp end of the 'V' closest to you and with it placed in the front, in the right corner under your cabinet. I followed those directions, and it works perfectly and easily. I have already placed an order for another one for a gift or for my sister." —cat lover

Get it from Amazon for $16.39 (also available in a two-pack).

14.
Sheet Keeper, an elastic band labeled with sheet sizes, so you won't have to unravel sheets (that took you way too long to fold in the first place) in order to find the correct size you're looking for.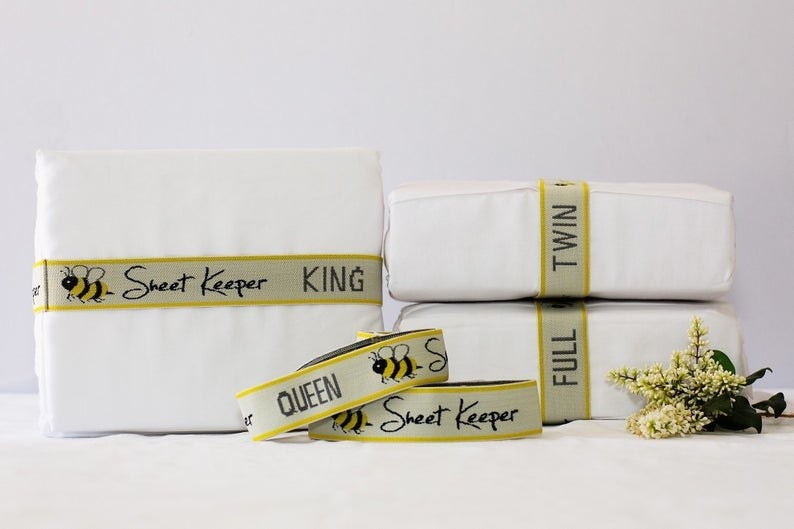 Sheet Keeper is a small business in Los Angeles.
Promising review: "Great product. Came quickly and they work great! Such a great idea to keep sheets organized and together while being able to tell what size bedding it is. Will order again for sure!" —devonhansen1
Get two from Sheet Keeper on Etsy for $13.99 (available in six sizes).