1.
A splurge-worthy, folding Doona Liki Trike that's small enough to fit in most trunks, airplane overhead bins, and small hotel rooms. And, it also doubles as a stroller. Not only is it soooo convenient when traveling, but it'll also keep your easily-bored toddler entertained. Don't you just love a good twofer? 
Recommend for ages 10 months and up.
Promising review: "Our little one loves his Doona Trike! We have especially loved this while traveling! The trike folds up small enough and fits nicely in a backpack style bag that is SUPER convenient for traveling, especially in an airport! We bought this for our little one's first birthday present & I am certain it was the best thing we could have bought him - for him & for us!! We all love it!" —Steve E. Hager

Get it from Amazon for $250+ (available six colors and two versions).
2.
And a stroller cover so unexpected rain during your trip won't put a ~damper~ on your plans. But, now you'll be totally prepared and can avoid spending wayyy too much on an umbrella at a tourist trap, that won't even give your little one the coverage they'll need.
Promising review: "We used this on our recent trip to Disney in Florida, and it was a lifesaver for the sudden rains. Kept our kiddo dry without stopping her from seeing the views. It fit our stroller just fine and packed away pretty easily when we were done with it. :) Definitely recommend!" —Patrice T.
Get it from Amazon for $16.98+ (available in two styles).
3.
A BabyBjorn travel crib because it's easy to set up and folds compactly so your little one can have a comfy place to sleep no matter where you stay.

Promising review: "We just got back from our vacation in Hawaii and I bought this for my 18-month grandson before we left. He slept like an angel on it. The soft sides netting helped because he's a restless sleeper. Perfect fit for him and still have room for him to move around. The assembling is a breeze!! All in one package and nothing else to screw in. Just pop it like a tent. The travel pkg is nice and compact and can be carried on in the plane. We all love it for its compact and lightness. Highly recommend it if you're going to a friend's for the night or on vacation." —Abby

Get it from Amazon for $251.99+ (available in two colors).
4.
Or, an inflatable toddler travel bed so you can ditch the Pack and Play and still have a bed all to yourself. This is so easy to pack, fits most standard crib sheets, and has bumpers so your little one will stay put. Traveling with a toddler is hard enough, but sleeping with one on a tiny hotel bed? Hard pass.
Promising review: "My 2-year-old son recently transitioned out of his crib and we were nervous about what to do when traveling over the holidays (no more travel crib). This was a perfect solution. The bed is easy to inflate and it only takes a few minutes. The little mattress is separate so it's easy to put on a sheet (We used the same sheet from my son's toddler bed to try and make it more like 'home') and I love the bumpers on it. It's strong enough to handle my son diving around on it and both of us laying on it but even if he did pop a hole they include patches." —Sofia A
Get it from Amazon for $79.92+ (available in three colors).
5.
Plus an inflatable bath tub that'll be a lifesaver when it's bath time and your hotel only has a shower. It's super convenient and comes in two adorable styles. 
Promising review: "I love this little bath! The divider in the center helps keep my babe in her seat without slipping down! We have been to a few hotels and Airbnbs that didn't have a bathtub and this has come in handy! Because it's inflatable it is perfect to travel with. It folds down super small and is light weight. I've brought it on checked and carry-on bags through the airport with no problem!" —Pat&Court

 Get it from Amazon for $16.99+ (available in two styles).
6.
An Animal Island "Sit & Play" preschool learning system because it'll come in handy during a long flight. Not only will it entertain your toddler, but it's also educational. It comes preloaded with 60 stories, 25 sing-a-longs, and 20 lullabies at no additional cost!
Recommend for ages 1 and up.
Promising review: "This was a Christmas gift for my 13 month old. I bought this blindly and I'm so glad I did. We have used the tablet a dozen times for 30-60 minutes a day and it may just be chance, but I feel my son is comprehending the material. Also, my son has never been a fan of long car rides until we started traveling with the learning tablet. It's a game changer." —Amazon Customer 

Get it from Amazon for $200+ (available with or without a book).
7.
A kids selfie camera that'll keep your tyke busy during a road trip as they snap shots of everything they can see out of their window. You can even play an epic game of I Spy. The best part? You won't have to surrender your phone to your little photographer, only to end up with hundreds of random (and blurry) photos.
Recommend for ages 3 and up.
Promising review: "Hours of fun! This was a hit! There are games to play with the camera... so it makes a great gift for the kids traveling." —Linda Martinez

Get it from Amazon for $33.99+ (available in four colors).
8.
A pack of toilet seat covers to protect your toddler from gross seats at rest stops because you never know what to expect in a public restroom. 
Promising review: "If you're a germaphobe like myself, this is a must-have in your diaper bag. The thought of placing my son or daughter on a public toilet with only a seat liner is disturbing especially since they're both little and still hold onto the toilet seat for support when peeing/pooping. These cover the toilet completely and even cover the lower part of the toilet where dangling legs and pants/skirts touch. My only complaint about these is that they are not flushable. It's difficult trying to gather the liner up (they are rather large) without touching the toilet or the possibly wet liner (because it partially fell in the water) and then scrunching it up to fit into a sanitary napkin bin. Other than that, these are great. Also, I don't use the adhesive strips at all since I have two little ones that usually need to go right away so we don't have the time to remove the adhesive backing. I usually just place the liner on the toilet and then carefully plop my kid on top and all's well." —Ting
Get a pack of 24 large covers from Amazon for $9.99 (also available in extra large and various packs).
9.
And a travel urinal for when you can't get to a bathroom in time and your toddler is squirming in their car seat.
Promising review: "I purchased this for my son and our long car trips. How many times can we pull over to potty on a three-and-a-half-hour car trip? Ask my 4-year-old. When I saw this, I couldn't resist. We brought it along and when he had to pee, no problem. It's only a little gross when you dump it later. Well designed, definitely recommend." —Evan
Get it from Amazon for $9.79+ (available in two styles and various colors).
10.
A hands-free (rotating!) phone mount because it can attach to almost anything, like a tray table, the arm of a chair, and even luggage so your child will be able to watch their fave videos over and over again instead of being bored.
Promising review: "Essential for traveling with young kids! This thing is clutch. Just traveled with my almost 3-year-old. We used the item for my iPhone so she could watch shows and movies on the flight. Very sturdy, holds its position well. Versatile positions. Highly recommend." —ellierae
Get it from Amazon for $12.97+ (available in three colors and in two-packs).
11.
And, a waterproof pouch that you'll be thankful for when your child reaches for your phone to watch that YouTube video again while at the pool or the beach. This will keep your phone (and other essentials like your cash and credit cards) dry. And, don't worry, it won't prevent you from using your phone — you can still scroll and take pics.
The pouch fits any phone up to 3.9 inches x 6.7 inches.
Promising review: "This product is incredible. I purchased to use while in Key West for an iPhone 6, iPhone 6 Plus, and Galaxy S6 Edge and it fits perfectly for each phone being a little more snug with the iPhone 6 Plus. It is completely waterproof and takes great photos and video through the case, but you have to press 'record' prior to submerging the case underwater. My family went snorkeling and kept the case with phone inside submerged almost the entire time and had no issues with leakage. My family and I got stopped numerous times being asked where we purchased this product. Perfect even if just on the beach and you do not want to get sand or sunscreen on your phone and want to still take photos/text/browse internet while on the beach. I will be purchasing this for everyone in my family as it has become a travel must-have!" —Jennifer Roman
Get it from Amazon for $6.99+ (available in 14 colors).
12.
Plus, a portable power bank charger — now you won't have to freak out when your battery is low and your toddler needs their mid-afternoon Cocomelon fix, but there's no outlet in sight.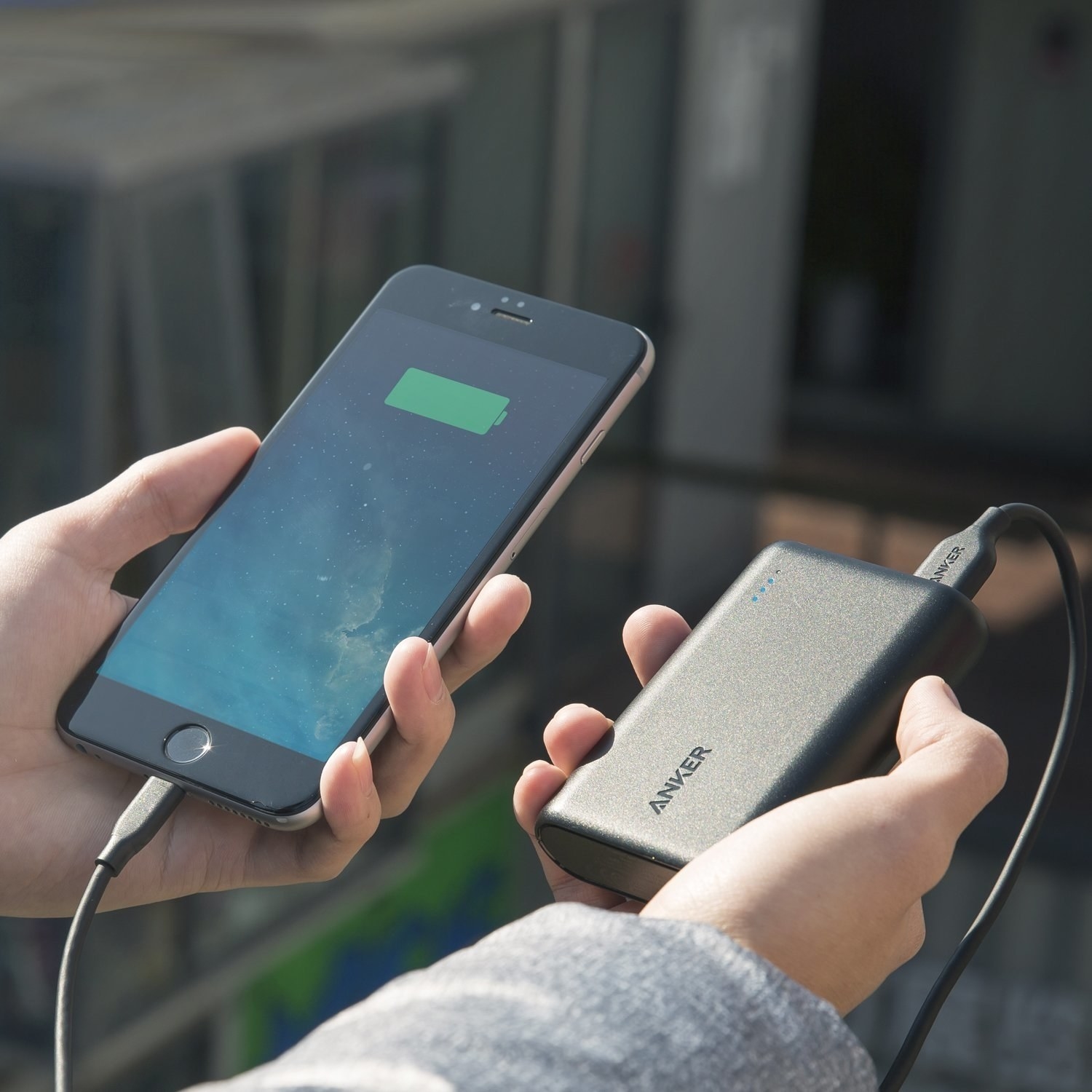 Promising review: "I purchased two of these for my family prior to a vacation so that all five of us at anytime had access to charging a phone, tablet or camera. I fully charged both of them prior to the trip. While on vacation, we used them a few times and charge indicator lights never once changed below four (maximum charge). Fast-forward six months later, and both still had what seemed to be a full charge, i.e.: four lights. My wife and son took one with them to a baseball game. When they returned they told me they had recharged an Apple iPhone 6S three times; the charge indicator lights on the unit are at three out of four. Now I feel the need to buy several more." —Amazon Customer

Get it from Amazon for $25.59+ (available in three colors).
13.
An I-Spy bag so you can avoid about a dozen, "Are we there yet?" questions during your next roadtrip. This sealed bag will keep them entertained because it's filled with rice and hidden treasures for your kid to find.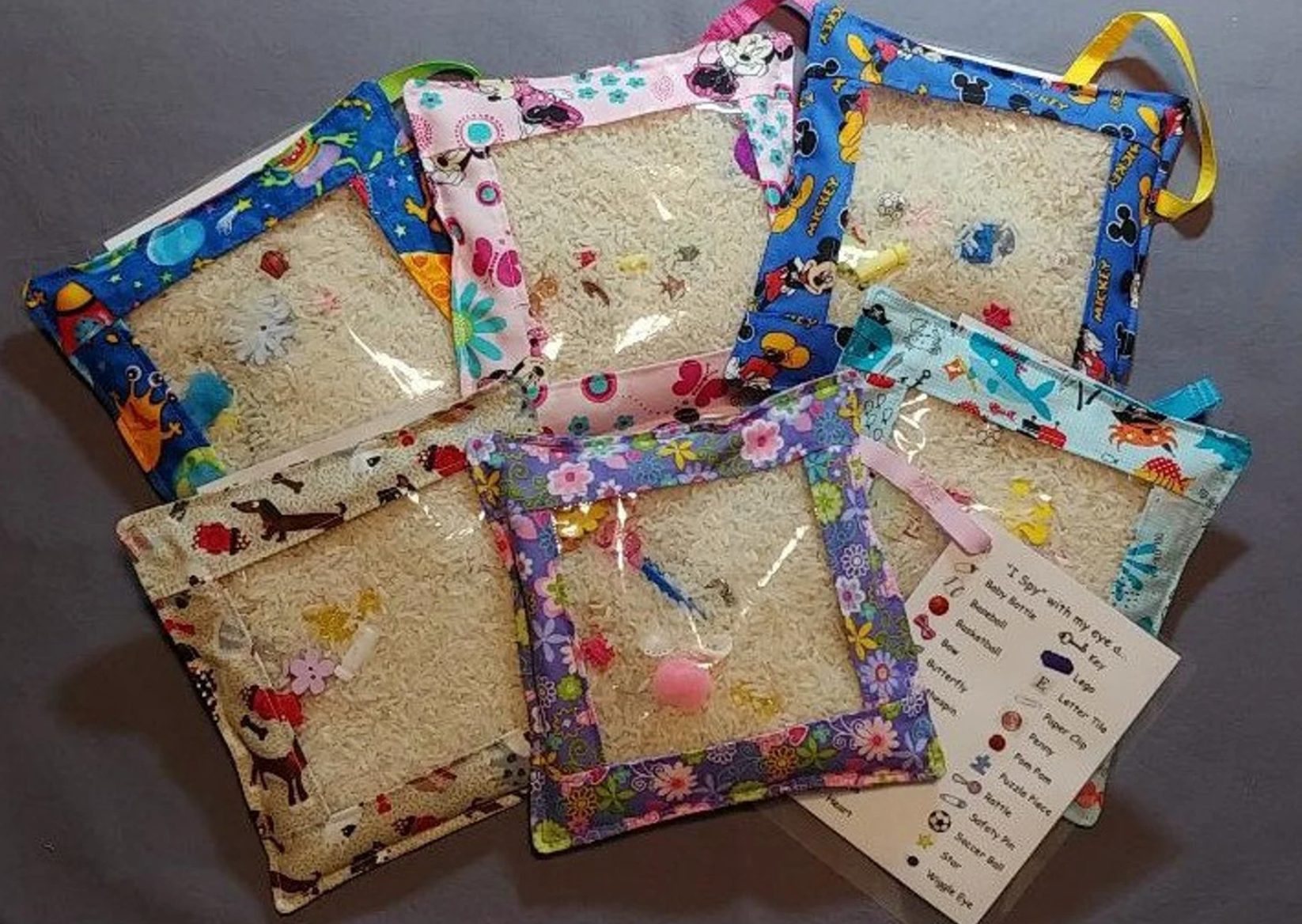 Stitched 4 U By Trippy 2/Etsy
Stitched 4 U By Trippy 2 is a small biz that sells hand stitched items like cards, bags, and coasters.
This bag includes a laminated list of 24 items for you kiddo to search for.
Promising review: "My daughter loves playing with her I Spy bag! She gets so excited finding the items in the bag and comparing it to the card. Keeps her busy on car rides so that is a plus!" —Jecceka
Get it from Stitched 4 U By Trippy 2 on Etsy for $16.95 (available in various patterns and styles).