1.
A pack of hanging vacuum bags because you'll be able to store last season's clothing (like bulky winter coats) more compactly instead of trying to shove everything into your closet. Or worse, ending up with a pile on the floor because you ran out of room.
Promising review: "Bought these storage bags two weeks ago to pack my winter clothes for summer, and they did the job perfectly. They are large and sturdy. I like its five-hook design. I can store five women's jackets or four big men's jackets in ONE bag. The long bags also fit my dresses. The biggest reason I bought these bags is that I do not need to fold my seasonal clothes; just hang, zip, vacuum, done! Super convenient. Extremely happy with this space bags. I will definitely order more!" —Jia Yan
Get a set of four from Amazon for $23.99+ (available in three colors and various multipacks).
2.
A broom and mop organizer so you can avoid an avalanche of cleaning supplies from tumbling out of your closet every time you reach in to grab a broom. This organizer mounts on your wall and keeps your cleaning tools put, no more sliding.
Promising reviews: "Holds better than any rack I've had. Nothing falls off and the hooks are a welcome addition for holding the small items. This is my second one, as I liked the first one so well." —Jami Wallis
"Sturdy and strong. I tried other brands but they are not strong enough to hold brooms. This one really works. I wish there was more space between each holder, but otherwise I'm very satisfied." —eb
Get it from Amazon for $14.97 (available in four colors and one-, two, and four-packs).
3.
An under-cabinet drawer to finally get all your supplies under-the-sink in order. This organizer is perfect for storing sponges, brushes, cloths, and bottles of cleaning products. You'll be able to find what you're looking for easier and keep things more organized.
Promising review: "This turned out to be one of those 'great values' I can brag about to my friends (and always skeptical husband too!!). Expecting a flimsy, shaky-type unit, I was astonished to find it SOLID and STURDY. It assembled in a flash. The basket slides easily in the track and the wires don't bend or get crooked with heavier items. I have several powder type cleaners and bottles leaking fluids that were always falling over, making a mess to clean up. Because the basket pulls out smoothly, everything stays upright. I've tried several types of organizers in the bathroom cabinet, the revolving plastic unit, the tiered steps, the U-shaped shelves, and nothing has worked as well as this one. I may buy more for other 'storage needed' areas, e.g. linen closet, bedroom closet, and my office. Oh, it's also easy to take the unit out from under the sink and recessed floor to be able to clean under there." —Amazon Customer
Get it from Amazon for $24.97+ (available in two finishes).
4.
A jewelry cabinet with LED lights that looks like a mirror when it's closed so you can finally get all of your jewelry organized and avoid a pile of tangled necklaces or missing earrings.
Promising review: "Why the heck didn't I get one of these years ago?? This is a quality product. Sturdy and well made. At first I thought the light was a little gimmicky but it totally helps me see what I'm doing in my dimly lit bedroom. This is soooo much better than a jewelry box or trying to figure out your own clever storage like I have for years (trying to put off splurging for a product like this). I totally regret not getting one sooner. A lot of earring capacity, ton of everything capacity and ease of use for someone as lazy as me is critical! If you're on the fence, get one, you won't regret it! So worth the money!" —PHILLIP G.
Get it from Amazon for $139.99 (available in eight colors).
5.
A space-saving hanger organizer because somehow we all end up with a bunch of hangers piled in some corner or bin. Don't worry, it happens to the best of us.
Promising review: "I didn't know that I had needed this all of my life until I got one for my husband out of desperation. His hangers were all over the house, so I got this to try. I assembled it for him while he was at work and immediately ordered one for myself. It doesn't take up much floor space but holds a ton of my velvet hangers. Much better than any other method I've tried to contain hangers in the past, and it looks really nice. Sturdy and high quality. Easy to assemble." —SavvyShopper
Get it from Amazon for $27.46.
6.
Sheet Keeper, an elastic band labeled with sheet sizes, so you won't have to unravel sheets (that took you way too long to fold in the first place) in order to find the correct size you're looking for.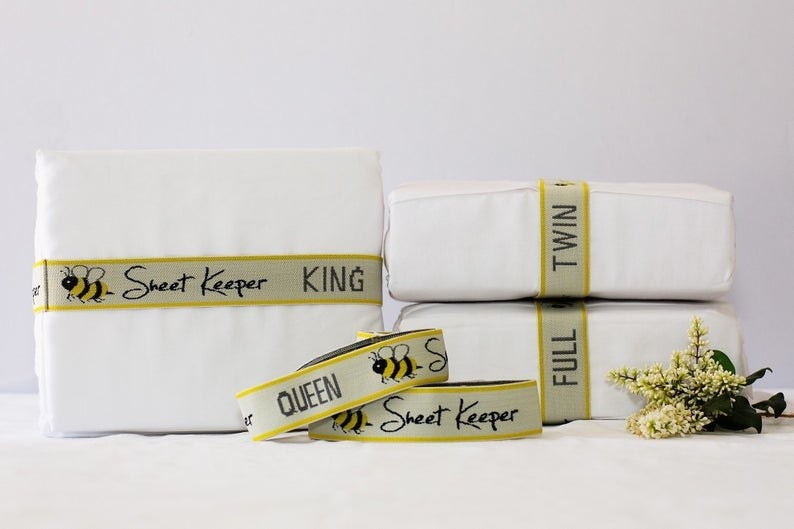 Sheet Keeper is a small business based in Los Angeles.
Promising review: "Great product. Came quickly and they work great! Such a great idea to keep sheets organized and together while being able to tell what size bedding it is. Will order again for sure!" —devonhansen1
Get two from Sheet Keeper on Etsy for $15.99 (available in six sizes).
7.
A two-tier expandable shelf that'll give you three tiers instead of one unorganized space under your sink. There's even an opening that can fit around your sink pipes!
Promising review: "I found this shelf to be extremely sturdy and handy! I loved how it works around my pipes and how it looks like a perfectly clean and organized cabinet and not cluttered. I tried everything from baskets and bins to wire shelves but they did not work. This under sink shelf lets you see everything. The metal is plenty sturdy for bath and beauty items. I love how it extends very wide! Love this shelf!!!" —Nicole Myers
Get it from Amazon for $22.87 (available in three colors).
8.
An expandable honeycomb drawer organizer to help you organize smaller items that are hard to store, like socks, underwear, scarves, and ties. Instead of a messy pile, you'll have neat sections for your items.
Promising review: "Great! I loved it and will order more in the future. It is better than using rubber bands when I roll socks to keep them together." —Shirley L. A. Fayette
Get it from Amazon for $7.70.
9.
A set of toy hammocks so you can finally get your little one's Build-A-Bear collection under control and off of the floor. These stretchy organizers will make it easier to convince your child to put their stuffed animals away since these are way better than putting their beloved stuffy in a dark toy box. (Mr. Cuddles would approve.)
Promising review: "I really love these hammocks. My kids always have their stuffed animals laying all over their room and this just takes care of the mess but still keeps them visible so we can all be happy. Holds quite a few, and definitely holds up well. Very sturdy!" —Holli Wagner
Get a pack of two from Amazon for $12.87 (available in six colors).
10.
And a bath toy organizer to wrangle your child's ever-growing collection of boats and mermaids. Not only is this great to keep toys organized, but it will also store them so they can dry easily. 
Promising review: "My grandkids (4 at present) always shower after being in our pool all day before heading home to bed. They used to have toys all over my shower. They love this organizer in the shower as I placed it at their height and they have access to all of their toys! I LOVE IT since now it's not a mess all over my shower when they're done as they also enjoy placing their toys in the provided pockets! Win Win." —April L.H.
Get it from Amazon for $9.98+ (available in three sizes and pre-stocked with toys or by itself).
11.
A set of grocery organizers if you struggle to find things in your unorganized fridge and have trouble keeping note of what you have in stock. Now you won't end up with four bottles of ketchup because you thought you ran out.
Promising review: "These are so helpful if your fridge is cluttered. I bought these for my mom who is an extremely cluttered person. I love her to death, but she is not an organized person. Her fridge used to look wild. There would be food piled on top of food, and small jars and containers EVERYWHERE. I bought her these to help her organize everything. Now she can see what she has and everything has a place. Thank you for making something like this to help those that are so cluttered." —MioRioZio
Get a set of six from Amazon for $16.99+ (available in five colors and in a 12-pack).
12.
A pack of shelf dividers to create sections on your shelves. These make it easier to store soft clothes that usually topple over like shirts, so your items can stay put when you reach for something. You will no longer neatly stack your clothes, only to deal with a messy pile just a few days later. 
13.
The Pink Stuff, an all-purpose cleaning paste, that'll save the day when your little Picasso feels inspired and decides to draw on your walls. This stuff works like magic and can be used on floors, stove tops, countertops, sink, tubs, and so much more. You don't have to just ~deal~ with stains, scuffs, or messes — make them disappear!
Promising reviews: "I saw this on TikTok and had to try it. Being a mom and a babysitter, we have the occasional crayon or marker on surfaces it is not supposed to be. This takes it right off without a ton of elbow grease. I also used it on my converse today. They were covered in dirt and grass stains from doing yard work and now they look brand-new. This stuff is a lifesaver!" —TammyC117
"If you've ever got lipstick on anything you know how hard it is to remove. My 4-year-old loves makeup and thinks she the next Picasso. This stuff removed it with only rubbing it over it. No scrubbing at all. I'm completely sold!" —Anastasha
Get it from Amazon for $5.97.