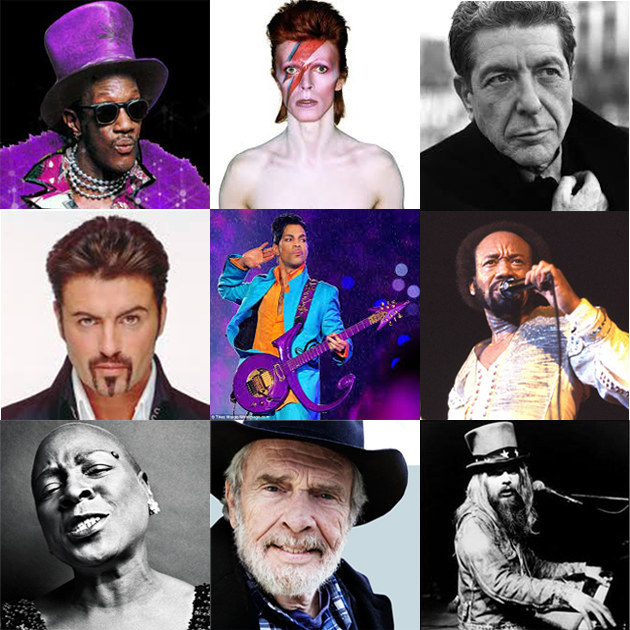 2016 was a rough year for the music industry.
It saw the passing of many brilliant musicians and performers, most recently George Michael on Christmas Day. I put together this tribute to their immense contributions to the music world, a playlist featuring songs penned or performed by these talented musicians. They were pioneers and innovators who spawned genres, social movements, and inspired hundreds of artists and bands who would not exist without their work.
The flow of the playlist rises and falls like the ups and downs of 2016. It starts with a slow dirge (Bowie rejoined the stars in early January,) but quickly jumps into high gear with a few energetic tunes. Then, it slows down in the second half with quiet ballads and tear jerkers. To finish it out, the November election fire roars back with a trio of social/political-themed songs, and finally, we close with a fitting last song - the last ever recorded by the most popular band in history.
Read on for a little tidbit about each song - why it's on here, the artist's bigger influence, my personal taste - or just get straight to the music. Let me know if you enjoyed this playlist with a like or a comment below!
Here's to music and to 2017!
1. Ralph Stanley - O Death (from O Brother, Where Art Thou? soundtrack)
This acapella song, in which he directly addresses Death, makes a fitting beginning to a memorial playlist, almost like a somber opening prayer. Ralph Stanley was a first generation bluegrass artist and a staple of bluegrass music, touring and recording from the mid-40's into the 2010's.
O Brother, Where Art Thou? is an amazing dust bowl-era adaptation of Homer's Odyssey, with a great bluegrass-heavy soundtrack to boot.
2. David Bowie - Blackstar
This one gives me the shivers. Bowie passed only 2 days after releasing his last album Blackstar on his Jan. 8th birthday. He knew of his terminal illness during the entire recording process, planning this album to be his swan song and keeping both the release and his illness secret until the end. This whole album revolves around the theme of death, and the title track is no exception. It's dark and brooding, fitting for a man coping with his own mortality.
3. Emerson, Lake & Palmer - Karn Evil 9 1st Impression, Pt. 2
"Welcome back my friends, to the show that never ends."
Not one, but two members of ELP passed this year; keyboardist Keith Emerson and frontman/guitarist/bassist Greg Lake. ELP, founded in the early 70's, were pioneers in the progressive rock genre. An early adopter of the synthesizer and a master of merging classical music with rock, Emerson still holds the title of greatest rock keyboardist.
I hope they're both enjoying the show, wherever they are...
4. David Bowie - Let's Dance
Put on your red shoes, y'all; the next few songs are jams. I put this close to the first Bowie song, Blackstar, to highlight how versatile of an artist he was. Not many artists reinvent themselves and their sound constantly, but Bowie had the ability to pump out great music of all different styles throughout his five decade career.
5. Morris Day and The Time - Jungle Love
The Purple One. His Purple Highness. The Artist Formerly Known As Prince. Prince pioneered the "Minneapolis sound" that influenced 80's synthpop and R&B, including this band. This song is a stand-in: Prince wrote it for The Time.
He has no music on Spotify, as he was a champion of musicians' rights throughout his career and removed all his music from online streaming services. However, the NFL did allow clips from his legendary Super Bowl performance to stay on YouTube, keep reading to find one...
6. Earth, Wind & Fire - Let's Groove
Cofounder, lead singer, and songwriter, Maurice White was the driving force behind this legendary band. This jam, along with EWF's September, Boogie Wonderland, and Shining Star are a staple of many a disco or funk playlist, and never fail to get my feet moving.
7. Parliament - Flash Light
Keyboardist extraordinaire Bernie Worrell was an essential member of George Clinton's Parliament-Funkadelic collective in the mid-70's. Worrell's iconic synth bassline drives the pulse of this song. This collective birthed the P-Funk subgenre, which in turn heavily influenced the sound of early West Coast rap, specifically G-funk (Dr. Dre's signature style.)
8. Screaming Headless Torsos - Wizard of Woo
This song picks up right where the last one left off - it's a tribute to Worrell, whose nickname was the Wizard of Woo. It features his playing, adding psychedelic layers to an already groovy song. Another fun fact about Worrell: he joined Talking Heads after his P-Funk days, and recorded on most of their albums, as well as on an extensive list of other artists' discography.
9. Jefferson Airplane - Somebody to Love
Paul Kantner, who passed in January, cofounded the seminal psychedelic rock band Jefferson Airplane. Founded in 1965, they defined the sound of San Francisco circa the late 60's and their first record became a staple of the "Summer of Love." They headlined huge counterculture events, like the Monterey Pop Festival and Woodstock.
10. A Tribe Called Quest - Electric Relaxation
One of the smoothest samples out there, this song is the epitome of chill. Phife Dawg, who passed this year, along with Q-Tip and DJ Ali Shaheed Mohammed, made up one of the most intellectual and influential hiphop groups in the 90's, A Tribe Called Quest.
11. Toots Thielemans - Wave
Spanning a six decade career as the world's preeminent jazz harmonica player, Jean-Baptiste "Toots" Thielemans traveled the world over bringing a novel sound to the jazz playbook. This song is a bossa nova standard, featuring popular Brazilian singer Elis Regina.
12. Frank Sinatra Jr. - Cry Me a River
The son of a legend, Frank Sinatra Jr. was a respectable singer in his own right. Here, he sings an old jazz standard, originally written in 1955.
13. John Williams - Princess Leia's Theme (from Star Wars Episode IV: A New Hope)
The beloved Carrie Fischer, immortalized for her role as Princess Leia, passed away on December 27th. She wasn't a musician, but I couldn't help adding her character's theme song from Star Wars, composed by John Williams.
14. Leon Russell - A Song For You
Leon Russell, aka The Master of Space and Time, was a prolific session musician from the early 60's onward. He penned this beautiful song in 1970, and it went on to be covered by many, including Willie Nelson, Ray Charles and Donny Hathaway. The opening lick feels like it could come straight from a classical piece.
15. Joey + Rory - When I'm Gone
You can't say I didn't warn you: this one is a heartbreaker. Rory and his wife Joey launched a country vocal duo after an appearance on CMT's talent series Can You Duet?. Sadly, a few years later, Joey was diagnosed with cancer the same year their first daughter was born, and after a two year fight, she passed away in March. Their story makes this song all the more special, a touching reminder from a wife to a husband that life goes on, through pain and sadness. You can see Rory's blog here: thislifeilive.com
16. Jeff Buckley - Hallelujah
Leonard Cohen originally wrote this song, and it's said there may have been up to 15 pages of verses he compiled. I love the idea of a constantly evolving song; he himself recorded three or four different versions over the years. Jeff Buckley's intimate recording does the lyrics justice.
17. Merle Haggard - Mama Tried
Merle lived the life that most country artists could only sing about. He shuffled in and out of prison for much of his adolescent life, including a sentence at San Quentin prison in California. It was during this stint that Johnny Cash played one of his famous prison shows, inspiring a young Merle to launch his country music career. The rest, as they say, is history.
18. The Eagles - Peaceful Easy Feeling
Glenn Frey, original member, co-lead singer and co-writer (with fellow member Don Henley,) passed away this year, so it's only right that I feature an Eagles song in which he sings lead. This song comes off their self-titled debut album, embodying the country rock roots that they drifted away from in subsequent albums.
Bonus: Prince - Purple Rain (at the 2007 Super Bowl)
19. Sharon Jones & The Dap-Kings - This Land Is Your Land
Woody Guthrie's popular folk song gets a minor arrangement and additional lyrics addressing poverty in the first of three November-themed political/social songs. Miss Sharon Jones was an indomitable force of soul, leading a soul music revival in the early 2000's. Amazingly, she didn't make it big on the scene until after she turned 40. Even after a cancer diagnosis in 2012, she continued performing with unbridled energy, following her mantra, "I have cancer; cancer don't have me."
20. A Tribe Called Quest - We The People…
18 years, 18 years, she got one of...wait, wrong artist.
But 18 years! ATCQ hadn't put out an album in 18 years. That is, until they dropped the amazing We Got It from Here...Thank You 4 Your Service. The deep beats and skillful wordplay are as expected from the veteran group, but what makes the album so great is their unflinching attack on the nation's current state of affairs. Released after Phife Dawg's death, this album is their final sign-off. What a way to drop the mic.
21. George Michael - Freedom! '90
Speaking of the state of affairs, George Michael released this song as a cynical statement about the music business, but it was the song's video that ultimately made the strongest impression. It criticized the use of beauty to sell music in a post-MTV market. During a time in which most videos only portrayed women as love interests of lead singers, he refused to appear on his video and asked five supermodels to lipsync his song instead.
22. The Beatles - The End
Sir George Martin, known as the "Fifth Beatle," made indispensable contributions to the Beatles' music through his role as their producer. He signed them to their first record deal, and accompanied them through their rise to stardom.
This song is a fitting end to the playlist, not (just) because of the obvious title, but because it signifies much more than the last song of an album. It was the last page turning to close a magnificent chapter in music history. This short song is the last song the four Beatles ever recorded together, and it ends with this instantly quotable couplet by Paul:
"And in the end, the love you take
Is equal to the love you make."
Thanks for reading. Stay kind!
This post was created by a member of BuzzFeed Community, where anyone can post awesome lists and creations.
Learn more
or
post your buzz!