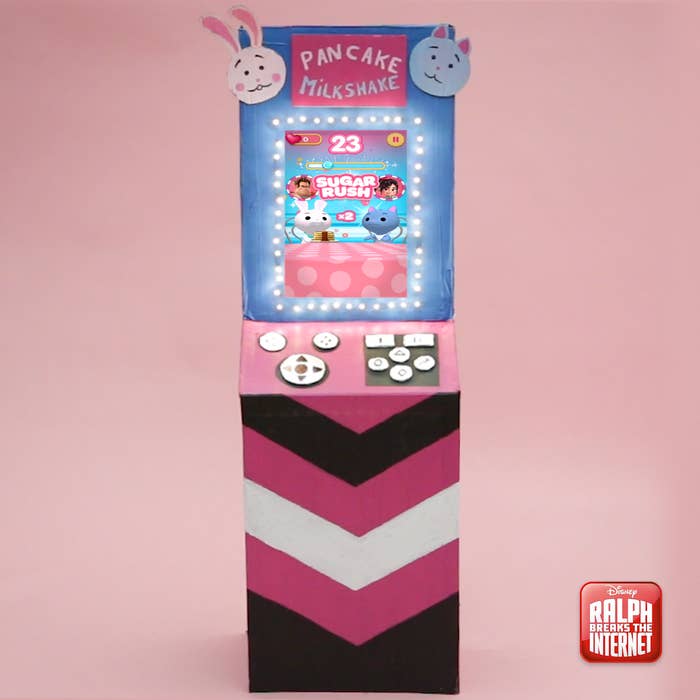 Pancake Milkshake Retro Arcade Instructions
MATERIALS:
2 large strong cardboard boxes
Pen and ruler
Paints (blue, pink, black, and white)
Silver foil
Black marker
Sharp scissors or craft knife
Strong duct tape
Old tablet case
Tablet (we used a 12" tablet)
Fairy lights
METHOD:
1. Take a cardboard box and draw two sides of the arcade unit. Cut these out using sharp scissors or a craft knife.
2. Cut out a 53cm x 38cm rectangle from another piece of cardboard. Place your tablet on the rectangle and draw around it. Measure 2cm inside and cut to make the frame for your screen.
3. Take another piece of cardboard and cut out a 56cm x 38cm rectangle. Measure 19cm along the height and score the width.
4. Assemble the pieces together using duct tape.
5. Reinforce case with tape.
6. Paint the arcade unit.
7. Mark and punch holes an inch around the screen frame, then place fairy lights.
8. Add extra decorations such as buttons, arcade unit name, and characters.
9. Tape an old tablet case inside the unit.
10. Insert tablet, turn on the fairy lights, and get ready to play Pancake Milkshake!
Download Pancake Milkshake game today for iOS and enjoy at home: https://apple.co/2FQL2us
Watch the trailer for Ralph Breaks The Internet now: https://www.youtube.com/watch?v=Dy1WymqYHfY&t=1s