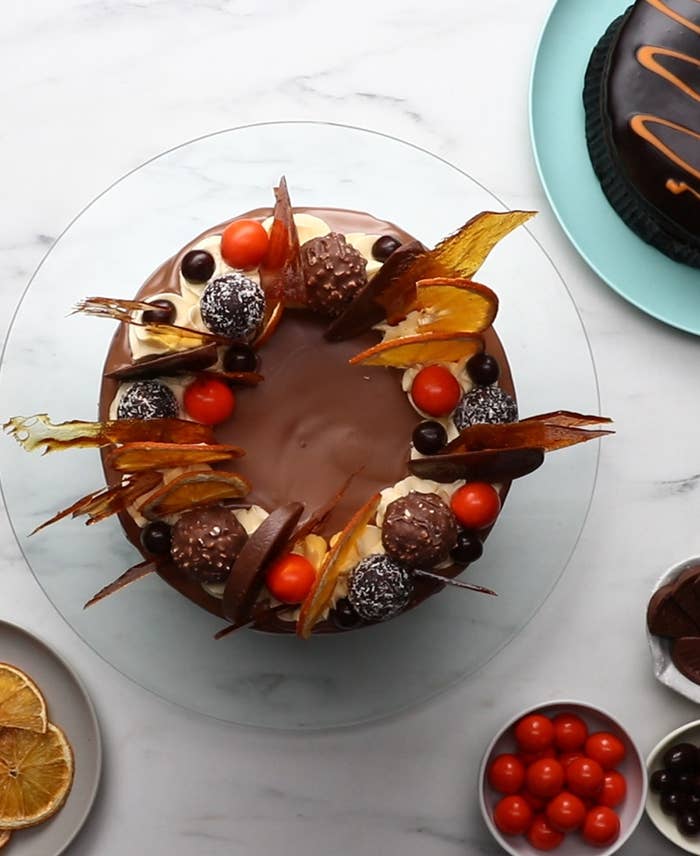 Ingredients:
3 Woolworths Choc Orange Mudcakes
150g dark or milk chocolate
2tbs vegetable oil
Assorted choc orange flavoured chocolates and candies
For the buttercream:
560 grams unsalted butter, at room temp
600 grams icing sugar, sifted
1.5 tablespoons vanilla
Pinch of salt
For the toffee:
6 tbs caster sugar
For the dehydrated orange slices:
1 Orange
Method:
STEP 1: To make dehydrated orange slices, preheat oven to 90 degrees. Thinly slice one orange into discs and arrange on a paper towel. Lay another sheet of paper towel over the top of the orange slices and gently press down to absorb the moisture.
STEP 2: Place orange slices spaced apart on a wire rack then place the wire rack on top of a baking tray and place into oven for 1.5 hours until dried.
STEP 3: To make buttercream, beat the butter on medium speed for 6-8 mins until pale and creamy.
STEP 4: Add the remaining ingredients and mix on low until combined, then increase speed to medium for a further 6-8 mins. Scrape down the bowl half way during mixing to make sure everything is incorporated. Buttercream should be very light and fluffy.
STEP 5: To make toffee shards, place 6 tablespoons of caster sugar in a small saucepan or frypan and melt gently over medium heat until sugar dissolves and turns an amber colour.
STEP 6: Gently pour out onto a parchment lined baking tray and spread with a palette knife or spoon. Set aside to cool.
STEP 7: Once set break into shards.
STEP 8: To assemble the cake, place a small dollop of buttercream in the centre of a cake board or serving plate and place one of the Woolworths Mud Cakes on top. Spread a thin layer of buttercream over the top of the first cake and stack with the second cake. Add another thin layer of buttercream to the top of the second cake and stack the third cake so the bottom of it is facing upwards.
STEP 9: Cover the entire cake in a thin layer of buttercream to trap all the crumbs then refrigerate for 20 mins.
STEP 10: Remove from the refrigerator and cover in a final layer of buttercream, smoothing the top and sides. Place back in the fridge to chill until firm, about 30 mins.
STEP 11: As the cake cools, melt 150 grams of dark or milk chocolate with two teaspoons of vegetable oil until fluid. Set aside to cool for 10 mins before drizzling onto cake.
STEP 12: Once the buttercream has set hard, remove cake from fridge. Spoon melted chocolate over the top and sides of the cake to create a drip effect.
STEP 13: Fill a piping bag with the remaining buttercream and pipe a ring of swirls around the top of the cake. Arrange dehydrated orange slices, toffee shards and other decorations on top of the buttercream swirls.
STEP 14: Enjoy!
Try the limited edition Woolies choc-orange mud cake, available at Woolworths stores across the country from 3 June 2019.