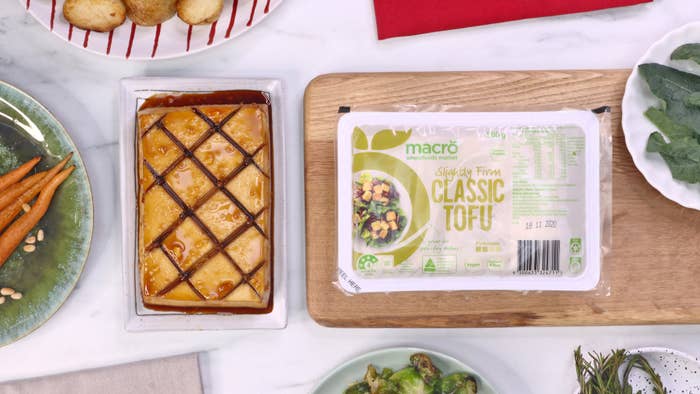 Method:
STEP 1: Preheat oven to 200°C and line a large baking tray with baking paper.
STEP 2: Lay 4 layers of paper towel on a chopping board, then place the Macro Slightly Firm Classic Tofu on top of the paper towel to sit for 1 hour, until the excess liquid from tofu has been absorbed.
STEP 3: For the marinade, combine Macro Light & Golden Rice Malt Syrup, Marco Organic Orange Marmalade , chipotle sauce, maple syrup, tamari, garlic, salt and pepper in a mixing bowl.
STEP 4: Gently lift the tofu onto the lined baking tray. Score tofu into a diamond pattern then gently press the cloves into the top of the tofu. Brush tofu with marinade evenly.
STEP 5: Cook the tofu on the middle shelf of the oven for 30 minutes.
STEP 6: Place a small pan on low heat and add the remaining marinade. Reduce for 5 minutes until the sauce thickens, stirring occasionally. Be careful not to burn the sauce.
STEP 6: Serve Christmas 'ham' on a large platter with reduced glaze drizzled on top. Garnish with bay leaves.
STEP 7: MERRY CHRISTMAS!