What Percent Michael, Dwight, And Jim From "The Office" Are You?
You got:

33% Michael Scott, 33% Dwight Schrute, and 33% Jim Halpert
You're an even combination of all three — lucky you! You have a smooth demeanor that can get anyone on board with whatever you need done. You're always the fun one at parties, whether it's because of your sparkling personality or your interesting party facts. You're a fool for love, and it can sometimes be unrequited. You're a hard worker and often find yourself staying at your desk until the job is done. You're generous with your time and make friends easily.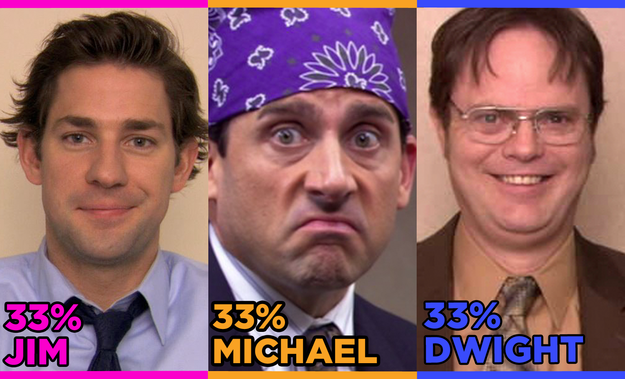 You got:

70% Michael Scott, 20% Dwight Schrute, and 5% Jim Halpert
You're a winner, that's for sure. The 70% Michael in you allows for you to put yourself completely out there while maintaining a kind, lovable vibe into the universe. You can get away with saying pretty much anything to anyone as long as you say it with a smile. You like to come up with plans — mischievous or not — and are quite good at convincing others to go along with them. You're a fierce enthusiast of your hobbies and are in love with the idea of love.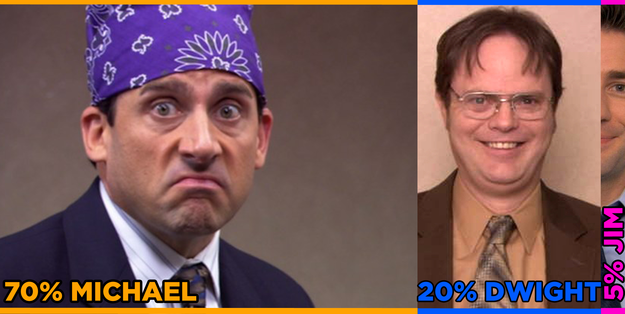 You got:

80% Jim Halpert, 18% Michael Scott, 2% Dwight Schrute
You're mostly Jim with a little bit of Dwight and Michael, which means you're effortlessly cool with a slight weird side. You're easy to talk to and get along with almost everybody. Your dating life is always interesting and you tend to have your pick of anyone you're interested in. You're very determined, and once you decide that you want something you'll rest at nothing to get it. You'll also end up with a Pam (if you haven't already) whether you find her in the workplace or not.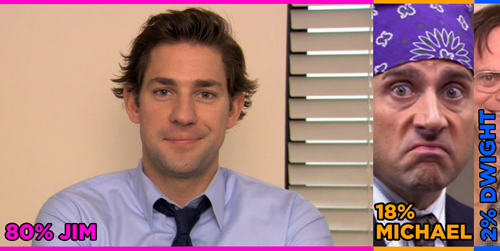 You got:

75% Dwight Schrute, 23% Michael Scott, 2% Jim Halpert
Bears. Beets. Battlestar Galactica. If these words mean nothing to you, it's time you take a moment and channel your inner Dwight Schrute. You're a decidedly fair person who has much respect for family and traditions. You enjoy the outdoors and have a soft spot in your heart for animals and those who really love them. You're determined, hardworking, and thorough — but most of all you're one of the most unique people around.