Ian Ziering Critiques 26 Vintage Photos Of Himself
The star of Sharknado 2 sat down with us and faced his past photo shoots and his affinity for extremely silky shirts.
Ah, the 90s. Before The OC, Gossip Girl, and One Tree Hill the world was gifted with Beverly Hills, 90210 (the original one of course). Ian Ziering first entered our hearts as Steve Sanders, whom he played for over a decade, and now he's back on our television screens starring in Sharknado 2. Ian stopped by BuzzFeed's New York office to take a trip down memory lane with us by checking out his former looks: the good, the bad and the VERY silky shirts.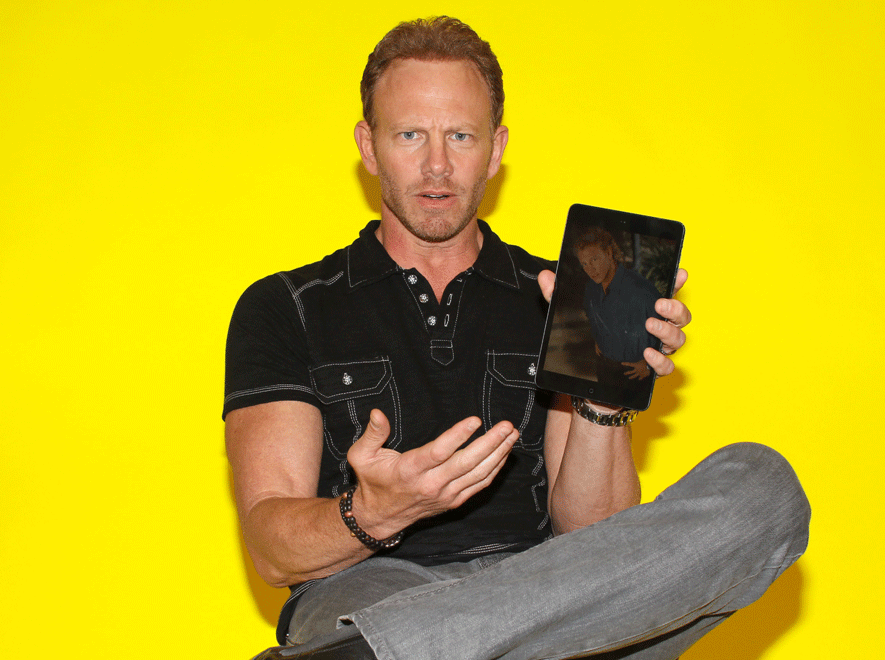 Ian Ziering: Ah yes, my silk shirt phase. My shirt's tucked in. That's the way you did it in the '90s, OK? So... it is what is it. I also notice the Jew 'fro. Some may call it the mullet, but to my lineage it's the Jew 'fro. And it's bangin'. Sometimes I look at these pictures and I'm not sure... did I not have a mirror? Or did I just not have a friend to tell me the difference?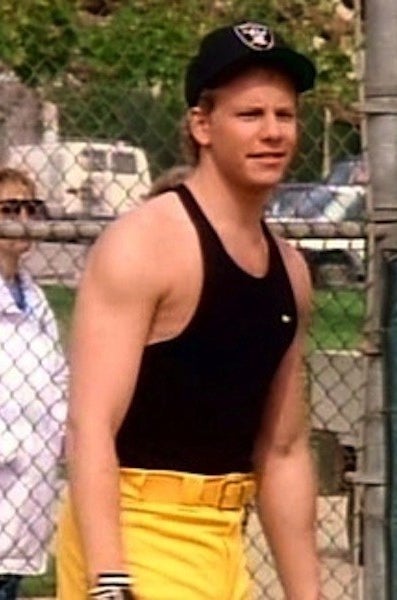 IZ: Woooooow. Oh, really digging deep here. Clearly. This is a Steve outfit. So mind you that I didn't choose all of my wardrobe. The stuff was set for me [to wear]. Being that this is Season 1 of 90210 I didn't have enough nerve to really make waves. So I kind of went with the flow to a certain extent. Yeah, I certainly want this one back. It gets worse, as I'm sure you know.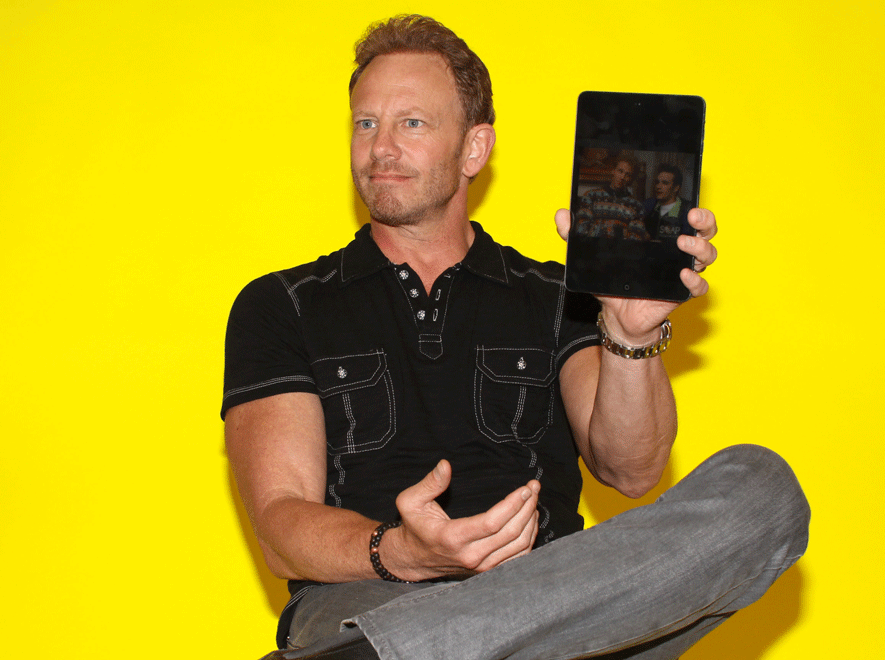 IZ: OK. OK. This is an homage to Theodore Huxtable. It's a Coogi sweater. It's a holiday episode, a holiday sweater, and, again, it's early on so I'm not having enough faith to tell the wardrobe person, "Err, I'm not comfortable [in this]."
IZ: Wow, OK. So that goes back...yeah, um. That cutoff tee actually was from Camp Beverly Hills, which was a store in the late '80s in Beverly Hills. There was a movie but there was also a store. I actually still have that [shirt]!
So was it your decision to wear that shirt and pose that way?
IZ: Well, I brought a whole bunch of stuff to wear, and, mind you... (goes silent)
You were like, "My nipples are looking good today, so..."
IZ: Perky nipples was the way to do it.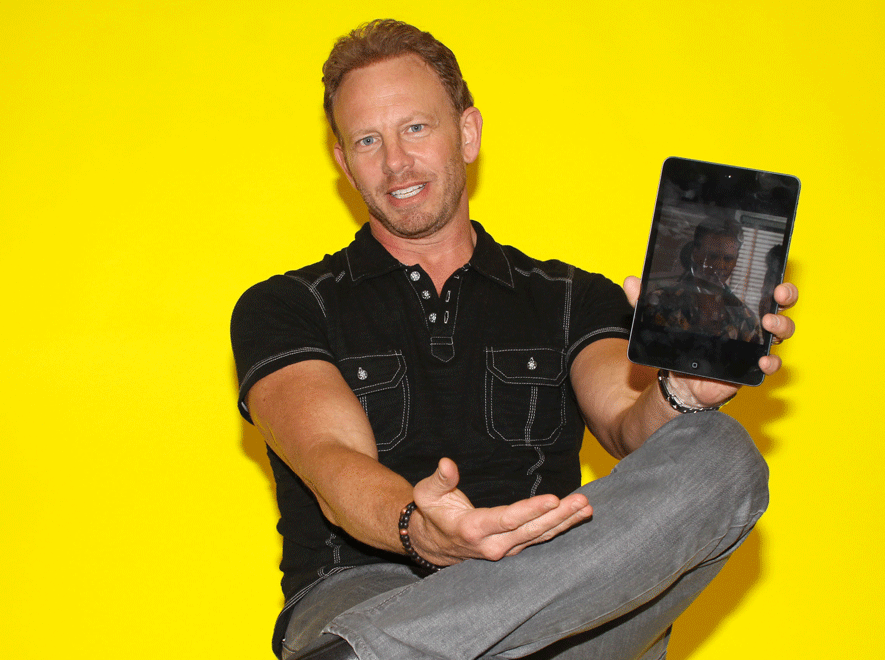 IZ: Yeah, again: We're still in the silk shirt phase. Harlequin patterns were really great when you want to look like a clown... or you were on 90210! For me, this is just, uh, this is about the renaissance phase for Steve. He loves color. Wow. (laughs) Very Mardi Gras. Very Calypso. But again, we're taking it out of context so today it may seem weird, but yesterday... it was weird too.
IZ: WHOA. OK. Clearly not afraid of color. There was a time when I was buttoning my shirts — I'm sure we're going to see that — up all the way. And I can see now that we're starting to have the buttons come up higher. You know a lot of these pictures are from themed episodes, so it's not like Steve always wore this kind of stuff.
IZ: This is my broodish phase. You know, chest open, thinking that that was sexy. Um, I have to take credit, the butt and the balls, thinking I look good.
Would you say this is the deepest V you've ever worn?
IZ: You can't tell, but this entire ensemble is a onesie.
REALLY? Are you serious?
IZ: No! So that's again in the silk phase — a silk jacket.
IZ: Oh... you know what? It's so funny because I fucking hate this picture. When I saw it come out I wanted to kill the photographer Andrew Semmel.
You remember his name!
IZ: 'Cause I wanna wring his neck! I got in and the water was so cold. I got in and went, "Oooh!" and he took a picture. And it's one of my least favorite images ever captured. I'm not even gonna hold it up to the camera. It's like, what the hell? Clearly the editor at Fox didn't like me to put this picture out.
It's also a trading card.
IZ: Oh boy. That's the worst possible place... This is a collector's card?
IZ: I'm oOK with this. This is kind of like "young love," Kelly and Steve in the early '90s. They actually kind of look good. If you take it within context it's a nice beachy, summery, just a young couple. Wait a second: I'm wearing a bogus Fossil watch!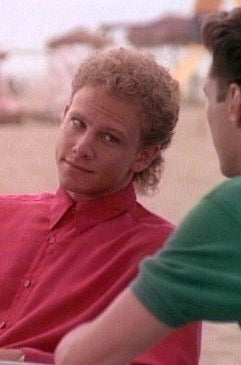 IZ: OK! We are now at the point where Steve starts buttoning his shirt all the way. And... nobody told me to do that.
So it was your choice after all.
IZ: Yeah, I think there were demons. I'm not sure why exactly...um. Looking at this picture now I'm like, "Really?" So whatever he's saying to Brandon, I'm saying to Steve right now. Also notice he's sitting on a beach...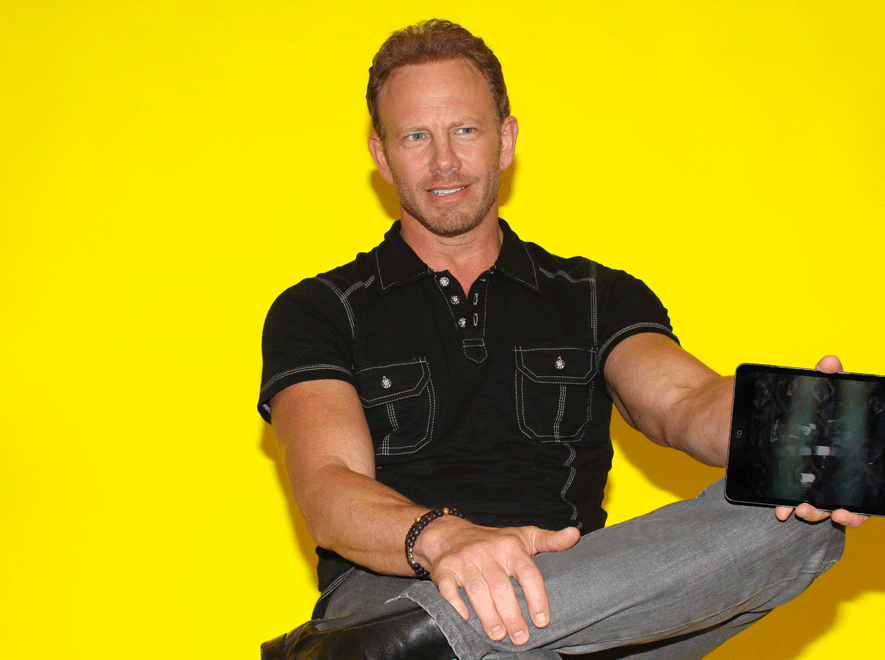 IZ: Here we go again! Yup. Again, did I not have a mirror? Did I not have a friend? It almost kind of looks like my head is stuck on to the shirt. My head looks very small on some level but what type of pattern is that? It's like python kind of print?
Yeah, that's not something I've ever seen before.
IZ: Wow, I'm not really sure what to make of that! Again, it's a summer shirt. My hair's kind of bleached, a lot shorter. Actually, that's a good cut! I should probably go back to that.
I've always wondered: Was there a conversation at some point in 90210 about Steve cutting off his curls?
IZ: You know, it was a maintenance issue and I kind of realized that the trends were changing and that I needed to be accountable for it a little bit. So you'll start to see as time goes on that my look changes a little bit, my hair changes a little bit. Yes I'm still that crazy guy. I think this is when Steve lent his house to a porn crew. I could be wrong.
IZ: Oh! This is my formative Chippendale years. Where was this? In a tuxedo. Let's see, this was a Pierre Cardin tuxedo.
And the bow tie's got a nice pattern to it.
IZ: Yeah, I don't even know.
IZ: OK. I'm not surprised now looking back at how the wardrobe person would come at the end of the season and say, "You know, you can take anything you want home."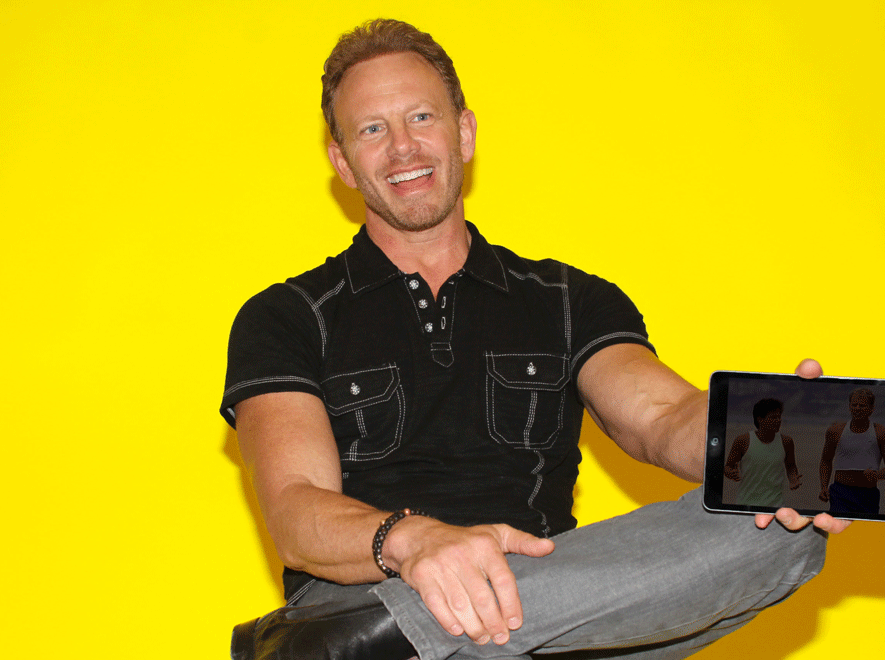 IZ: OK, seriously? Did I not realize that my shirt didn't come al the way down? Was I trying to show my belly? I don't know what my thinking was. This was the prince of Muldavia episode where the prince was trying to take Claire away from Steve. I think I'm telling him to pump the brakes and step off.
Is that the last time you wore a crop top?
IZ: Yeah, I think that's the last time any male wore a crop top because any time a man saw this he said, "Oh I'm not doing that." David Lascher, by the way!
IZ: Yeah, this is why we don't tuck our shirts in anymore.
A tuck also!
IZ: Well, they were high-waisted pants! Men wore high-waisted pants way before women tried to make the look popular AND also failed by the way.
IZ: What the heck is Steve driving here? I think it's a Miata. What is that? He's not driving a Chevrolet, but he is wearing the infamous silk jacket.
IZ: Yeah, this is for a photo shoot, and, man, I must have weighed about 140 pounds. So lean! And again, tucking a shirt into jeans... yeah, I remember that photo shoot.
IZ: Mets shirt from way back! Can you email this to me? I'm throwing out the first pitch at a Mets game tonight. I still have that shirt, actually. Some T-shirts you just don't get rid of.
This was taken at a dog park in Los Angeles with a pooper scooper and a garbage pail... It's like, "Don't pay any attention to the crap picker-upper." Really?
IZ: OK, I think this shirt actually had the vest attached to it. I think it all came together: It was a T-shirt that had a take vest attached to it that I threw a blazer over. And I've gone from silk to linen. And a really skinny black belt. But my hair was pretty bangin'. A little shorter on the mullet side, good color, good tan...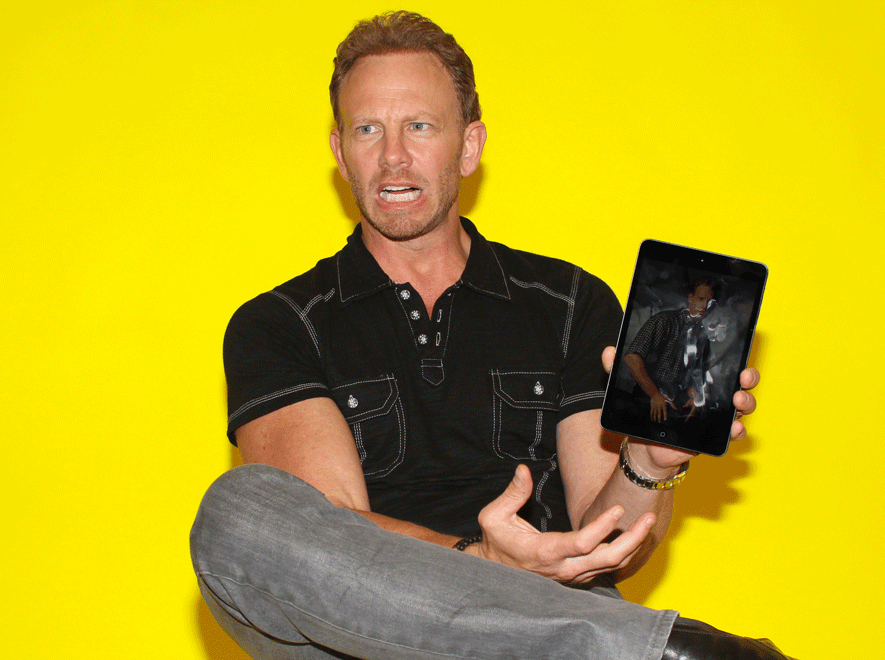 IZ: Here's a more mature look from Steve Sanders. This is getting into the self-aware phase. I don't know if we're going chronologically, but this is a little like, "Let's hold the reigns a little bit." Shorten the hair a little bit more evolved, mature look.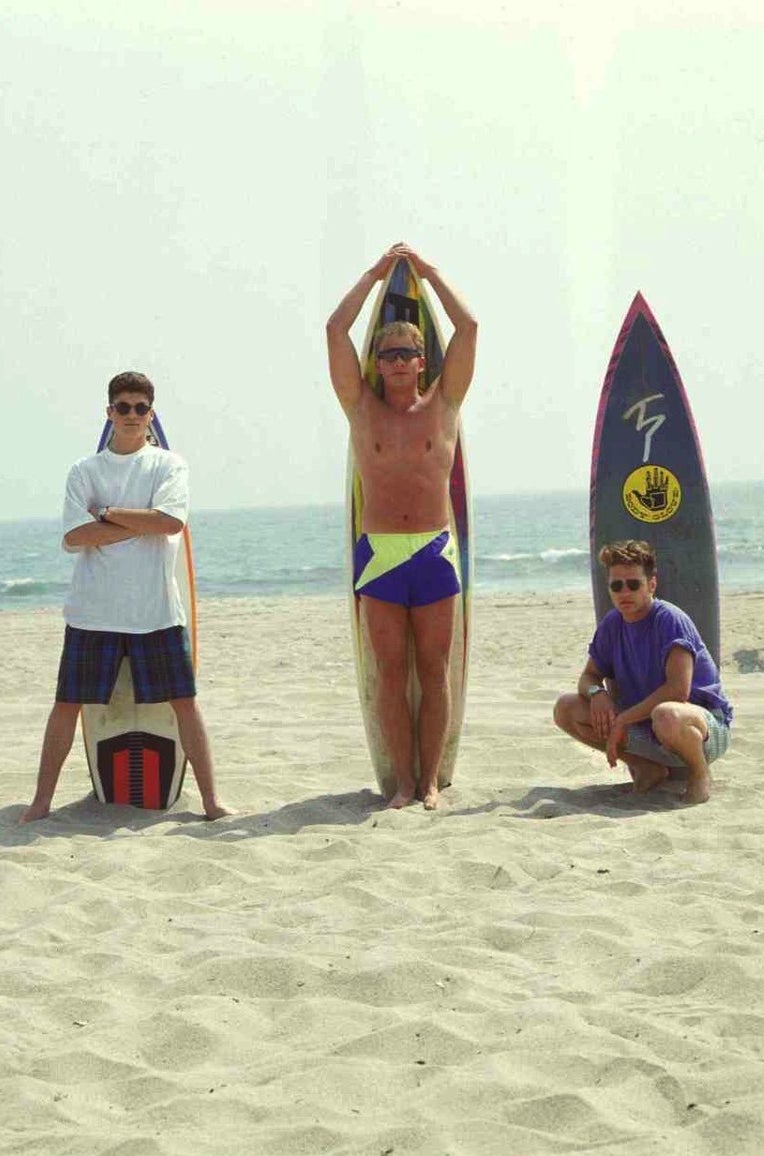 IZ: Oh, this is just one of those popular pictures all from a very early photo shoot. They wanted us to stand up in front of the boards. "Do something!" (Click) Great direction. It took six seconds. "All right, just stand there! OK next, moving on."
That's crazy to think because the photos from this particular shoot are everywhere.
IZ: This was one of the first shoots we ever had and this is when we were doing summer episodes when no one was doing summer episodes. (laughs)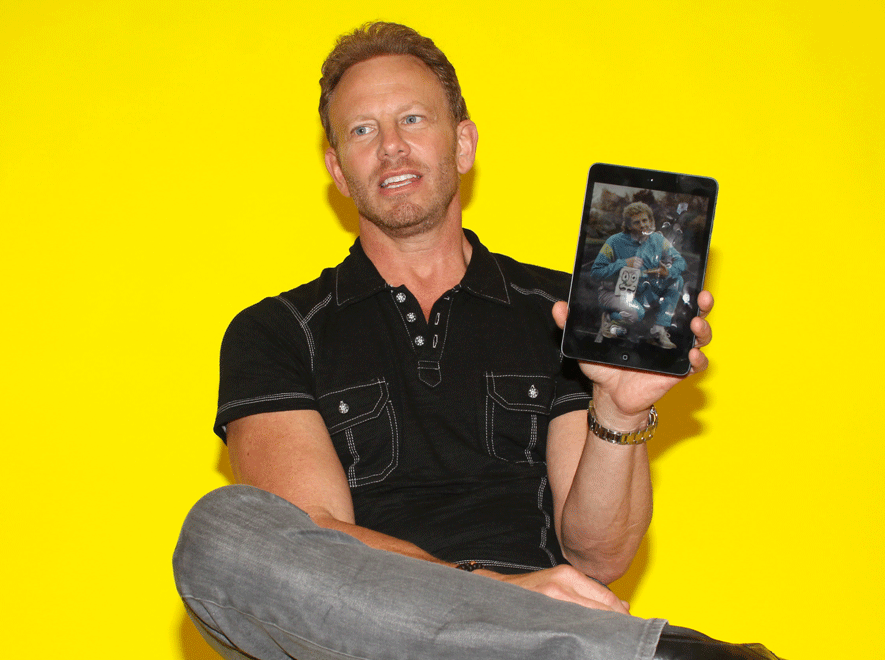 IZ: OK! So I did an after-school special called in the late '80s Flour Babies, which was about a school assignment where you had to keep a bag of flour for a week like a baby. Yeah. And that was my flour baby.
And a cool tracksuit!
IZ: You know what's funny? That Nike tracksuit I gave to my dad and he wore it every day.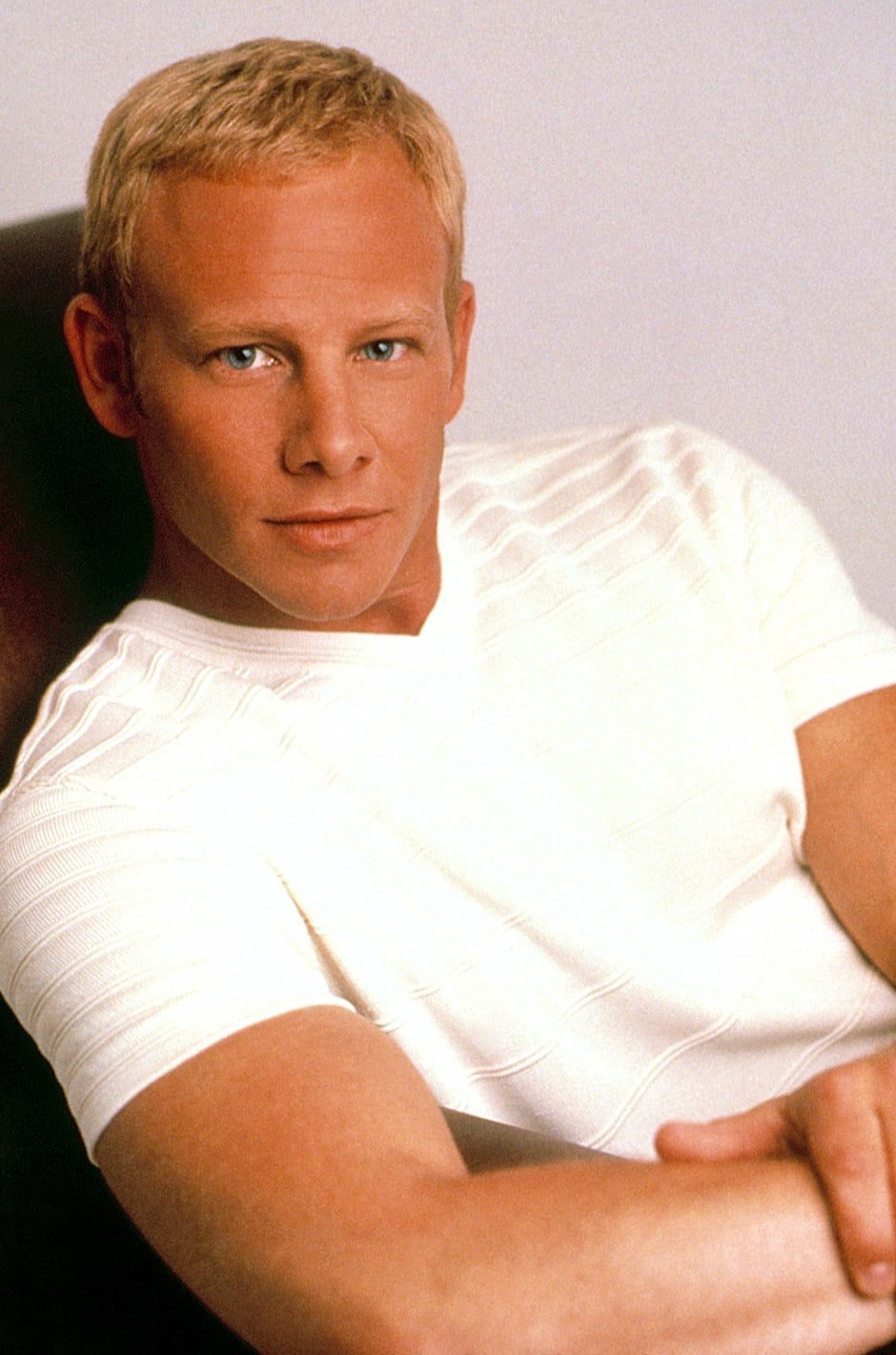 IZ: This is the Janet Sasna phase. This is Steve's mature look. Always with the guns. It's the gun show.
IZ: OK! You dipped back in time — this is not chronological because... he's wearing a rug! It's a lovely red and black... oh, who's in the background? Misty Halperin in the background. Cowboy boots...yeah. Not looking too crazy, just...yeah.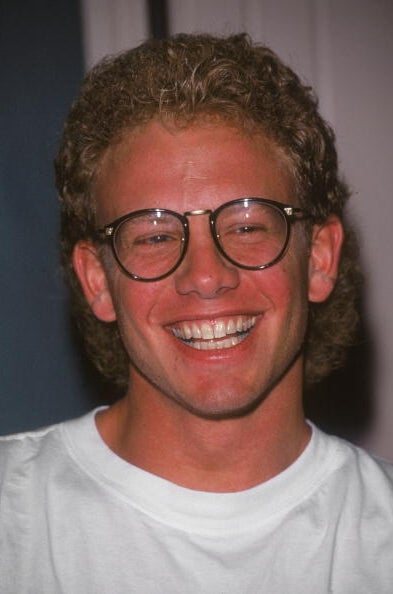 IZ: Yeah! Before my Lasik surgery I wore glasses and contact lenses. So this is really early! This is late '80s.
Any other thoughts on old photos resurfacing? Do you wish they would stay gone?
IZ: No, because those are all pictures of a point in time — times in my life that were captured and they're just little stepping stones along the path and it's nice to revisit, not just to see what I was doing, but to help me not make the same mistakes again. No bare midriff, no tucking in my shirttails when I wear them; I don't button up my button-down shirts to the neck anymore — but that's not to say it will never happen again because I can't predict the future of fashion, I'm just a slave to it.
Sharknado 2 airs tomorrow, July 30th, at 9/8c on SyFy.