It's no secret that veggie burgers are becoming more and more popular — and that more and more restaurants are offering up their own versions of them.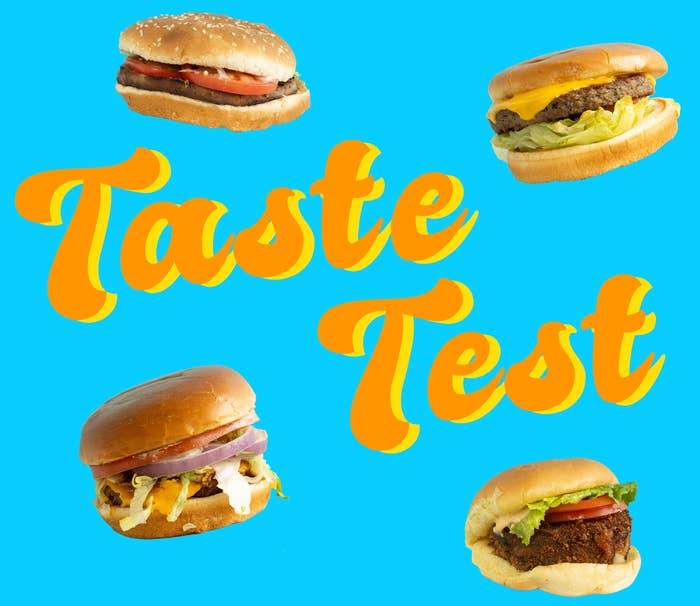 The Rules:
🍔  This is a BLIND taste test, meaning: we will do everything possible to hide any logos or clues that could reveal the source of the burger so that no biases would be included.
🍔  The taste testers will span across all sorts of dietary preferences for a more balanced and relatable review. In this case, our testers ranged from longtime vegans to complete carnivores.
🍔  The comments and reviews from our testers will be anonymous in hopes of getting blunt, brutal, and truly honest feedback.
🍔  We chose from fast food and restaurants that were the most widely available across the United States (so no NYC-only burgers for this test).
🍔  All taste-testers will gather in BuzzFeed's New York City office at lunchtime to experience the burgers together.
Now that you know how it went down, let's get to the burger reviews!
Natasha, Ezgi, Celina, Matt, Victoria, and Whitney all sat down in the BuzzFeed office to test the burgers. Here's what we saw! 

First up, how was the presentation?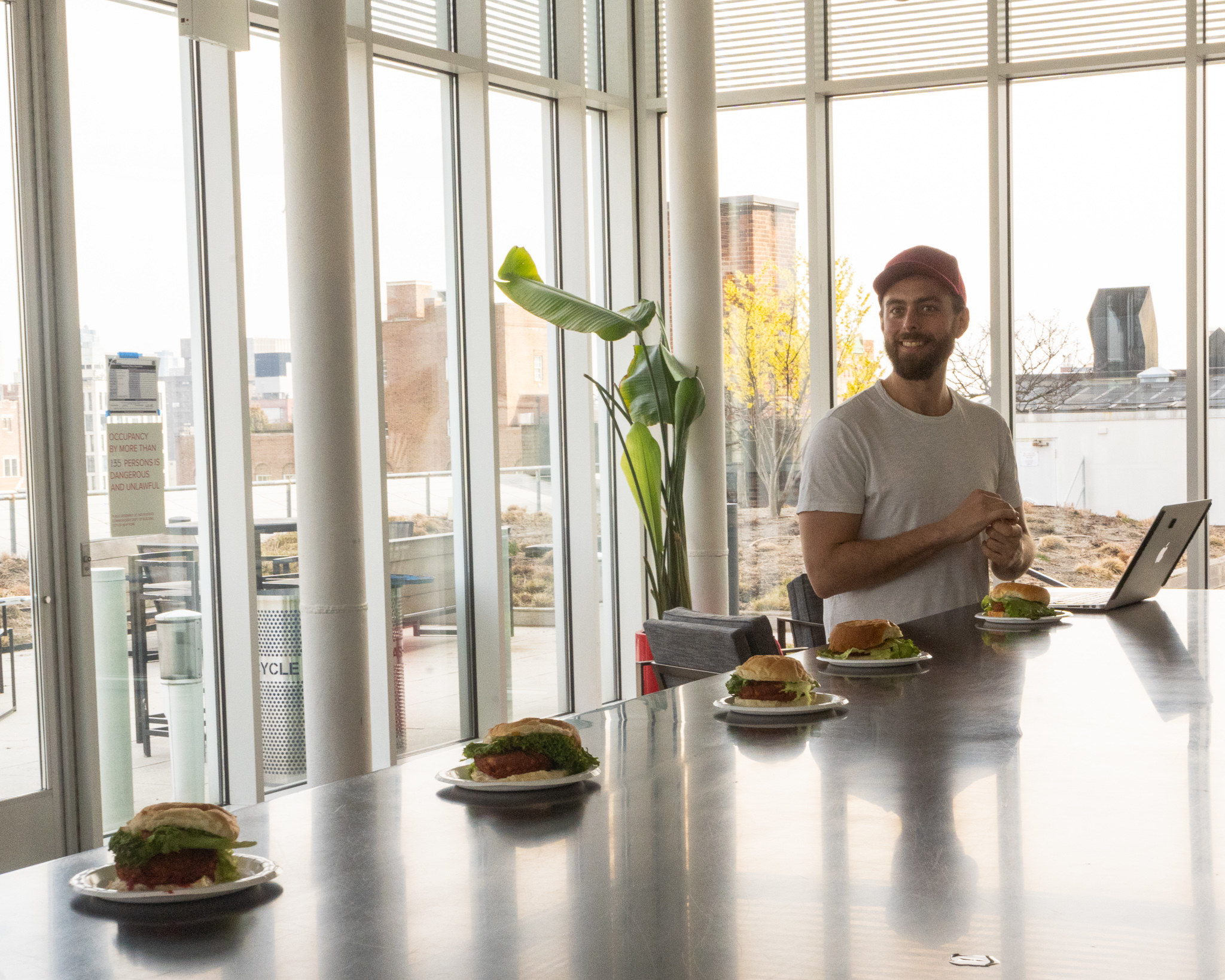 Next, how did it taste?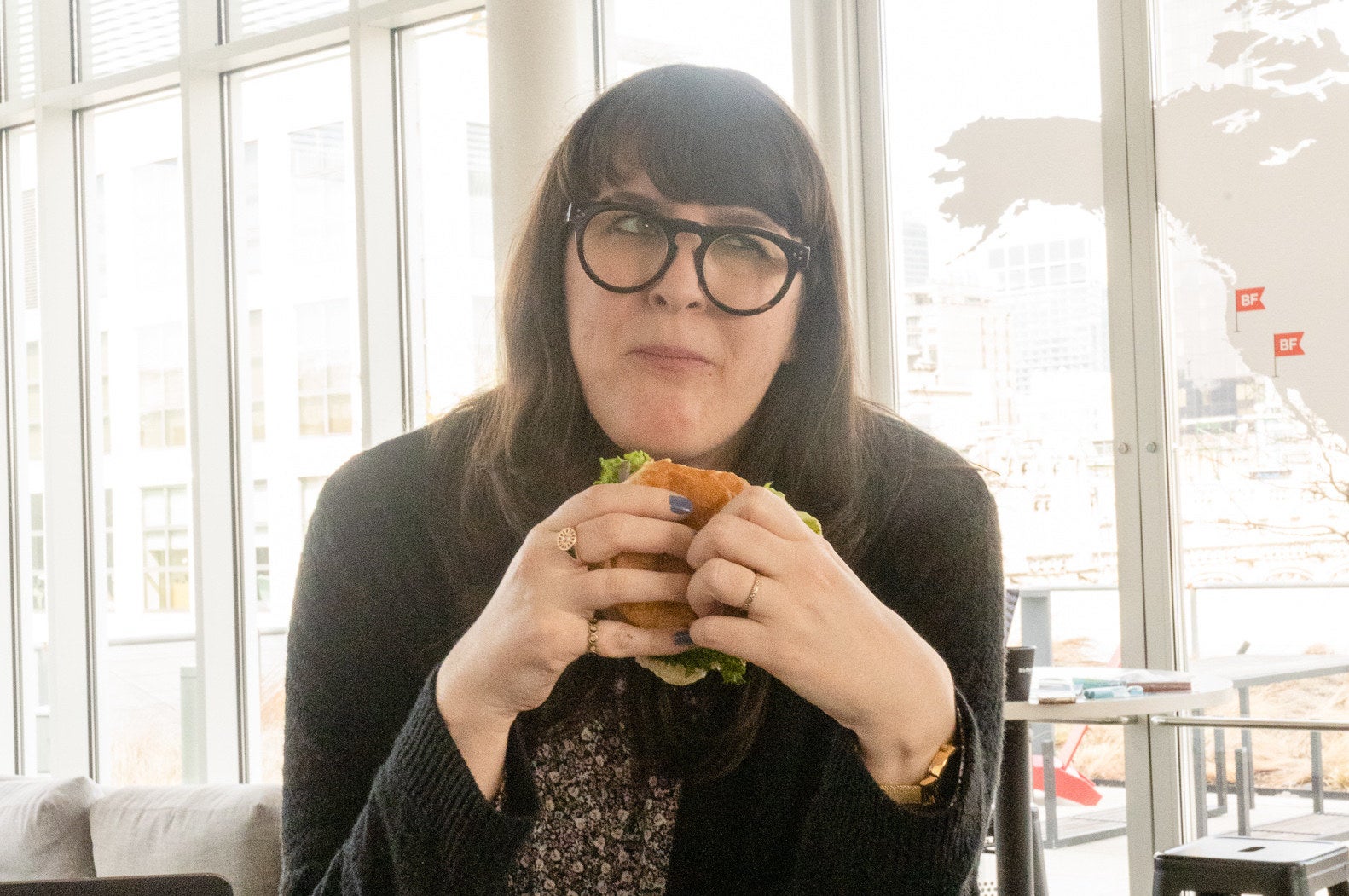 Overall rating: 🍔🍔 (2 out of 10 burgers)
As the inaugural burger for this taste test, Beatnic really disappointed. Both the flavor and presentation were a disappointment, and most of us noted that the burger patty itself crumbled away with each bite. Messy and underwhelming? Not a great start:
"I liked the flavors of the sauces for sure — if only it wasn't so damn dry!"

"While it tasted dry and bland I know I would have enjoyed it if there was dressing added."
"I didn't like the texture of the patty. It was a bit sticky. I wouldn't crave this burger."

"The sauce is a little sweet. The burger was a little bland. The roll was good quality, though. For something so "pretty" looking, it was a bit boring."
"This did not fool me that this was not a meat-based burger. Even for veggie burger standards, this was not good. It was edible, but if I paid money for this I'd be very disappointed."

How was the presentation?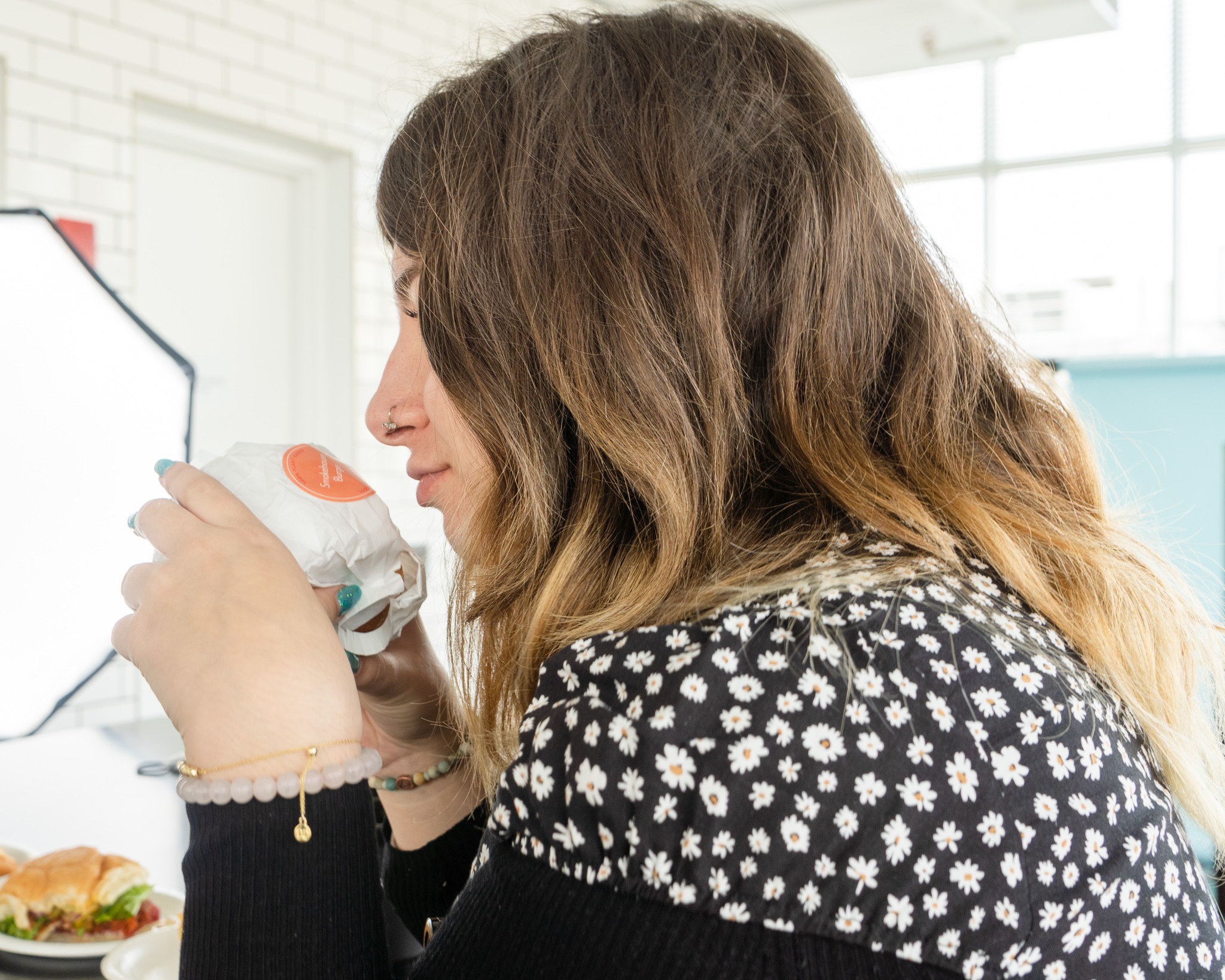 How did it taste?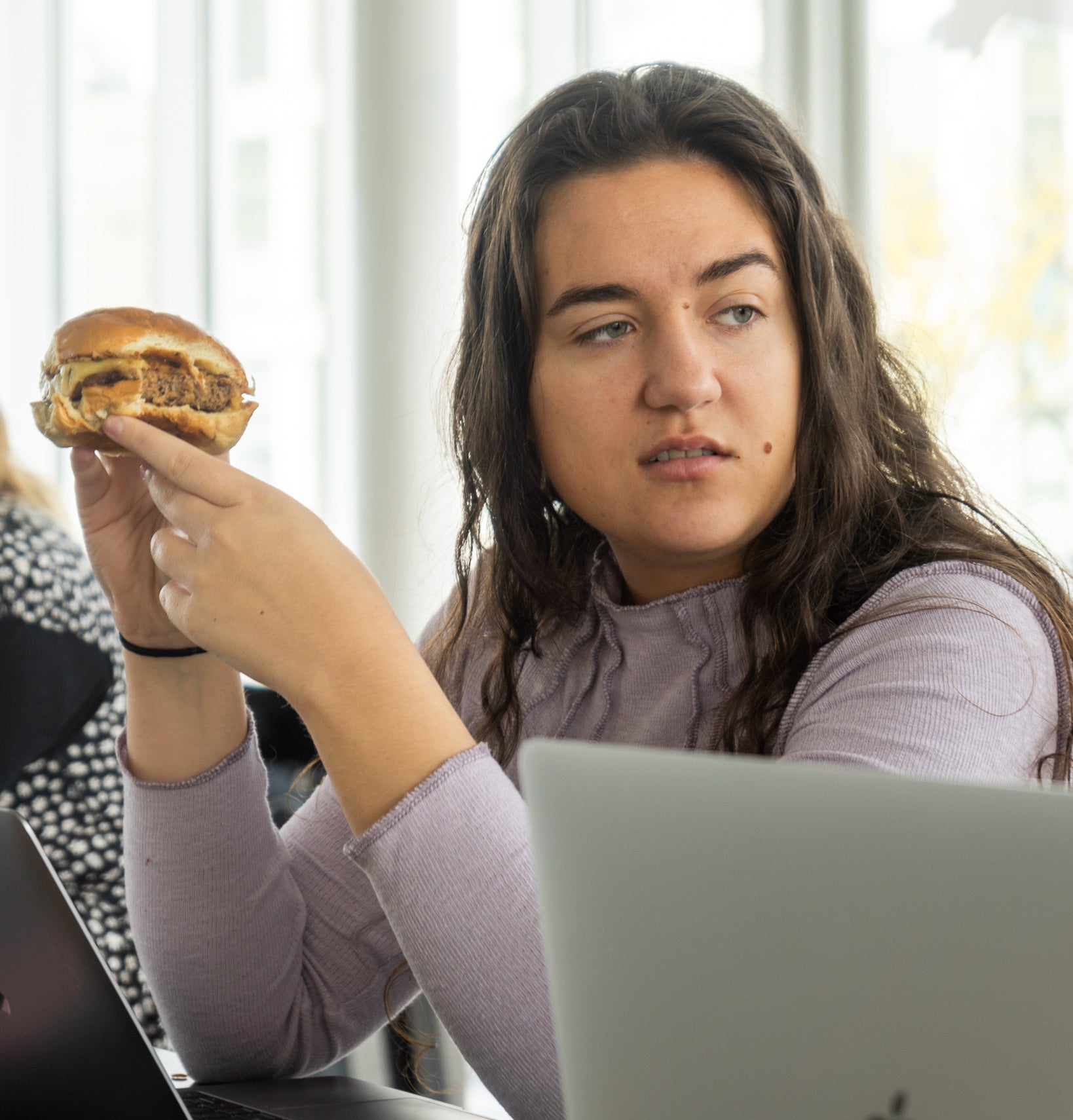 Overall rating: 🍔🍔🍔🍔 (4 out of 10 burgers)
Unfortunately, this one was not a crowd favorite:

"This is the most burger-like plant-based-burger so far. I'd give this one to a carnivore (meat eater) and see how they'd react."

"I liked but didn't love it. The fried onions lost their shape and taste mixed in with the BBQ sauce. I liked the burger patty itself and cheese, though..."

"I don't know, I have mixed feelings... It might just not be my STYLE of burger. But I think if I was hungry, I'd like it! But it's BLAND, come on now! But if you're looking for something that tastes like meat, it pretty much does!"
"I think I would feel quite gross if I ate the entire thing, it's very heavy. I can imagine my dad being into this, I'm personally just not into the flavor profile (using the term "flavor profile" makes me feel very fancy). The taste lingers for so long!"
"I wanted to enjoy this one, but couldn't. I didn't feel great after eating and overall would not try again."
"It's a bit heavy. I wouldn't crave it."
How was the presentation?
How did it taste?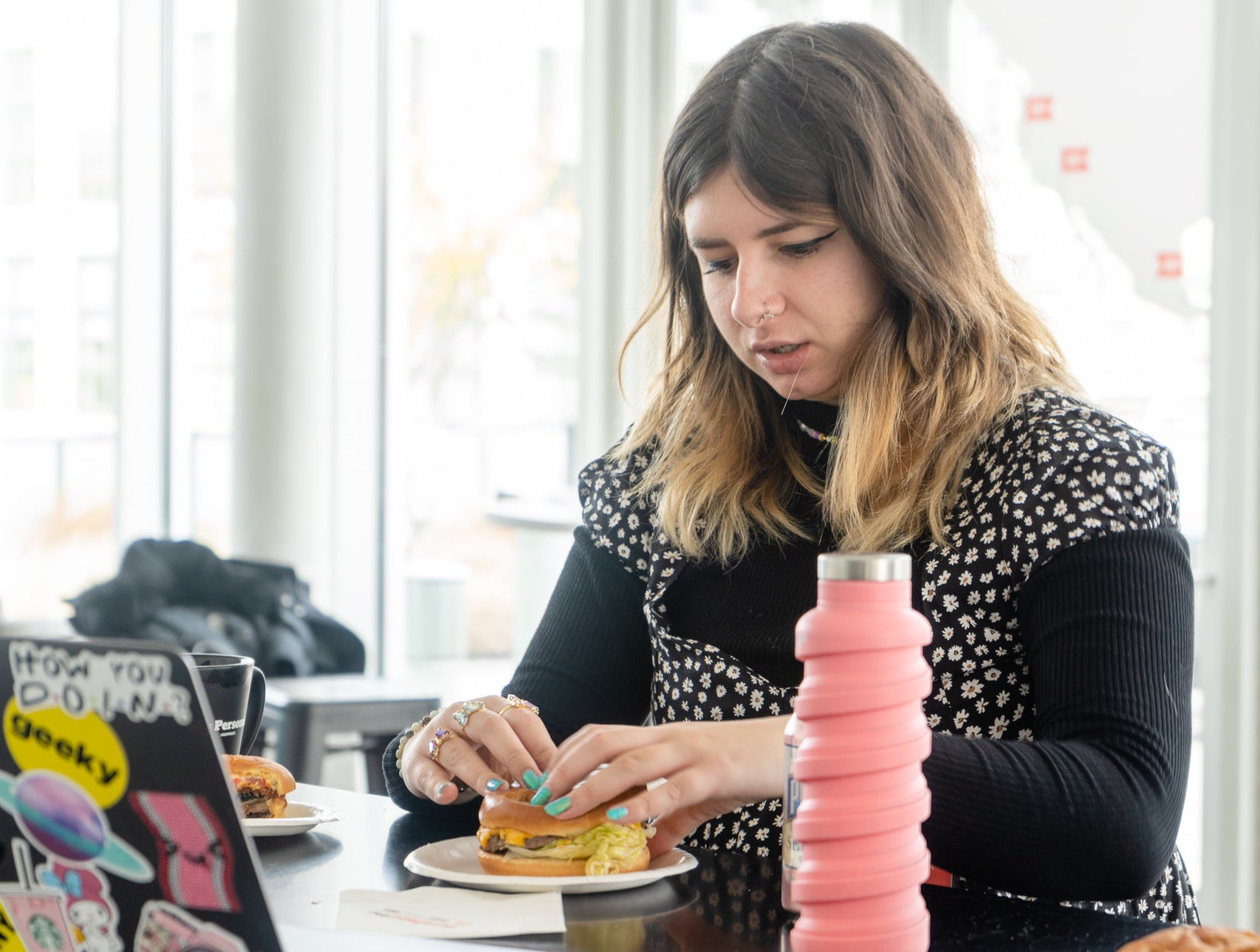 Overall rating: 🍔🍔🍔🍔🍔 (6 out of 10 burgers)
Overall, I think we're all pleased that people who are ~eatin' good in the neighborhood~ can also order a veggie burger if they'd like:

"I wouldn't be mad if I got this at a restaurant. It's very filling, but it's just a bit boring. I think that could be solved with some mayo, mustard, and ketchup."

"It's giving me 'real food' vibes, so if you're into a homemade taste, this is for you. Doesn't taste fake or chemically."
"I would definitely eat this one again! I am not a meat lover, but this one felt so light and good. The patty was the winner of the game!"
"A really strong sauce would have completely elevated this burger. Upon hearing the price, I thought it was a bit ridiculous."
"It looks pretty, and I like that there were veggies in it. If this had a sauce or more seasoning, I'd be BLOWN AWAY! Instead, I am happy to eat it. Also, this patty looked really uniform. This was one of the only patties that looked like meat, uniform, and looked nice after biting into it. I like the cheese on this."
How was the presentation?
How did it taste?
Overall rating: 🍔🍔🍔🍔🍔🍔🍔 (7 out of 10 burgers)
Reviews were mixed, but some of our enthusiasts revealed that this burger is a staple for them already:
"This is carnival food, not a burger! If you like sweet and savory though, you'd like this! The patty feels like you're eating a donut."
"Total WHAT THE HECK AM I EATING VIBES! I couldn't really tell what it was. I could see someone, like a boomer, being confused by it. Overall, it's pretty tasty though. The roll was soft. I could SMASH like three of these."
"I wish I liked mushrooms."

"It doesn't feel healthy since it was fried, but I loved it."
"I actually get this burger a lot in my non-BuzzFeed life!"

How was the presentation?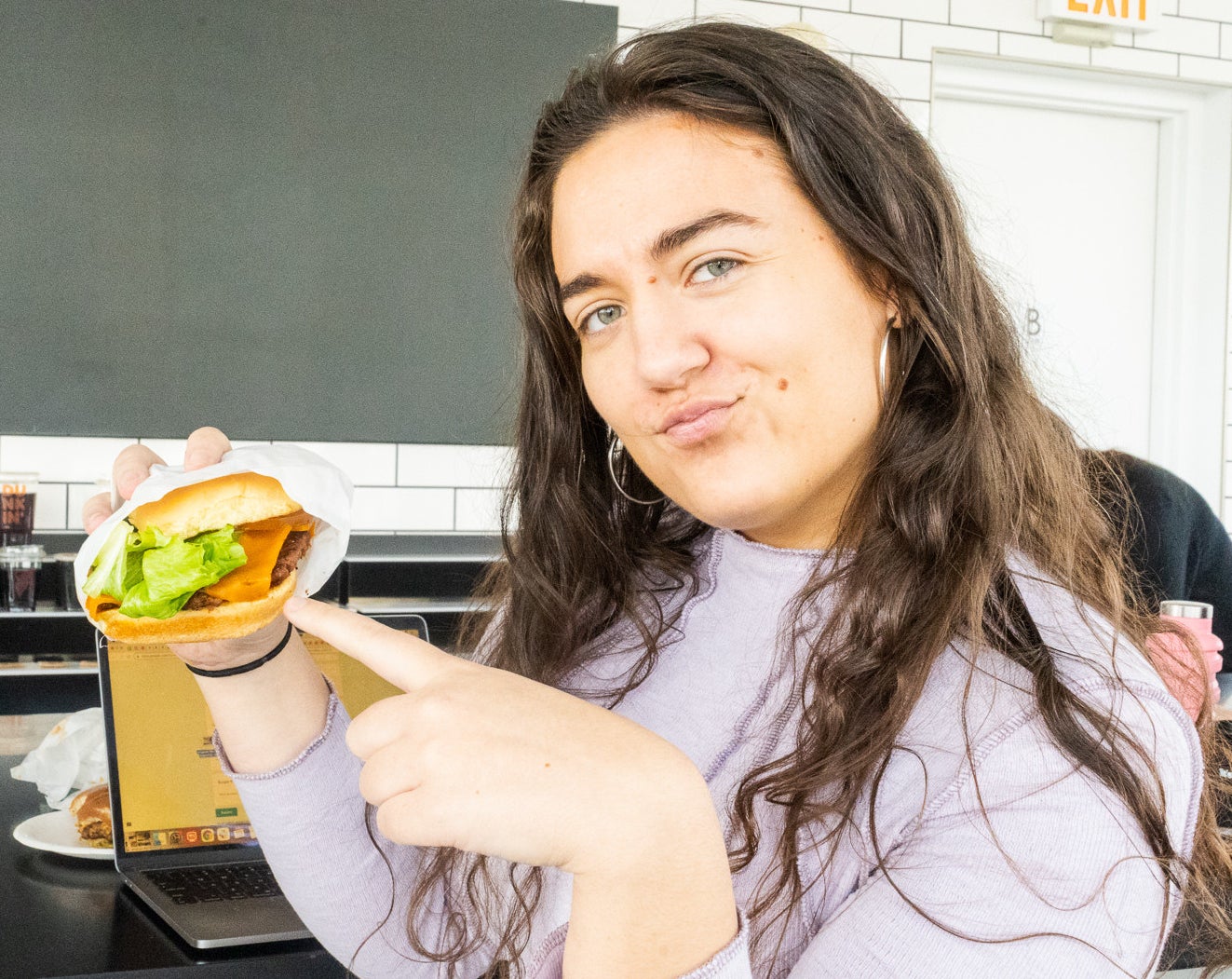 How did it taste?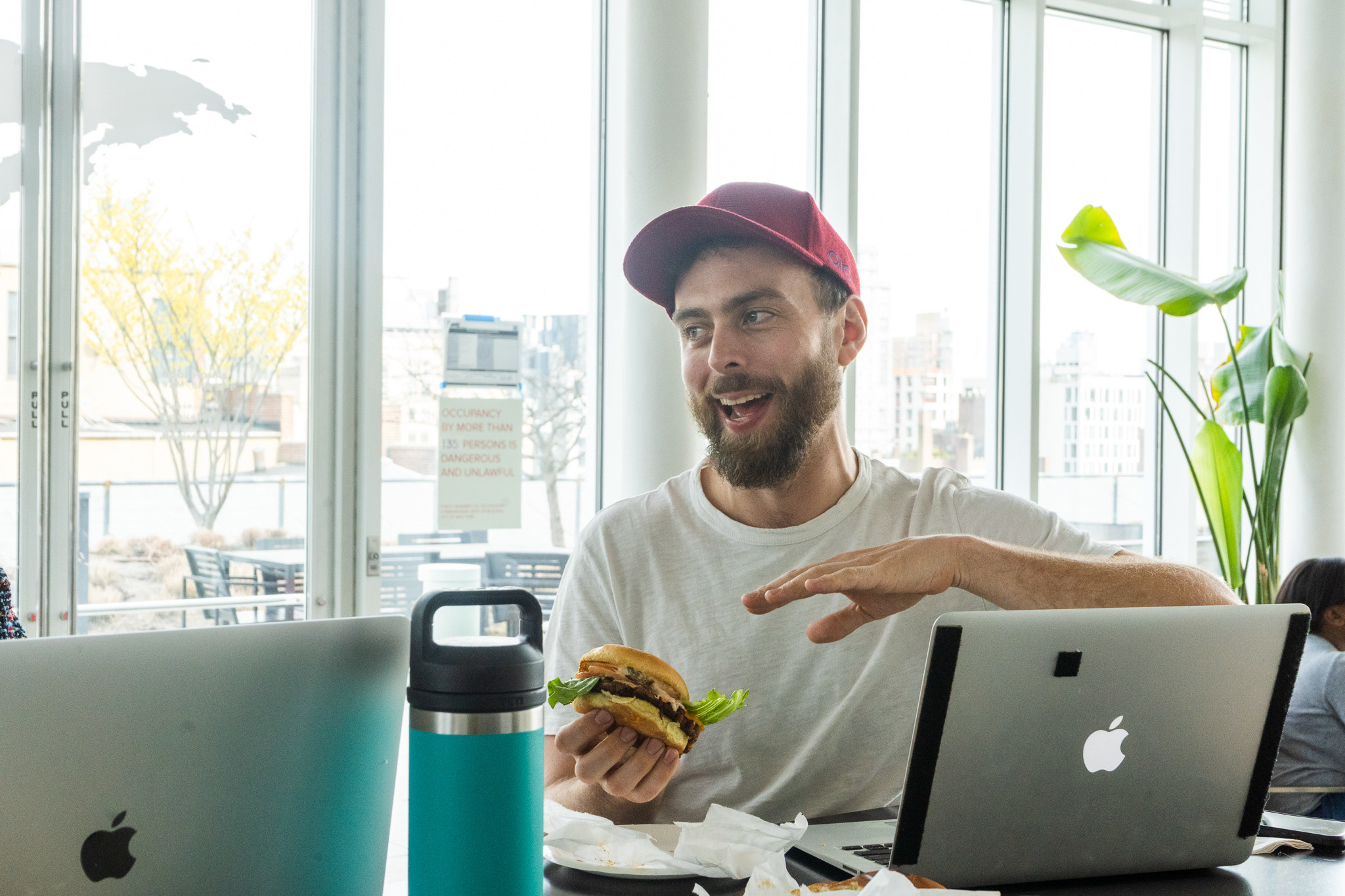 Overall rating: 🍔🍔🍔🍔🍔🍔🍔🍔 (8 out of 10 burgers)
The testers really enjoyed this burger:
"This was my fave!"
"I love this!!!!!! This tastes sooo good in terms of flavor and it's pretty. If you want a burger that tastes good, you're getting it with this one! Love the sauciness....!!!!"
"Please don't ever change the ingredients and cooking."
"I would eat it again. It was my favorite overall, even though I didn't like the patty."
"Very McDonald's and I say that in a good way. Lots of veg, so I like that. The sauce definitely comes through."
"This burger was SO good, definitely a favorite."
How was the presentation?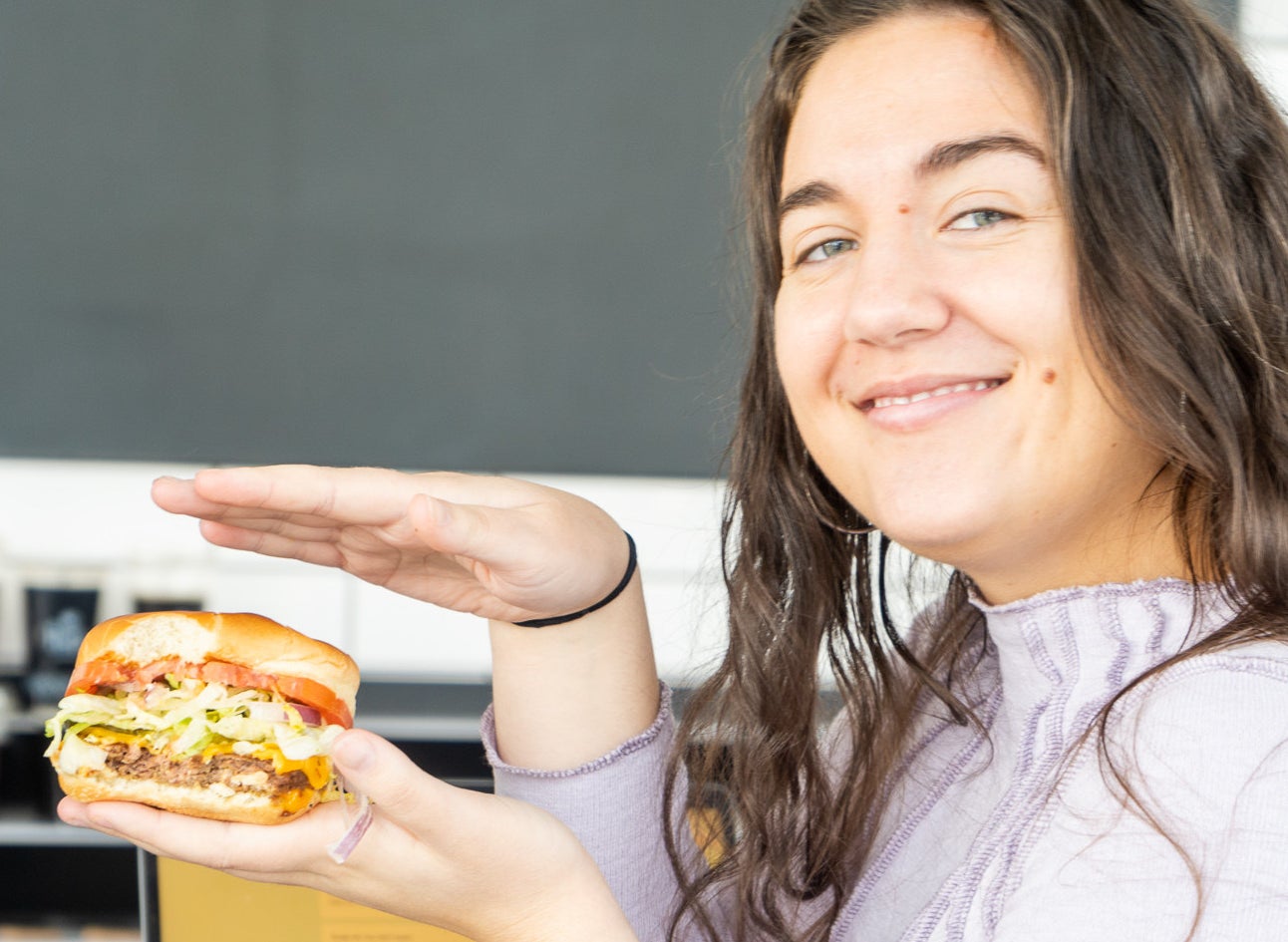 How did it taste?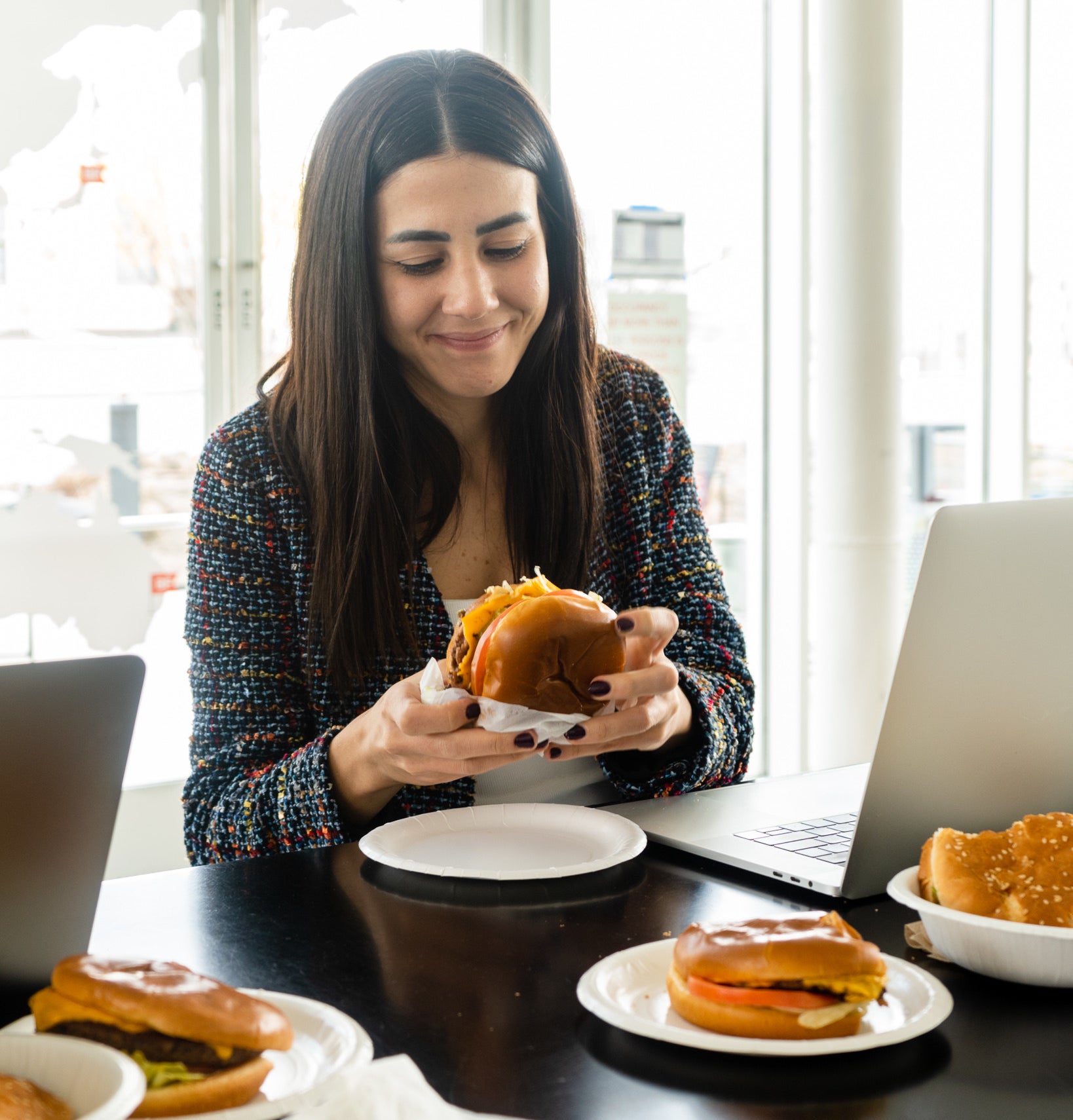 Overall rating: 🍔🍔🍔🍔🍔🍔🍔🍔 (8 out of 10 burgers)
The general vibe of this burger was enjoyable: good looks and good taste!
"The bun was so squishy and soft and good. I LOVE THIS! I want another one of this!!!!" 
"It's extremely flavorful and rich, but not as rich as some of the others. I could have 2 of these no problem."
"I would eat again, but it's not my favorite."
"I really liked it."
"I would totally eat this again."
"Honestly my mind is melting after so many burgers, IDK."
How was the presentation?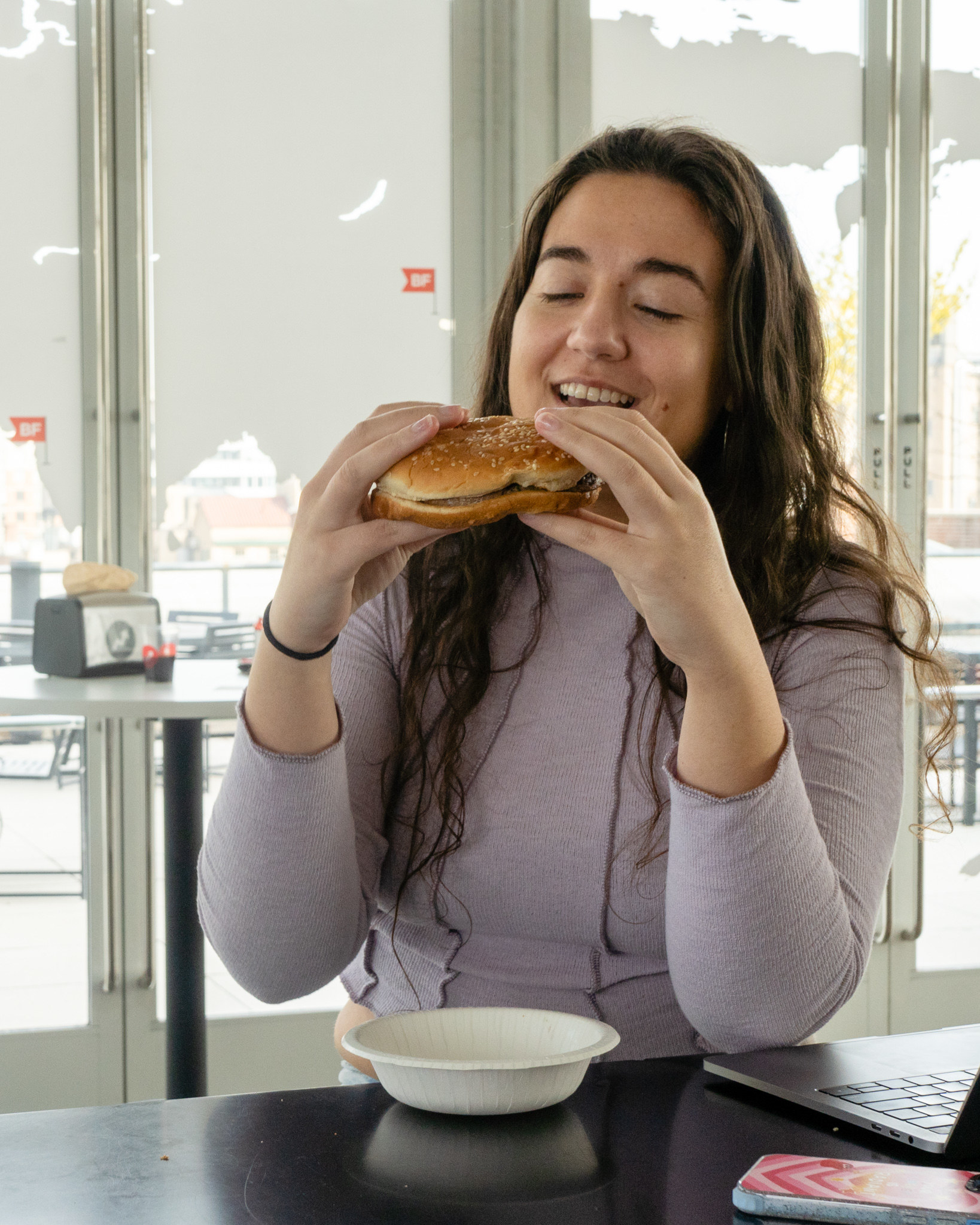 How did it taste?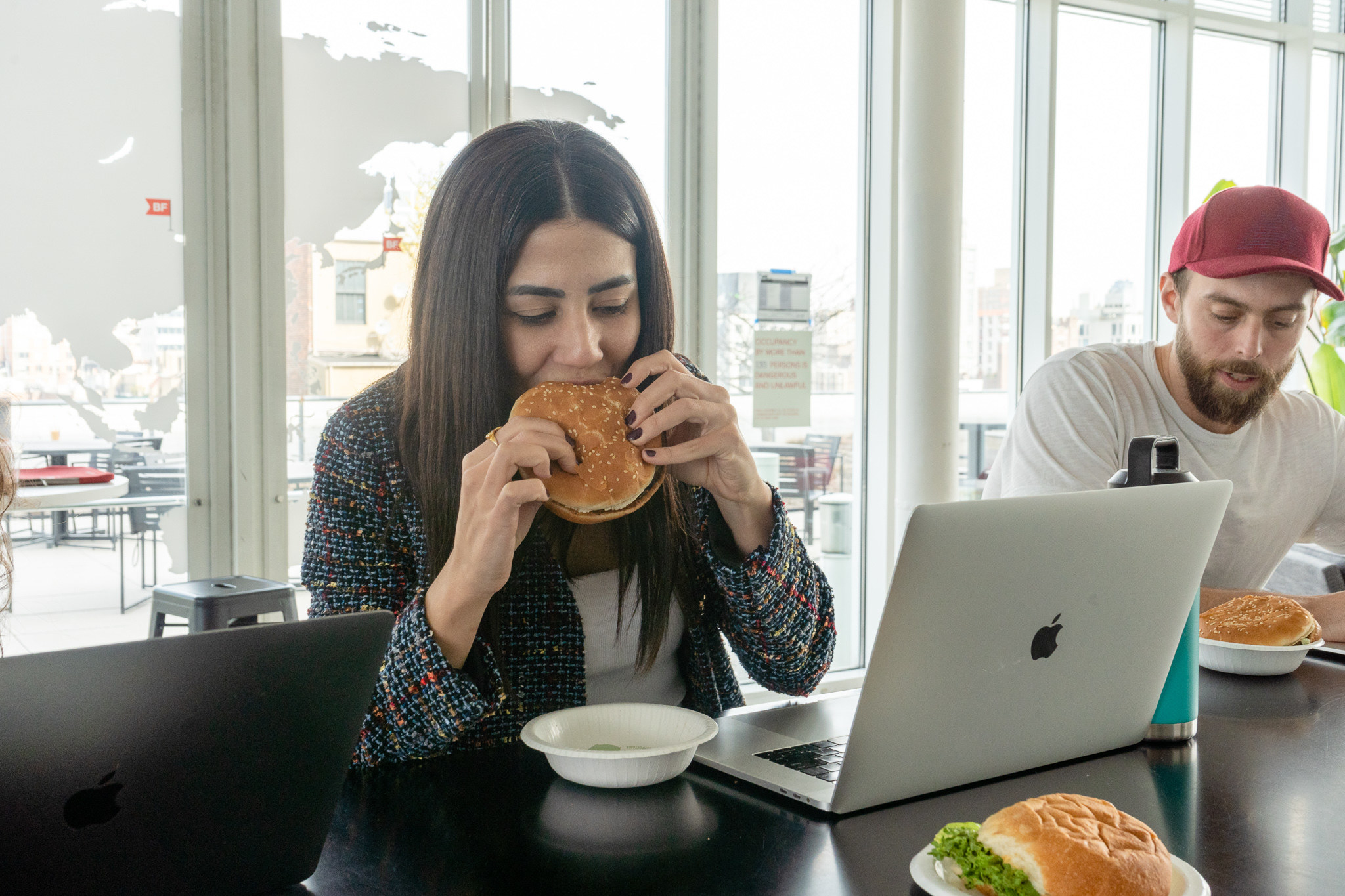 Overall rating: 🍔🍔🍔🍔🍔🍔🍔🍔🍔 (9 out of 10 burgers)
Everyone was super into this burger:
"This is a favorite."

"If I craved red meat, I wouldn't mind eating this one."

"This is by far one of the BEST vegan burgers I have tried."
"I WOULD LOVE TO KEEP EATING THIS! A + Burger!!!"

"If I could mesh the patty and the bread from this one with the sauces from the first one, perfection! However, I'd probably get it again given that Burger King's are everywhere!"
"I am honestly shocked at how much I loved this burger. It's so tasty!"
"Saucetacular!"

Alright! The testing is done, our bellies are overstuffed, and a complete mess has been made.
So which restaurant had the best plant-based burger? And the winner is...
...The Impossible Cheeseburger from Burger King!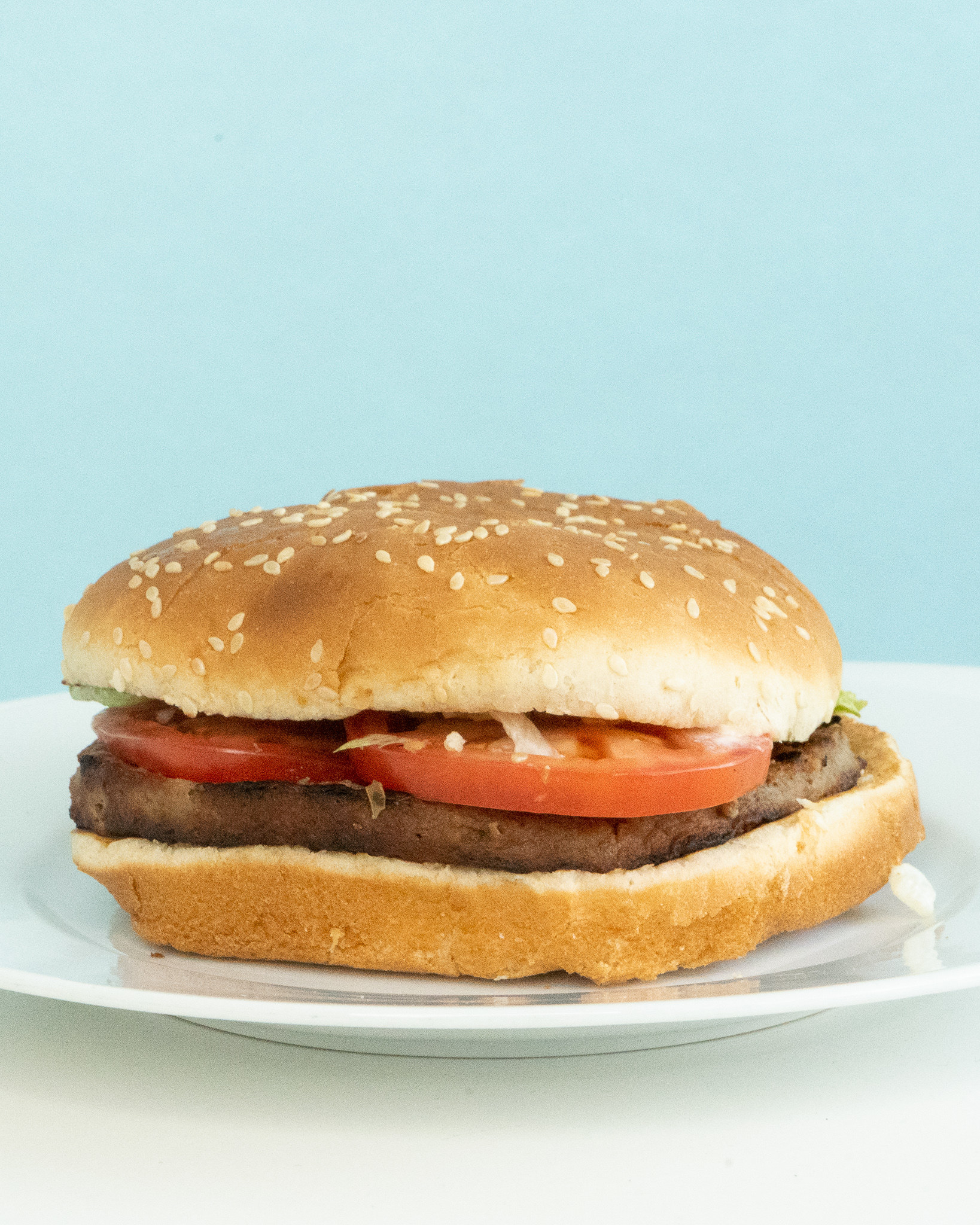 What plant-based burgers have you tried and liked lately? Let us know in the comments!