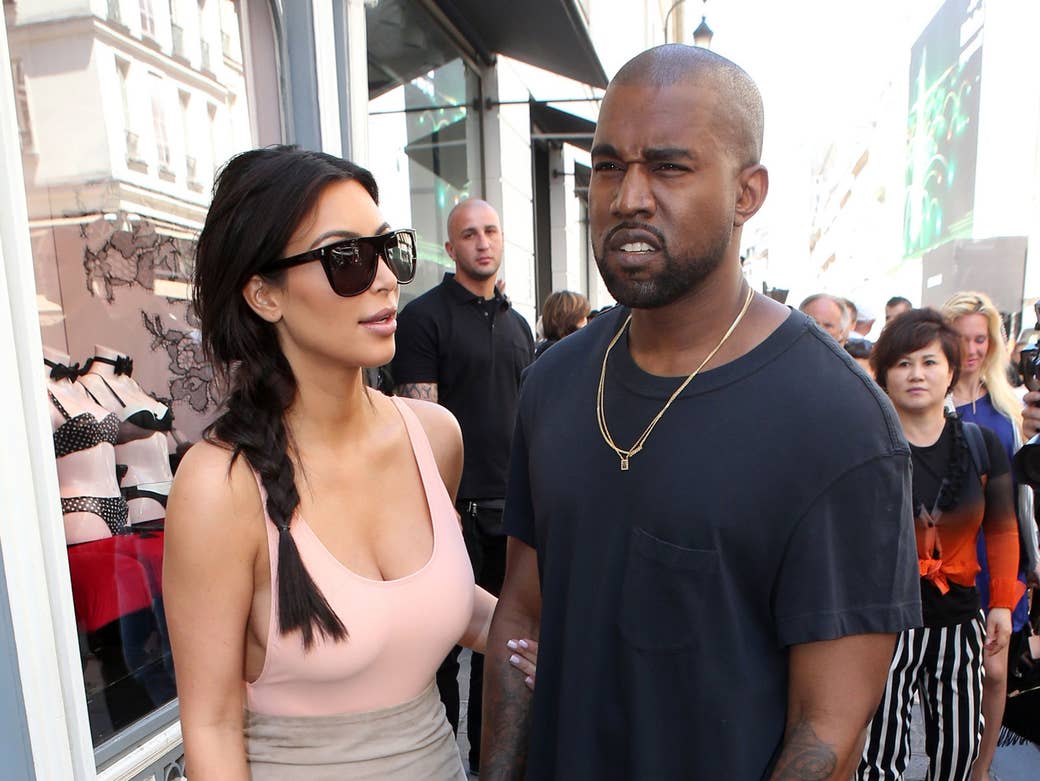 1. Kim and Kanye will marry at Forte di Belvedere, a private venue that will prevent wedding crashers because it is an actual FORT.
2. The Kimye wedding is so big — with the guest list "growing" t0 3,000 people — that the ITALIAN ARMY has been called in to kontrol the wedding fever.
3. However, the Florence Council press spokesman Marco Agnoletti says there will be "no more than 200 guests" in attendance. Phew.
4. The Daily Mail says wedding guests will be guided through a tour of Versailles.
5. However, TMZ suggests that vows will actually be exchanged at the Palace of Versailles. Will they eat cake?
6. Despite the fiasco at the Met Gala, both Jay Z and Rachel Roy will both attend the wedding.
7. And Jay Z will be Kanye's best man.
8. Beyoncé is still listed as a "maybe attending." (THE HORROR!)
9. Radar says that Beyoncé and Jay Z will perform at the rehearsal dinner for a cool $2 million.
10. Lana del Rey is slated to perform Kim's favorite song "Young & Beautiful" at the reception.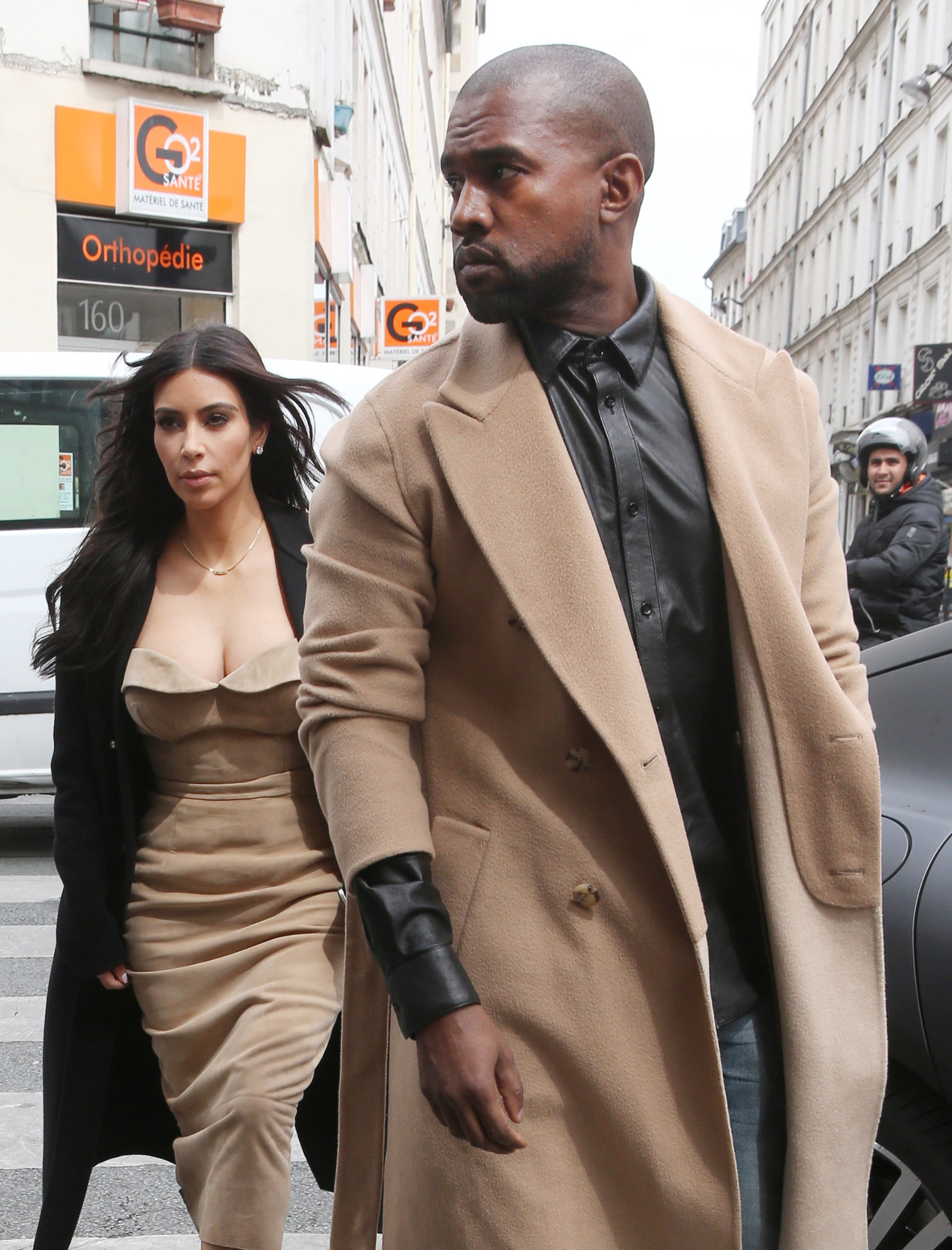 11. Brody Jenner won't be attending the wedding.
12. Why? Because "not all wedding invitees were given plus-ones" and he has a new girlfriend.
13. Plus, he's got a DJ gig that night.
14. Speaking of, Q-Tip might DJ at the Kimye wedding reception.
15. Kim and Kanye are absolutely "trying to out-do the royal wedding."
16. Of course they are.
17. TMZ also believes that wedding guests have not been told any specifics about Florence, including where they're staying on Saturday night.
18. Or how they're even getting to Florence from Paris.
19. Surprise! Kim is using her frequent flyer miles to transport guests to her wedding and they may even have to — gasp! — fly coach.
20. Jay Z sent Kanye a gold-plated, diamond-encrusted flask and a $10,000 bottle of scotch with an inscription about being his best man.
21. This made Kanye so happy he was "almost jumping up and down."
22. But Jay is also "talking smack" behind Kimye's back and thinks the wedding is "a joke."
23. And he called it "a circus."
24. Speaking of, Kris Jenner hopped on a carousel earlier this week and flashed her Spanx. Ugh, Moooom!
25. While E! cameras won't be inside the wedding venue, Kim has hired a team to take amateur footage for her own personal use/the memz.
26. According to a local worker, this wedding is "literally going to be movie-set level."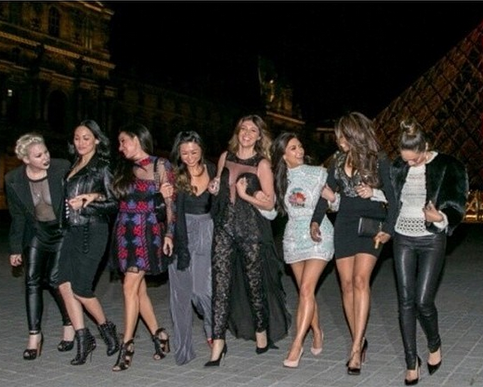 27. Kim's bachelorette party included a visit to the Louvre, Trocadero, and the Eiffel Tower.
28. The party mostly seemed like a staged photo shoot, but hey! Whatever the bride wants, right?
29. At least Kim's #OGCREW was all in attendance.
30. Bruce Jenner will walk Kim down the aisle (for a second time!).
31. Rob Kardashian knows you're giggling about his weight gain, so shut up.
32. Khloe Kardashian defended her brother on Twitter against internet haters, saying "grow up."
33. And then she cried.
34. PLUS! Khloe is, like, totally bummed out because she wanted her first trip to Paris to be alongside Lamar Odom.
35. But it's OK because Kim plans to toss her bouquet directly at Khloe.
36. Kim would like for her wedding dress to be preserved in a museum.
37. Kim's pre-wedding brunch will be hosted by Valentino at Chateau de Wideville at "a magnificent French home where King Louis XIV used to keep a mistress."
38. The scene as the Kardashians left for the brunch was "chaotic."
39. Kourtney wore a dress to said brunch that cost $4,000.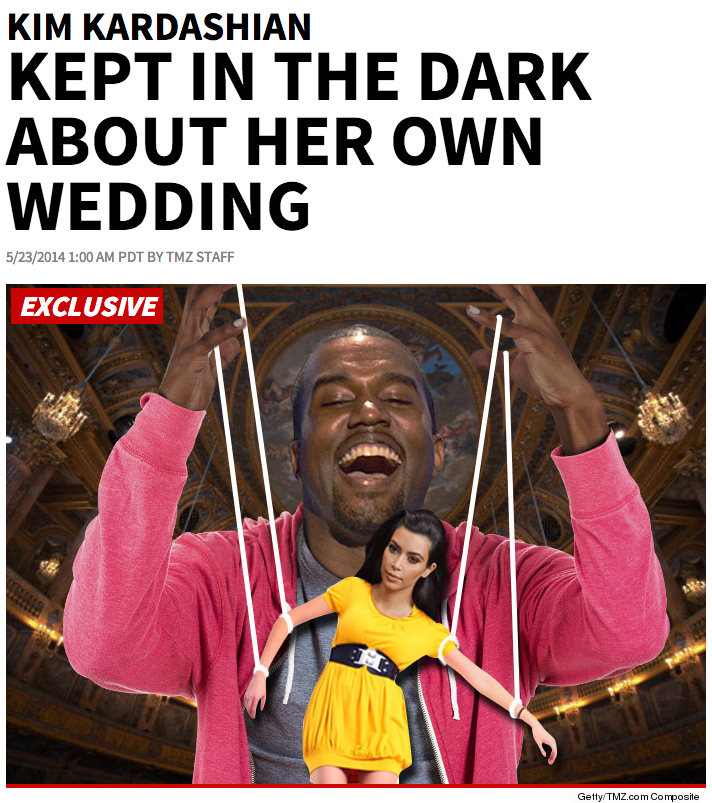 40. TMZ ran a story about how Kim has no kontrol over her own wedding and is just Kanye's puppet.
41. Bruce Jenner's hair is so fluffy that it's flying away.
42. Kimye will spend a million dollars on the flowers alone.
43. The Kardashian family is koncerned that Kendall Jenner can't read.
44. Kim took baby North to
Givenchy
this week but insists she "just wants to put Nori in onesies and leggings.
45. Kim complained about the weather in France, which is soooo not cool.
46. It HAS been raining all week in Paris, though.
47. And even still, the weather is "really getting to her."
48. There will be an NBA presence at the wedding: Carmelo and La La Anthony and Scottie and Larsa Pippen have RSVP'd "yes."
49. Kim's makeup guru and bestie Joyce Bonelli had a nip-slip during said photos. Oops.
50. In the months leading up to this, Kanye studied with fashion designer Ermanno Scervino, whose influence is "all over" the wedding.
51. The rental fee for the venue — 300,000 euros — will be put toward "cultural projects in the city."
52. "Kim will be the luckiest wife in the world. It truly is like a princess fairytale day."
53. Kim wore leather to visit the Eiffel Tower with her BFF Jonathan Cheban.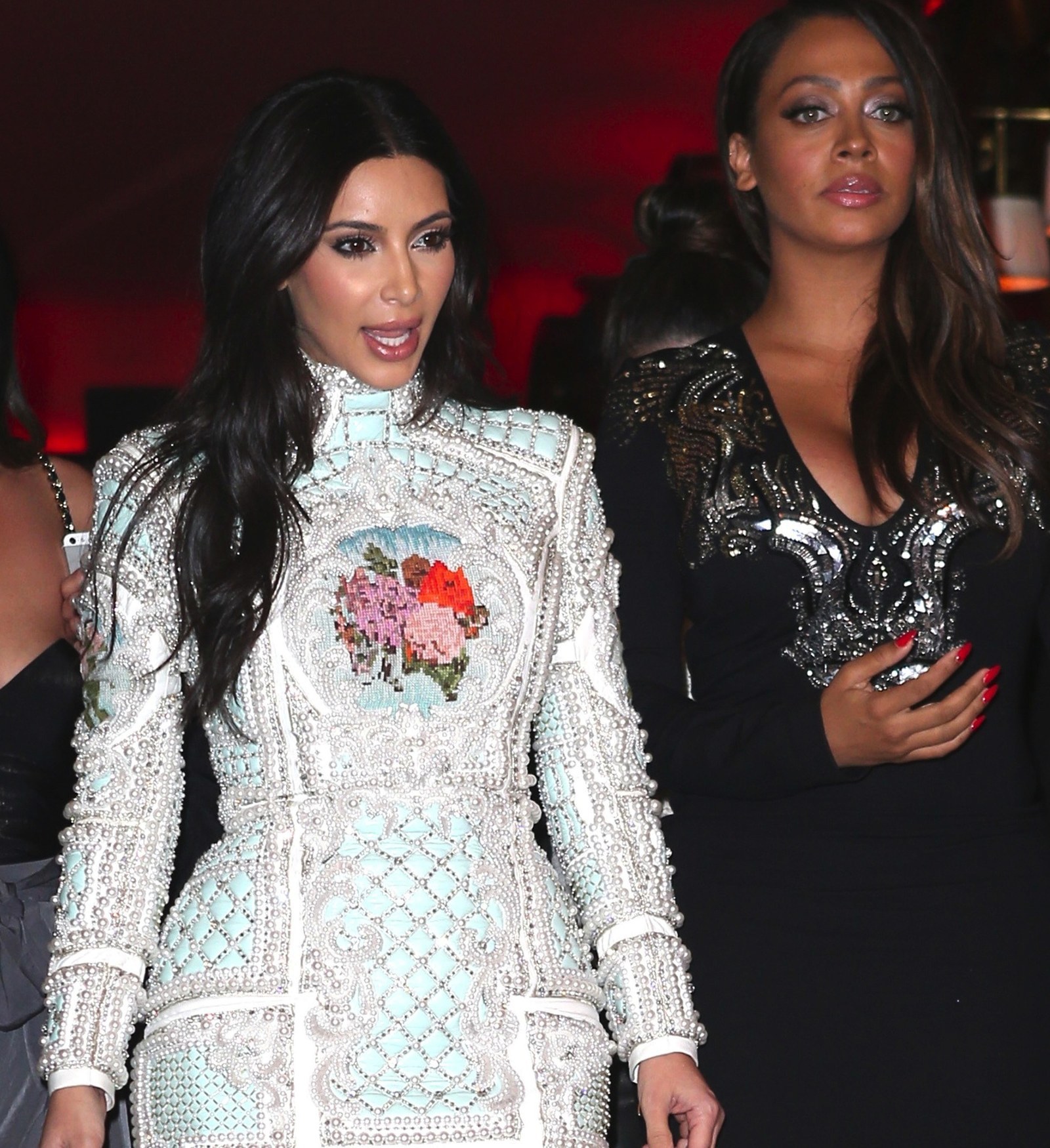 54. And she walked around Paris on Thursday "channeling Marie Antoinette."
55. There is a "big second event" that will occur after the wedding that Kanye is keeping a secret.
56. It's Kim's grandma MJ's first time in Paris ever.
57. Anna Wintour was invited but is not expected to attend.
58. Girls Gone Wild founder Joe Francis will attend, though.
59. Cost of food at the wedding is said to be about $2,000 per plate.
60. And workers at the site are "up to their necks with this wedding."
61. Chris McMillan, celebrity hair stylist to the stars — and Jennifer Aniston — will be doing Kim's hair.
62. In the Kardashian Klan, there is a
ritualistic pre-wedding dinner
of every woman Kim has ever spoken more than three words to in her lifetime.
63. Kim and Kanye aren't so good at hiding their post-gym faces.
64. North was conceived in Florence "among the Renaissance masterpieces."
65. While in Paris, all Kardashians stayed at George V, a Four Seasons Hotel.
66. Kim and Kanye were spotted this week doing their favorite activity in Paris: eating fro-yo.
67. Jewelry designer Lorraine Schwartz, creator of Kim's engagement ring, will be at the wedding.
68. Despite making $1.5 million for her wedding pictures with Kris Humphries, Kim "doesn't want to take money this time."
69. However, the current bidding on what said photos would be worth has already reached seven figures.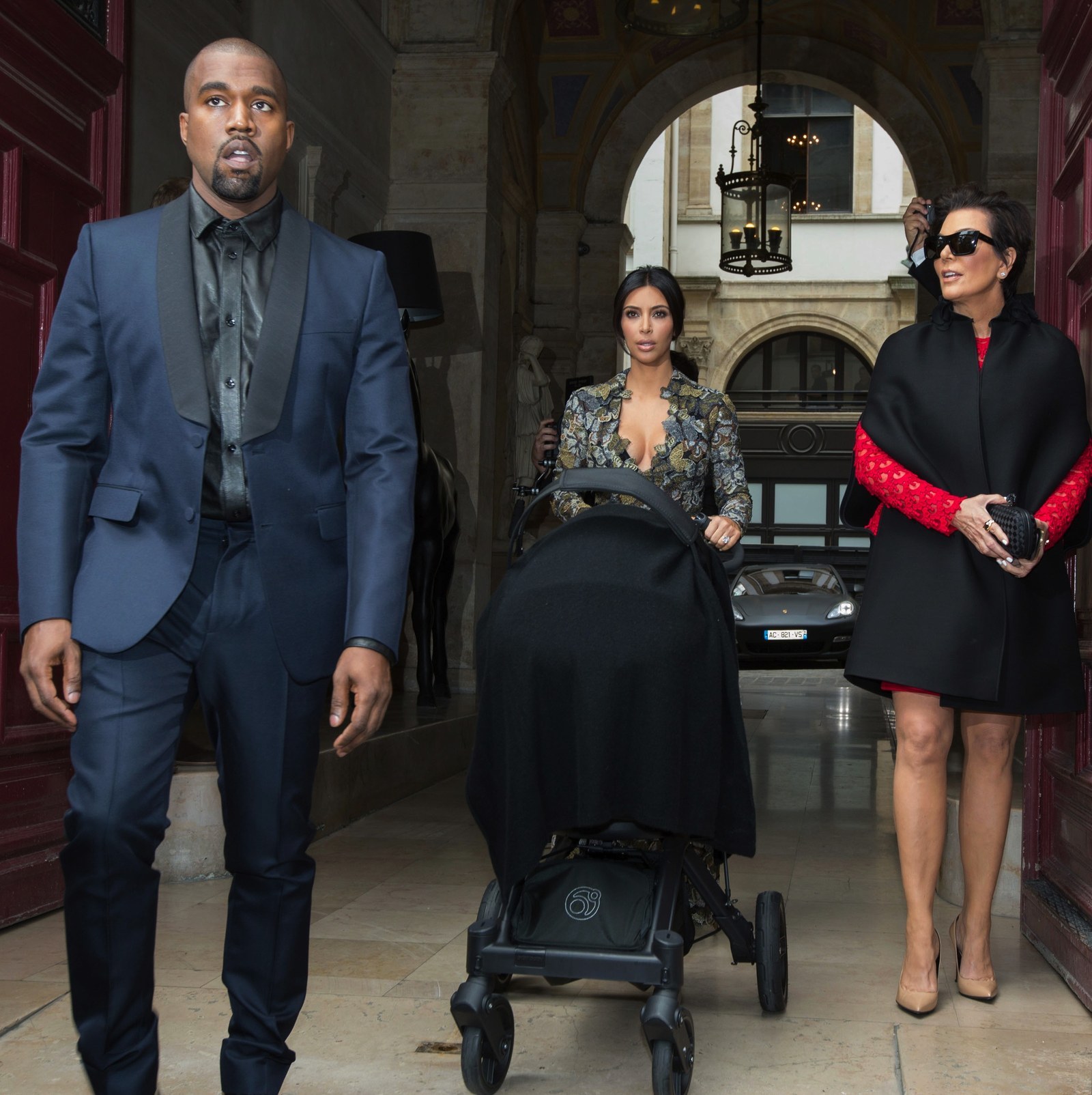 70. Kim is worried that the paparazzi will catch up with Kris Humphries on her big day and that he'll either say something weird or "look sad."
71. The wedding party dined at Hotel Costes on Wednesday night.
72. They ate frog legs and snails took photos of it and captioned it #wheninfrance.
73. Even though the media is flipping out, the kouple is "kalm" and "relaxed" before their wedding.
74. The family loves carousels.
75. Justin Bieber isn't going to the wedding because he wasn't invited.
76. Kim wore a dress with a pattern that almost looks like money flying around. How lavish.
77. Can Kylie Jenner even walk anymore?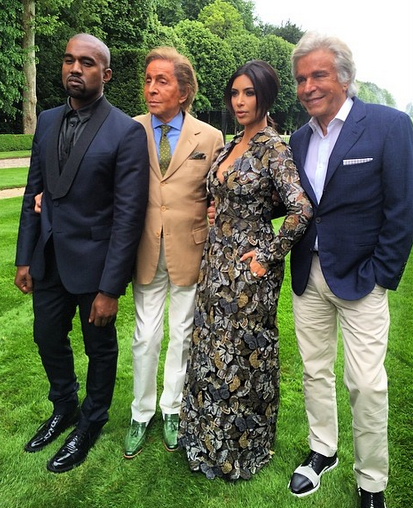 78. Ray J plans to give Kim a cut of their sex tape profits as a wedding gift.
79. Vogue will likely purchase and cover the wedding. That is, unless the entire family leaks all the details via social media.
80. Kim got a $550 pre-wedding facial with a special vegan stem cell lift serum.
81. Chrissy Teigen, John Legend, Serena Williams, Tyga, Black Chyna, and Andre Leon Talley will all attend the wedding.
82. So will Kim's besties: Brittny Gastineau, Jonathan Cheban, Malika Haqq, and Simon Huck.
83. Kim's aunt declined her invite, saying, "I've been to two weddings" already.
84. Kanye and Kim plan to have another baby right after their wedding.
85. But Kanye still plans to freeze his sperm anyway.
86. Kylie Jenner will likely have green hair for the wedding. Think of the pictures!
87. Kim and Kanye "think French chateaus are awesome."
88. The high-end security at the wedding itself costs $3 million.
89. Beyoncé and Jay Z have refused to be filmed at the wedding.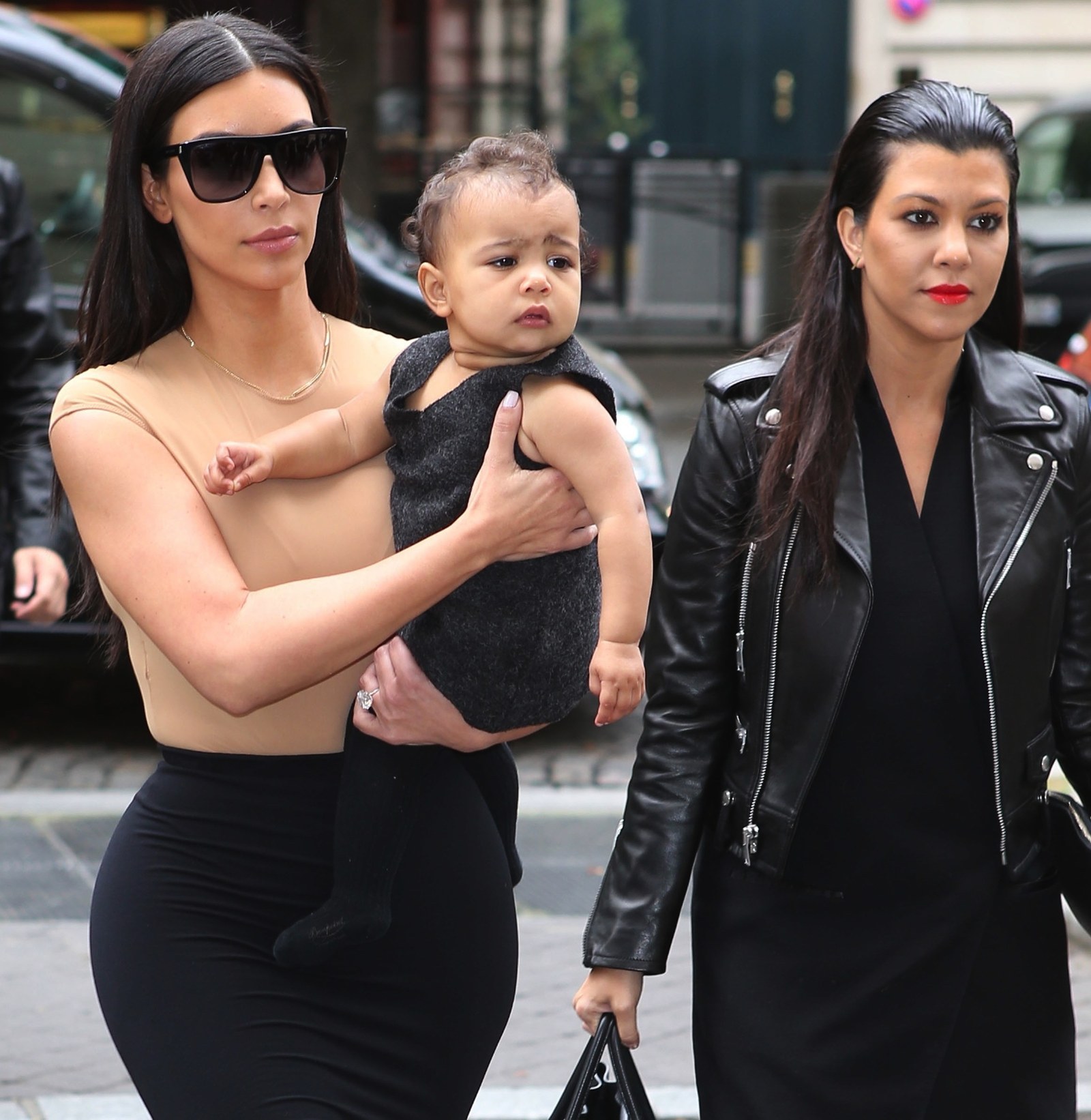 90. But the rehearsal dinner might be filmed by E! for use on Keeping Up With the Kardashians.
91. Bey and Jay are allegedly cool with it because it'll help promote their On the Run tour.
92. Kris Jenner volunteered herself to tag along on the honeymoon and take care of North.
93. Thanks to French paparazzi being way cooler than American photogs, Kim is kontemplating moving to Paris and saying there forever.
94. But North might actually dislike Paris (judging by the look on her face above).
95. North West may or may not attend the actual wedding.
96. But if she does, she'll "have an army of nannies" there to take care of her.
97. Kim's wedding dress is "perfect."
98. And cost over $2 million.
99. AND she will have several outfit changes.
100. There are actual angels in the sky blessing this wedding.
101. And finally: If Britney and Justin taught us anything, it's that a couple that dresses in denim together, stays together forever.