The Marvel cinematic universe is vast, and the number of actors that bring our favorite superheroes even more-so. In honor of Avengers: Endgame, here's a look back at the past decade of movie premieres, red carpets, and press tours — aka some happier, spoiler-free moments in time.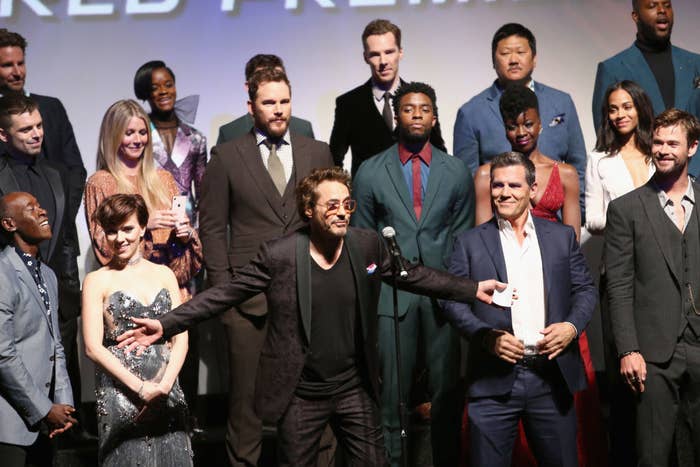 1.
Iron Man and Thanos actually getting along.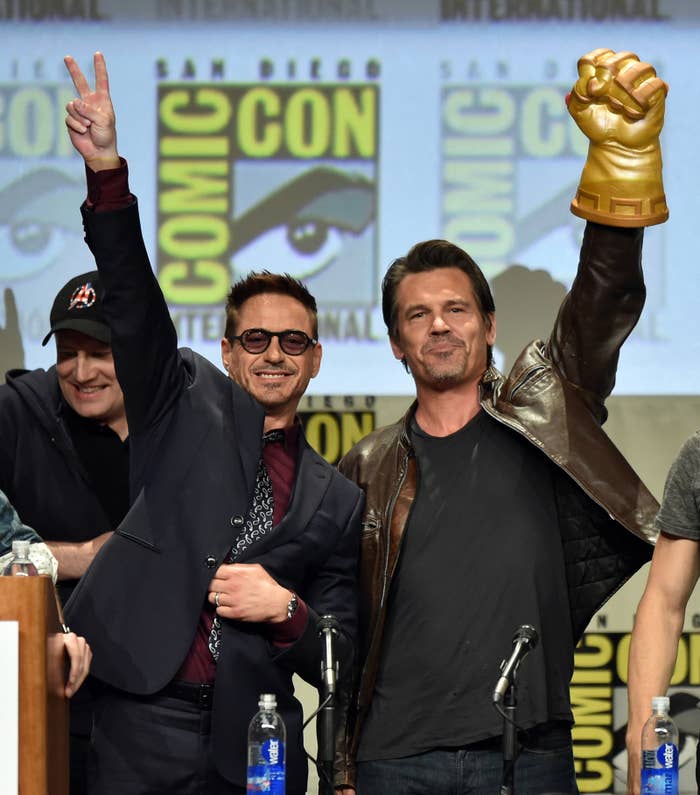 2.
Thor doing something weird with Bruce Banner's face.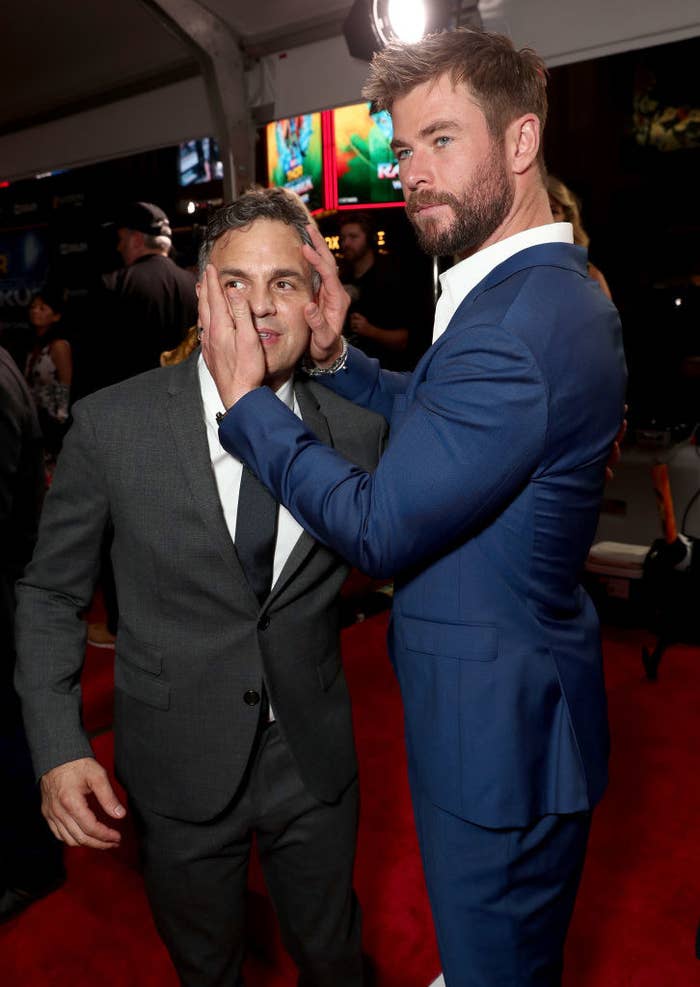 3.
This Facetime/selfie situation between the two Chrises.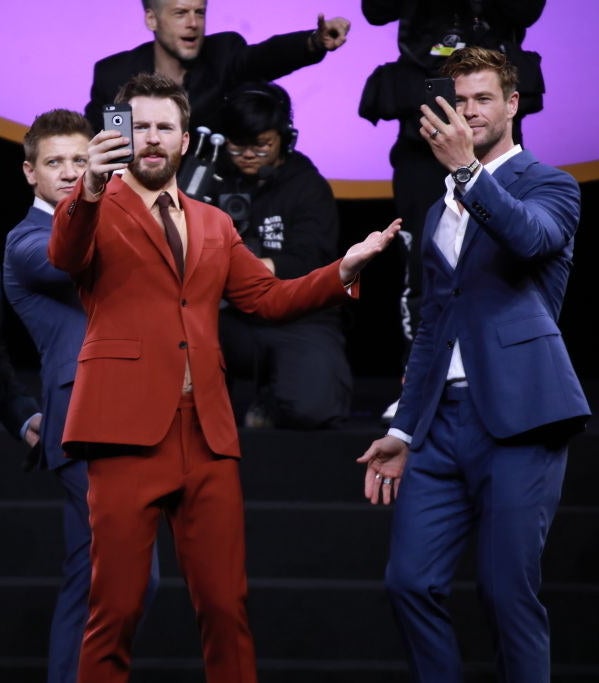 4.
The time Robert Downey Jr. was checking out Josh Brolin's muscles.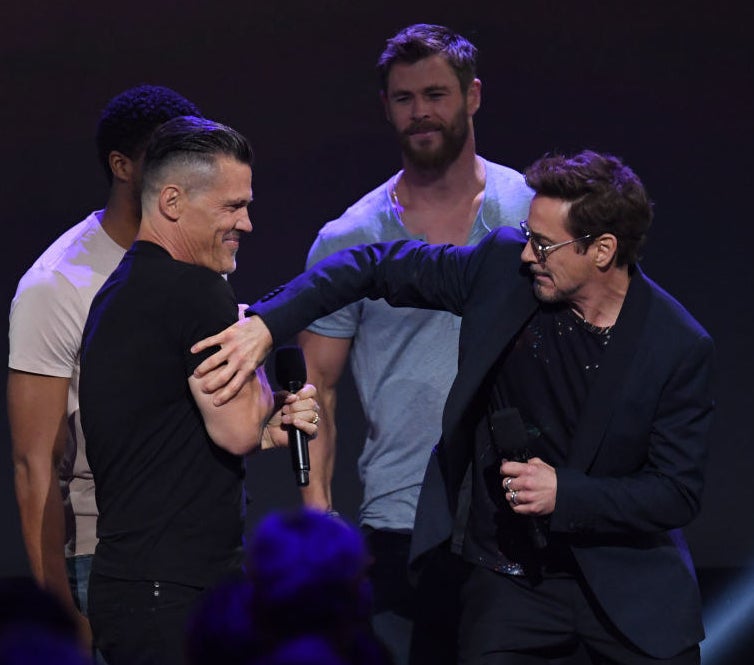 5.
And the time Mark Ruffalo and Chris Hemsworth compared their arm muscles.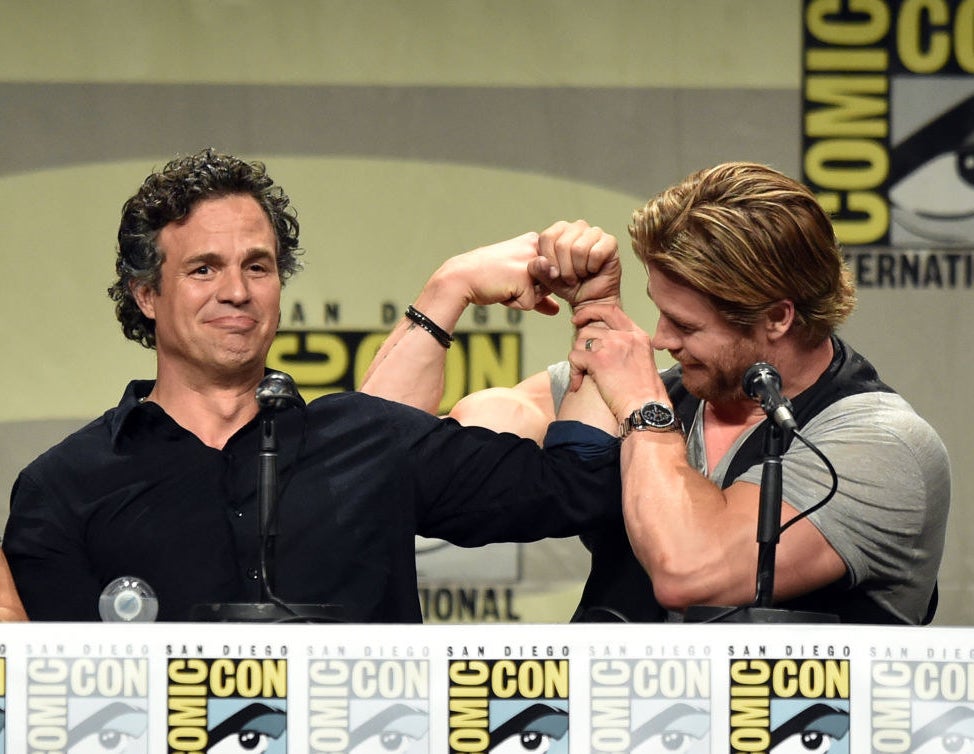 6.
Chris Evans and Scarlett Johansson sharing secrets.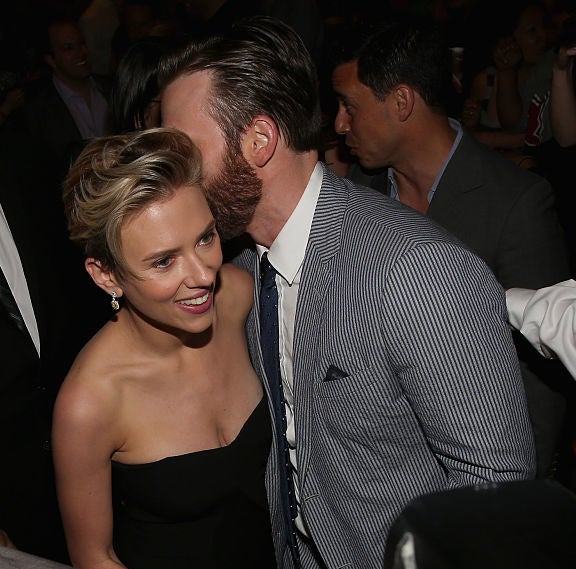 7.
Danai Gurira and Lupita Nyong'o ALSO sharing secrets.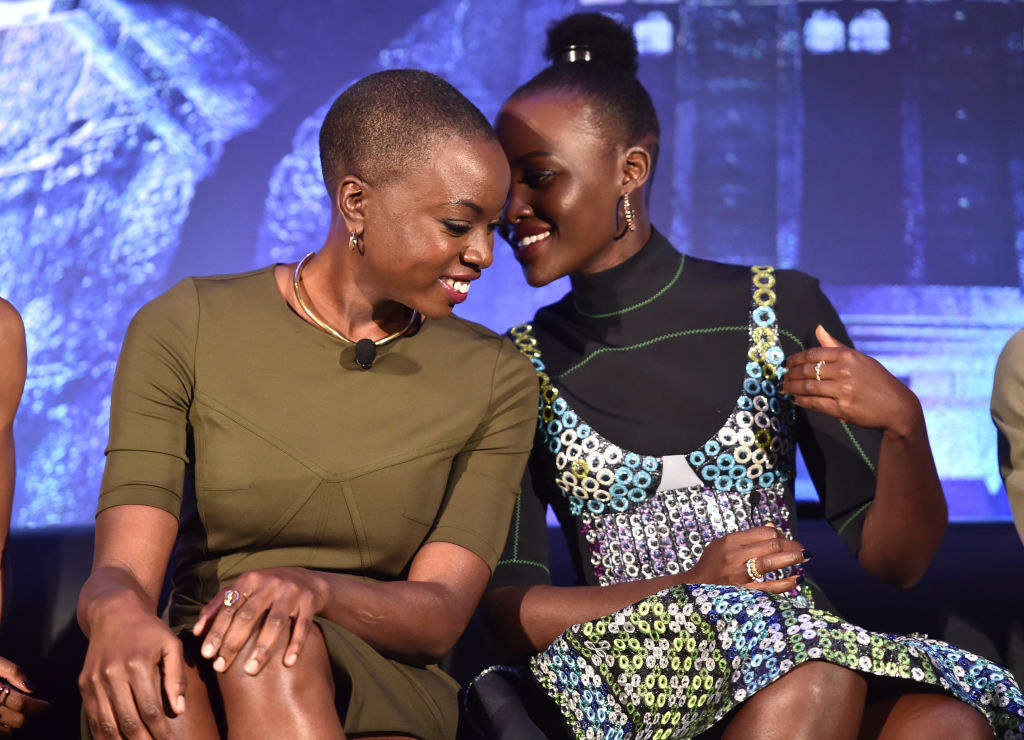 8.
Thor and his brother Loki putting their fists up.
9.
This joyful hug.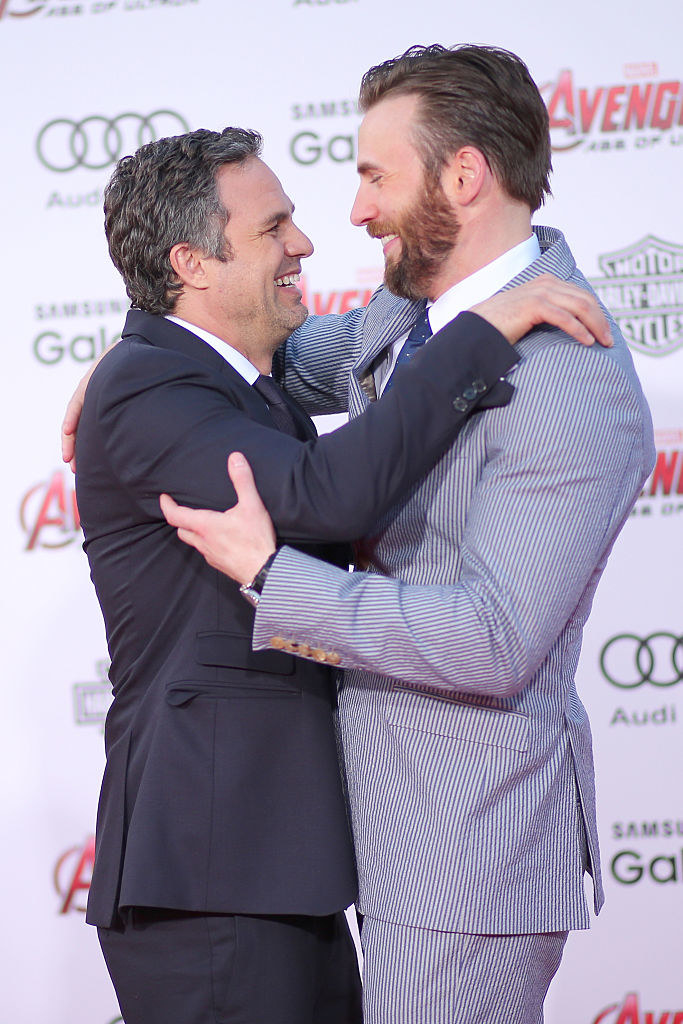 10.
This holding of hands.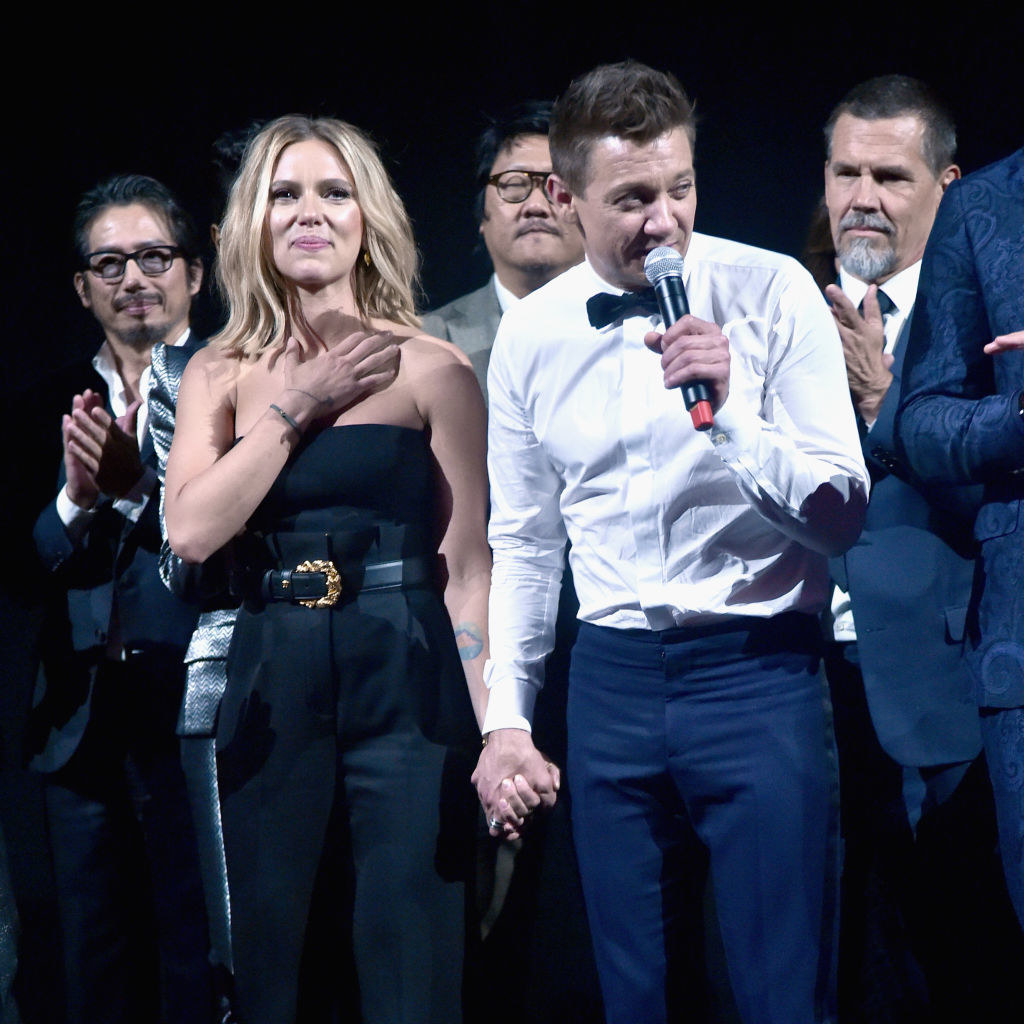 11.
This chill, yet important high five.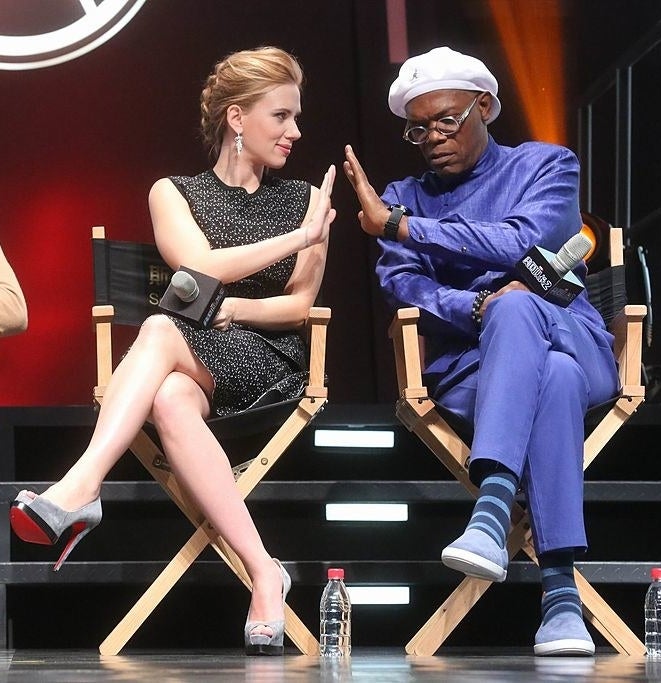 12.
Tom Holland and Zendaya giving high fashion at Comic Con.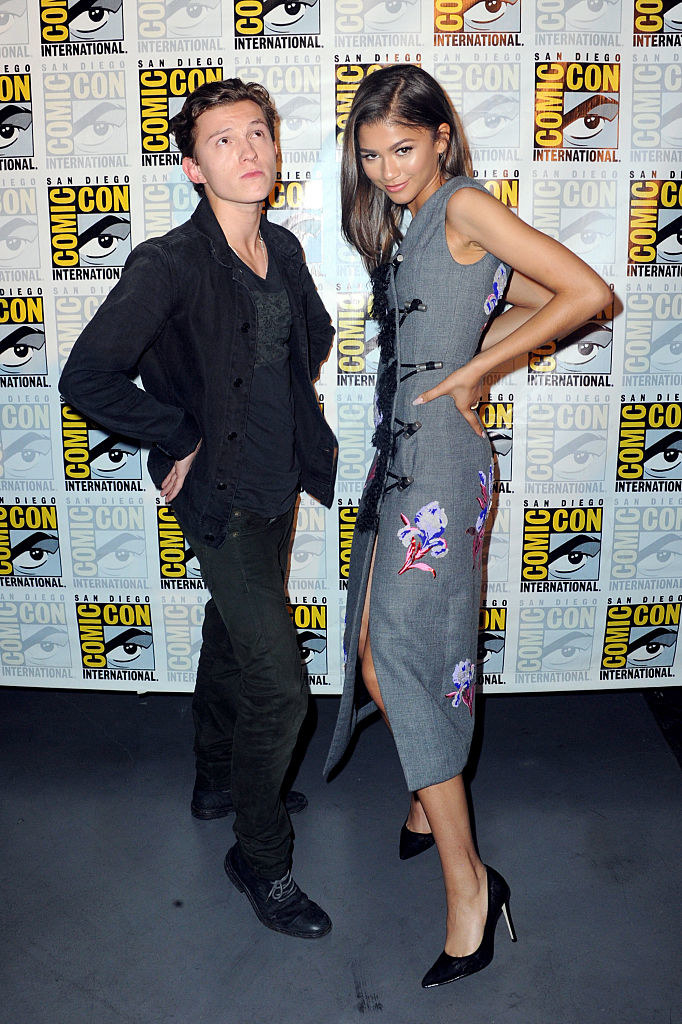 13.
Elizabeth Olsen and Josh Brolin sharing a laugh while Gwyneth Paltrow hugs Chris Pratt.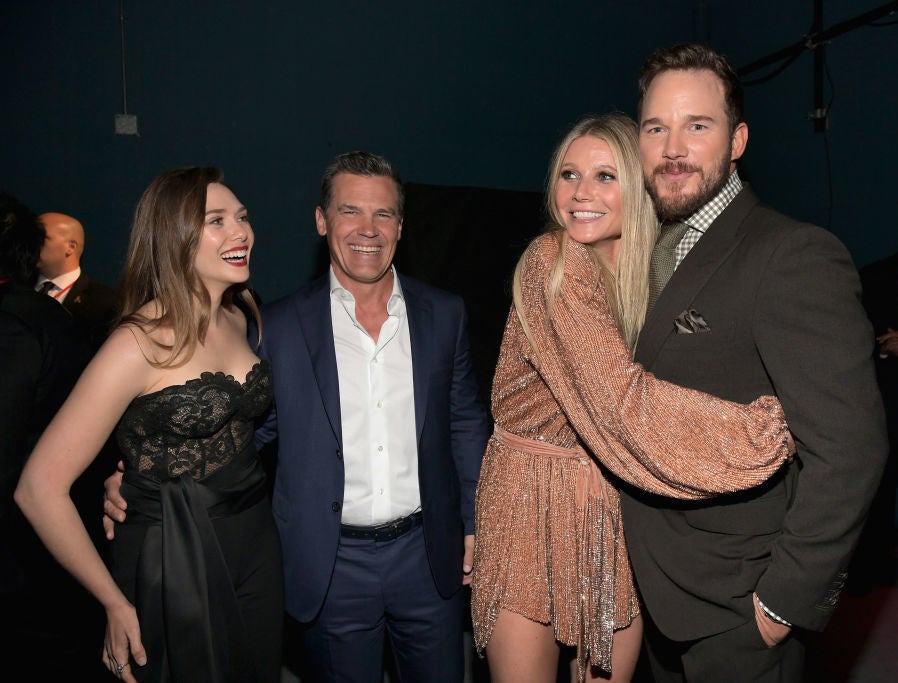 14.
Chris Hemsworth rocking out.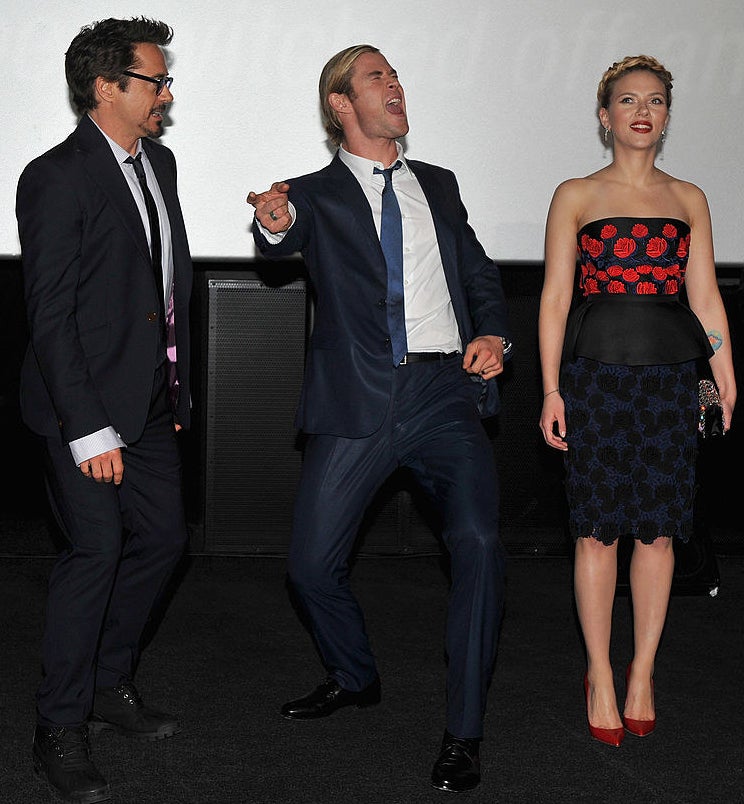 15.
Chris Evans and Hayley Atwell posing for a photo.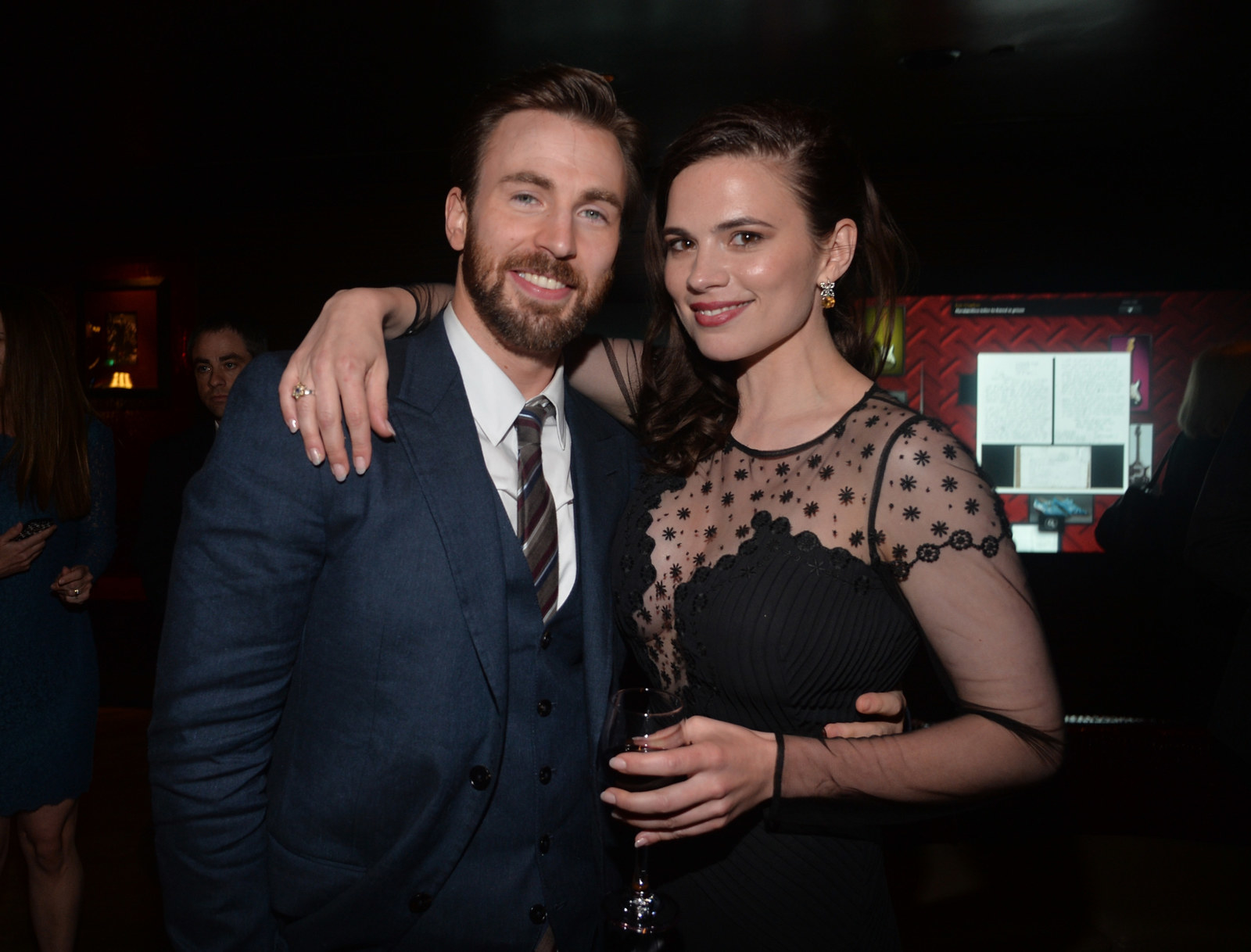 16.
Cobie Smulders fixing Tom Hiddleston's bowtie.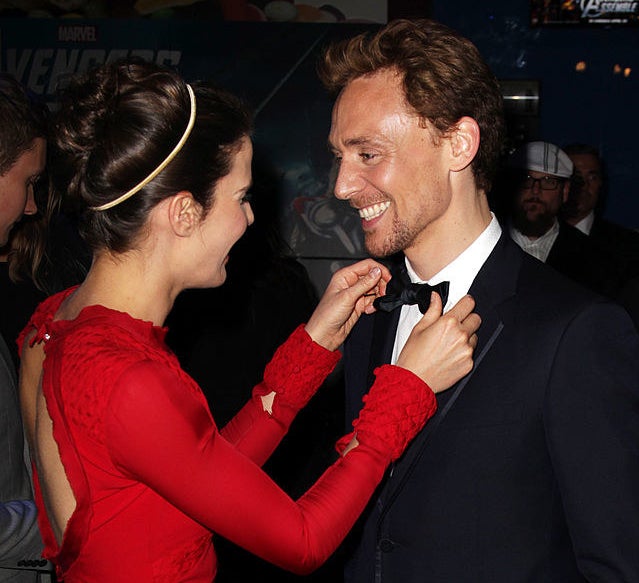 17.
Chris Pratt and Zoe Saldana cheesin'.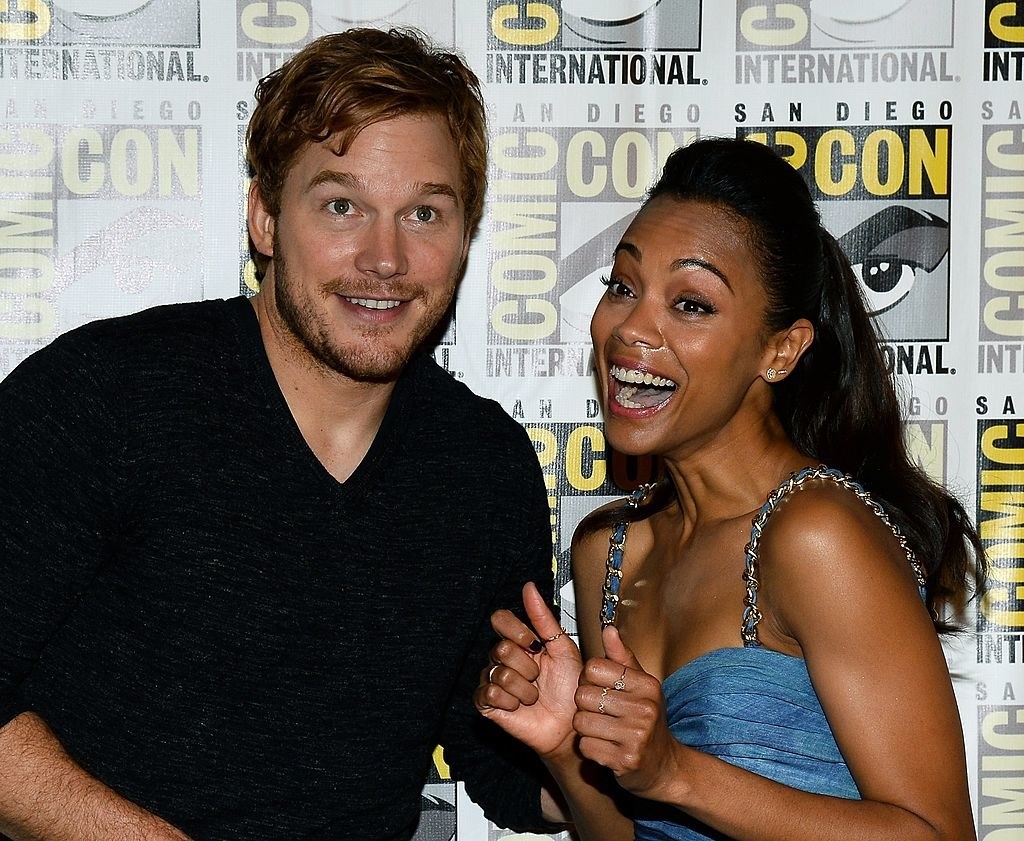 18.
Hawkeye and Iron Man doing a jig.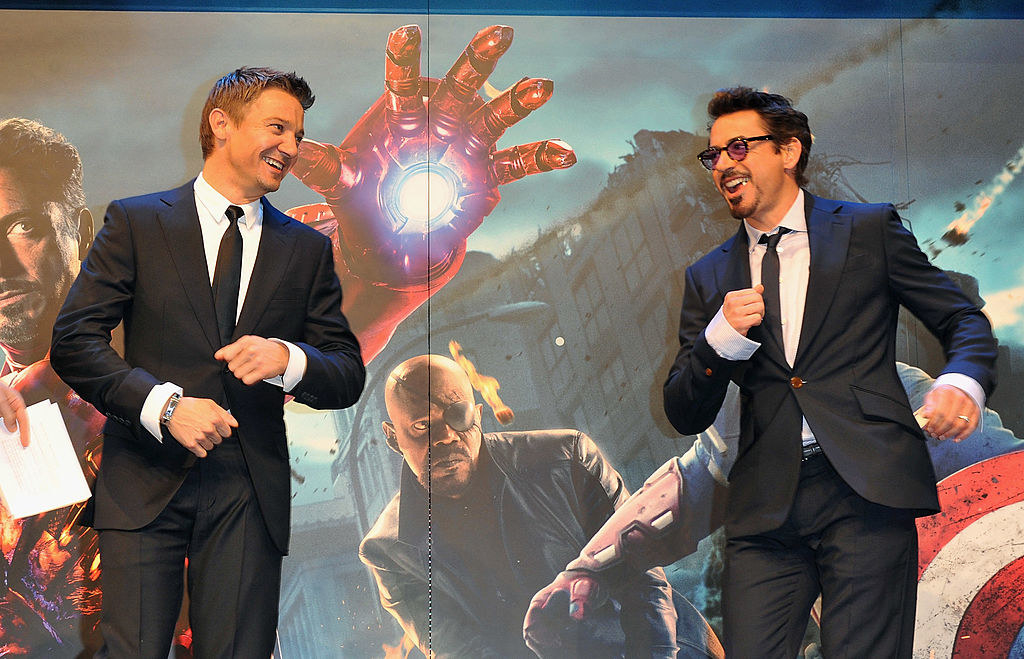 19.
Winston Duke pointing at Chris Hemsworth.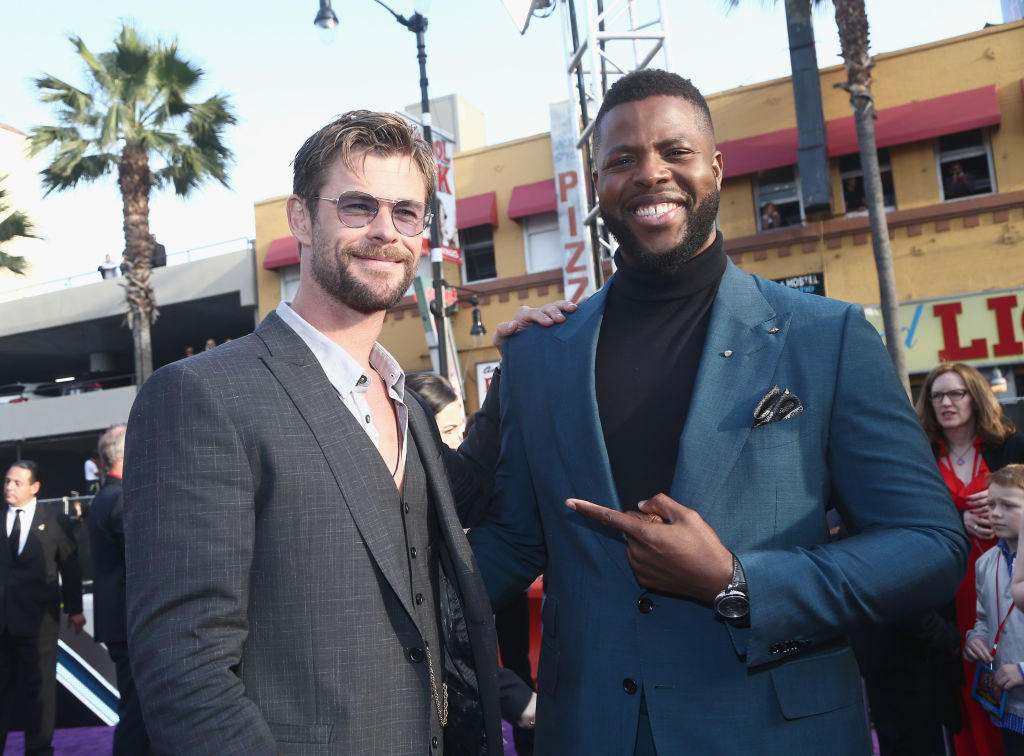 20.
Winston Duke pointing at Tom Hiddleston.
21.
Chris Hemsworth and Scarlett Johansson exchanging ~a look~.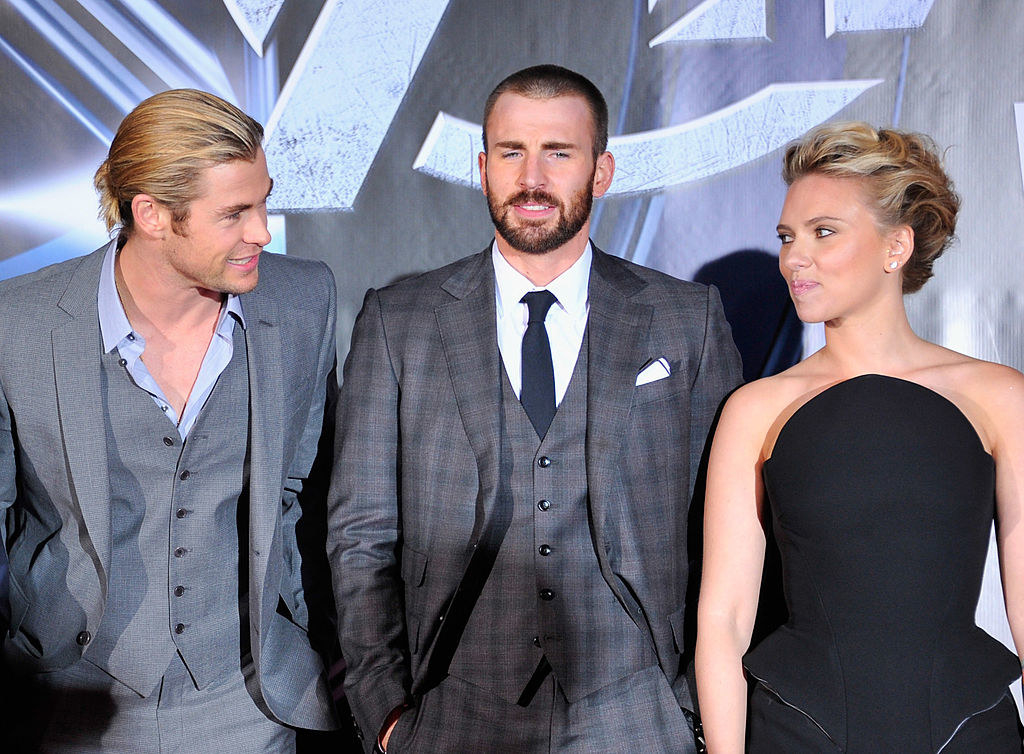 22.
Lupita Nyong'o gazing at Michael B. Jordan while he talks (which is highly relatable).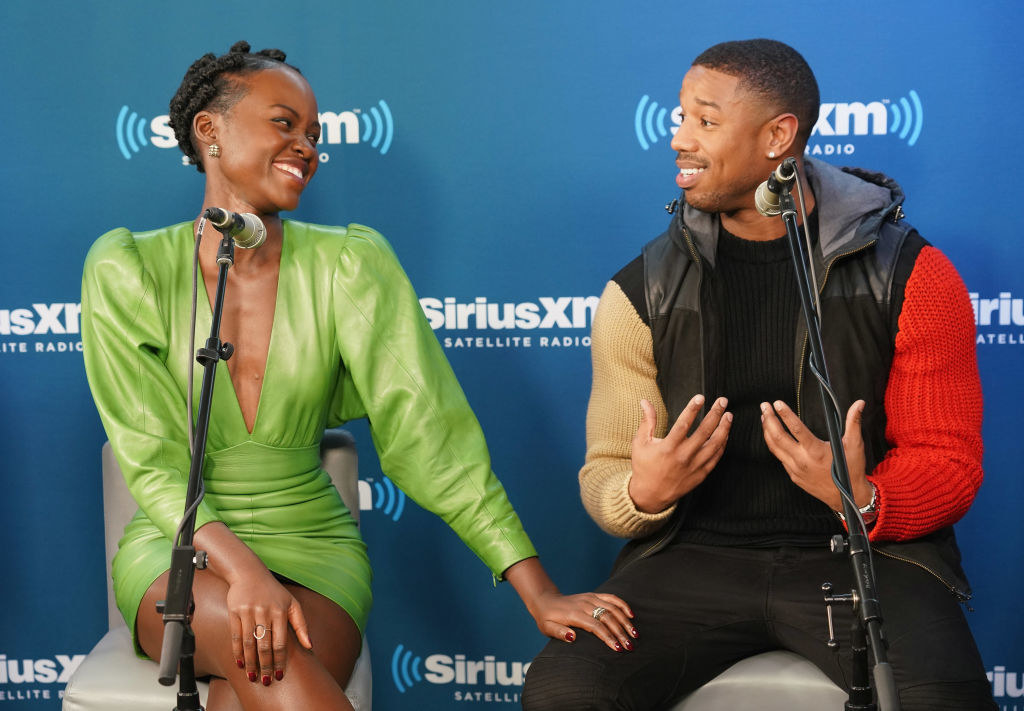 23.
Spider-Man and his mentor, Tony Stark.
24.
Samuel L. Jackson losing his mind at whatever Jon Favreau just said.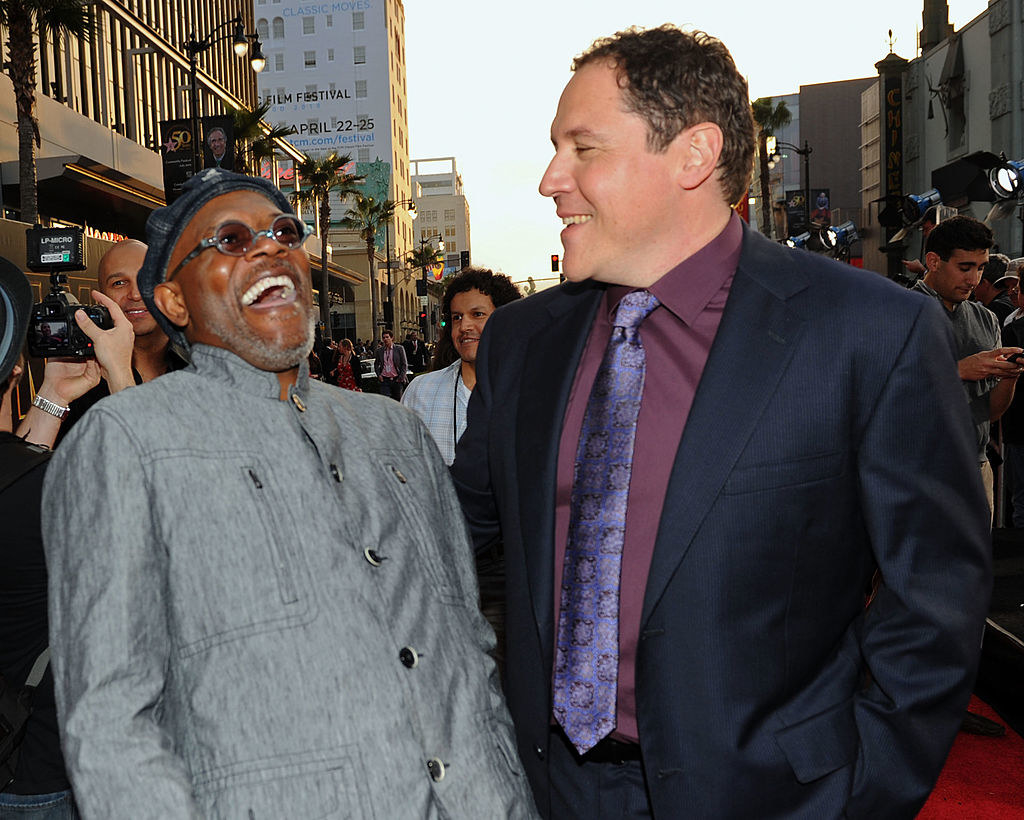 25.
Benedict Cumberbatch and Brie Larson meeting for the first time.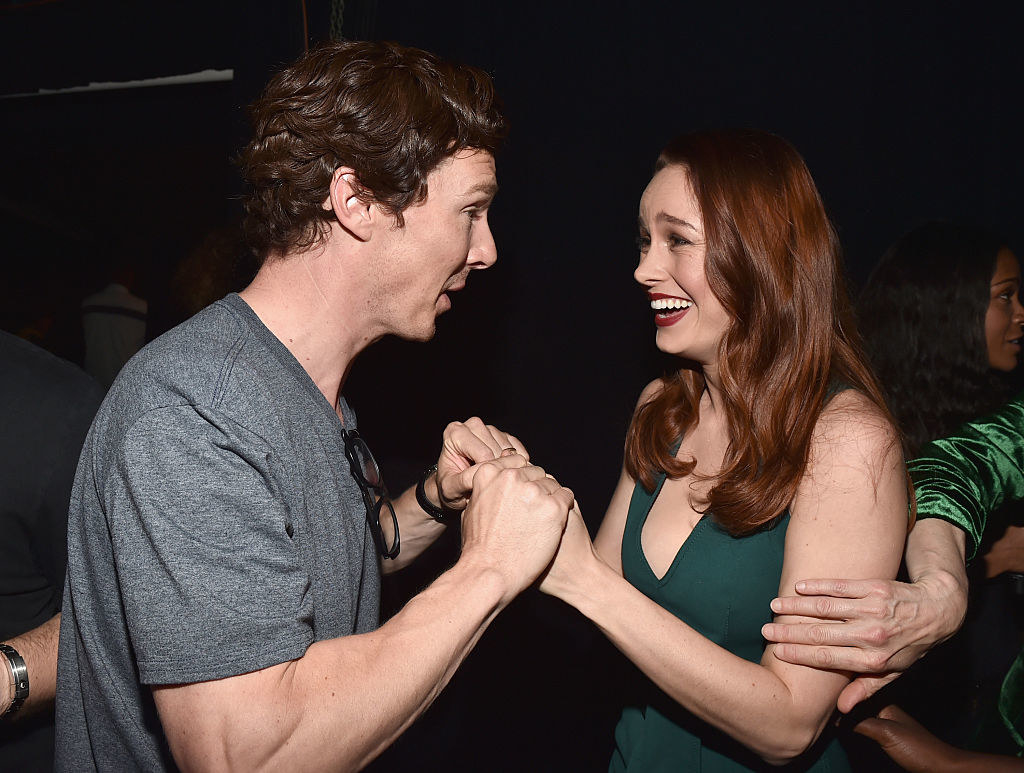 26.
Paul Rudd and Evangeline Lilly arriving in style.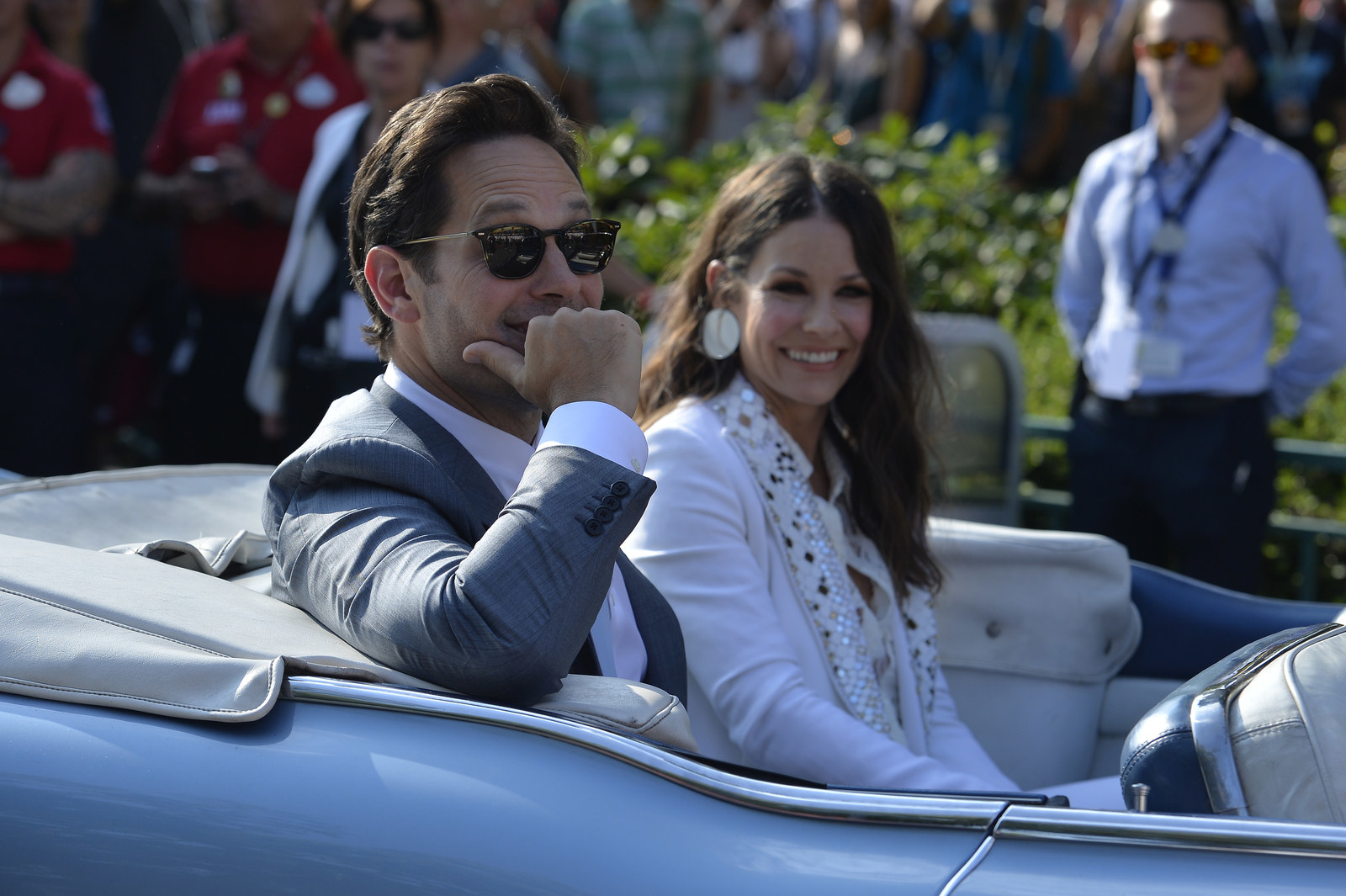 27.
Michael B. Jordan and Chadwick Boseman discussing something on the red carpet.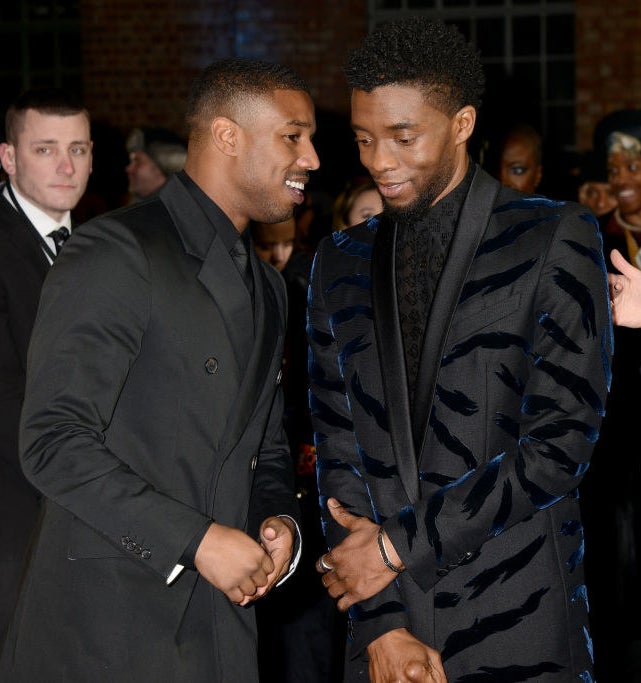 28.
Chris Evans and Anthony Mackie doing this little hand thing.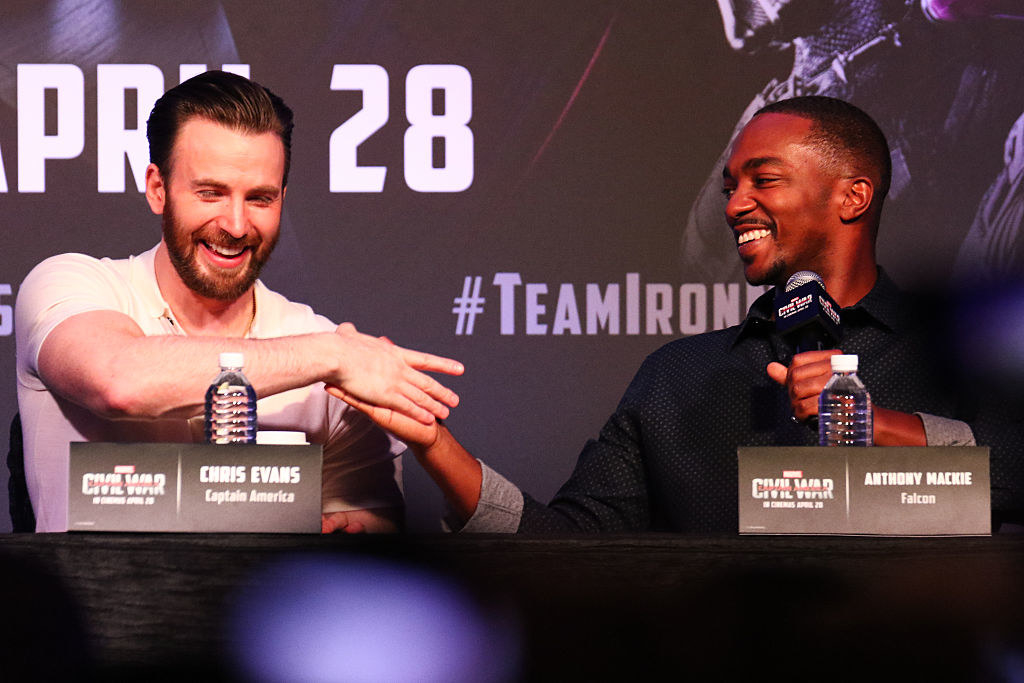 29.
Mark Ruffalo hulking-out in Times Square next to Jeremy Renner and Chris Evans.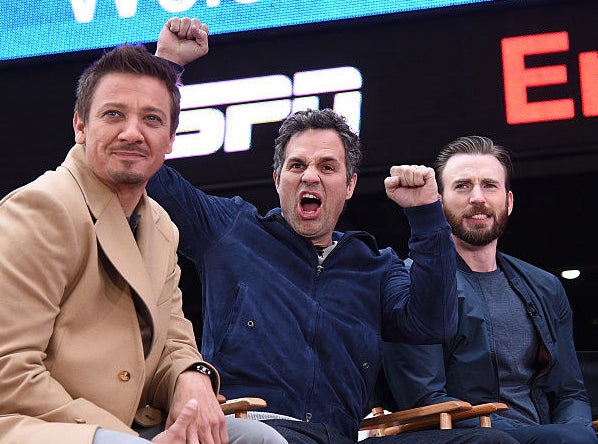 30.
Cate Blanchett and Tessa Thompson both radiating in yellow.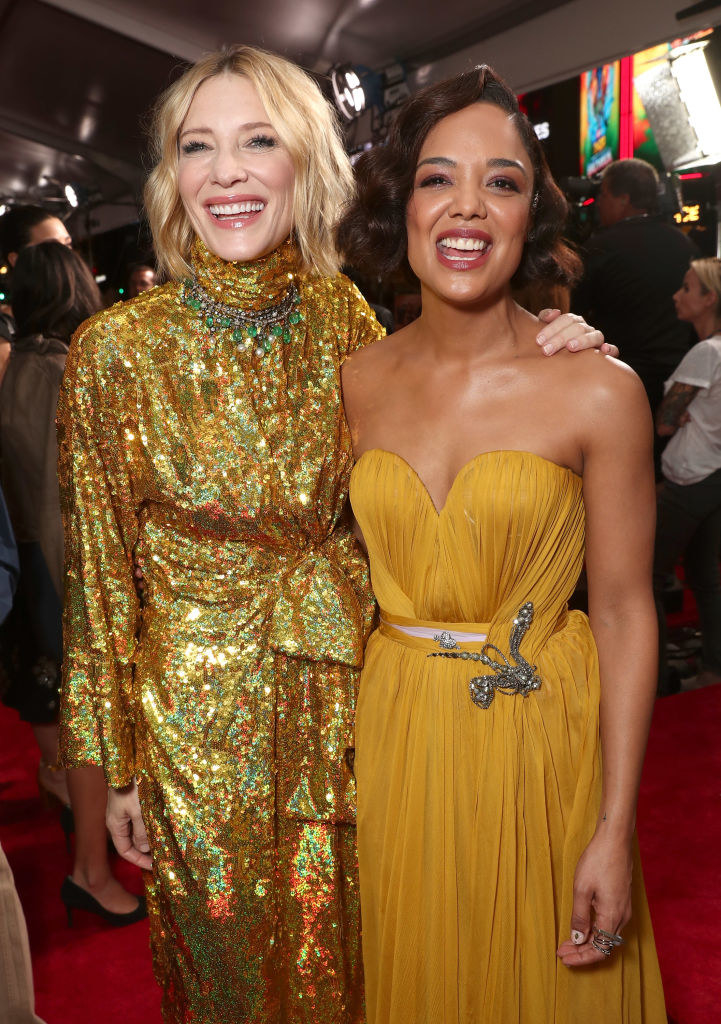 31.
And Danai Gurira and Lupita Nyong'o beaming in all red.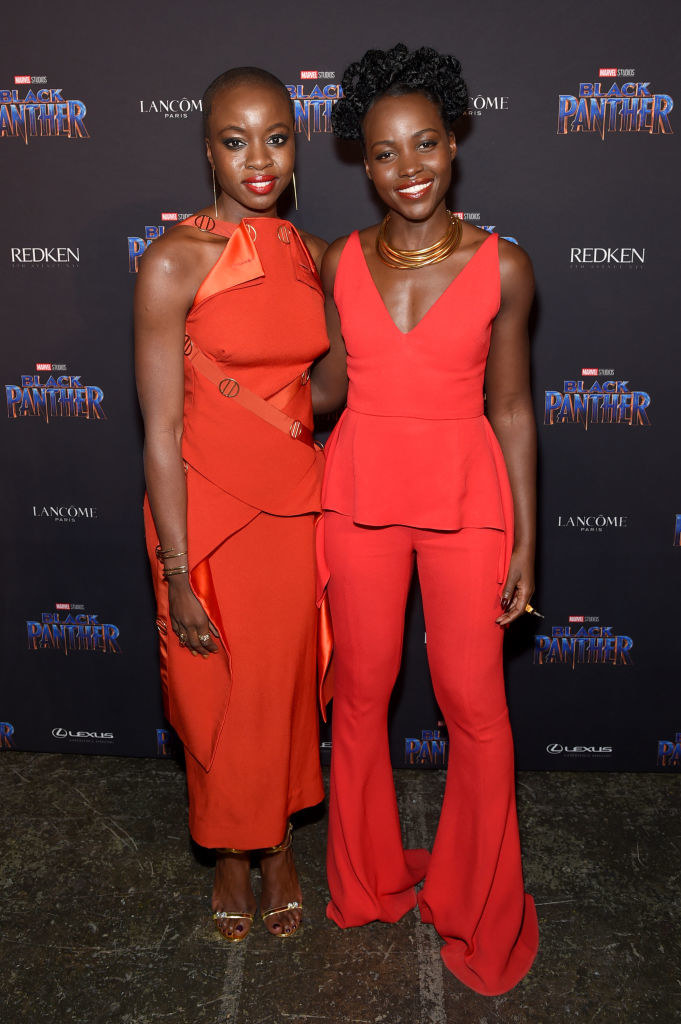 32.
Tilda Swinton pointing out something to Benedict Cumberbatch, who looks pretty delighted.
33.
When the original Avengers got together for a hand and footprint ceremony...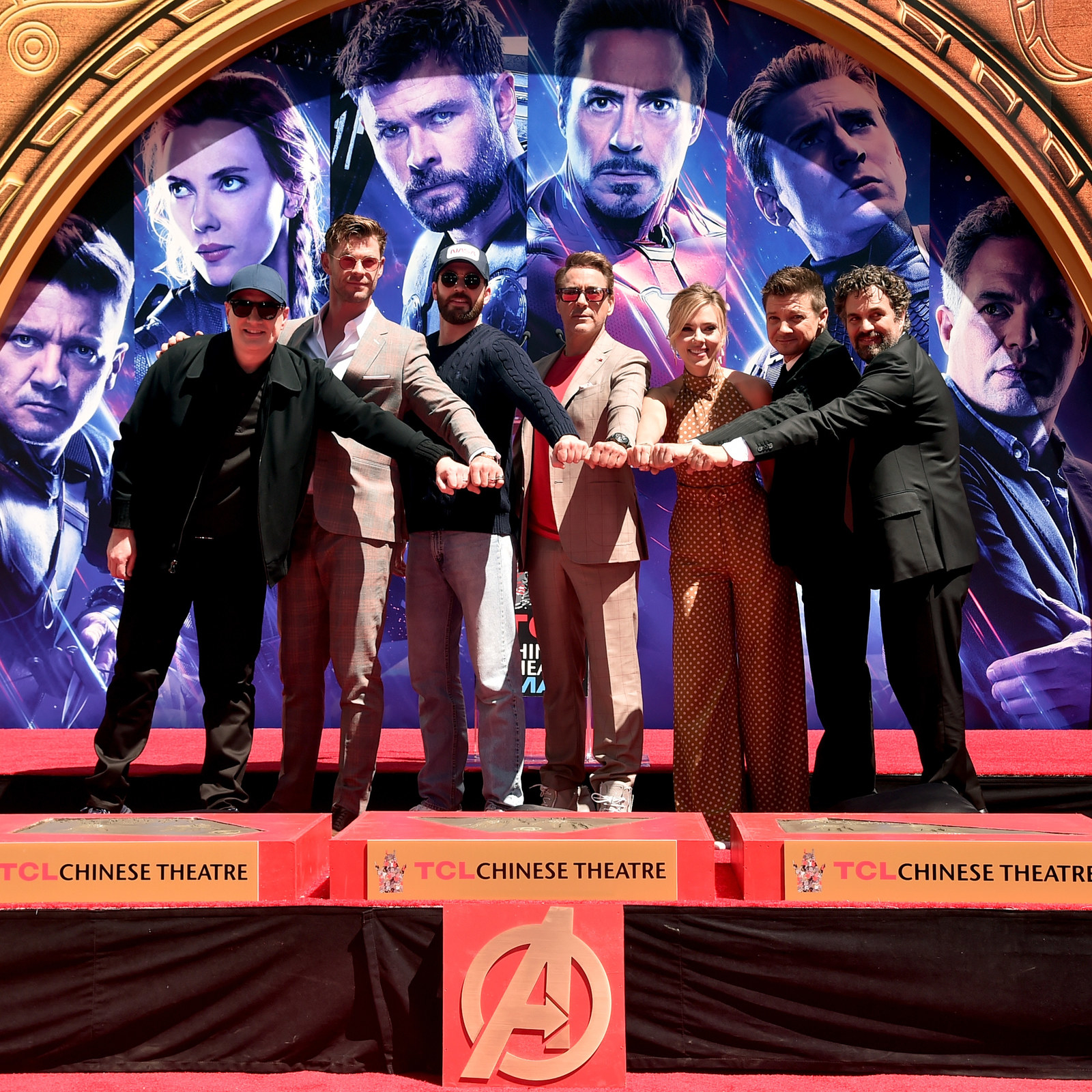 34.
...and they played with cement...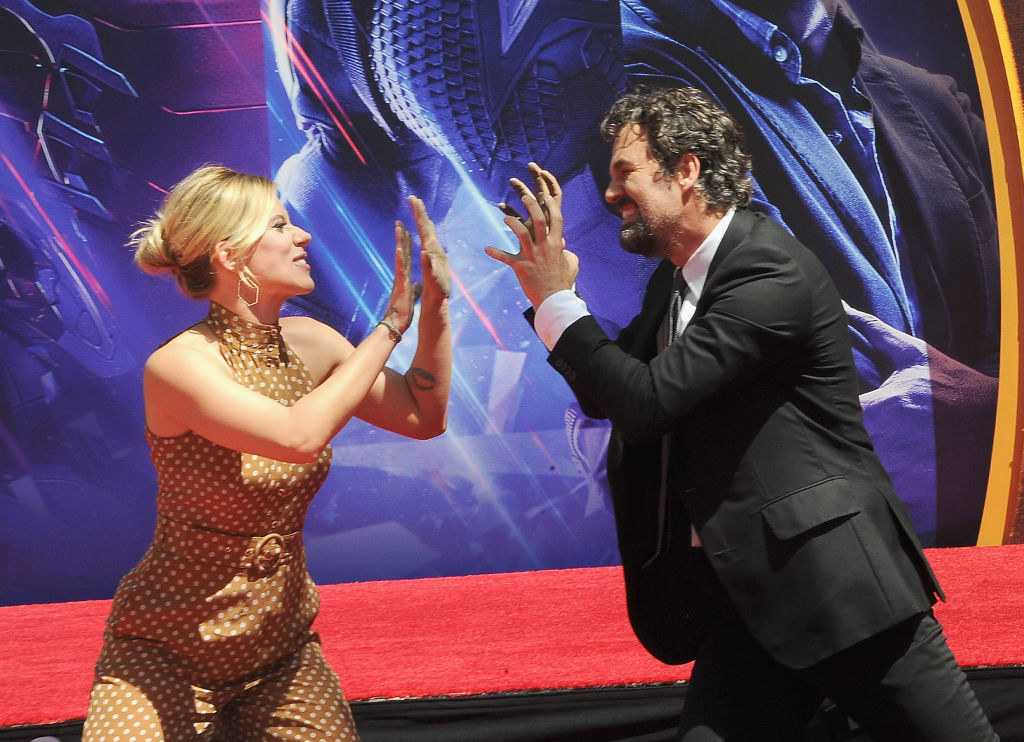 35.
...and Chris Hemsworth had a little trouble fitting his whole name in there.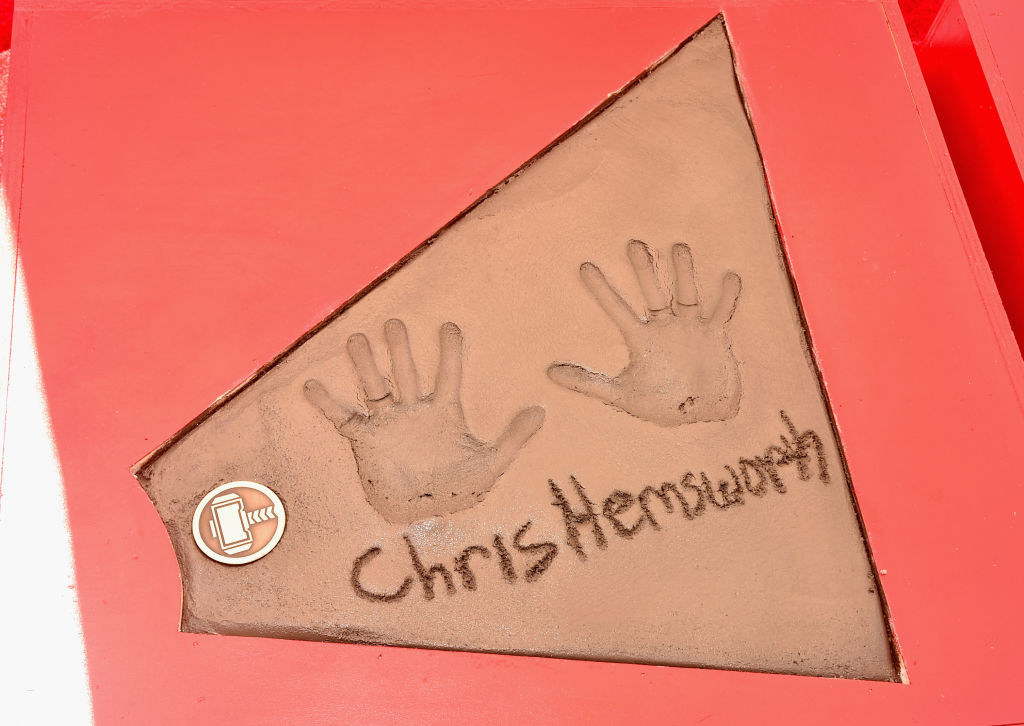 36.
This selfie with the cast of Black Panther.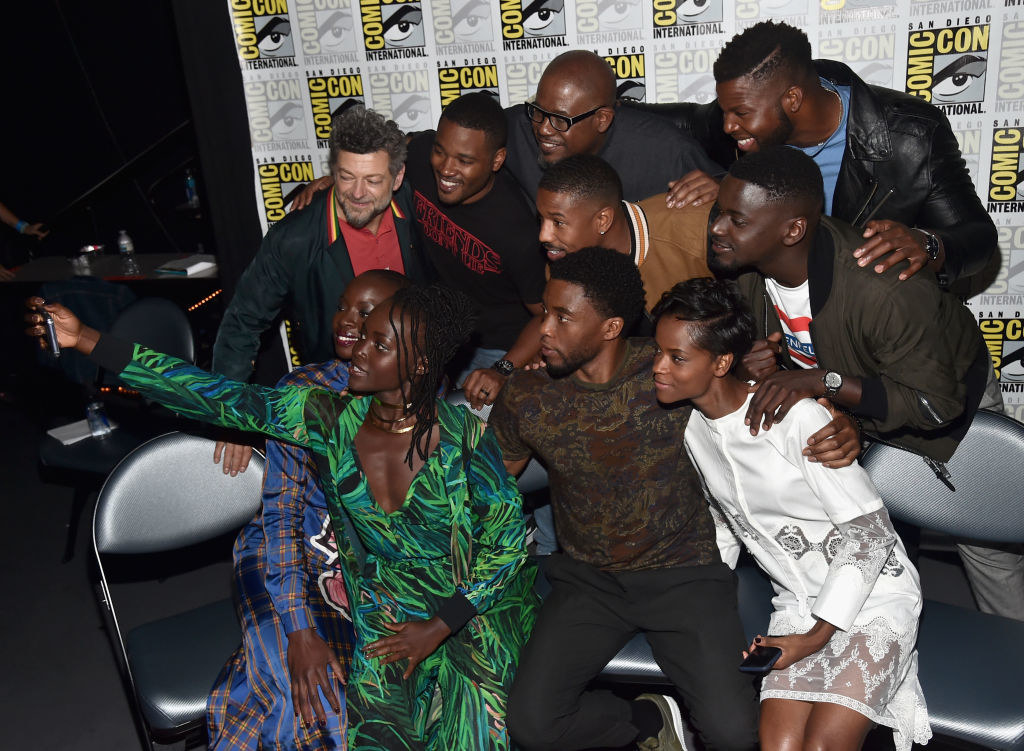 37.
Michael Pena and Paul Rudd in suits.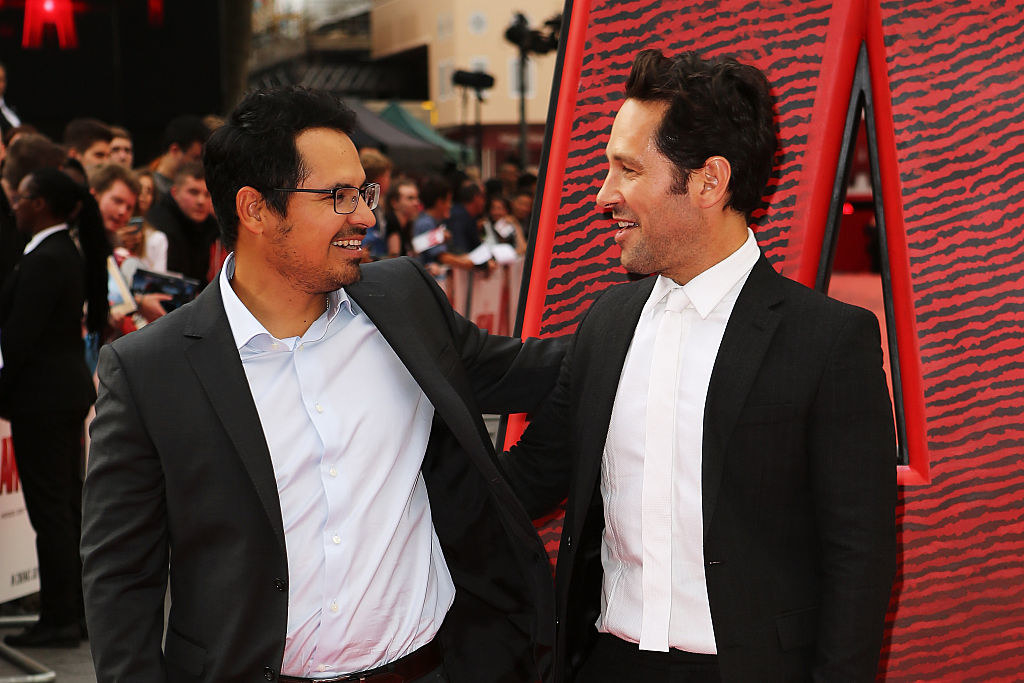 38.
Chris Hemsworth kissing Taika Waititi at SDCC.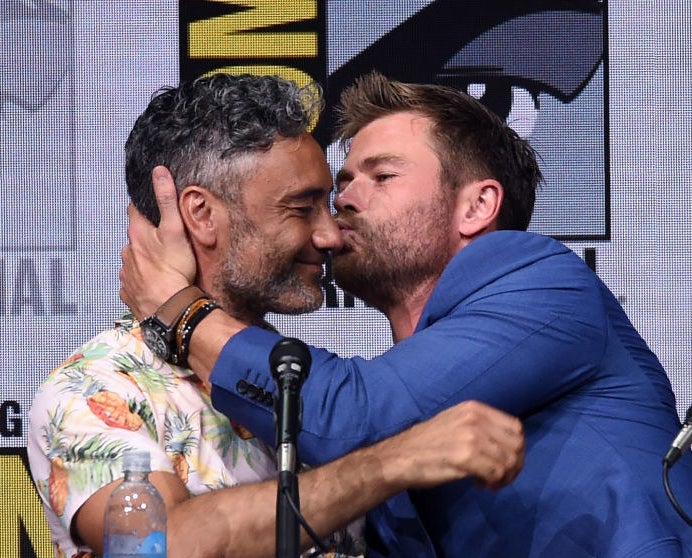 39.
This early-era Comic Con photo of the cast of Iron Man in 2007 where Robert Downey Jr., Jon Favreau, Gwyneth Paltrow and Terrence Howard all look like babies.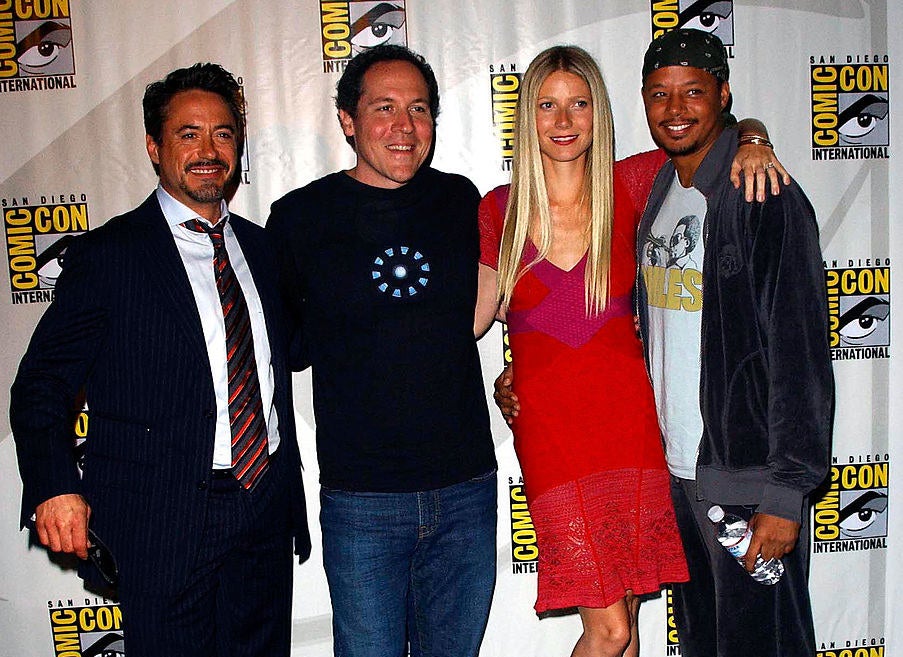 40.
And this photo of Gwyneth Paltrow wiping a fake tear off of Robert Downey Jr.'s cheek on TRL. Vintage!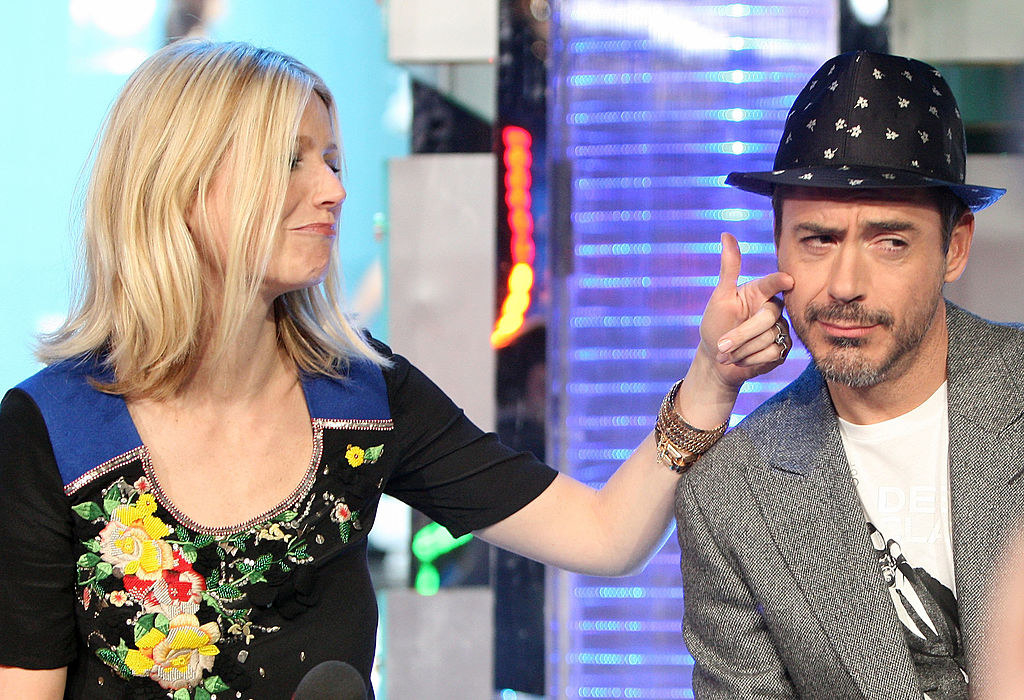 41.
Chris Hemsworth and Jeremy Renner hugging it out.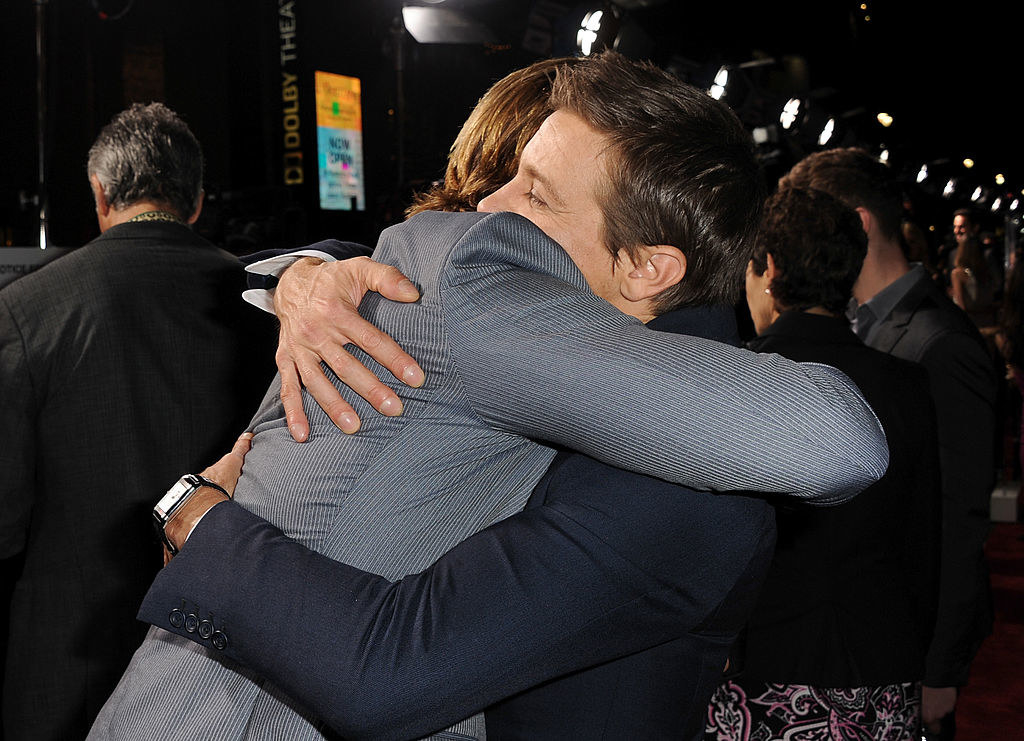 42.
Karen Gillan and Vin Diesel mean-mugging for the cameras.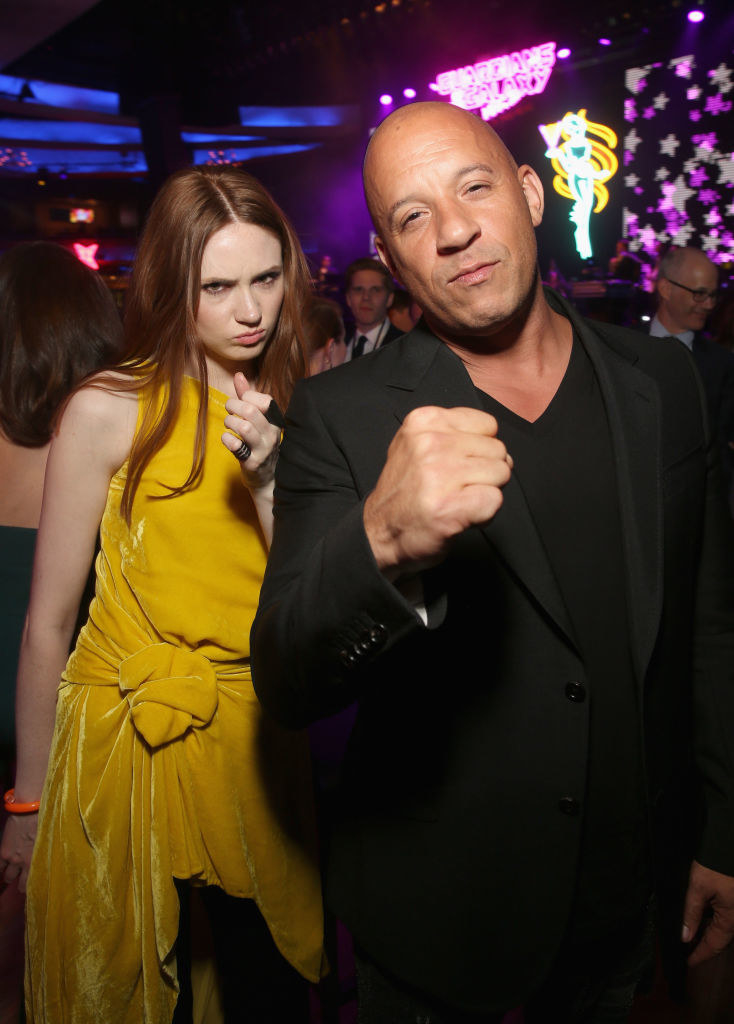 43.
A Chris Evans sandwich between Emily VanCamp and Cobie Smulders.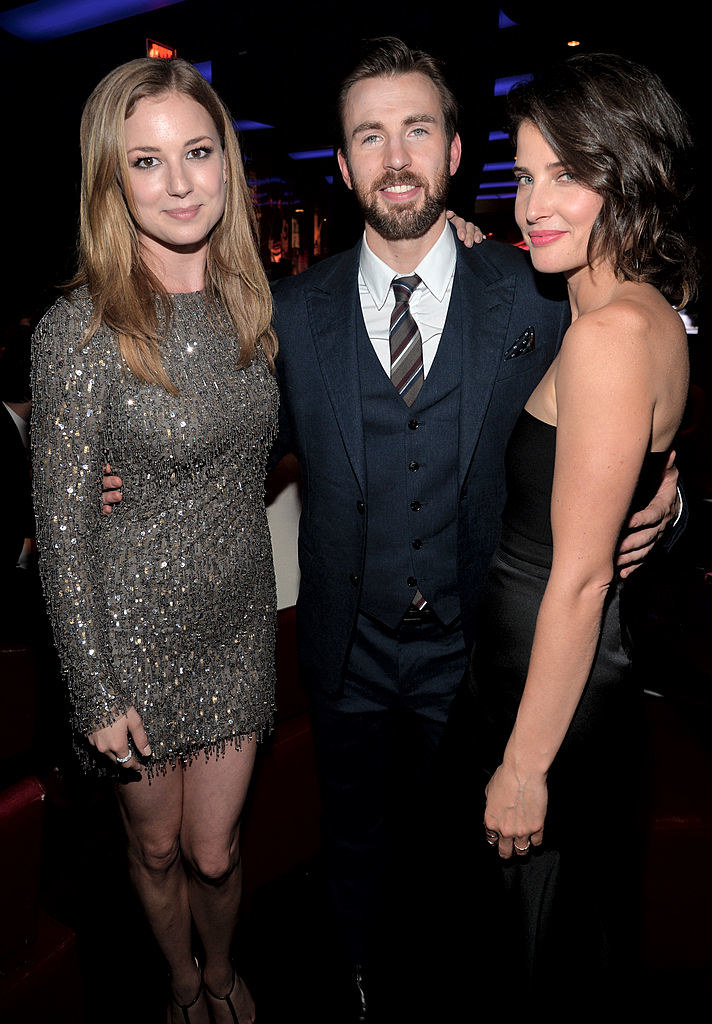 44.
Paul Bettany and Chris Evans having a little exchange.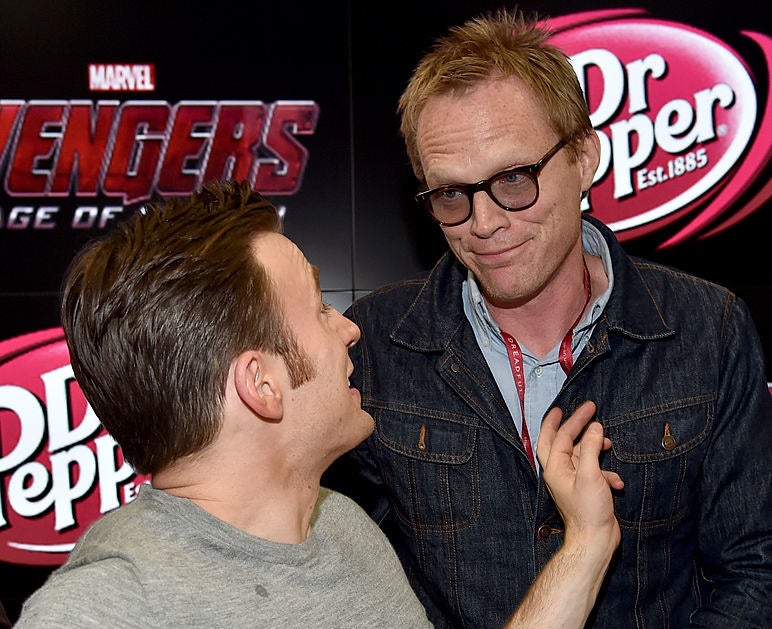 45.
Jeff Goldblum and Tessa Thompson both having trouble seeing the same thing at the same time.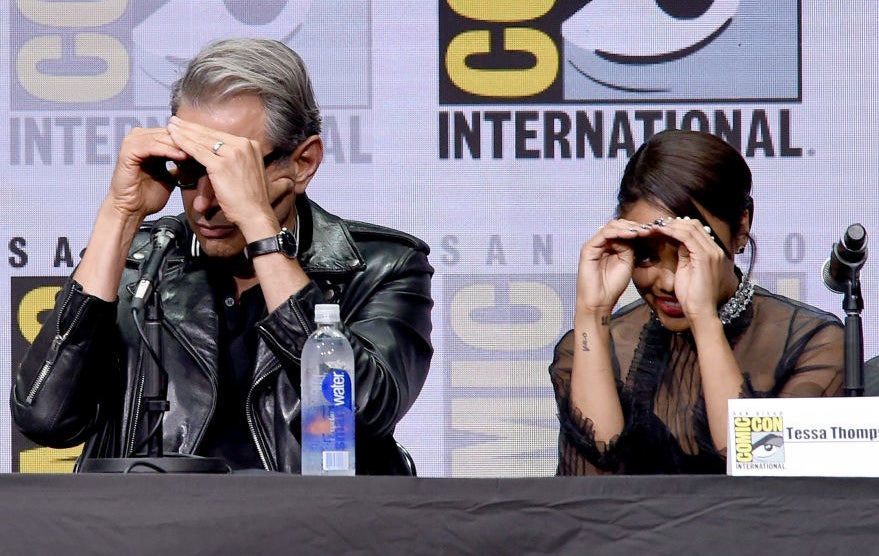 46.
Nick Fury and Captain Marvel making hand signs.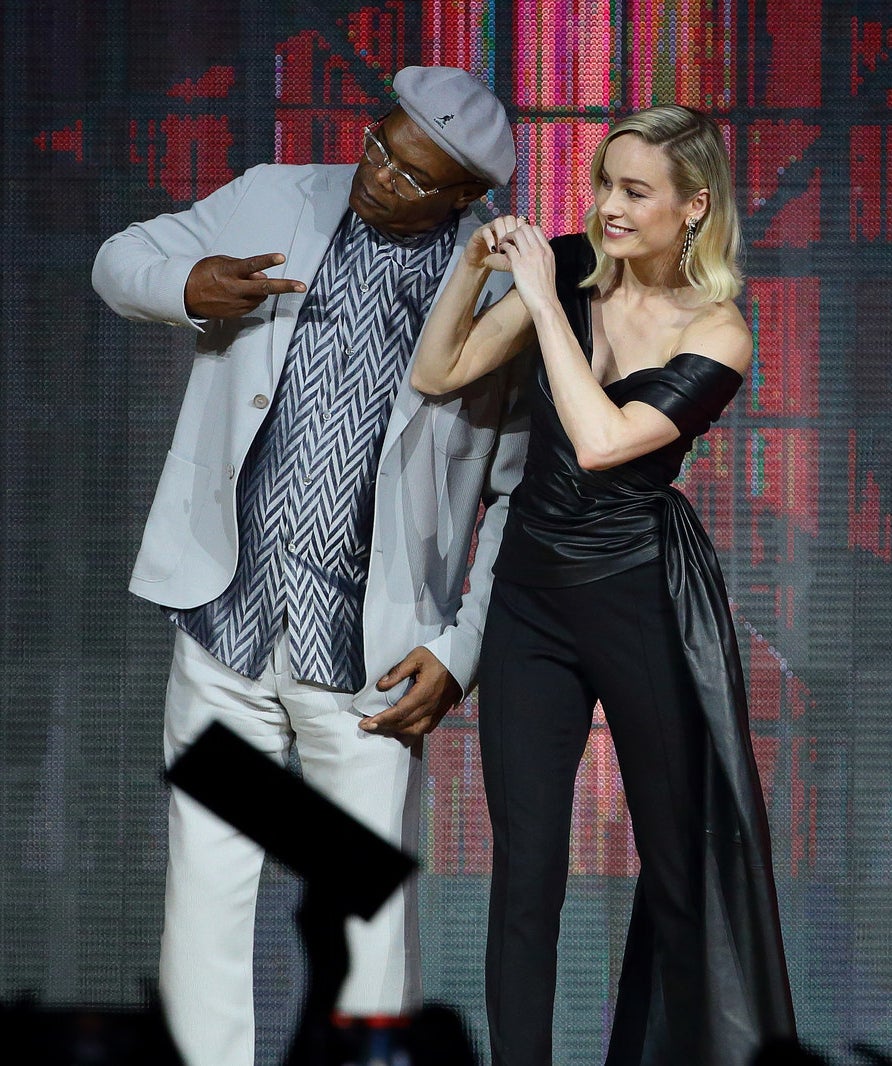 47.
This red carpet chat that I'd have loved to be a fly on the wall for.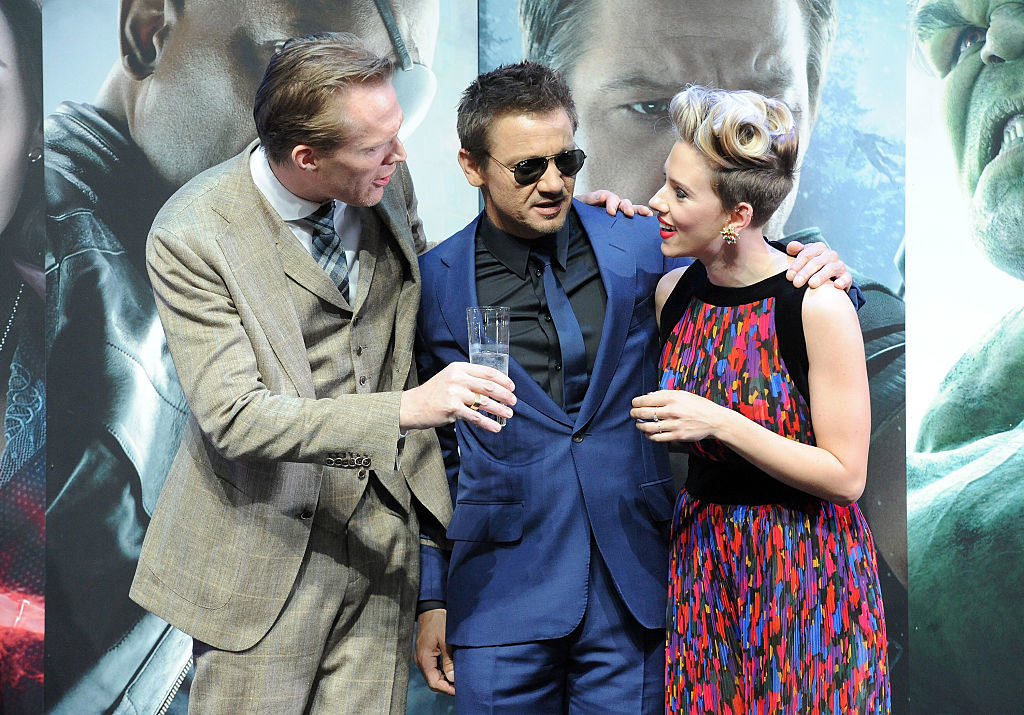 48.
Tom Holland chilling with Yondu.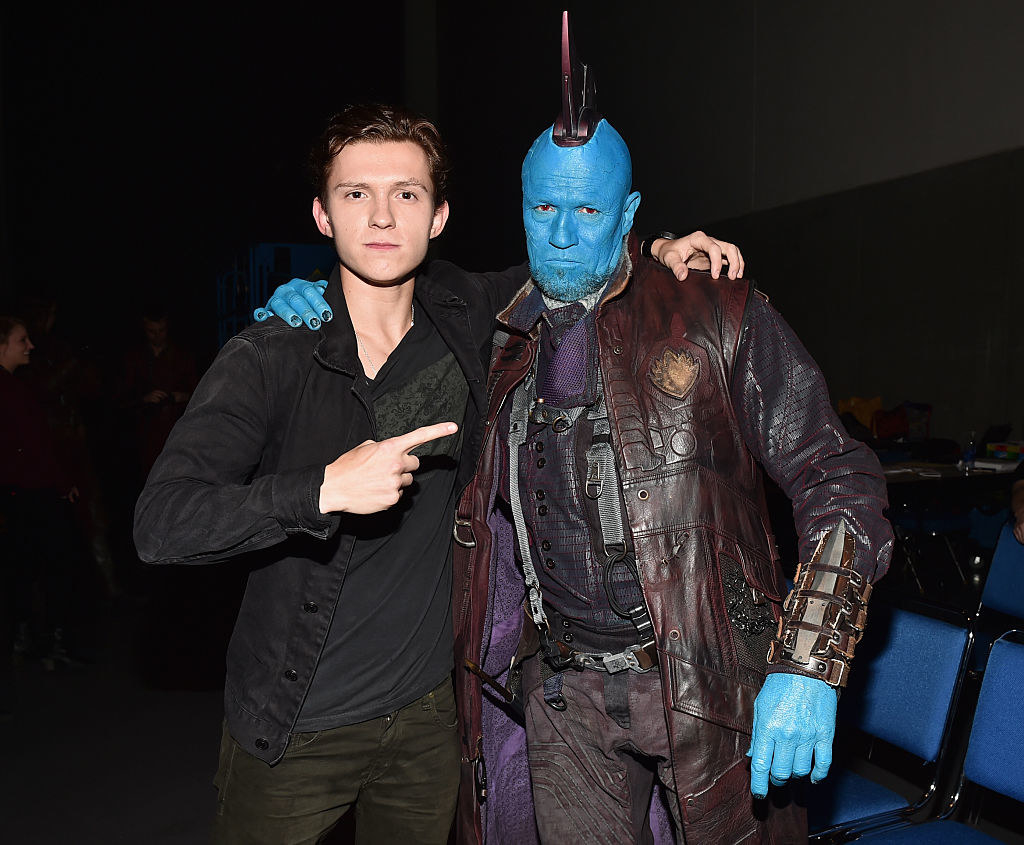 49.
This brotasticpic of Chris Pratt, James Gunn, and Dave Bautista.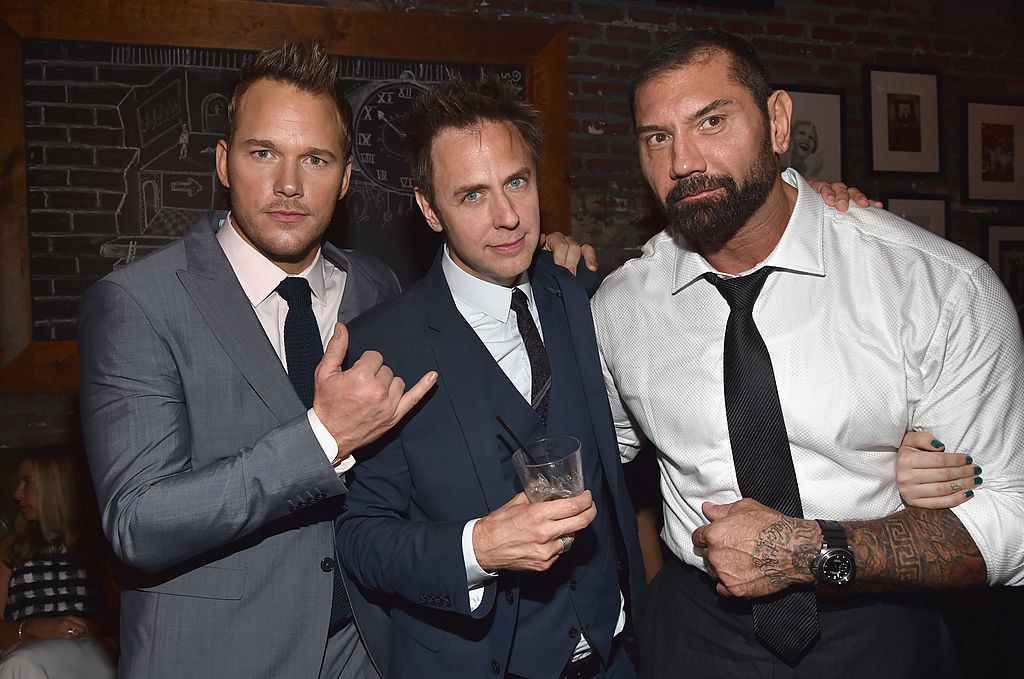 50.
The cast of Black Panther dressed to the nines and celebrating their SAG Awards.
51.
Benedict Cumberbatch and Karen Gillan putting their hands in the air...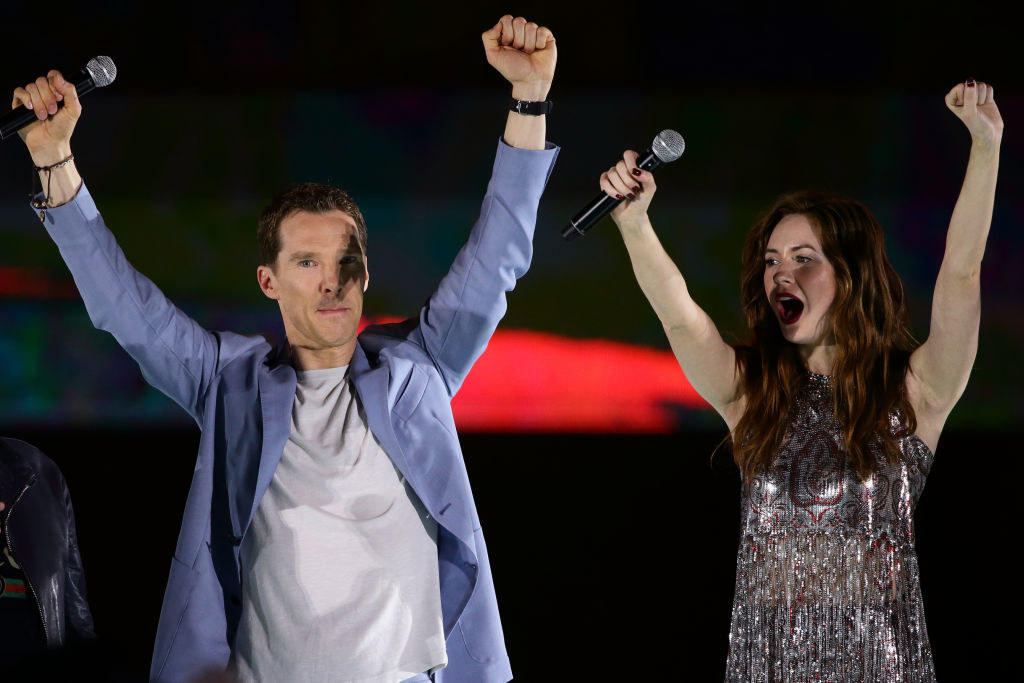 52.
...and how they were the exact same amount of surprised at the same time.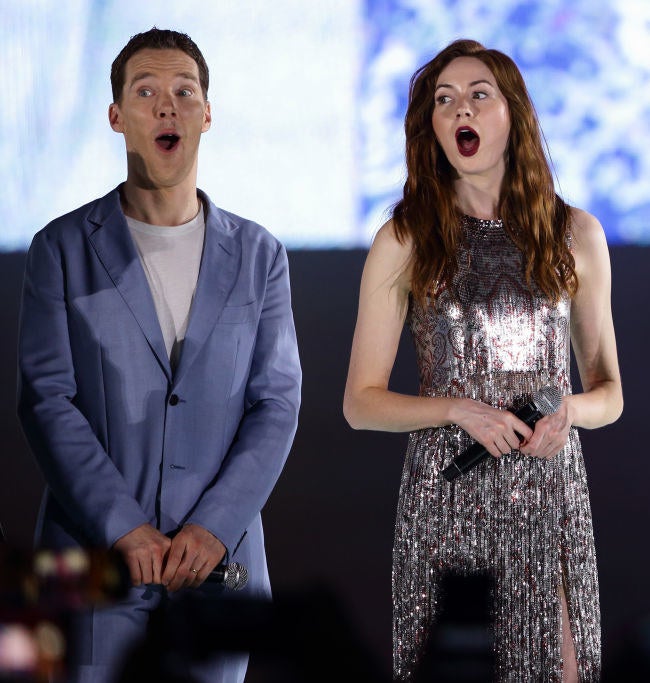 53.
Jeremy Renner supporting ScarJo while she's getting her star on the Walk of Fame.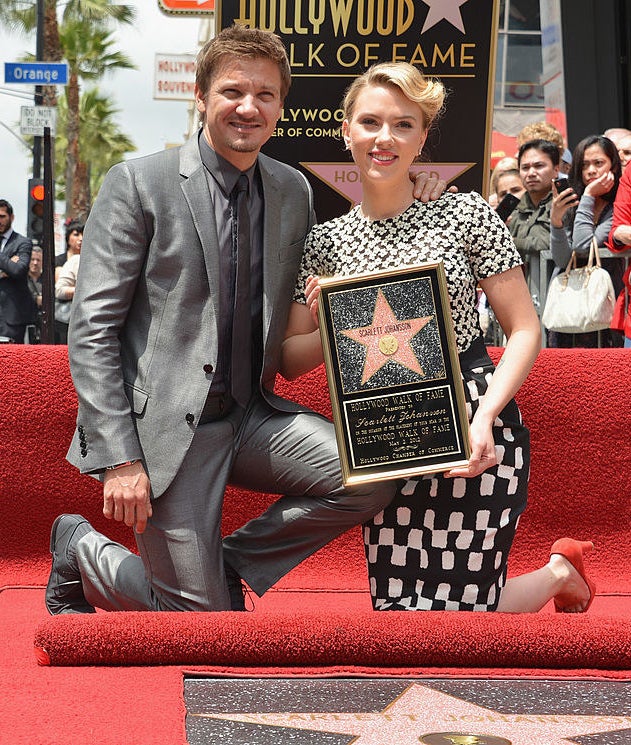 54.
This handshake between Lee Pace and Vin Diesel.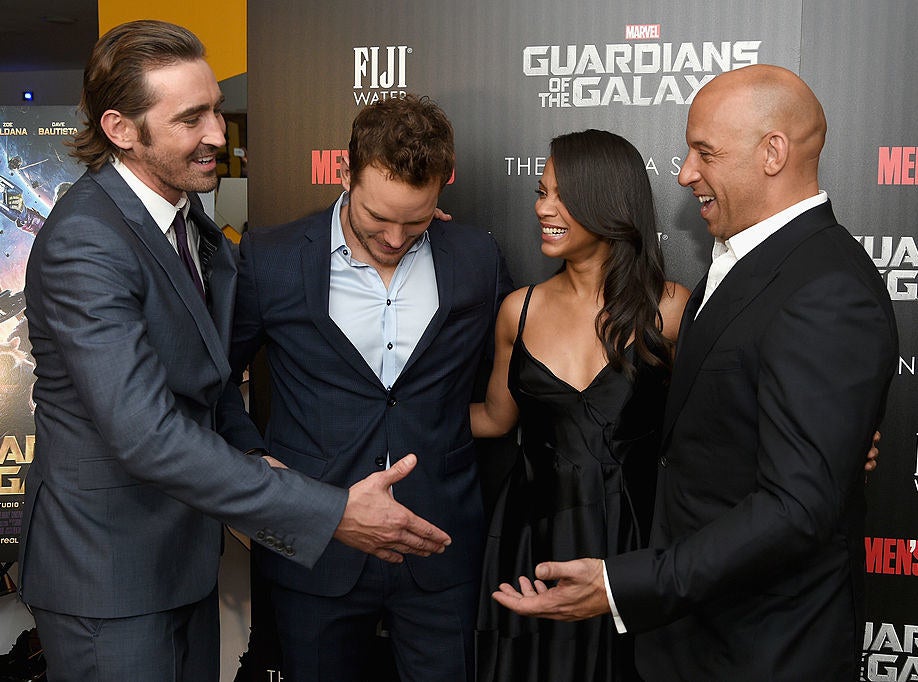 55.
RDJ kissing Gwyneth on her head.
56.
Odin, Jane, and Loki.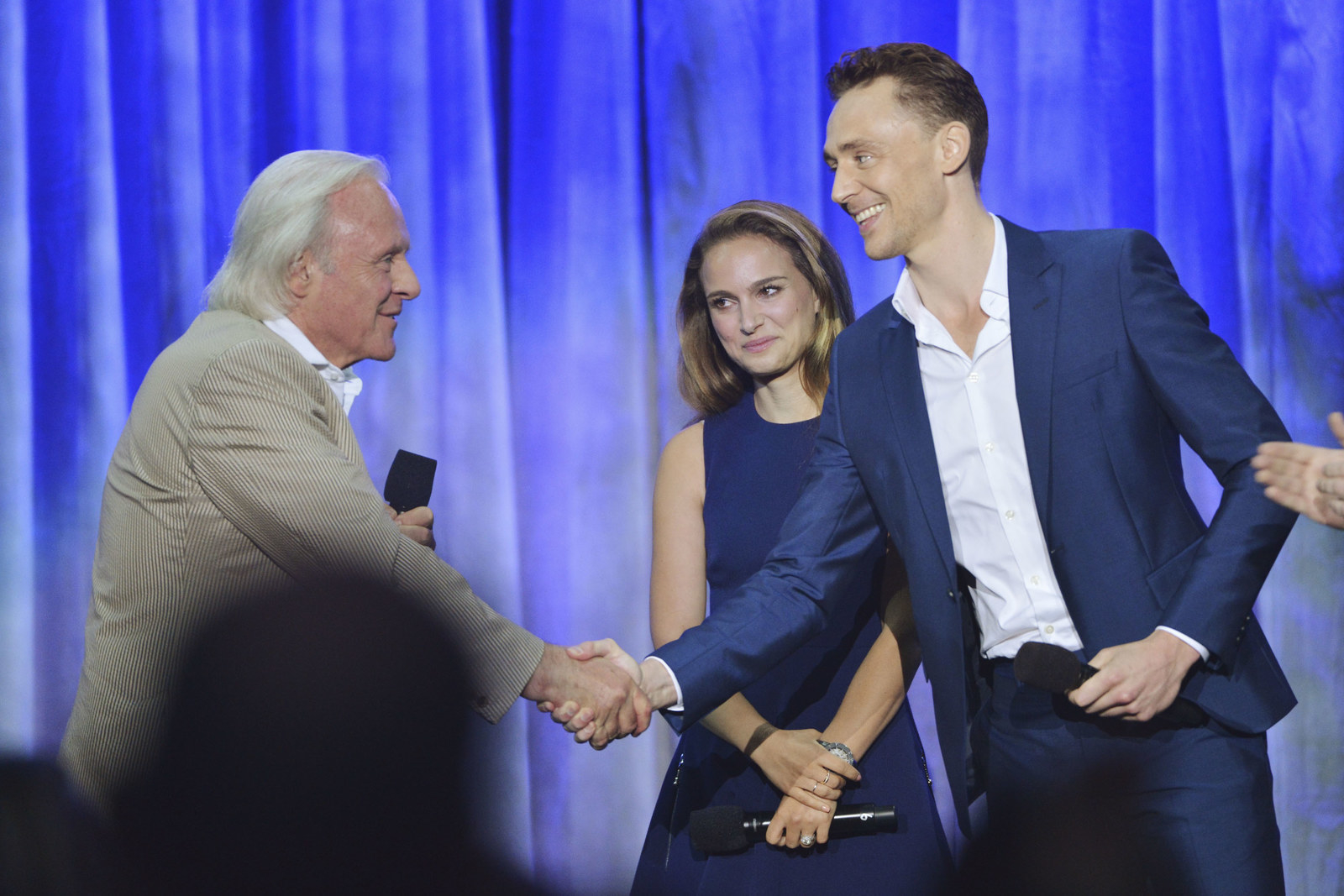 57.
T'Challa meeting Doctor Strange.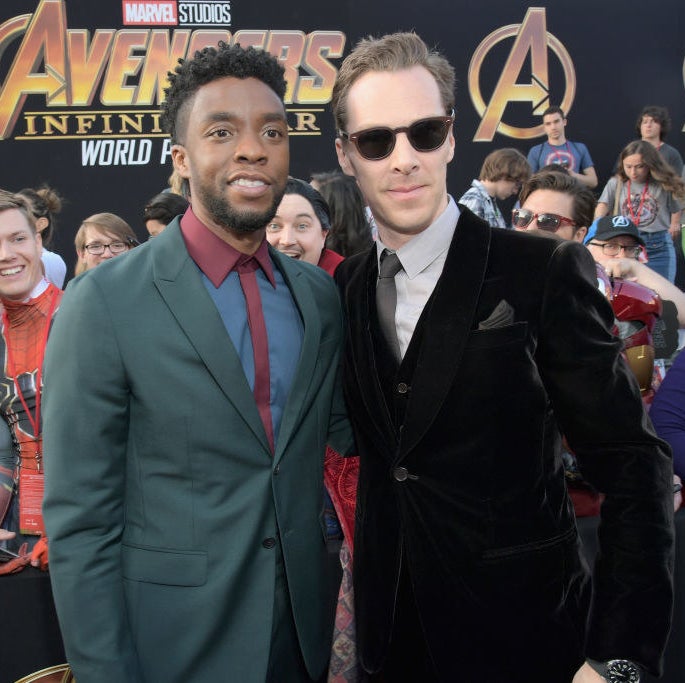 58.
Gwyneth Paltrow and Zoe Saldana taking a selfie.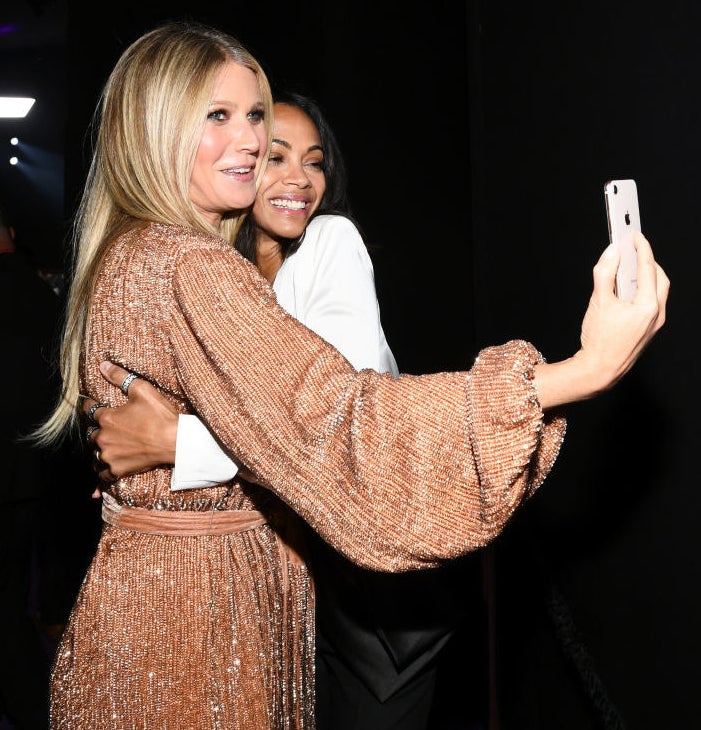 59.
Tilda Swinton and Benedict Cumberbatch doing their Time Lord hand movements together.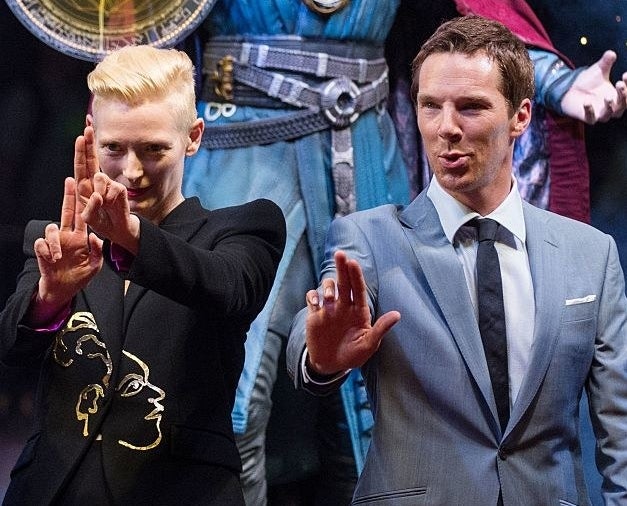 60.
Chris Evans and Sebastian Stan ringing the NYSE Opening Bell.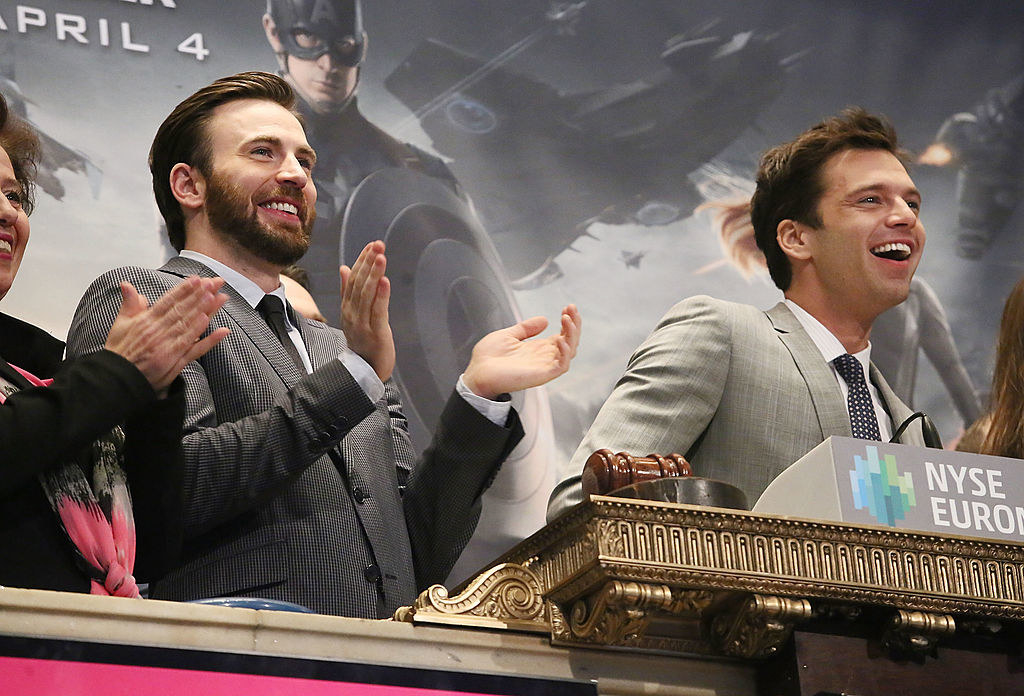 61.
Winston Duke, Chadwick Boseman and Michael B. Jordan chilling with Lady Gaga after winning an MTV TV and Movie Award.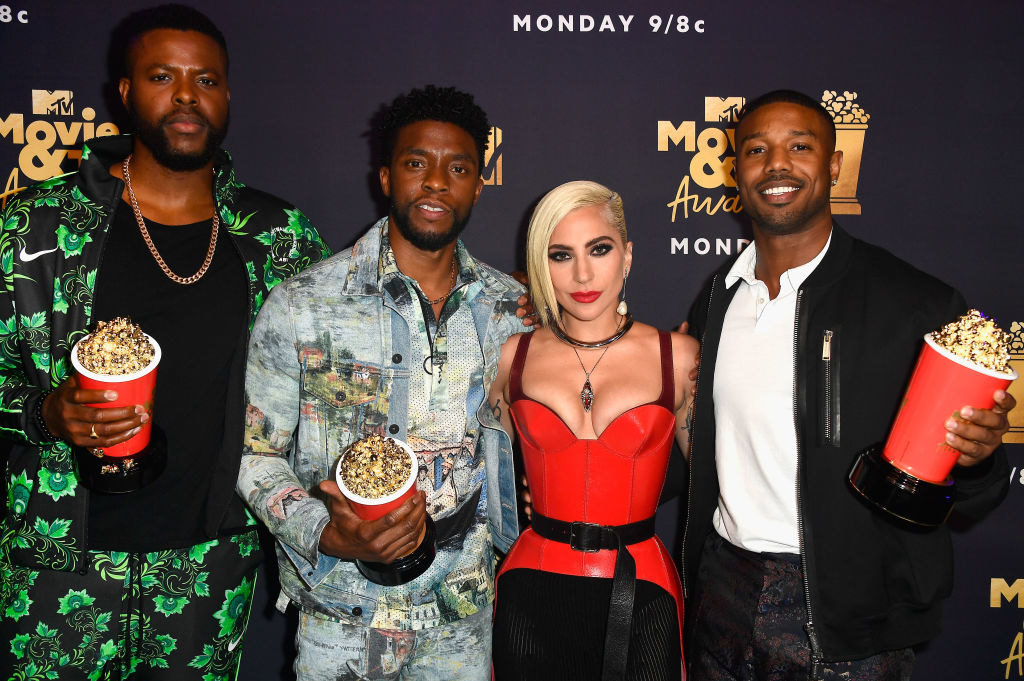 62.
Chris Pratt and Tom Hiddleston posing with fans.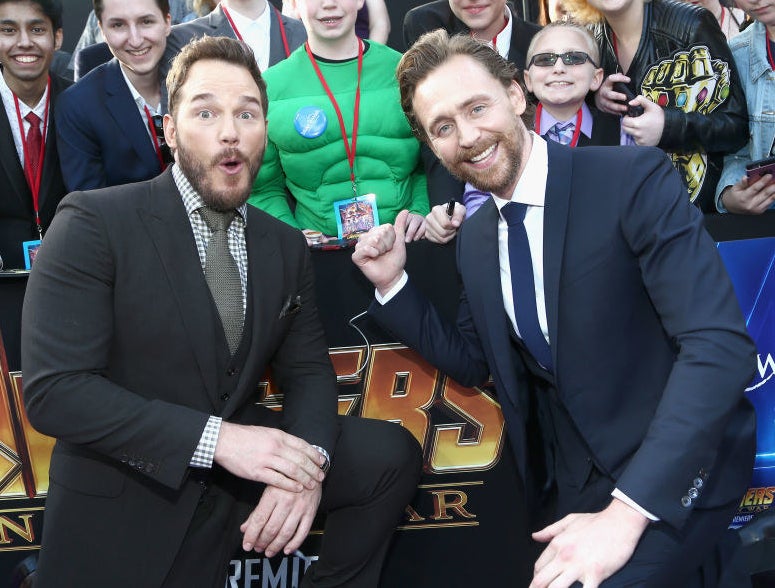 63.
Karen Gillan and Pom Klementief hugging it out.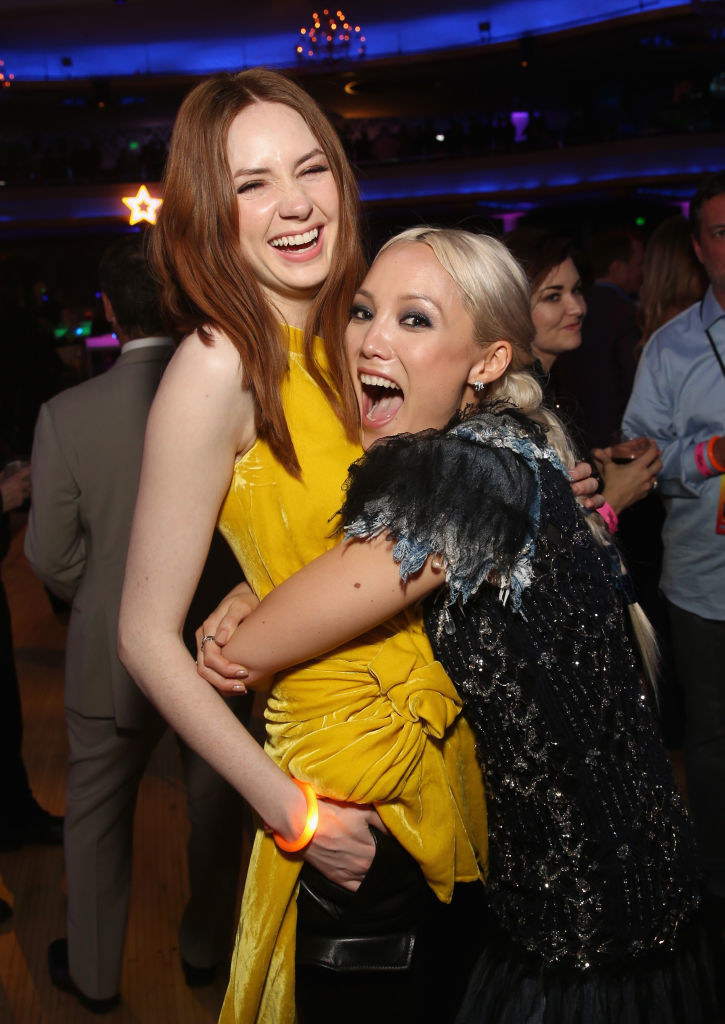 64.
Lupita Nyong'o and Tessa Thompson embracing next to Usher.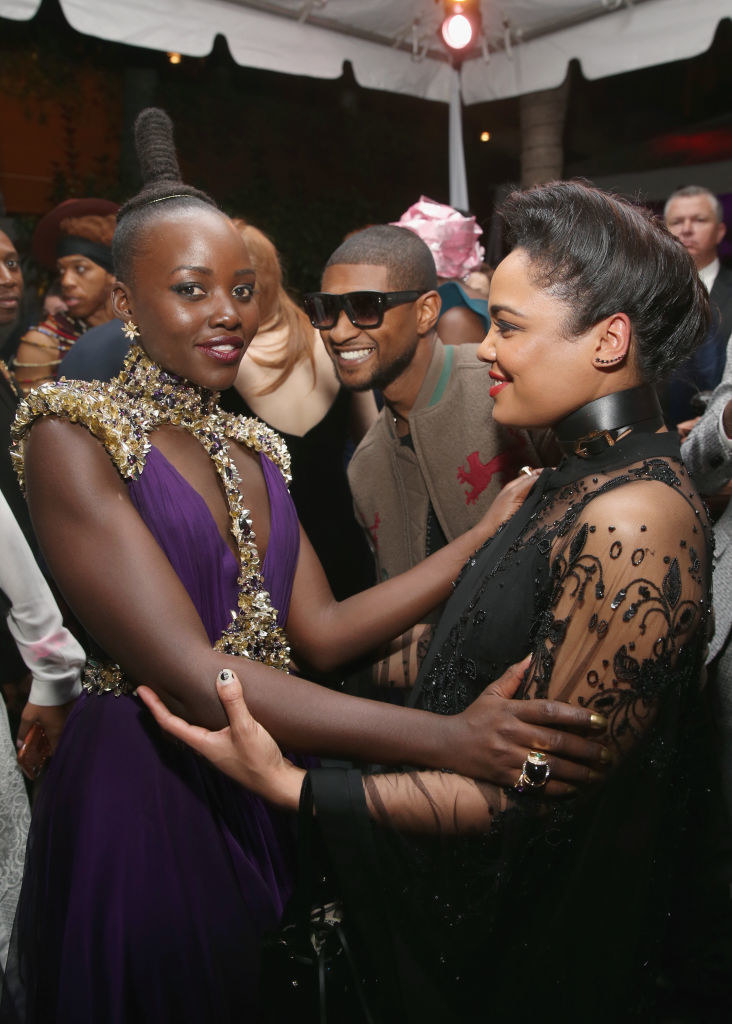 65.
This arm grab.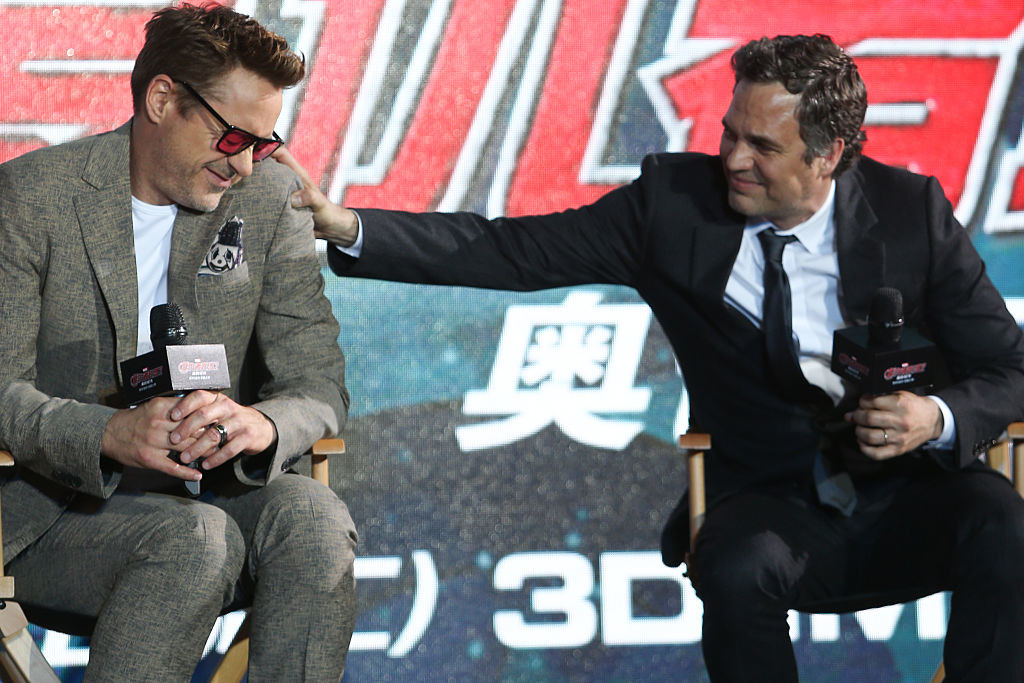 66.
These fists.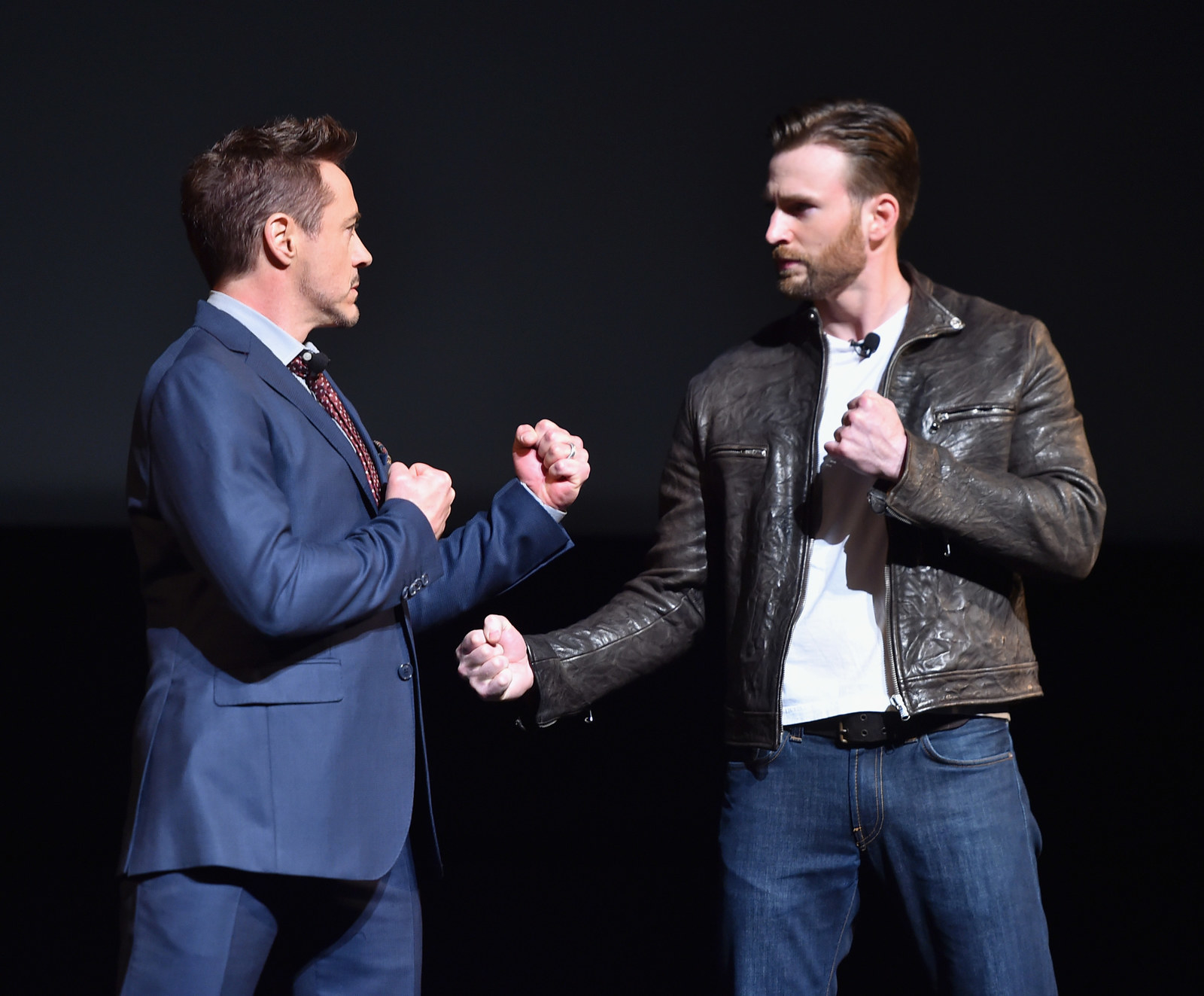 67.
This bow.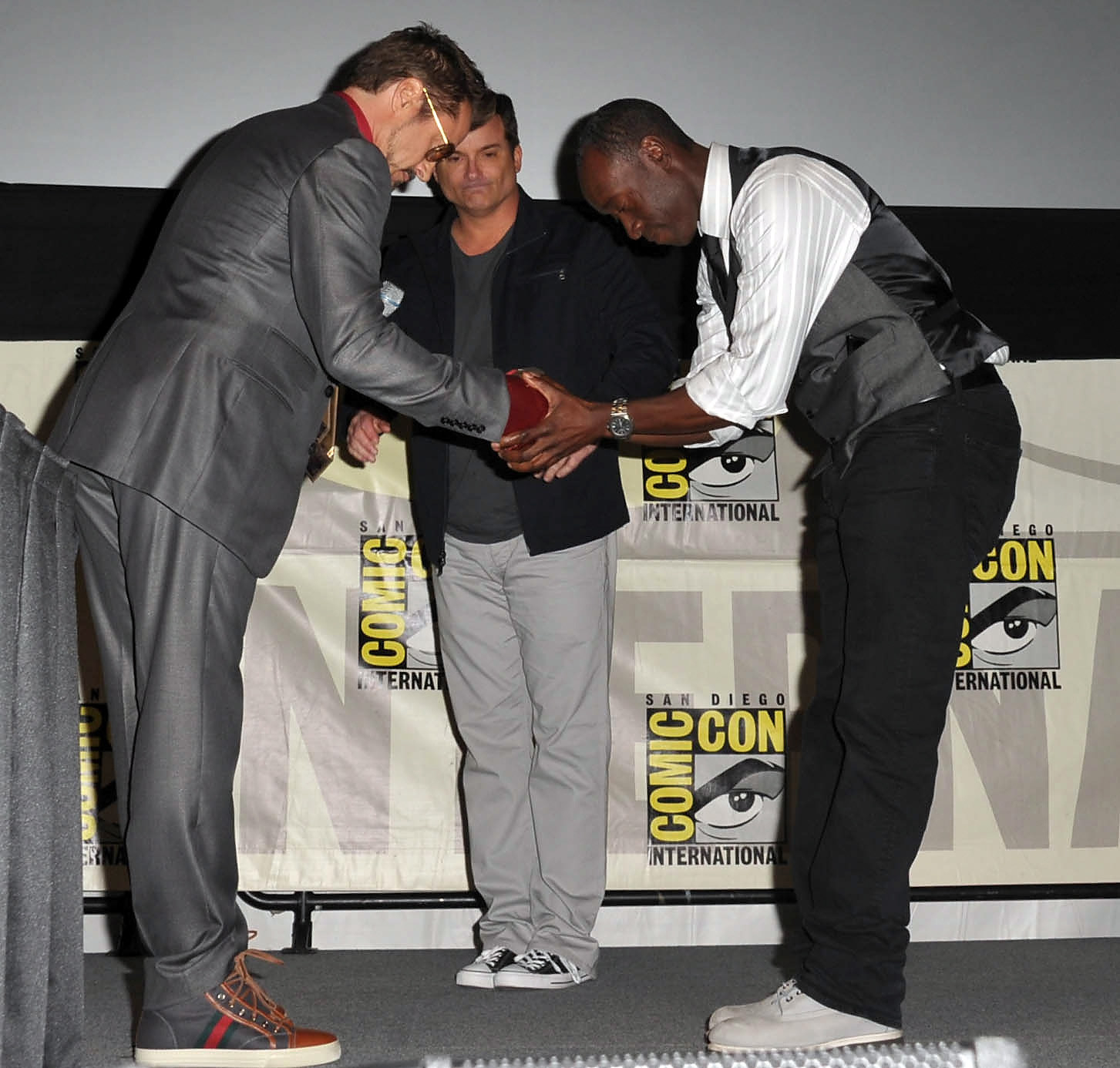 68.
These dinner dates.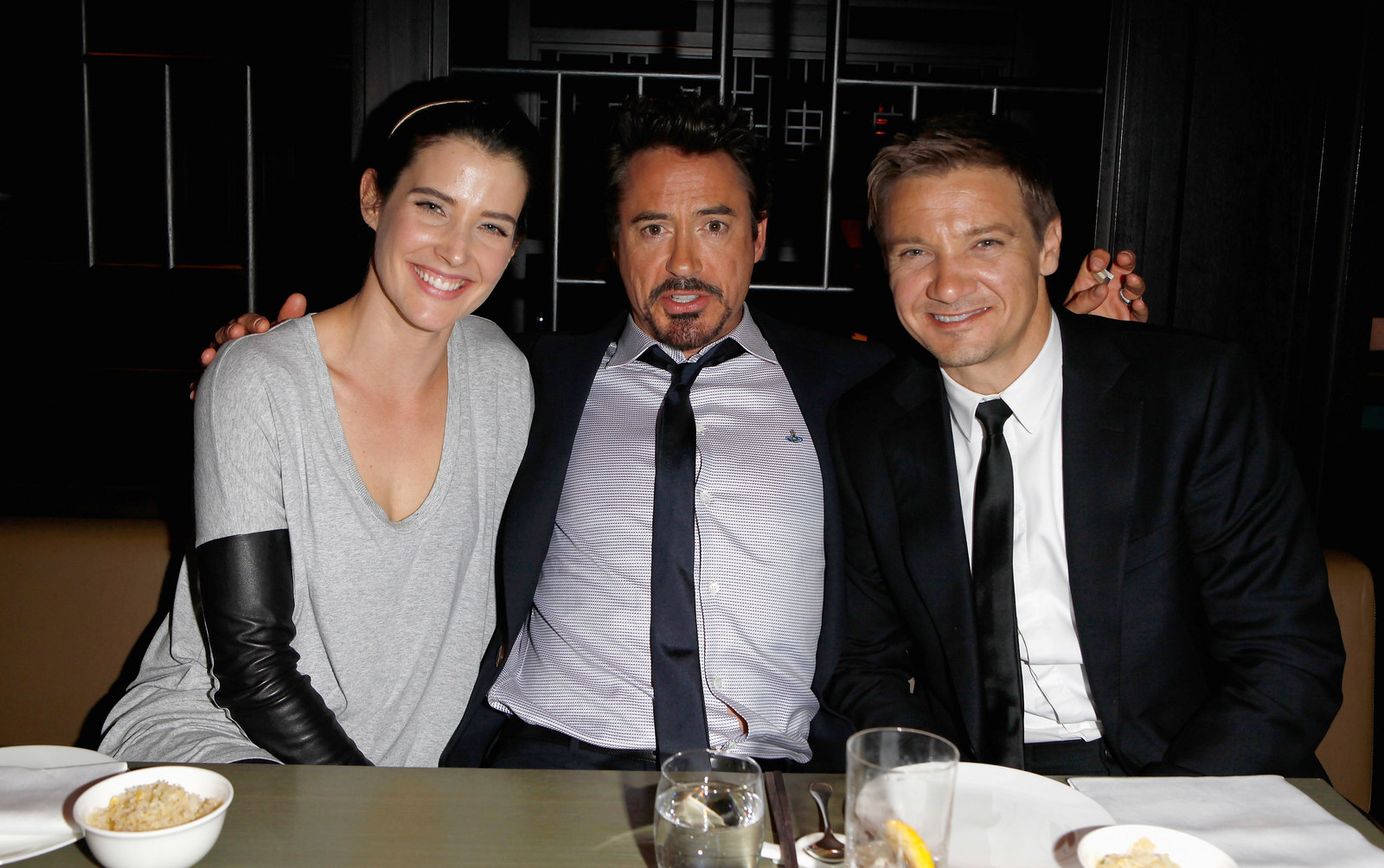 69.
Paul Bettany and Jeremy Renner posing.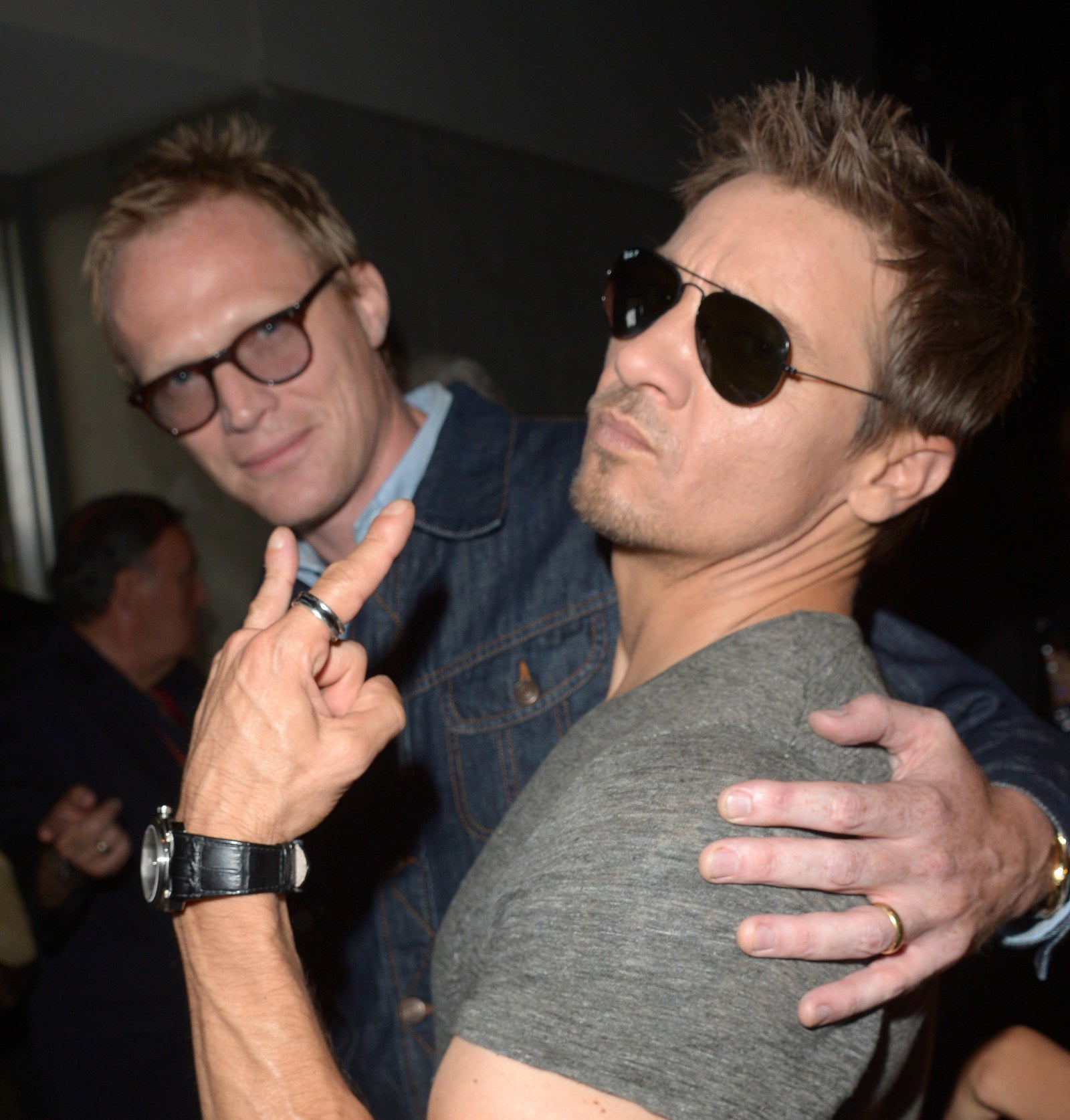 70.
This backstage photo of the Thor: Ragnarok cast.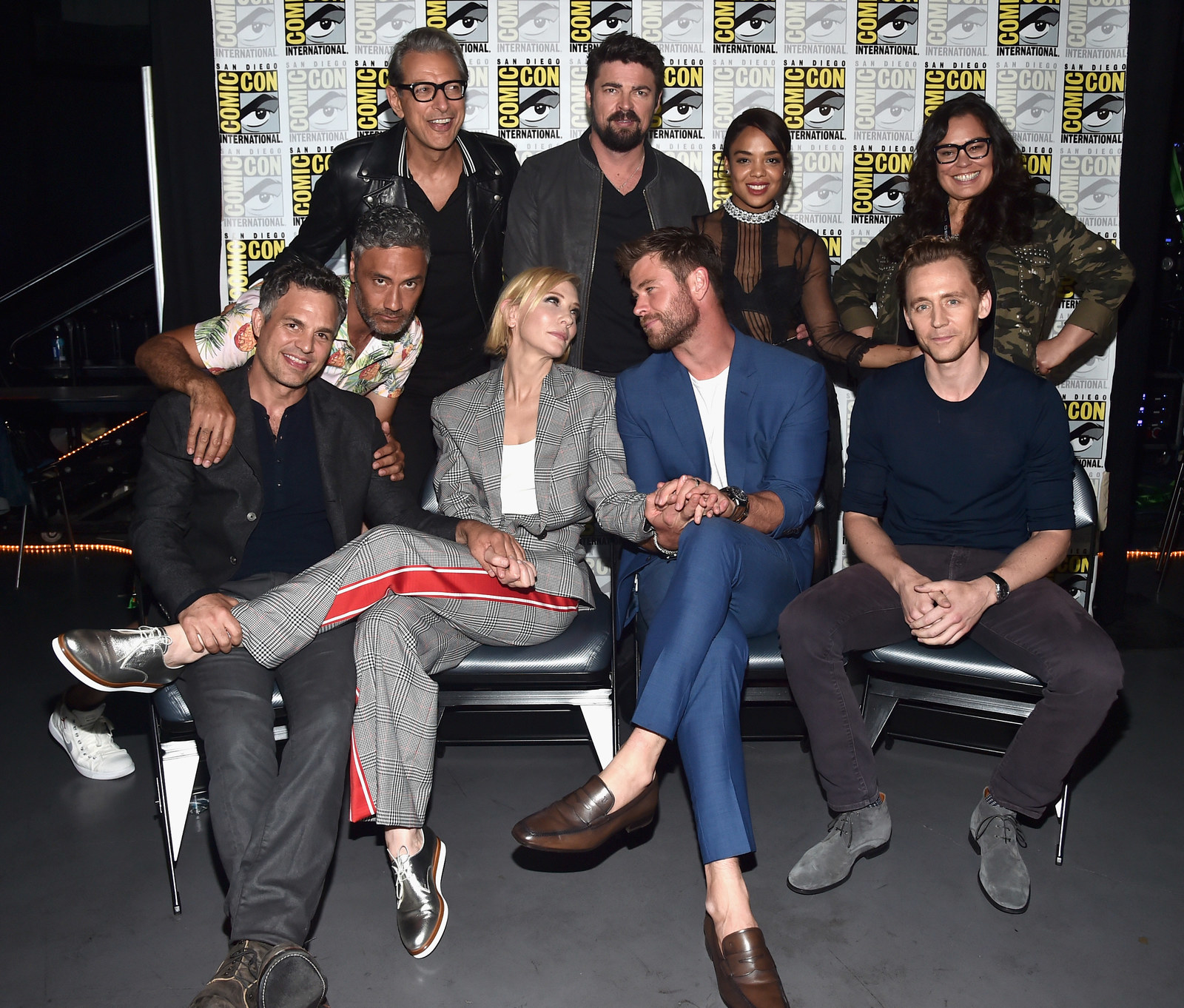 And this zoom-in on two Asgardian siblings holding hands: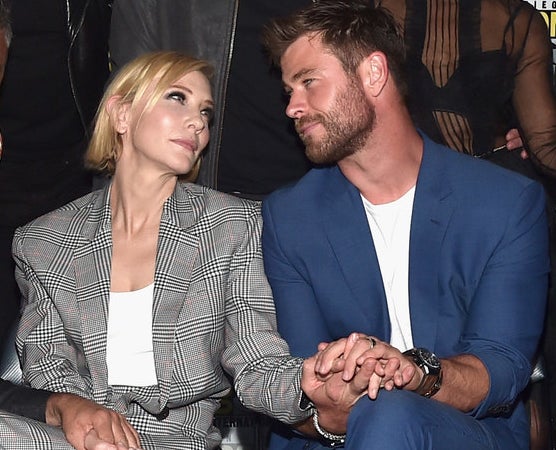 71.
Scarlett Johansson and Chris Evans dressed in everyday clothes posing with Tom Hiddleston dressed as Loki.
72.
RDJ enjoying his time with Benedict Cumberbatch so much that he has to rest his hand on his tummy.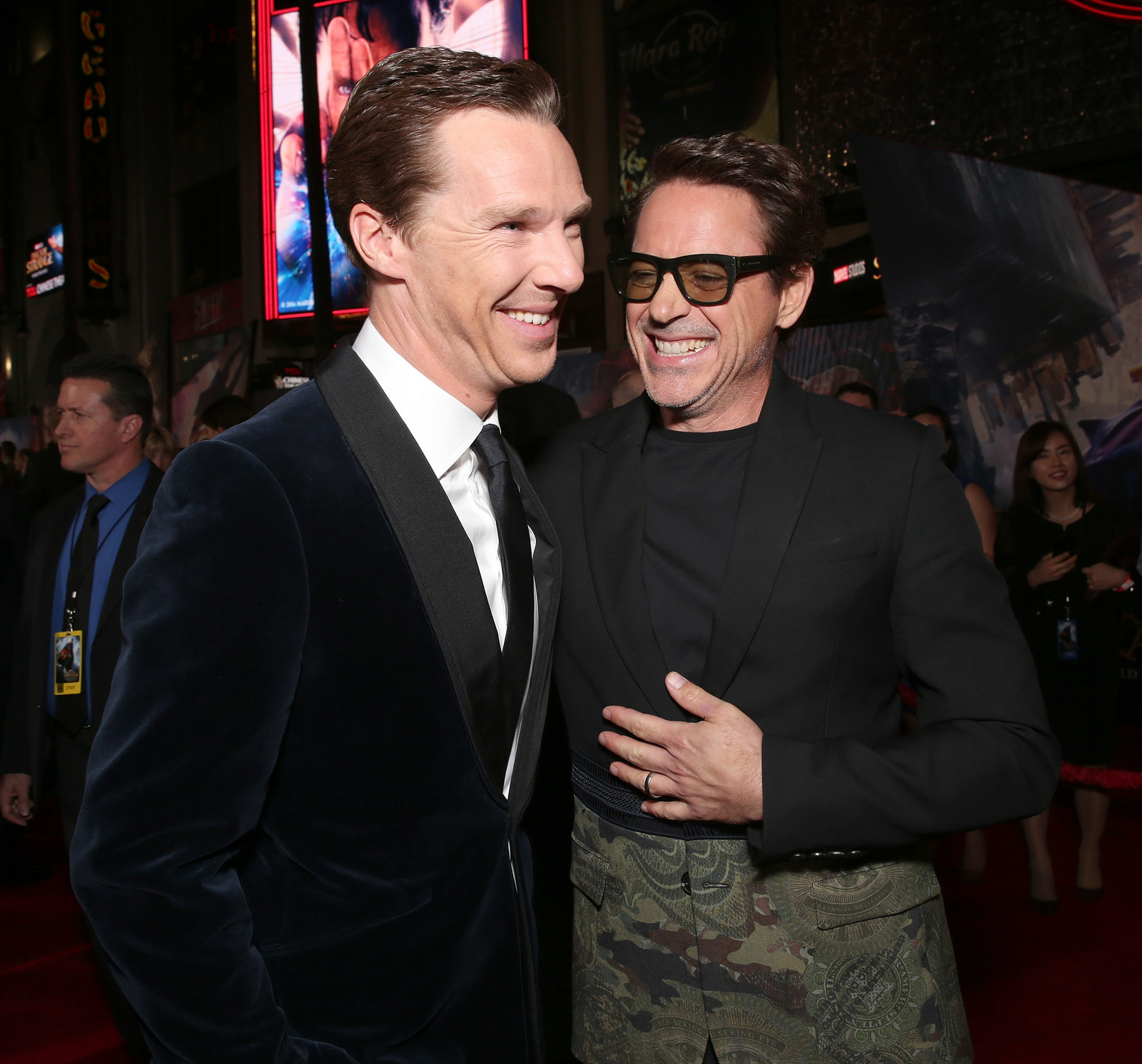 73.
Whatever's happening here...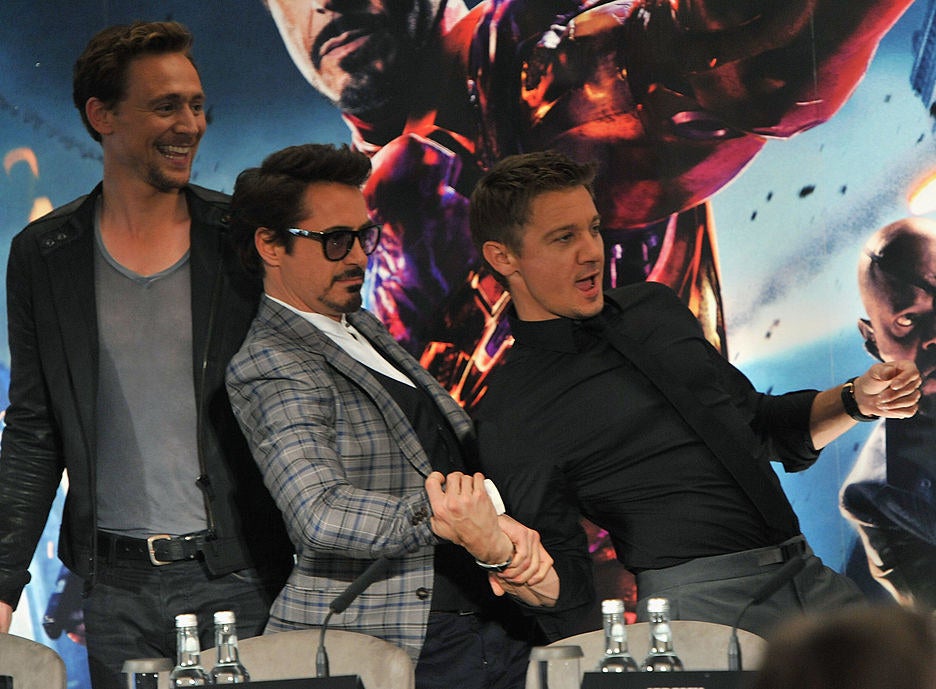 74.
...and here...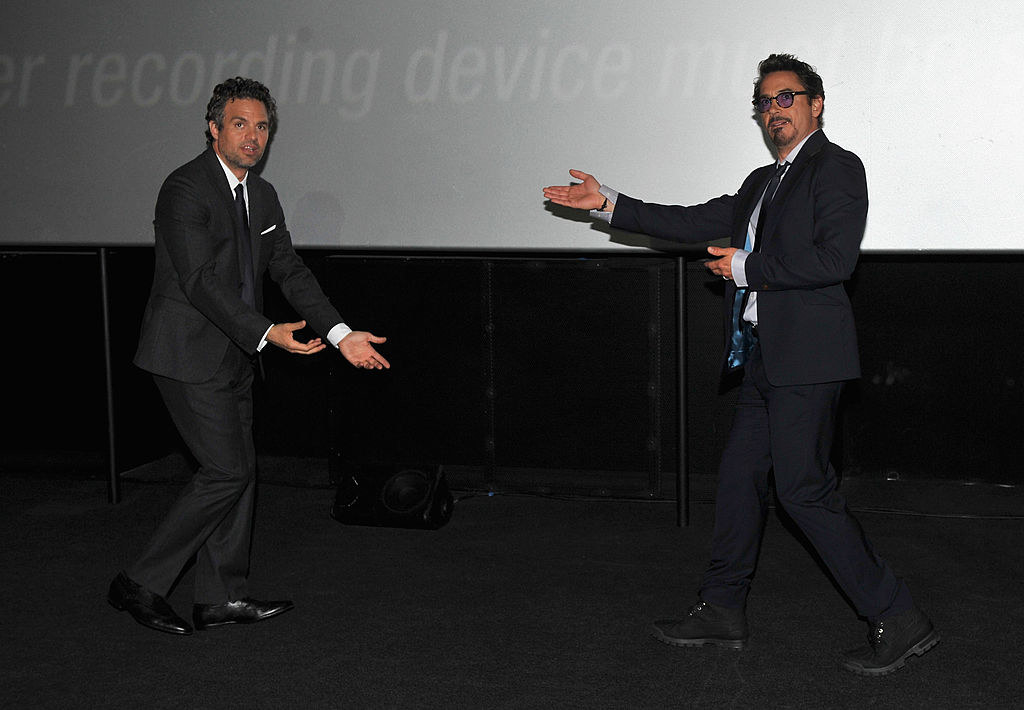 75.
...and here.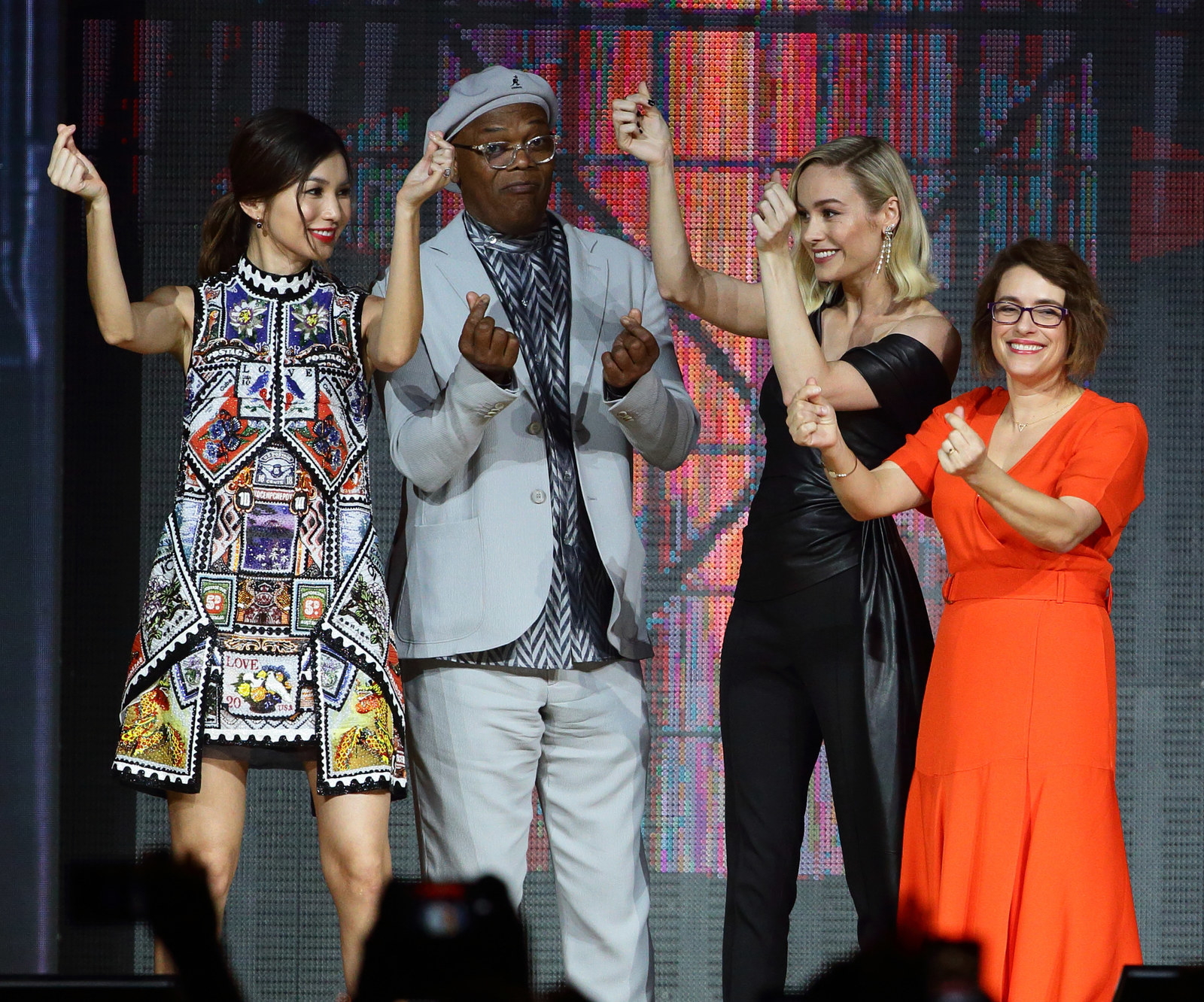 76.
Jon Favreau and Scarlett Johansson taking a pic.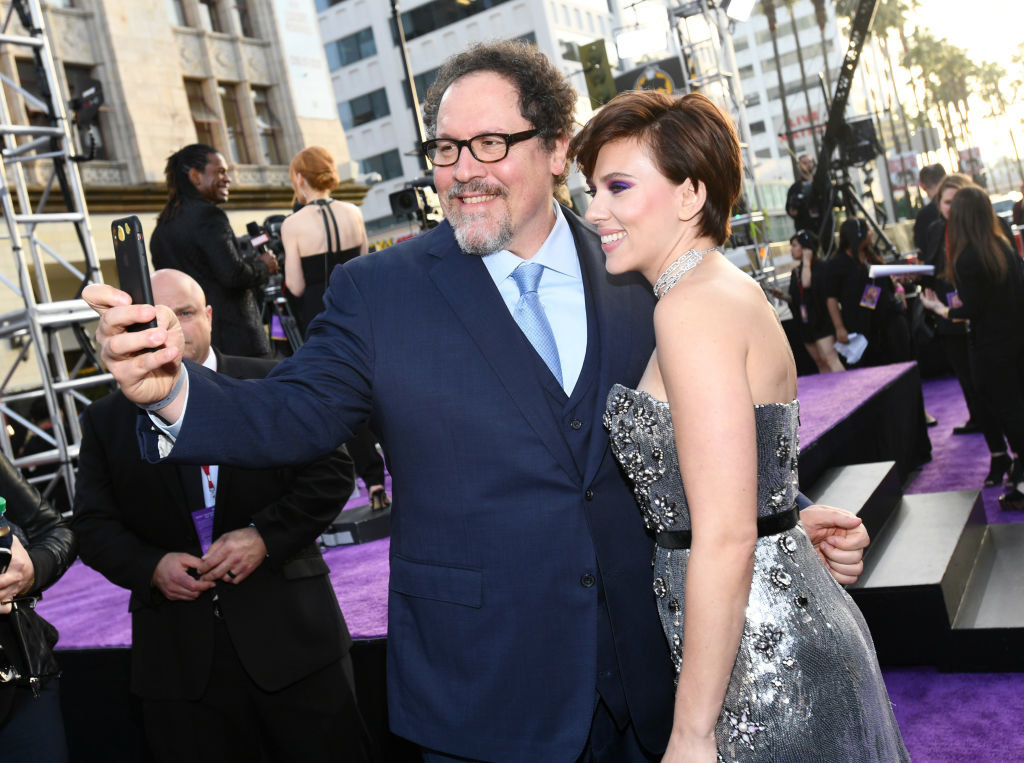 77.
Black Widow and Iron Man.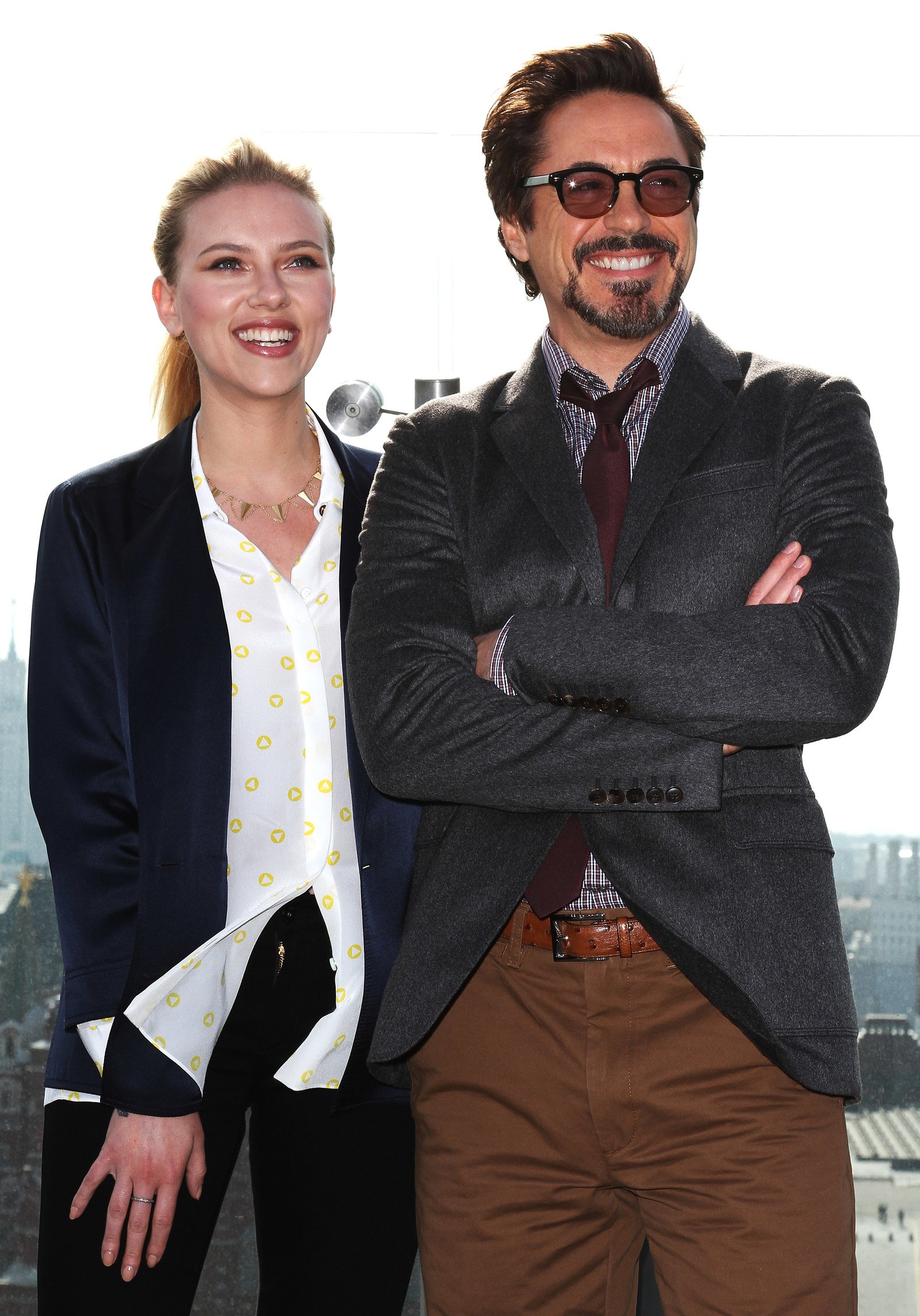 78.
Dr. Pym and Nick Fury.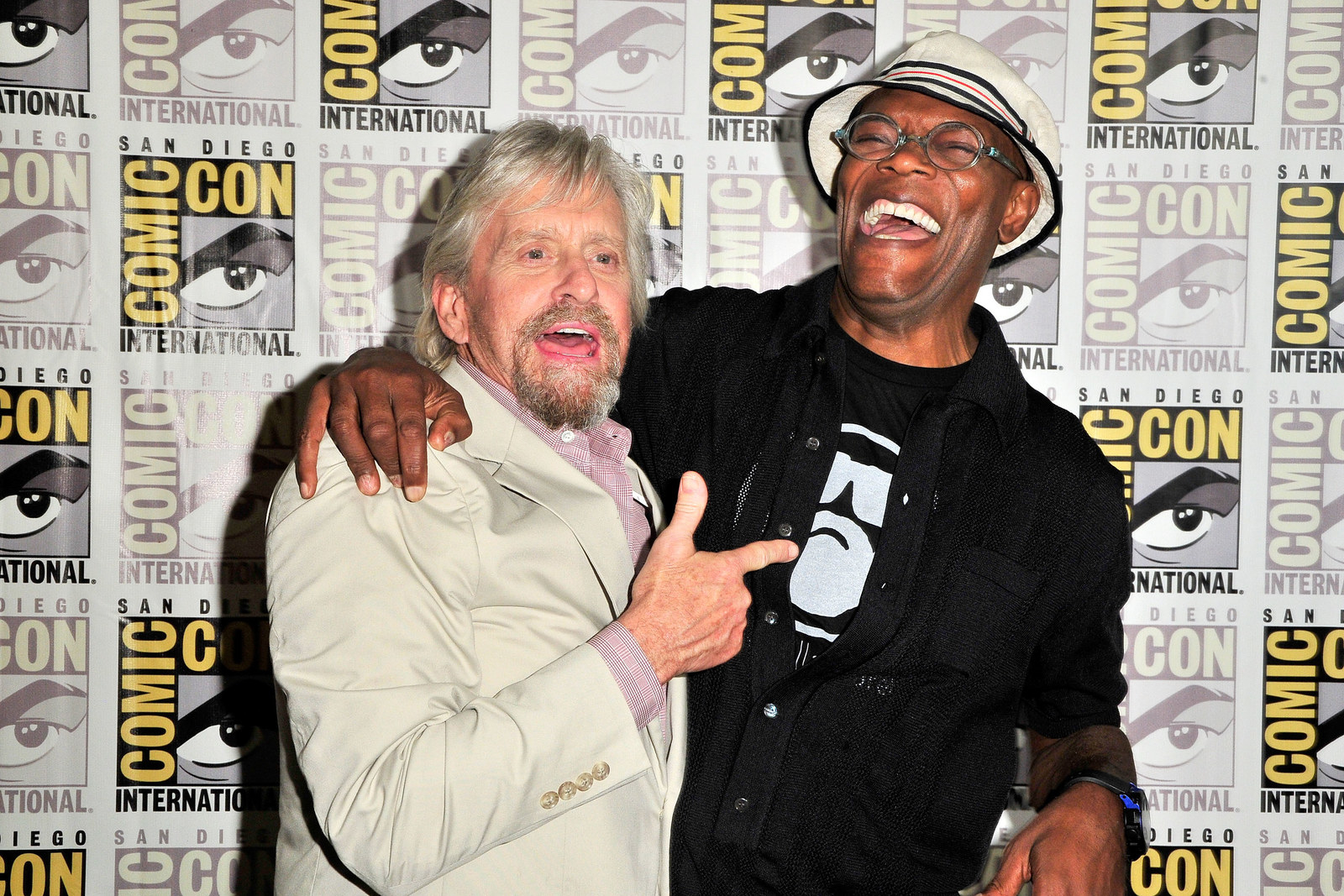 79.
Paul Rudd taking a selfie with himself.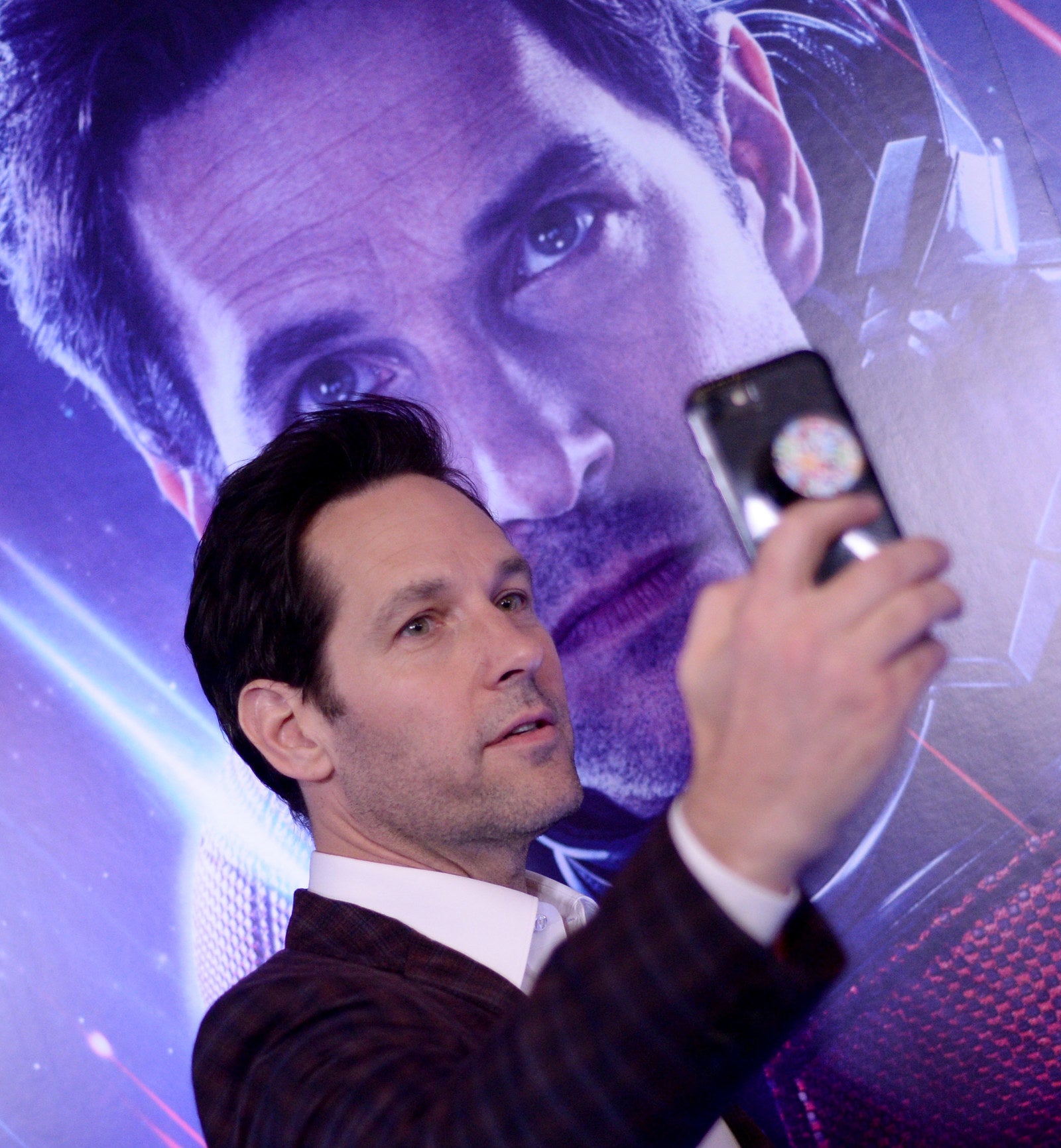 80.
Robert Downey Jr. pointing and Josh Brolin like he's done something very bad.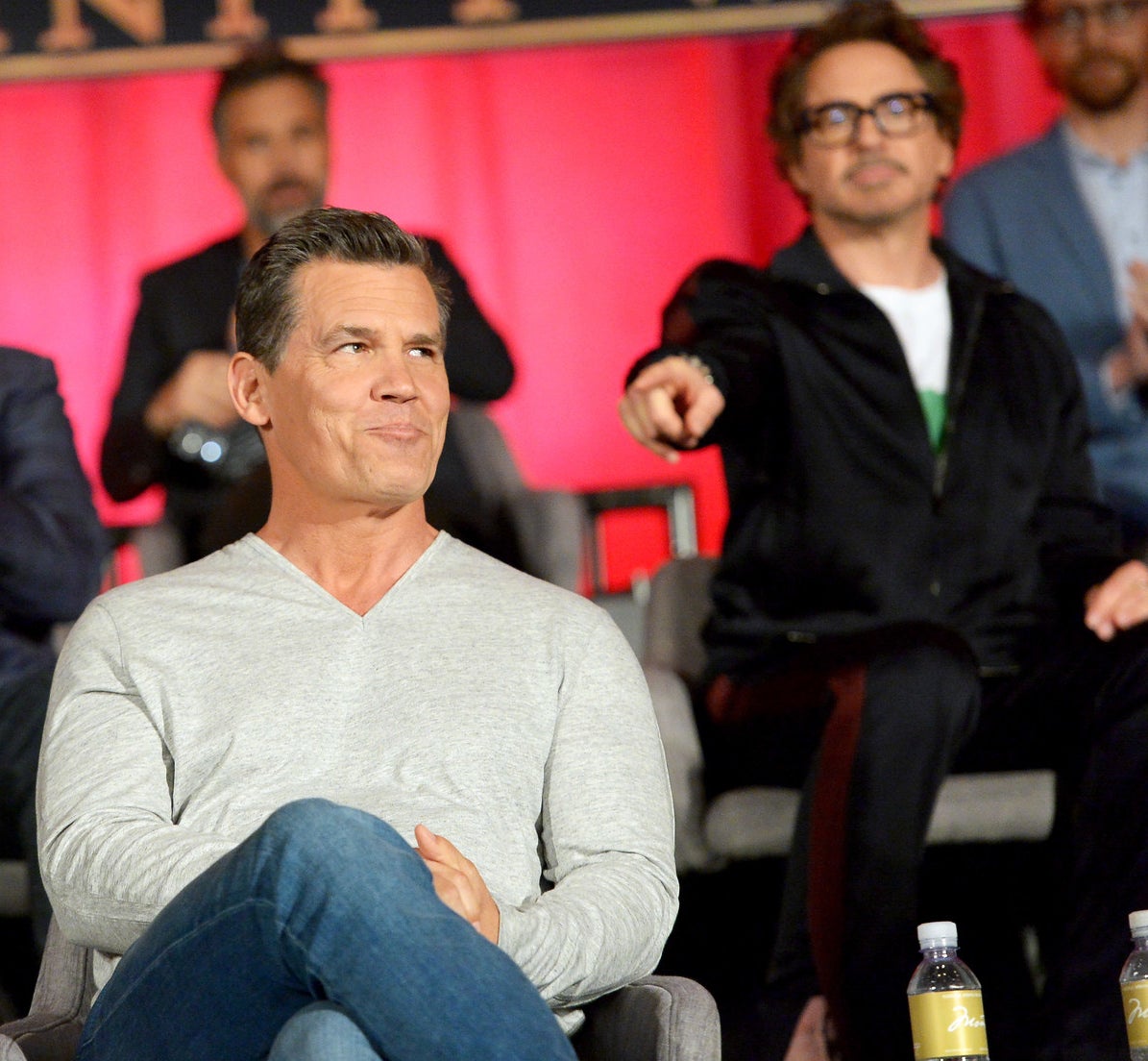 81.
Cap & Nick Fury laughing their butts off.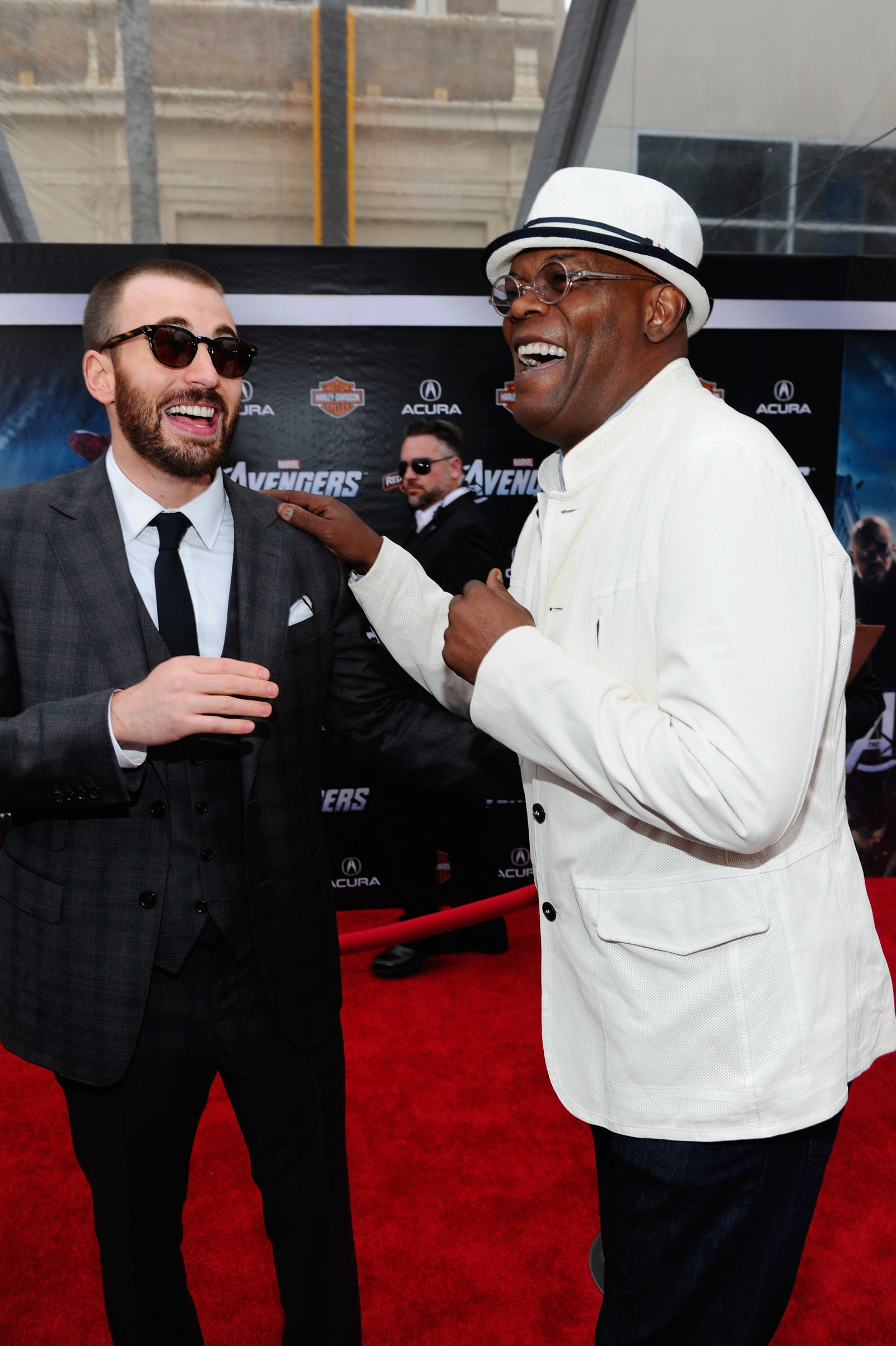 82.
Two Hulks in the same place at the same time.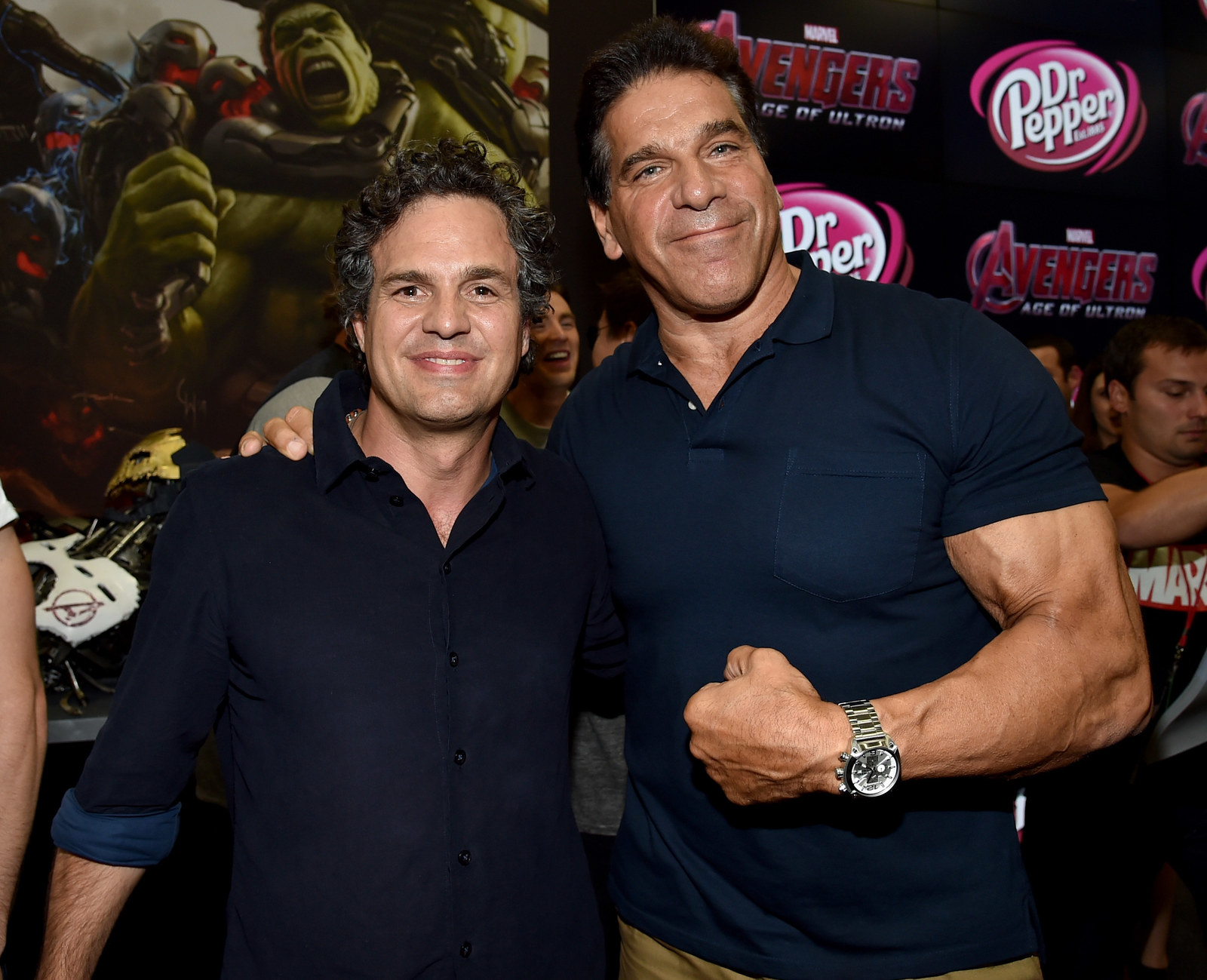 83.
Black Widow and Captain America dressed up for a premiere.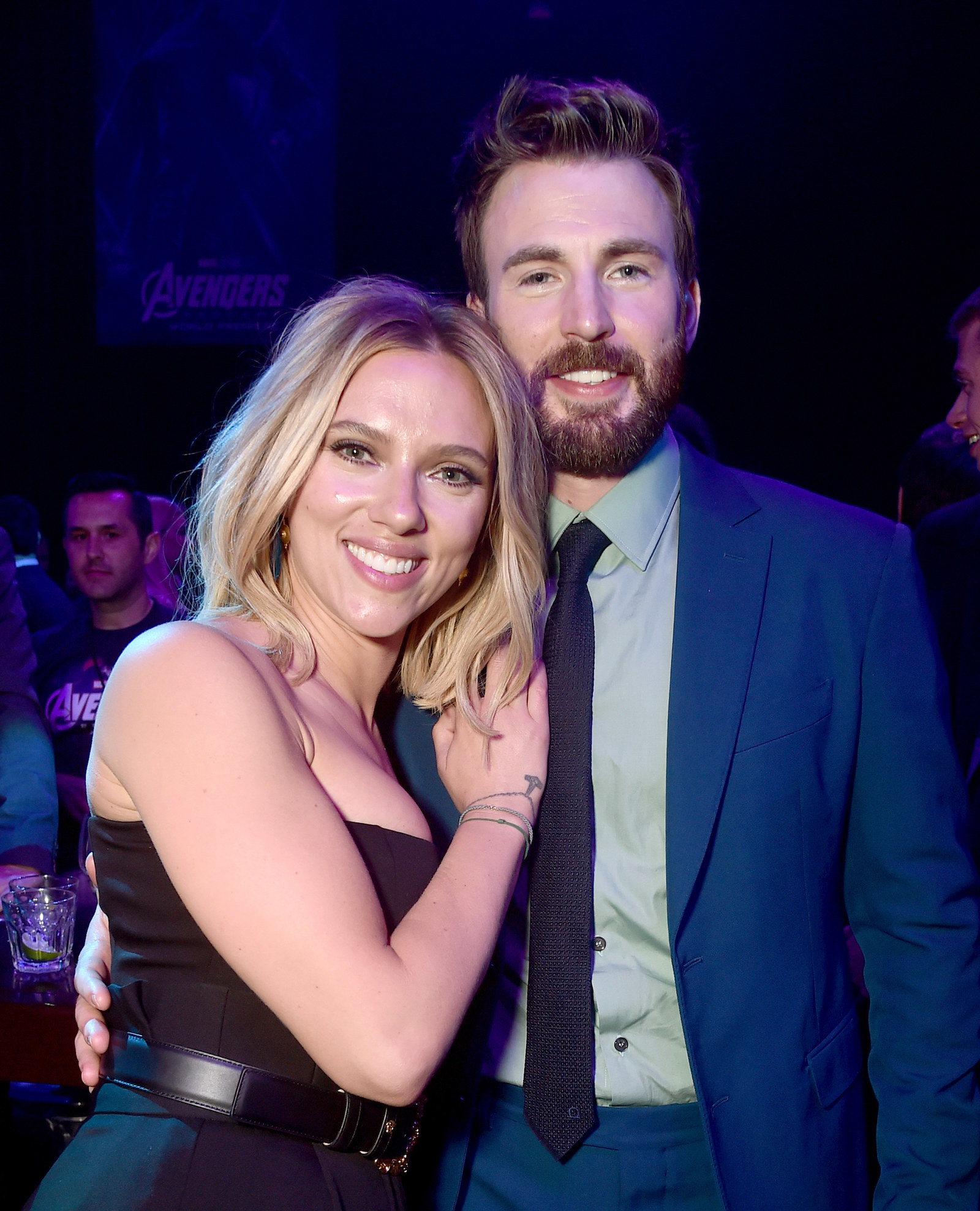 84.
Zoe Saldana and Dave Bautista and their matching smiles.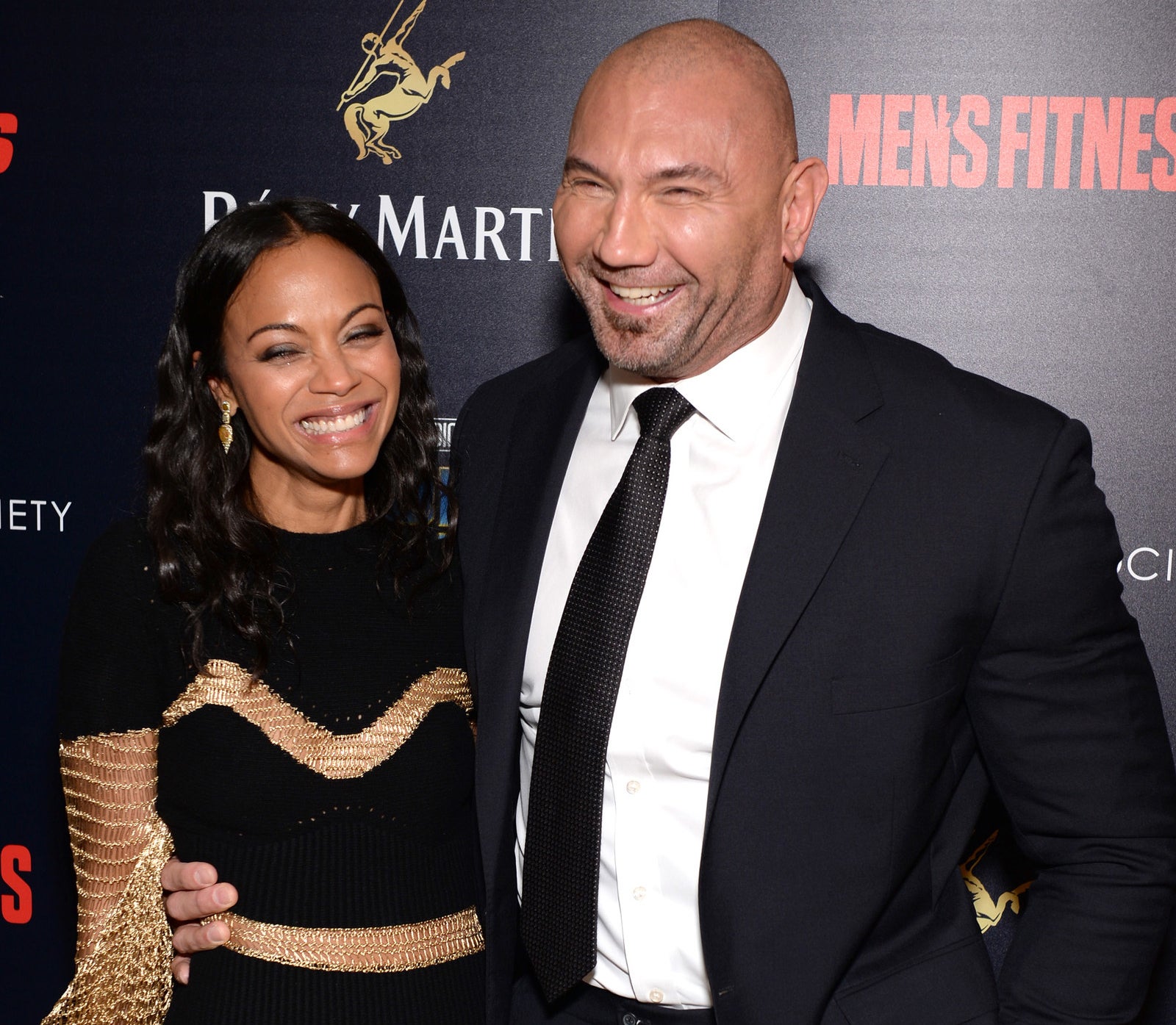 85.
Robert Downey Jr. leaning back reaaaal low.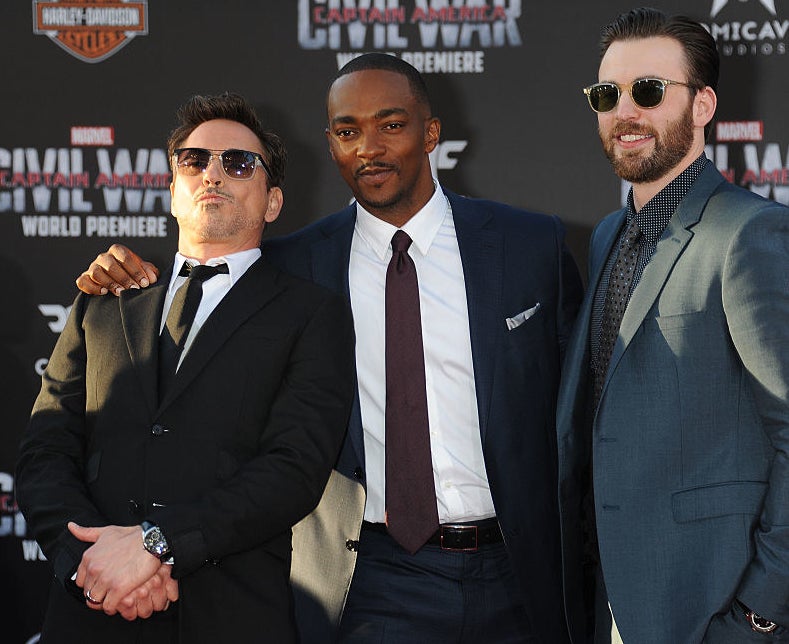 86.
Benedict Cumberbatch, Tom Holland, and their alter egos.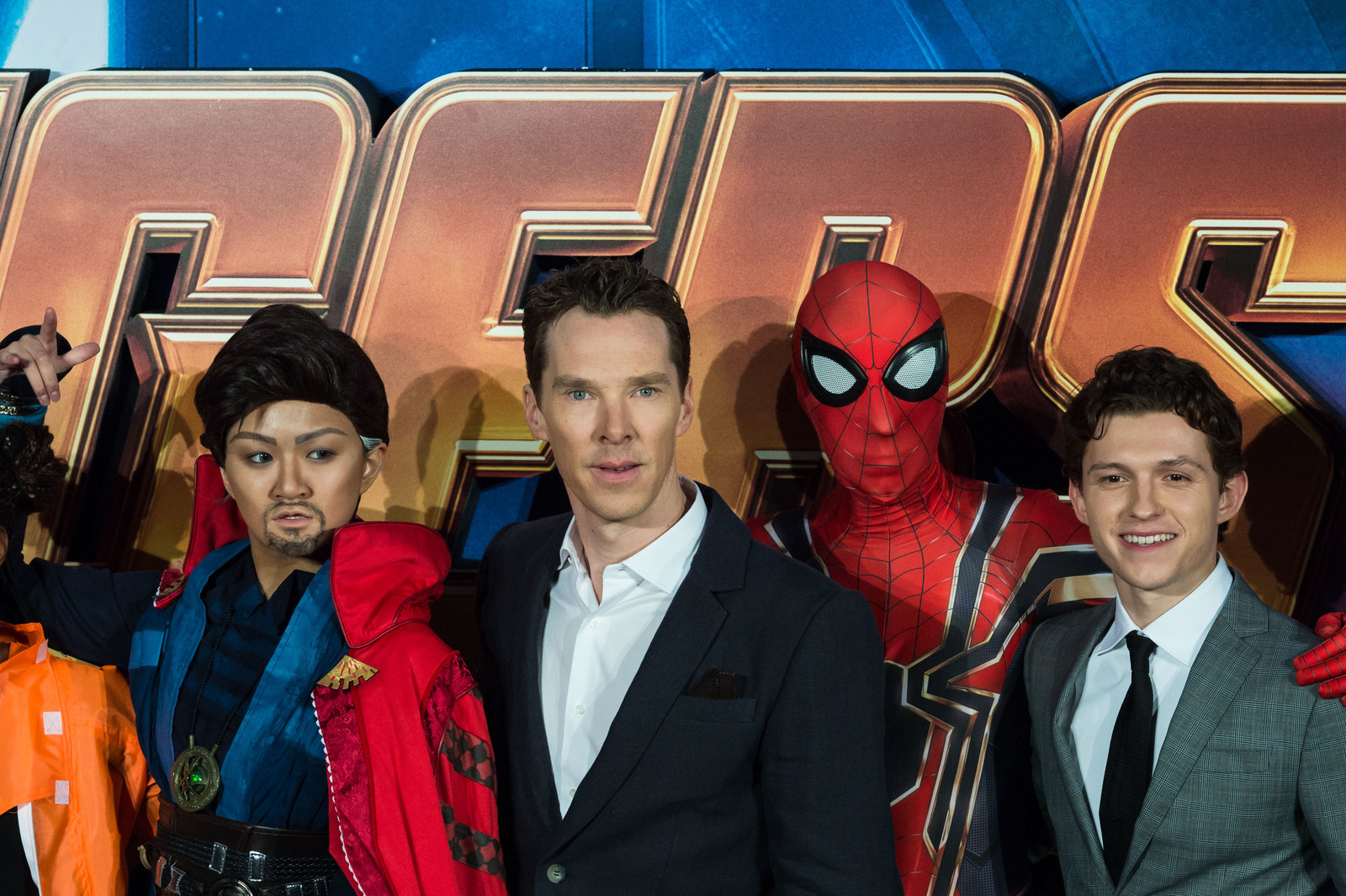 87.
Brie Larson and Samuel L. Jackson taking questions together.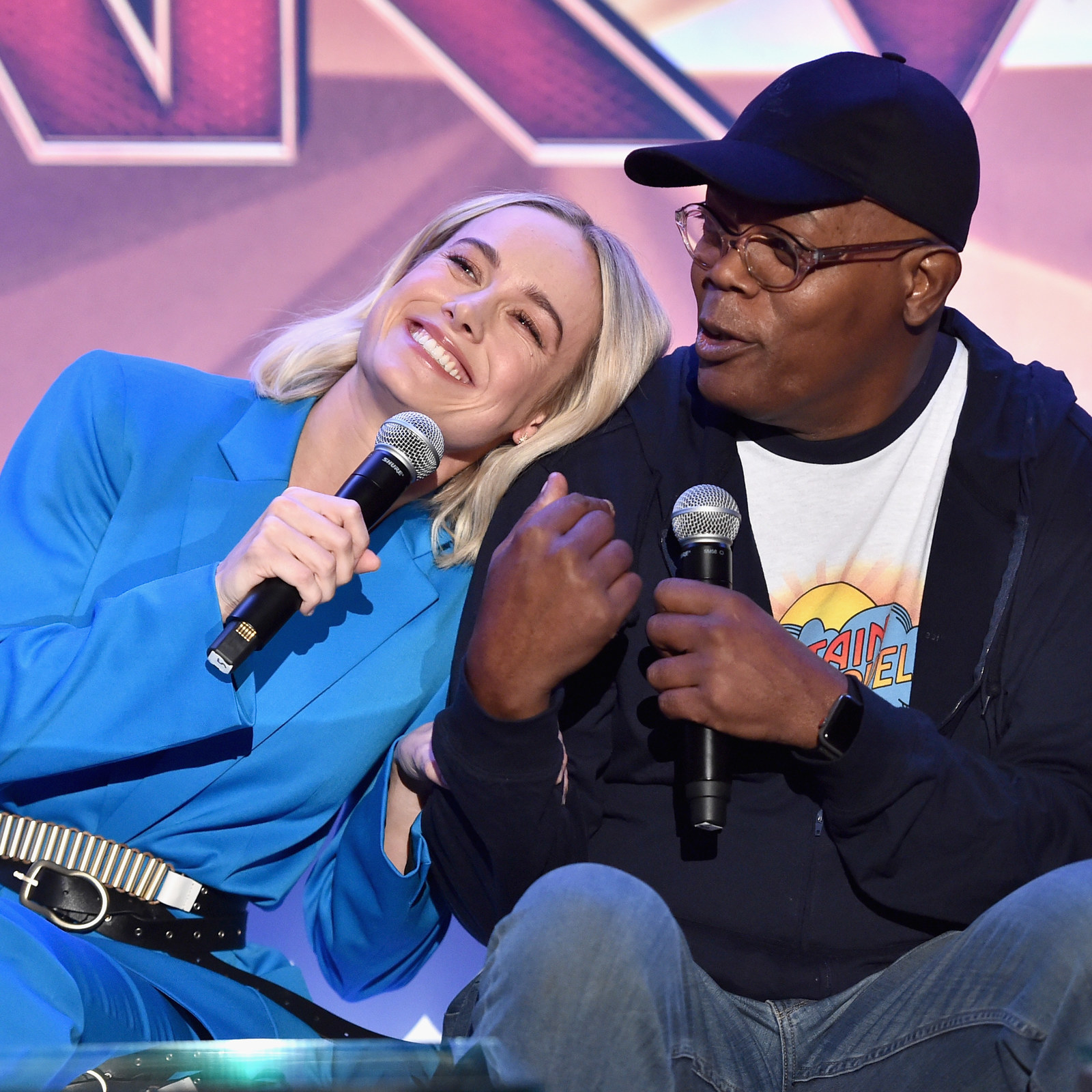 88.
These happy reunions.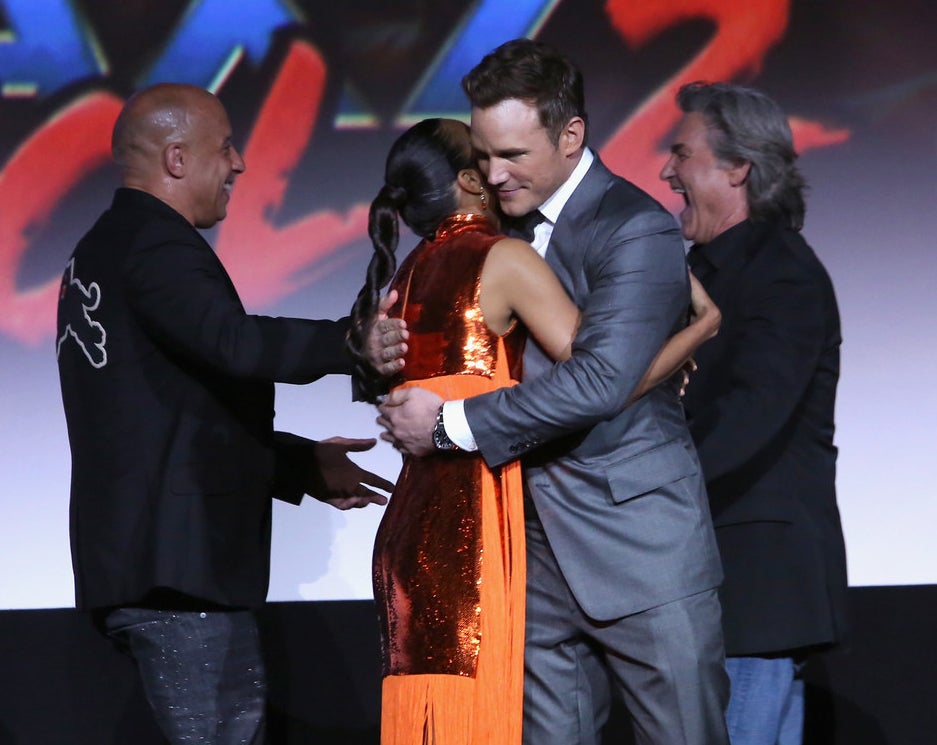 89.
This handshake.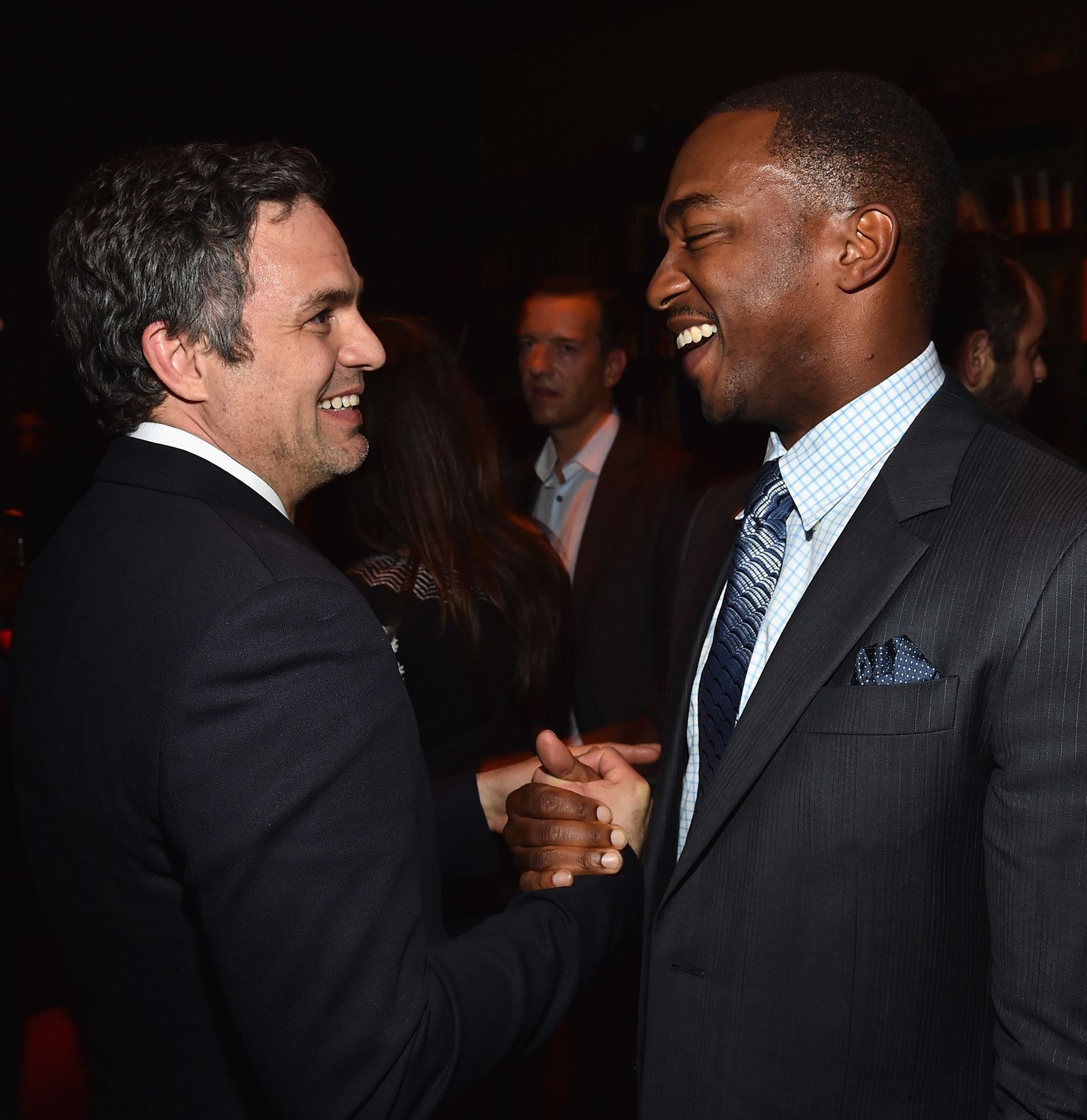 90.
Two Asgardians-turned-Men In Black.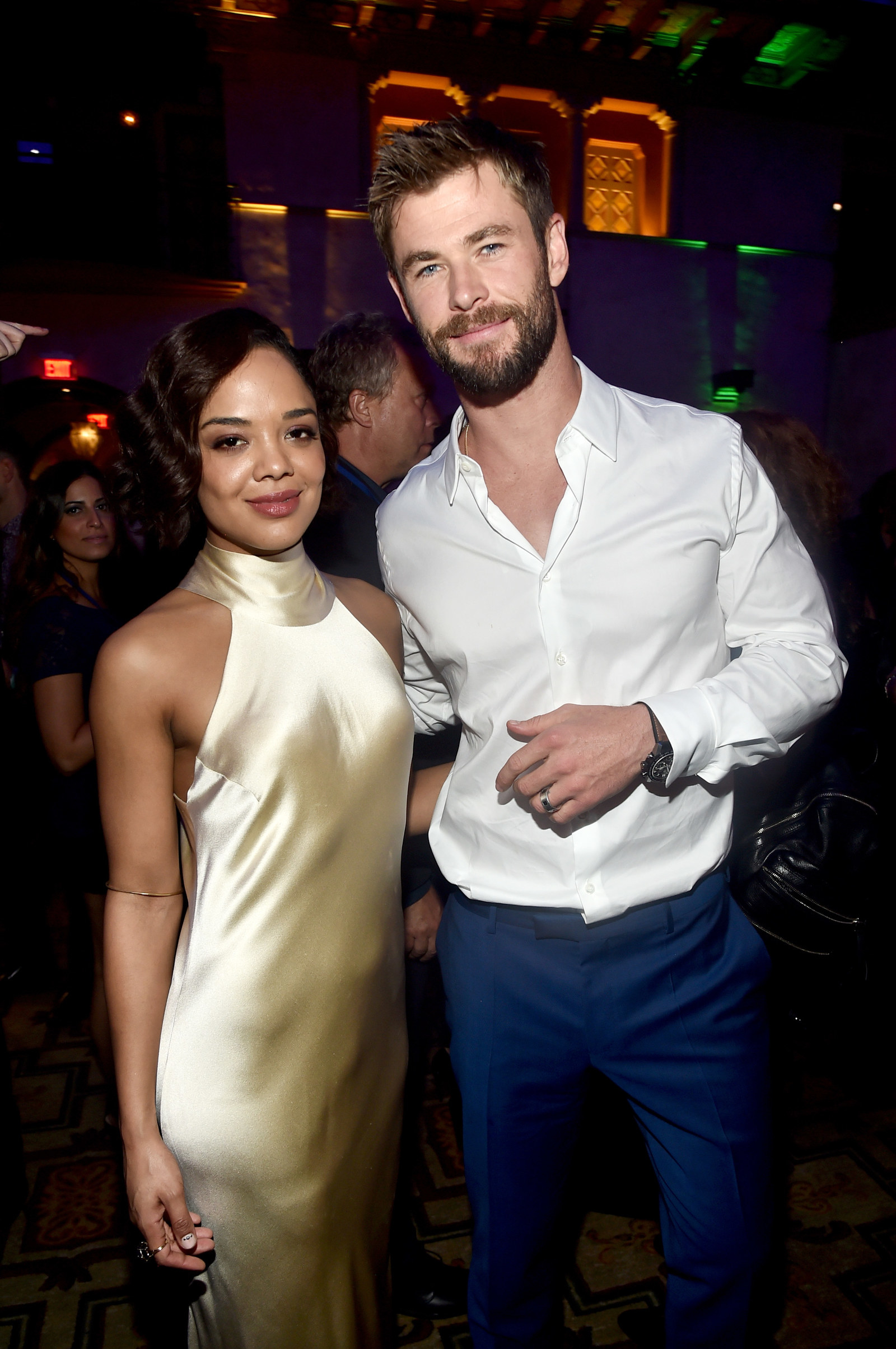 91.
Scarlet Witch and Gamora dressed up and looking fierce.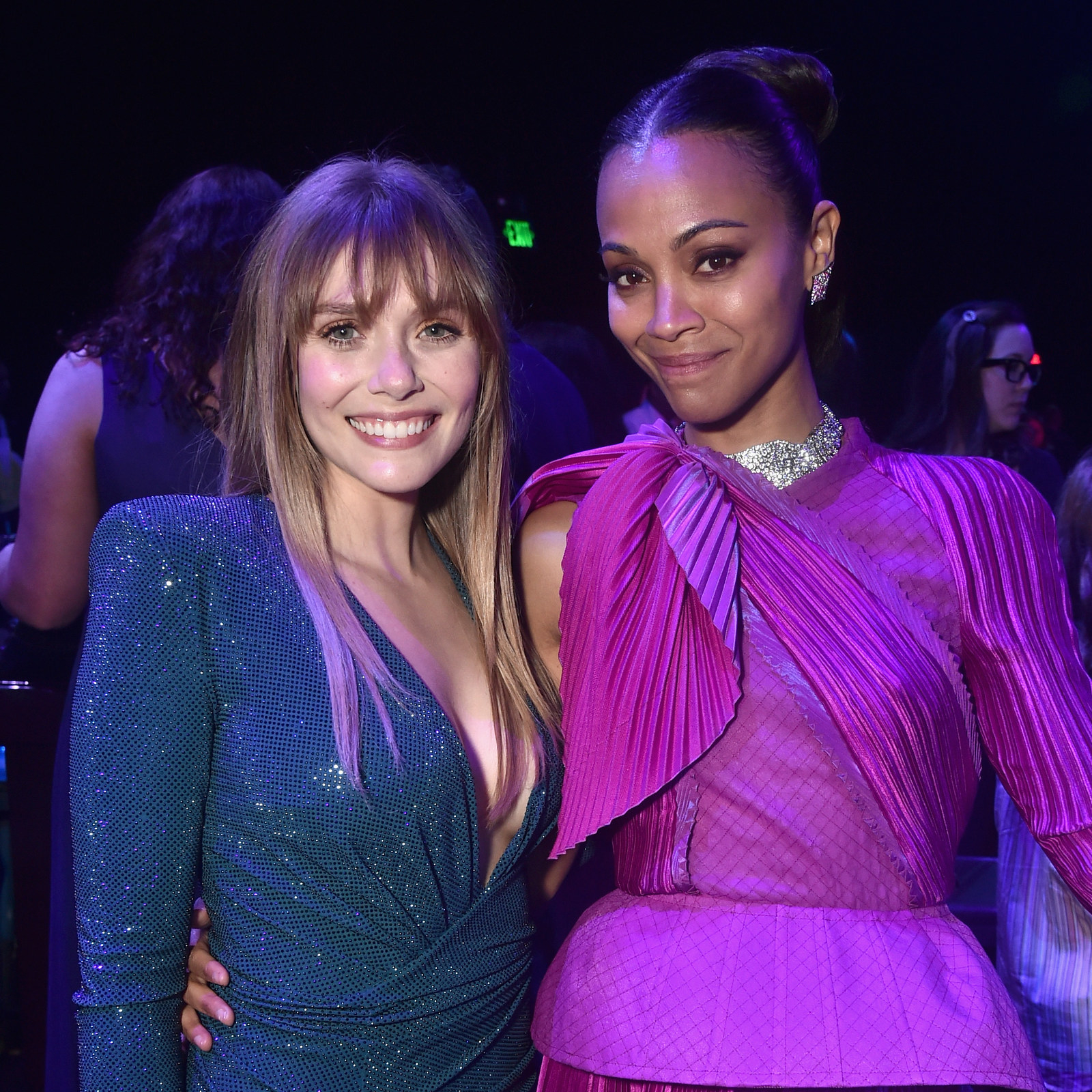 92.
Bucky and Steve in matching grey suits.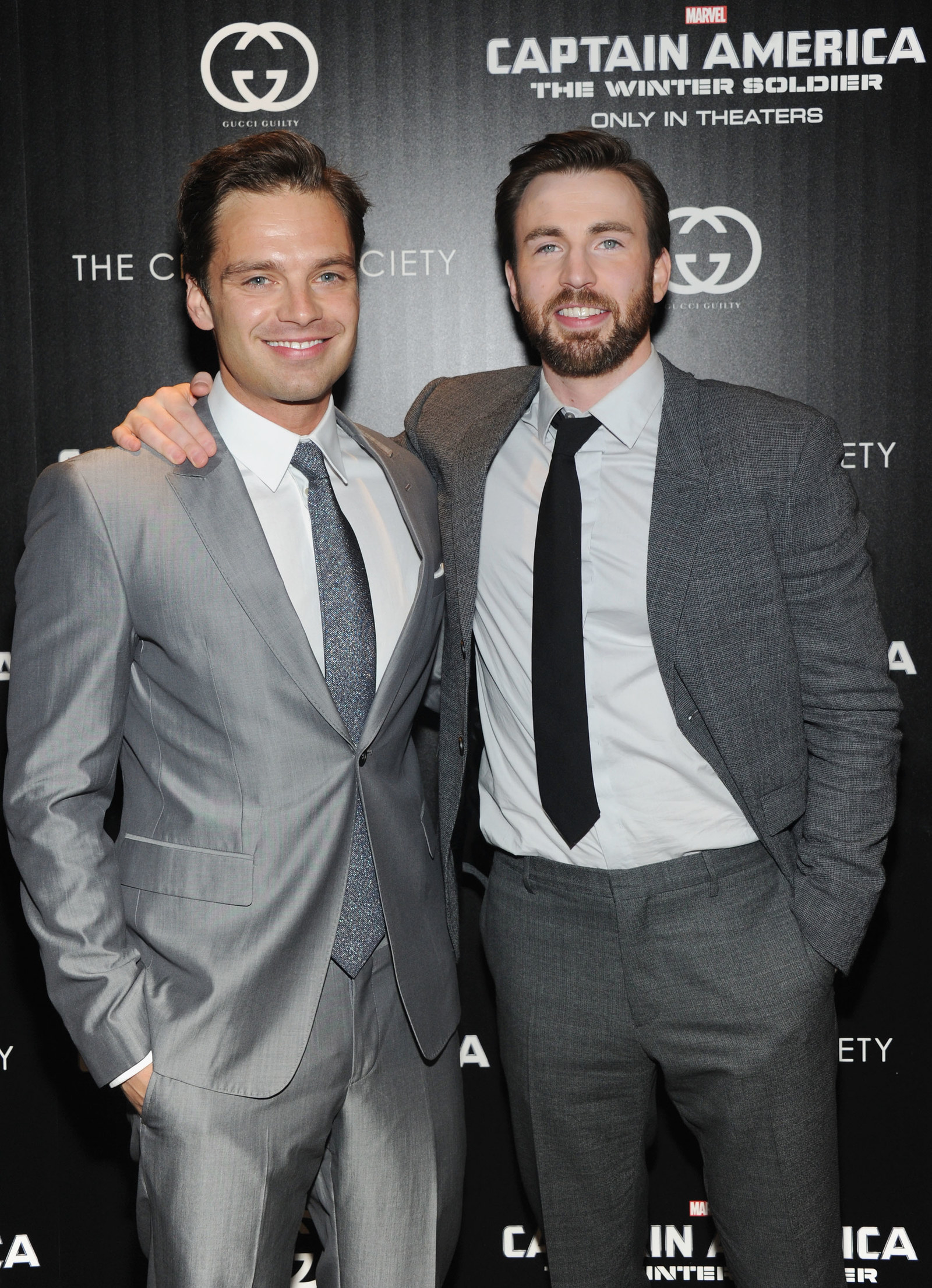 93.
Two sons of Odin getting along.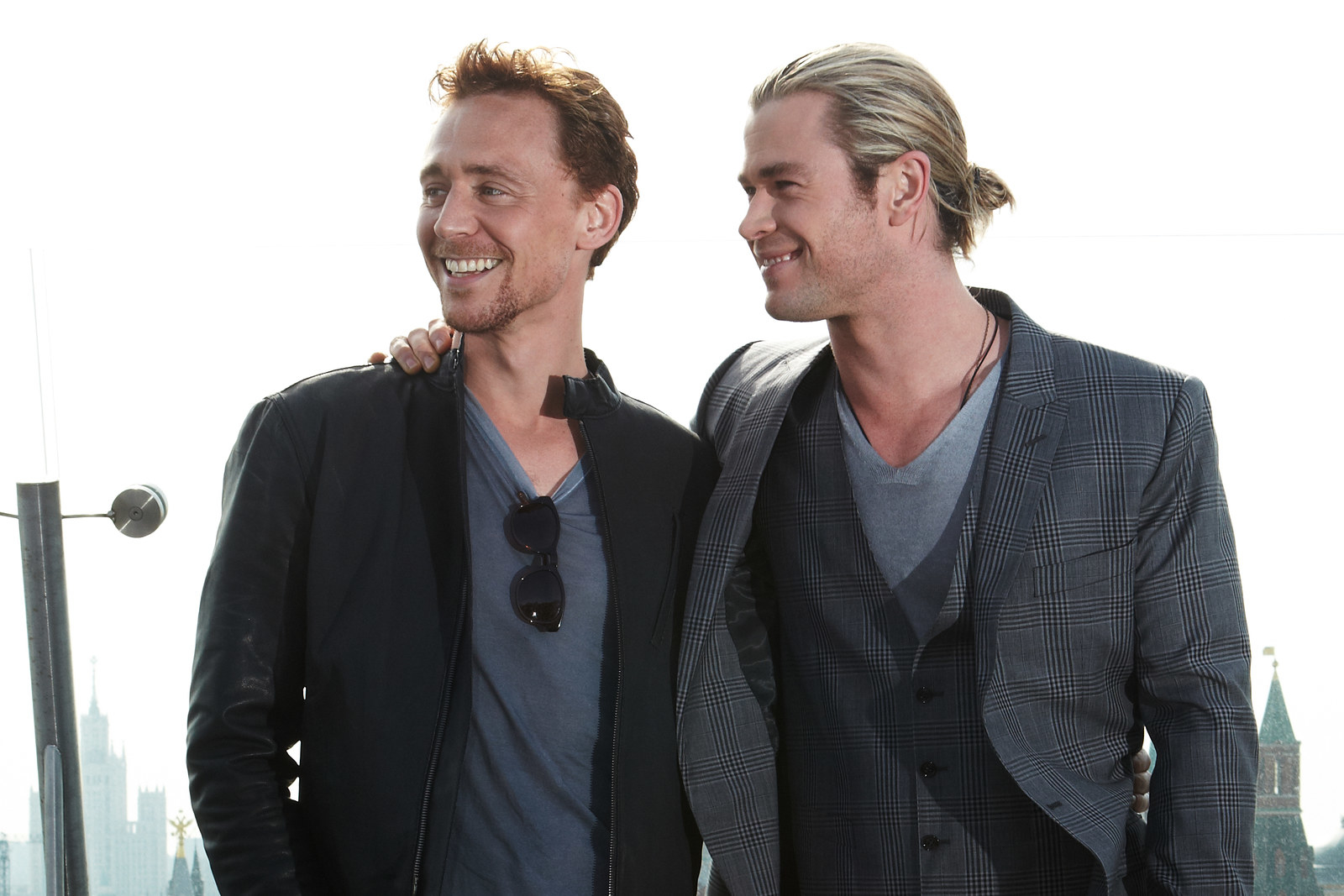 94.
The men of Winter Soldier in suits.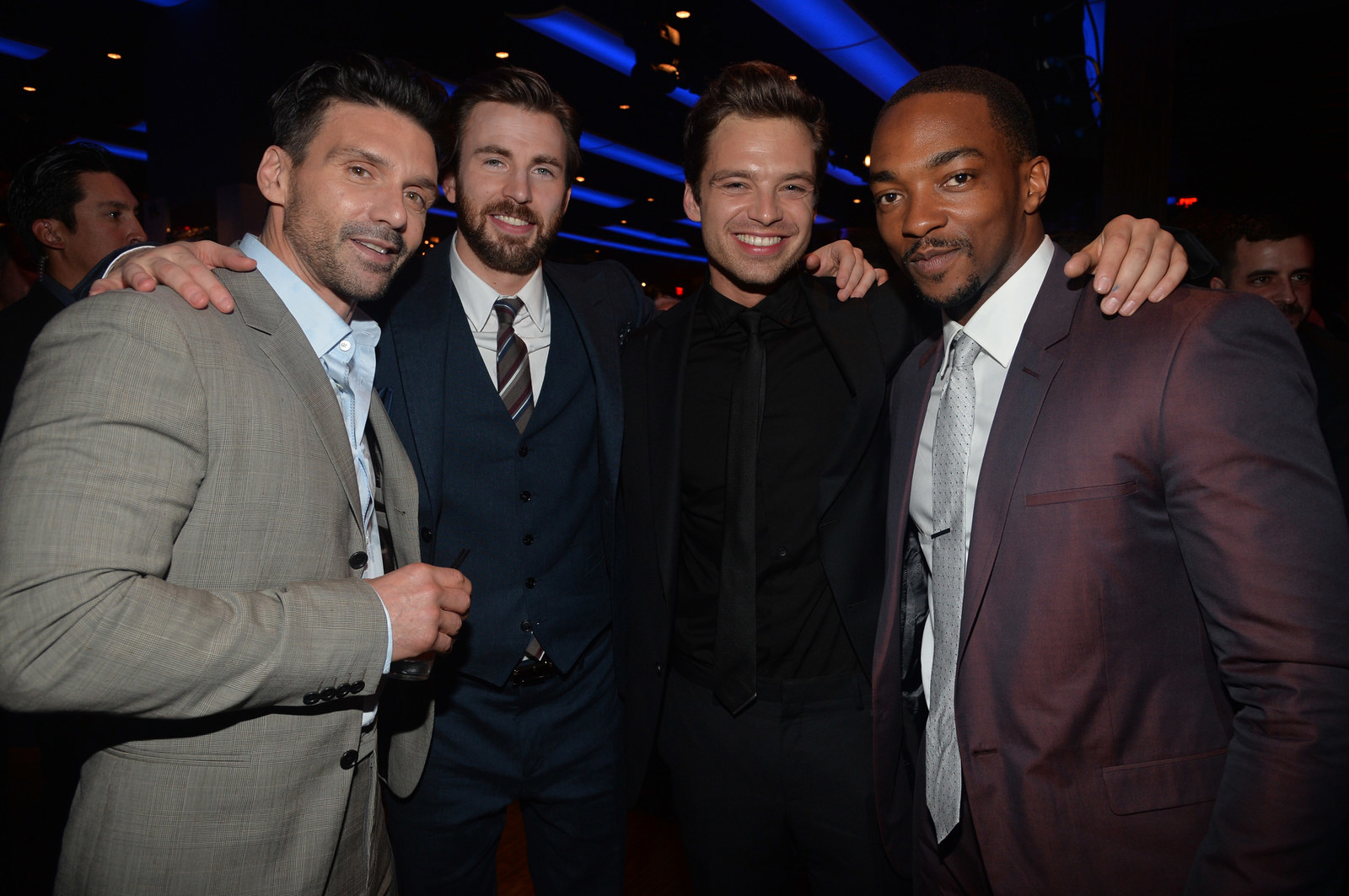 95.
Steve and Peggy.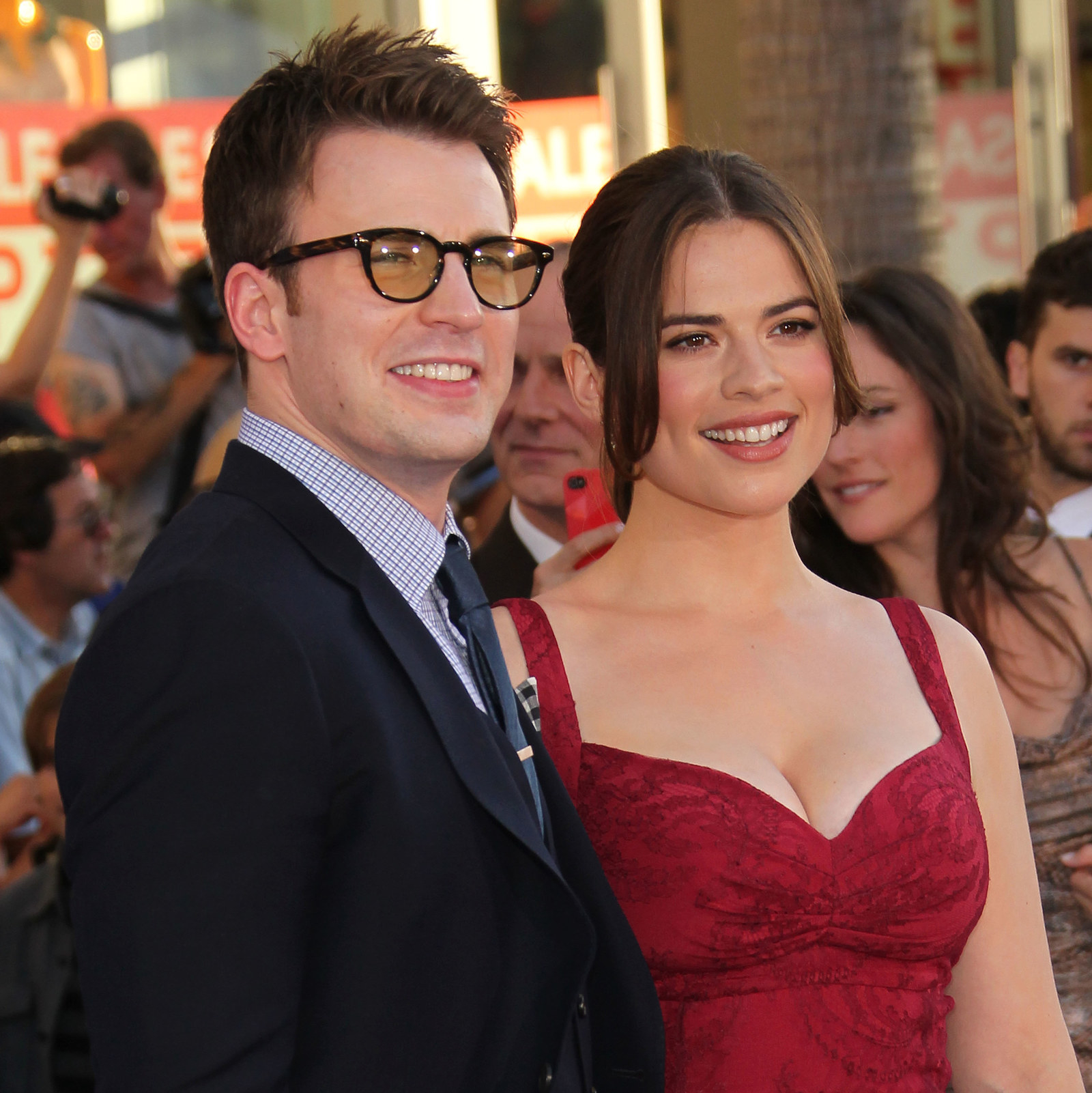 96.
Tony and Pepper.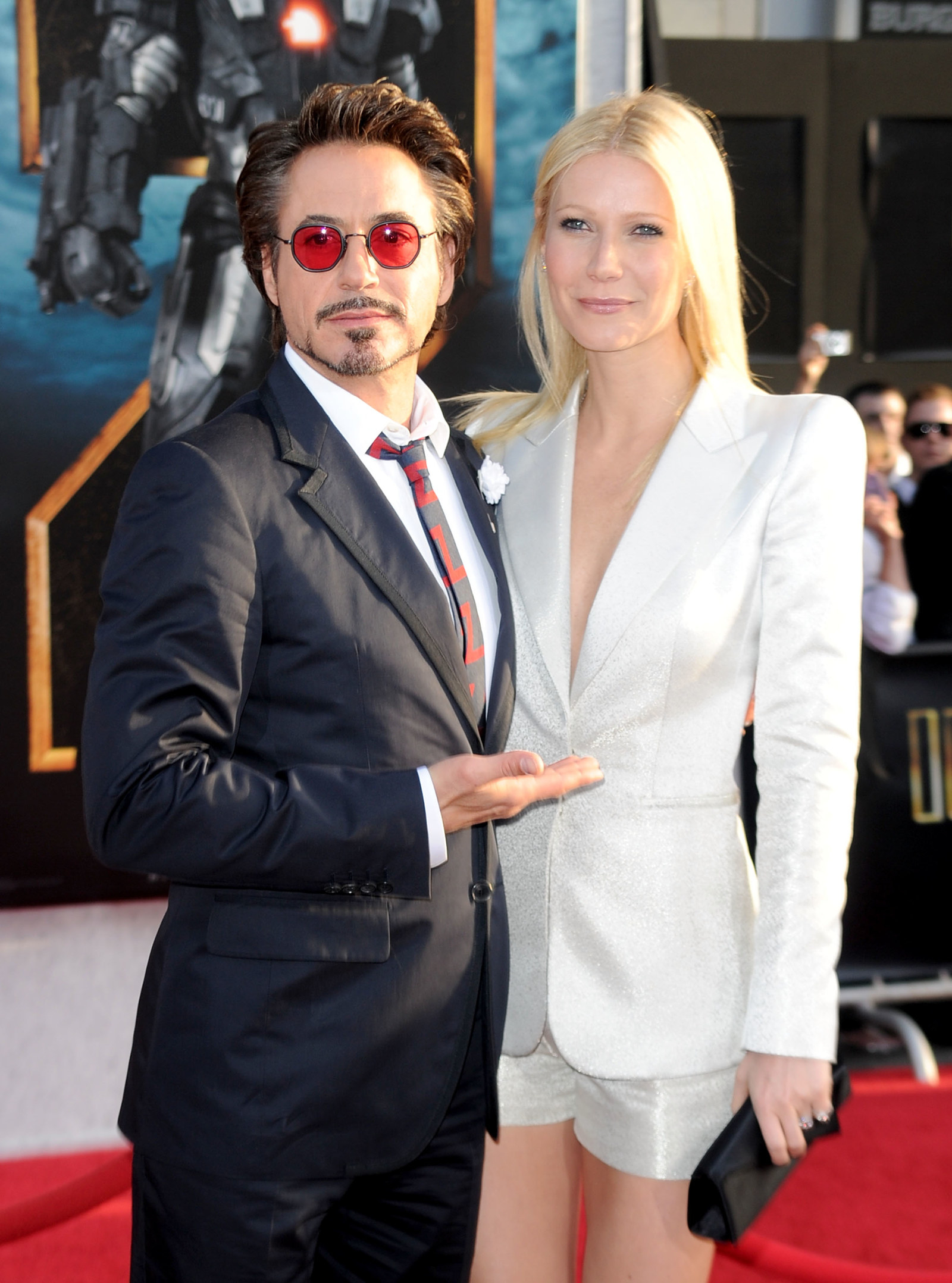 97.
Stan Lee and Chris Hemsworth on the red carpet.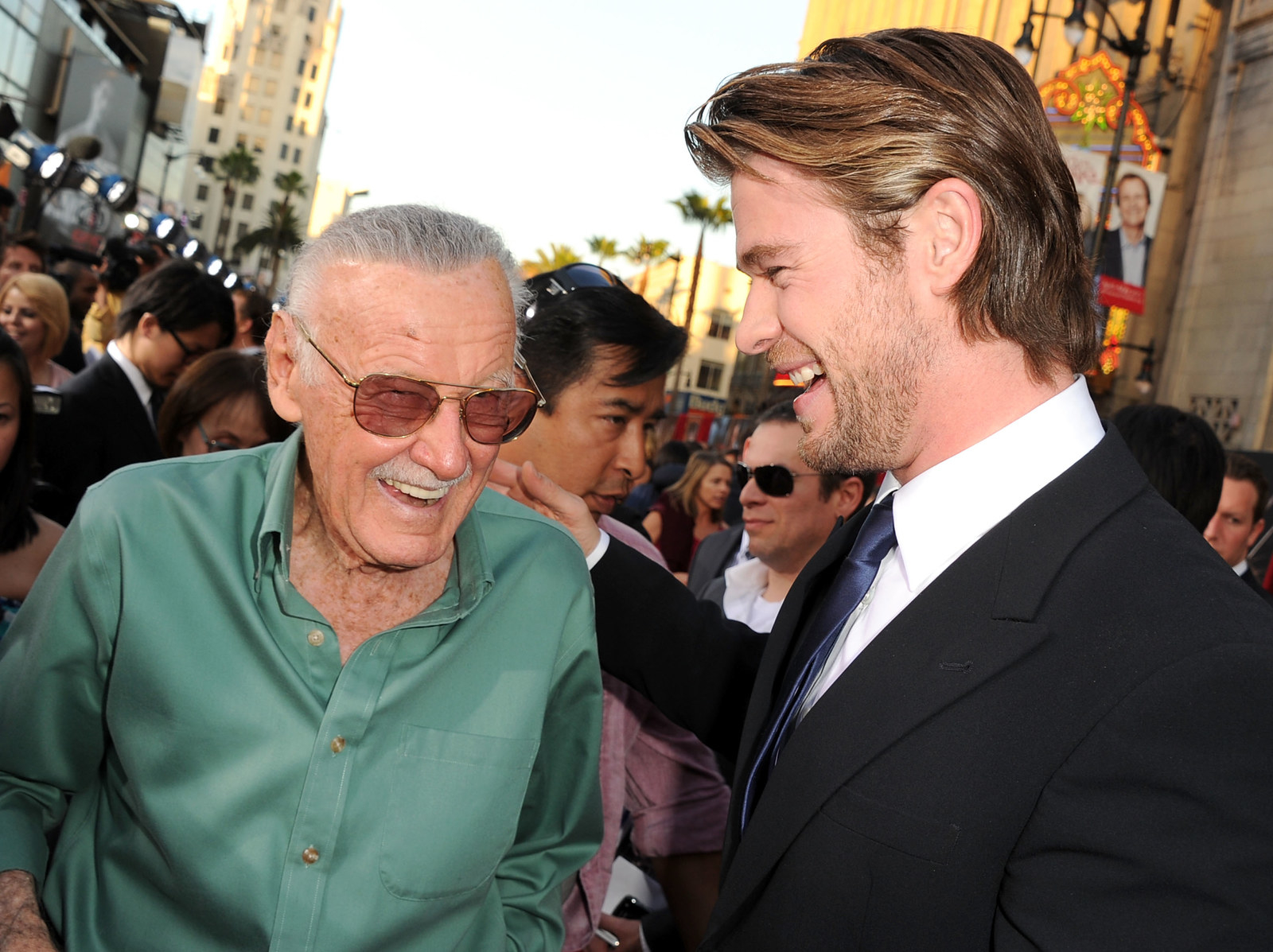 98.
Mark Ruffalo fanning out and taking a picture of Cate Blanchett.
99.
Whatever's happening here...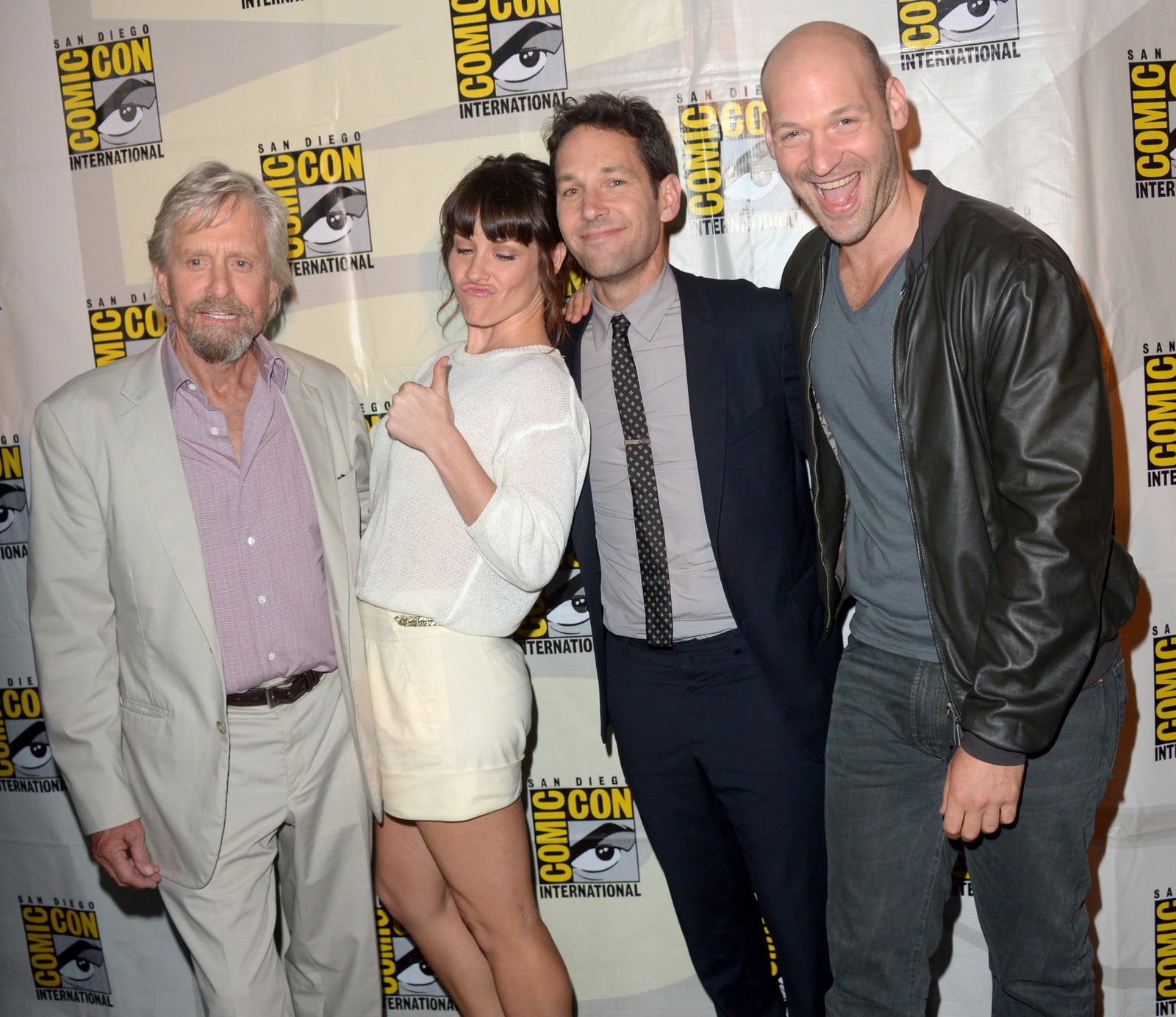 100.
...and here...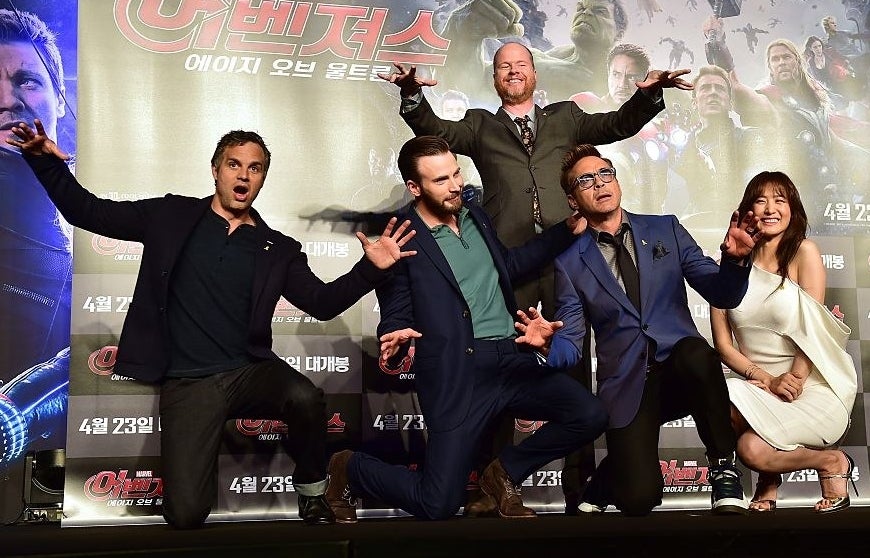 101.
...and, finally, here.