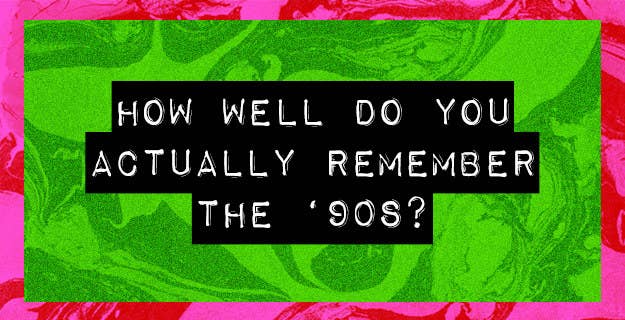 In 1996, Dolly the sheep was the first animal to be successfully cloned.

Be considerate and rewind your rented VHS tapes before returning them

The phrase "Be Kind, Rewind" means be considerate and rewind your rented VHS tapes before returning them.

The Backstreet Boys were formed in 1993, two years before NSYNC formed in 1995.

In 1997, Madeleine Albright became the United States' first female Secretary of State.

A type of watch marketed to women

The Baby-G was a popular line of Casio watches marketed to women.

Mariah Carey had 14 No. 1 singles in the 1990s, more than any other singer during the same period.

Buddy, the dog who played Air Bud, also appeared on the sitcom Full House as the Tanner family's dog, Comet.

The first book, Harry Potter and the Philosopher's Stone, was published in the UK in 1997.

Hubble was the name of the space telescope that was launched in 1990.

"The Rachel" was a choppy haircut inspired by the way Jennifer Aniston's character, Rachel, styled her hair on the show Friends.

A high school shop teacher

The slap bracelet was invented by Stuart Anders, a high school shop teacher from Sun Prairie, Wisconsin.
All imagery courtesy of Getty Images.
Even if you aren't an expert at '90s trivia, you can rejoice because Wendy's is bringing the best of the decade back with its Taco Salad! Whether you're an old-school fan or trying it for the first time, grab a full-size entrée salad or a half-size salad today!