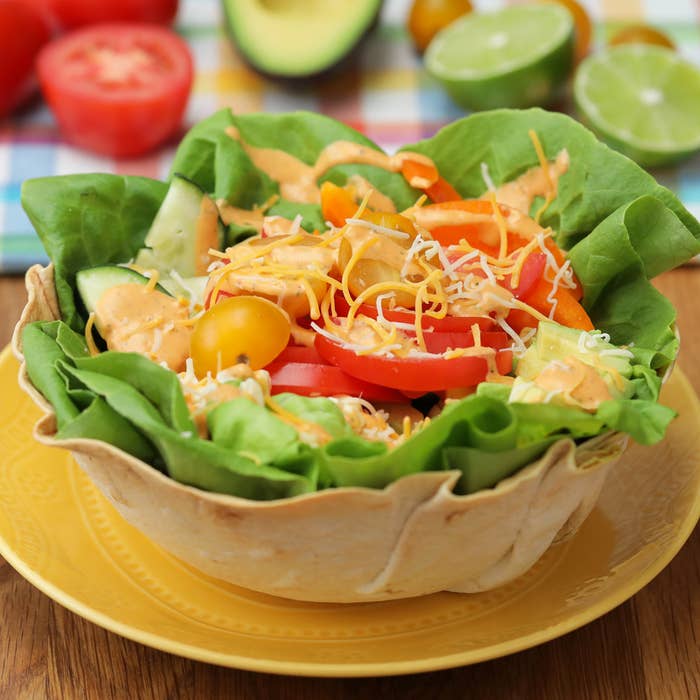 INGREDIENTS:
Salad
Large flour tortillas
Butter lettuce
1 avocado, sliced
1 red onion, thinly sliced
2 roma tomatoes, chopped
3 cherry tomatoes, chopped
1 cucumber, peeled and sliced
1 orange bell pepper, sliced
½ cup fresh corn
½ cup shredded Mexican cheese
Chipotle Ranch
½ cup Greek yogurt
4 tablespoons mayo
¼ cup olive oil
1 chipotle chili pepper in adobo sauce, plus 1 teaspoon adobo sauce
½ teaspoon Worcestershire sauce
½ teaspoon garlic powder
½ teaspoon onion powder
½ teaspoon smoked paprika
¼ cup fresh cilantro
1 lime, juiced
1 teaspoon apple cider vinegar
Salt
pepper
PREPARATION:
1. Preheat oven to 375ºF.
2. To make the tortilla bowl, find two large matching metal bowls. Place one bowl face down and grease the outside. Drape tortilla over the top of the bowl. Grease the inside of the matching bowl and stack it on top of the other bowl, sandwiching the tortilla.
3. Bake for 10–15 minutes until golden brown and hardened. Remove from oven and set aside to cool.
4. To make the dressing, place all of the chipotle ranch ingredients in a blender or food processor and blend until smooth. Season to taste with salt and pepper.
5. Once the tortilla bowl is cooled, add butter lettuce and top with vegetables.
6. Finish with a drizzle of the chipotle ranch.
7. Enjoy!