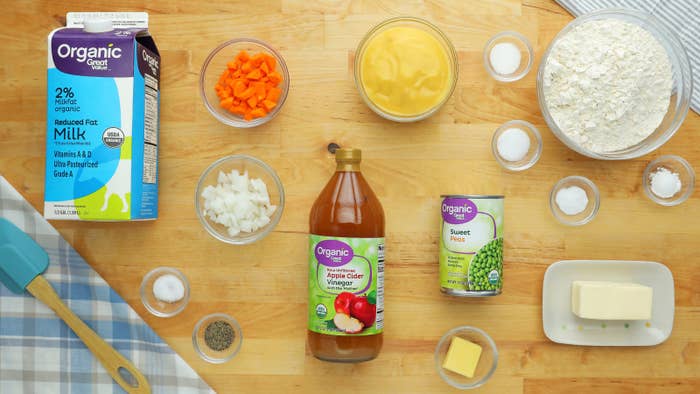 INGREDIENTS:
1⁄3 cup diced carrot
1⁄3 cup diced onion
1⁄3 Great Value Organic Sweet Peas
1 chicken breast cut into chunks (about 2 cups) 1⁄2 teaspoon fresh thyme
1⁄2 teaspoon salt
1⁄2 teaspoon pepper
1 tablespoon olive oil
1⁄2 tablespoon butter
1 can cream of chicken soup
1 cup Great Value Organic 2% Reduced Fat Milk
Biscuit topping
2 cups AP flour
1⁄2 teaspoon baking soda
1 teaspoon baking powder
1⁄2 teaspoon sugar
1 teaspoon salt
1⁄2 cup cold butter, grated
3⁄4 cup Great Value Organic 2% Reduced Fat Milk
1 teaspoon Great Value Organic Raw Unfiltered Apple Cider Vinegar
PREPARATION:
Preheat oven to 375 °F (190°C).

In a saucepan over medium-high heat, melt butter, then add olive oil, chicken, onions,

and carrots, cooking until vegetables are soft and chicken has nearly cooked through.

Season with salt, pepper, and thyme.

Add can of soup and milk, mix well, then gently fold in peas.

Simmer for 5 minutes and set aside.
Biscuit topping
Sift flour, baking powder, baking soda, sugar, and salt, using a whisk.

Add grated butter and mix well (you can use your hands or a pastry cutter).

Add apple cider vinegar to milk and mix into flour mixture.

Combine to form a soft dough.

Place on a floured surface and roll out to 1" thickness, then cut into biscuits.
Place chicken mixture in a baking dish or individual serving dishes.

Top with biscuits and bake for 20–25 minutes or until biscuits are golden brown.

Serve immediately and enjoy!