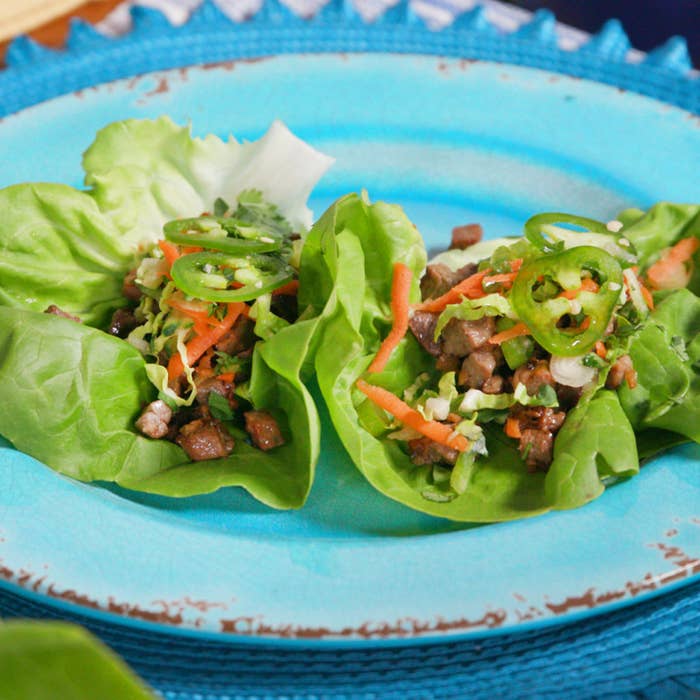 1 pound Angus New York strip, cubed
1 pound antibiotic-free chicken breast, cubed
1 head of iceberg lettuce, leaves pulled
Steak and Chicken Marinade
3 tablespoons soy sauce
2 tablespoons rice wine or sake
1 tablespoon virgin olive oil
½ tablespoon brown sugar
1 tablespoon minced garlic
2 tablespoons minced ginger
3 scallions, thinly sliced
1 tablespoon peanut or other vegetable oil
Peanut Sauce
½ cup peanut butter
¼ cup sweet chili sauce
¼ cup water
2 tablespoons soy sauce
2 tablespoons lime juice
Veggie Slaw
2 carrots, shredded or julienned
1 cucumber shredded or julienned
¾ cup finely shredded Napa cabbage
¼ cup chopped scallions
2 teaspoons cilantro
Lettuce Cup Toppings
Jalapeño, sliced
Rice noodles
Lime
Cilantro, minced
1. Whisk all marinade ingredients together in a bowl, enough for 1 pound of chicken or
steak (double for both).
2. Cut meats into small dice and leave in marinade for at least 1 hour.
3. In a wok over med-high heat, add 1 tablespoon of olive oil and cook meats until cooked through (about 6–8 minutes). Set aside in a bowl and cover.
4. Whisk all peanut sauce ingredients together in a bowl.
5. Lightly toss shredded veggies together.
6. Cook (½–⅓) box thin rice noodles per box instruction. Drain, cool, then set aside.
7. Wash and break apart (1) head of iceberg and (1) head of butter lettuce, then set aside.
8. Serve chicken, steak, and slaw with noodles, peanut sauce, and additional cilantro leaves and jalapeño slices.
9. Drizzle peanut sauce over lettuce wraps.