Bacon Treats 4-Ways
Sweet Bacon Crackers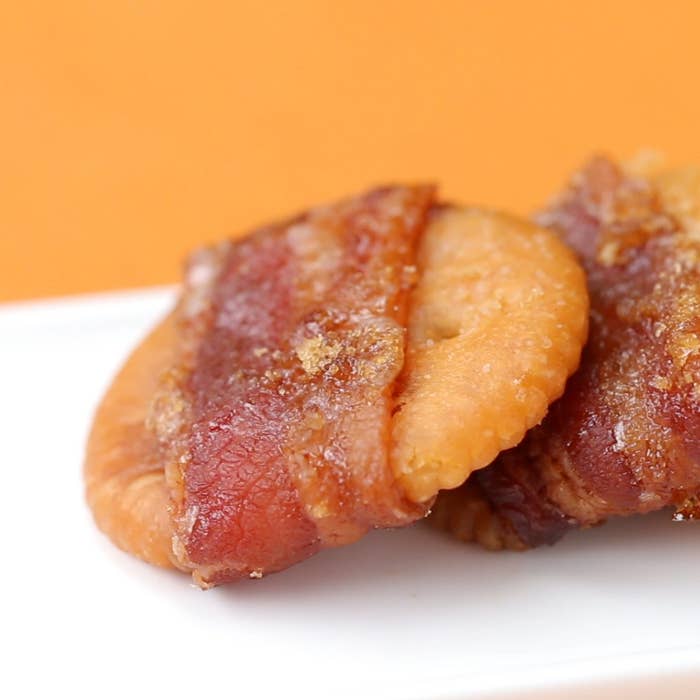 INGREDIENTS
Makes 24 crackers
24 butter crackers
12 pieces bacon
½ cup packed brown sugar
PREPARATION
1. Preheat oven to 250˚F/120˚C.
2. Cut the bacon in half.
3. Loosely wrap each cracker with half a slice of bacon.
4. Place bacon-wrapped crackers on a baking sheet. Sprinkle each cracker with brown sugar.
5. Bake 60-90 minutes until crispy.
6. Enjoy!
Bacon-Wrapped Sausages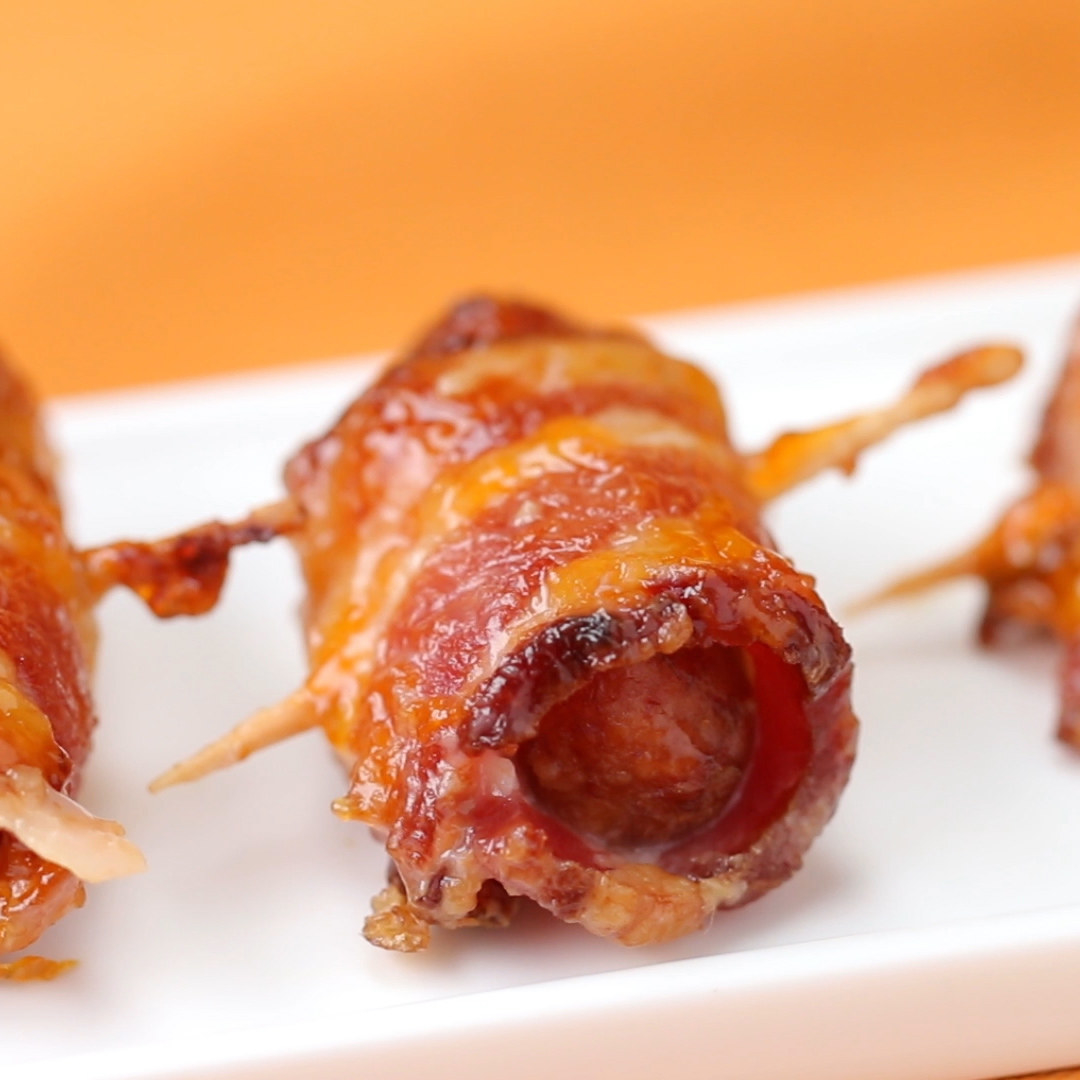 INGREDIENTS
Makes 24 pieces
24 mini smoked sausages
12 pieces bacon
½ cup apricot preserves
Toothpicks
PREPARATION
1. Preheat oven to 375˚F/190˚C.
2. Cut the bacon in half. Wrap half a piece of bacon around each mini sausage.
3. Warm the apricot preserves in the microwave soften. Brush each sausage with a small amount of apricot preserves. Secure the bacon with toothpicks.
4. Bake 12-15 minutes, or until bacon is crispy and browned.
5. Enjoy!
Chocolate Bacon Banana Bites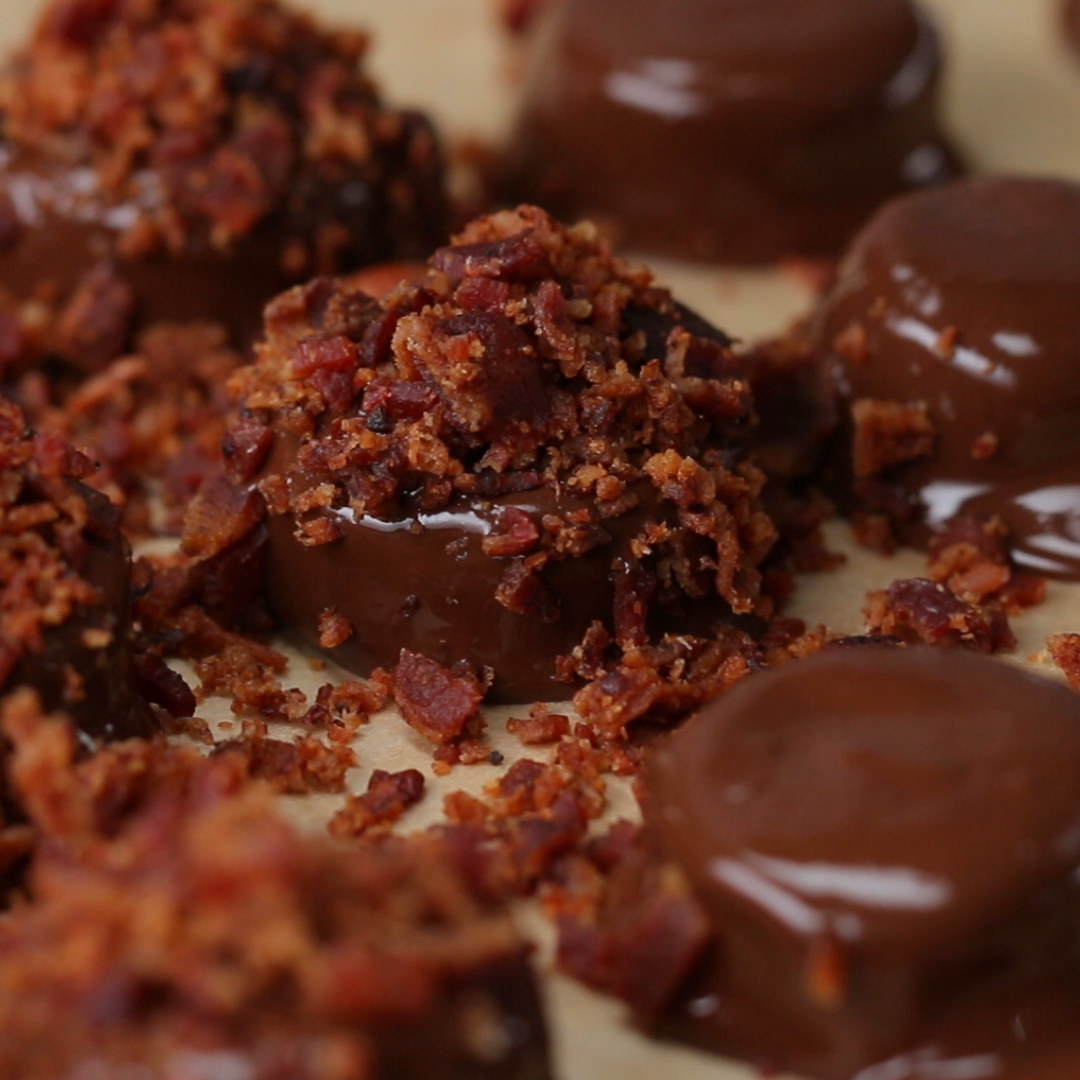 INGREDIENTS
Servings: 6-8
2-3 bananas
4 pieces bacon
1 cup chocolate pieces
PREPARATION
1. Cook the bacon until crispy, drain the fat. Chop into fine pieces.
2. Slice the bananas into ¼ inch coins.
3. Melt the chocolate in the microwave.
4. Using a fork, dip each banana slice into the chocolate then transfer to parchment (or wax paper) lined baking sheet. Sprinkle the top with bacon crumbles.
5. Put pan in the freezer until solid, about 30 minutes.
6. Enjoy!
Praline Bacon Skewers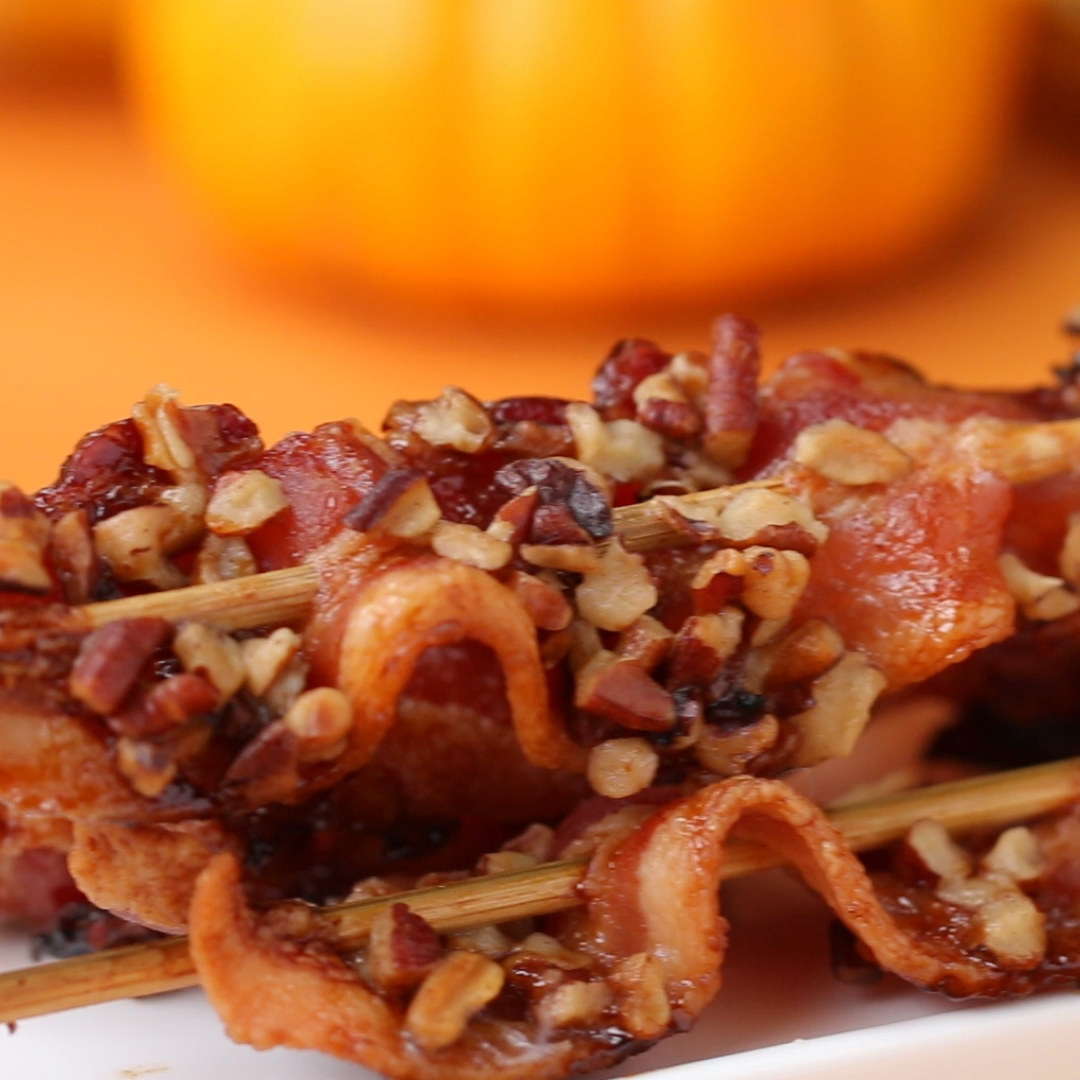 INGREDIENTS
Makes 12 pieces
12 slices bacon
½ cup real maple syrup
1 cup finely chopped pecans
Wooden skewers soaked in water for 30-60 minutes.
PREPARATION
1. Preheat oven to 375˚F/190˚C.
2. Weave each bacon slice onto the wooden skewer.
3. Bake 6-8 minutes, until bacon is approximately halfway cooked.
4. Remove from oven and brush with maple syrup then dip in crushed pecans. If using the optional cayenne, sprinkle a small amount over the top.
5. Finish baking until crispy, an additional 6-8 minutes.
6. Enjoy!