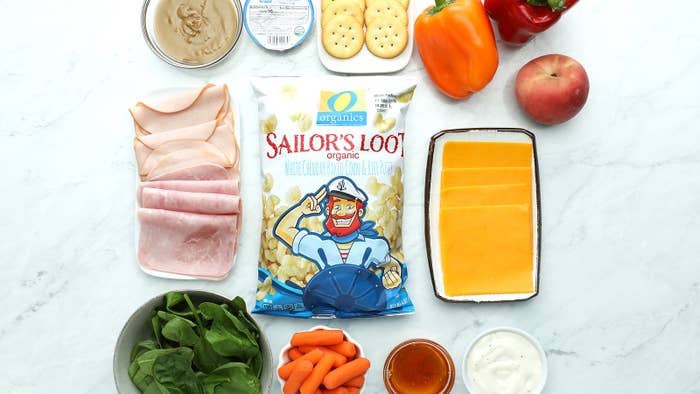 INGREDIENTS:
4-ounce bag O Organics® Sailor's Loot
2 bell peppers
2 stalks celery
1 cucumber
1 cup baby carrots
Whole fruit (peaches, apples, clementines, etc.)
Hummus cup
Juice boxes
Nut Butter Sandwich
2 slices whole wheat bread
1–2 tablespoons nut or seed butter
½ teaspoon honey
Pinwheel Sandwich
1 large whole wheat tortilla
2 tablespoons cream cheese
Small handful baby spinach
2 slices cheddar cheese
4–5 pieces deli turkey
Stackable Sandwich
3 slices cheddar cheese
3 slices deli ham
8 round crackers
Pita Sandwich
1 pita
1 tablespoon ranch dressing
2 slices deli turkey
2 slices ham
2 slices cheddar cheese
2 leaves green lettuce
PREPARATION:
1. Open O Organics® Sailor's Loot. Measure 1 cup, four times into zip-top snack bags.
2. Slice bell peppers into thin strips. Slice celery stalks in half vertically, then slice into 3-inch pieces. Cut cucumber in half vertically. Scoop out seeds with a spoon. Cut each cucumber half into quarters, then slice into thinner strips. Fill additional zip-top snack bags with an assortment of veggies, including the baby carrots.
3. Slice a piece of fruit into bite-sized pieces. Place in an additional zip-top snack bag.
4. Nut butter sandwich: Slice crusts off of whole wheat bread. Spread nut or seed butter on one slice of bread, leaving a ½-inch border. Place the other slice of bread on top and pinch sides closed.
5. Pinwheel: Lay out whole wheat tortilla. Spread cream cheese on tortilla, making sure to get some at the very top edge. In the middle part of the tortilla, place a handful of baby spinach. Layer the cheddar cheese slices on the spinach, then place the turkey on the cheese. Starting at the bottom, roll up the tortilla tightly. Press the top edge against the roll to seal. Slice roll into 1-inch pinwheels.
6. Stackable sandwich: Slice cheddar slices into quarters. Slice ham slices into quarter. Place cheese, ham, and crackers into a container for stacking at school.
7. Pita sandwich: Slice pita in half. Swipe some ranch inside of each half. Place half the turkey and ham in each half, followed by a piece of cheddar and a leaf of lettuce.
8. Pack lunch box with bag of O Organics® Sailor's Loot, bag of cut veggies, 1 hummus cup, bag of sliced fruit, 1 juice box, and 1 sandwich.