Pesto Pizza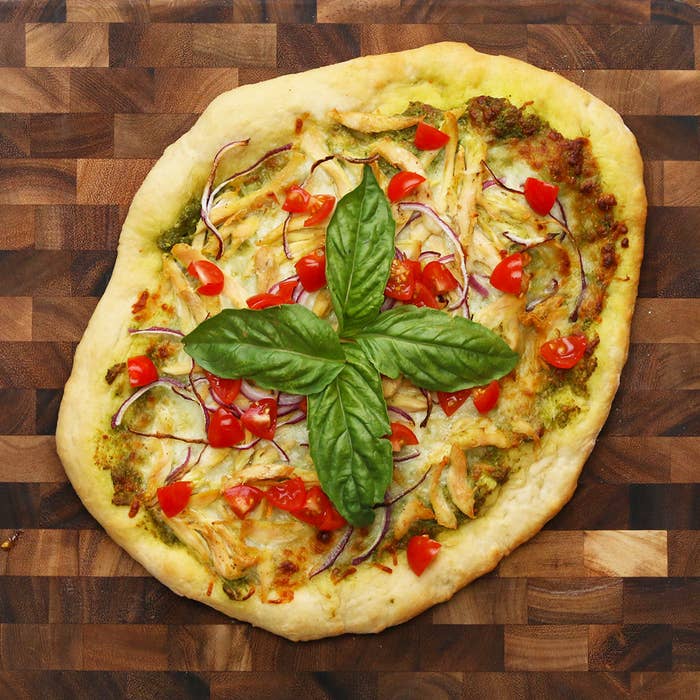 INGREDIENTS
Servings: 2
Dough
3 cups all-purpose flour
1 ¾ teaspoons instant yeast
1 teaspoon salt
1 ¼ cups hot water
3 ¾ teaspoons olive oil (plus more for drizzling in bowl)
Pesto
½ cup Parmesan cheese
½ cup pine nuts (you may also use any other nut of choice)
⅓ cup olive oil
2 cloves garlic
1½ cups fresh basil leaves
Optional: 2 tablespoons lemon juice
Toppings
¾ cup mozzarella
½ cup shredded chicken breast
¼ red onion, thinly sliced
5 cherry tomatoes, chopped
4 fresh basil leaves
PREPARATION
1. Preheat oven to 425ºF/220ºC and prepare a sheet pan with parchment paper or corn meal. 

2. Add flour, yeast, and salt to the Vitamix and pulse at variable 5 several times. Remove the lid plug and slowly add the water and olive oil while pulsing at variable 6. Stop pulsing once all of the water and oil have been added, and the dough forms a ball. 

3. Place dough in an oiled bowl and flip it over so both sides get oiled. Rest until ready to use (at least 15 to 20 minutes).

4. In the 16-oz container, blend Parmesan, pine nuts, olive oil, and garlic cloves on variable 4 until smooth. 

5. Add basil, then continue blend on variable 2 for 10 seconds, then increase to variable 6 and blend until smooth. If the mixture is not blending, add additional olive oil or a tablespoon of water or lemon juice, then continue to blend until smooth. 

6. On the sheet pan, stretch out half of the dough to form a 12–14-inch pizza crust. Save remaining dough for later. (Tip: Leftover pizza dough makes for great cinnamon rolls!)

7. Spread half of the pesto onto the pizza dough and sprinkle with mozzarella. (Save remaining pesto for another time or freeze for up to 1 month.) 

8. Add onions and chicken to the top of the pizza and bake for 10 to 15 minutes, or until cheese has melted and crust is light golden brown. Sprinkle with chopped tomatoes and a few fresh basil leaves.

9. Enjoy!