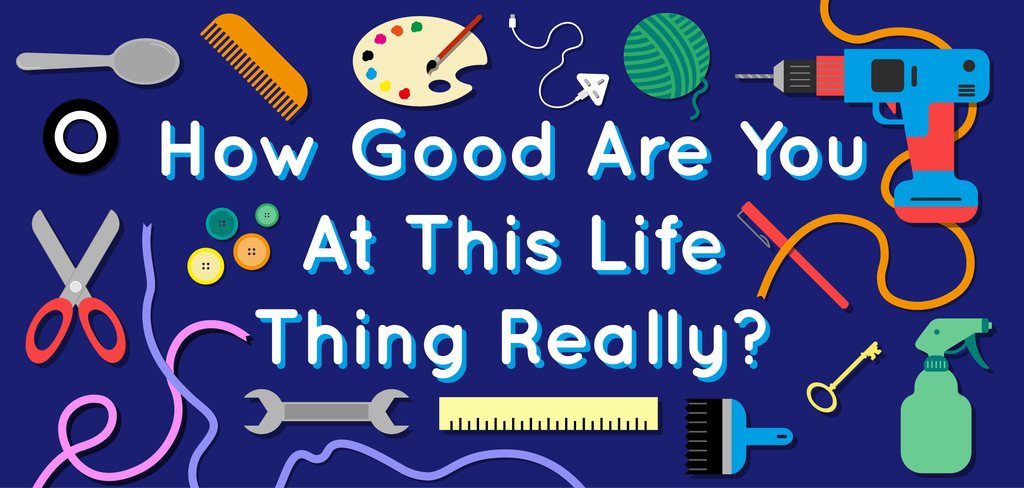 Ben Armson / BuzzFeed

I snap it in half and peel each piece separately

I dig my nail in just under the stem and open along the seam

Channel your inner monkey and use their method – flip the banana so the stem faces downward, squeeze the end, and peel!

Ben Armson / BuzzFeed

Cross it out with horizontal lines

With the saviour that is Tipex

I write over it with my name

By writing over words with letters, it'll make what you're trying to cross out illegible.

Ben Armson / BuzzFeed

Holes in the bottom of the bin

TUG AND HOPE FOR THE BEST

I have a "twist and pull" method

I get someone to hold the bin down as I slowly slide the liner up

Transform this chore from dire to simple by simply drilling holes into the bottom of your bin – this will eradicate any suction issues

Ben Armson / BuzzFeed

I just put them in and press go for a couple of minutes

I dig a hole in the middle of the food

I blast it on high heat for a minute and then finish heating at a lower temp

I do it in short bursts, constantly checking the temperature

To ensure the heat is spread evenly throughout, make a well in the centre of your food, and — voilà — you have evenly heated deliciousness.

Ben Armson / BuzzFeed

I slide it down the side of a glass

I dig my nail into the skin and peel like an orange

Who needs to peel when you can just take a big bite?

It really is simple as using the edge of a strong glass to separate the flesh from the skin.

Ben Armson / BuzzFeed

I buy a professional, expensive waterproof case

I leave it at home – better to be safe than sorry

I just try to be careful?

Cheap and easy to use, using a plastic bag to protect your phone from water damage really is revolutionary.

Ben Armson / BuzzFeed

I like to slice it up like a regular cake

I stuff the whole thing into my mouth

I slice it in half and put the icing in the centre to make a cupcake sandwich

I eat the icing first and then tackle the cake

There really isn't a right answer for this, but we can guarantee that if you turn your cupcake into a cupcake sandwich, your cupcake-eating experience will be outrageously improved.

Ben Armson / BuzzFeed

I hold it up as I play it

I don't – the sound quality is terrible

I put the phone in an empty glass

Simply placing your phone in a cup or glass will enhance the sound – perfect for those speakerless moments.

Ben Armson / BuzzFeed

I pick each seed out individually – you have to really commit

I try to crack the seeds out after slicing it into segments

I put it in a plastic container and shake until the seeds have fallen out

Trust us – this is a tried-and-tested technique. Slice the pomegranate in half, and then hit the back of one of the halves with a wooden spoon into a dish.

Ben Armson / BuzzFeed

I use the back of a knife

With the serrated edge of a knife

Against the side of the bowl or pan

Gently tapping the egg on a flat surface and pulling the egg apart with two hands will reduce the risk of having to scoop out bits of eggshell.

Ben Armson / BuzzFeed

That's what garlic crushers were invented for

With my fingers, but I can't get the smell off for days

I slice the clove in half and then peel from there

I place the cloves in two bowls and shake shake shake.

Place garlic cloves in a bowl (plastic or metal preferably) and cover with another bowl to form a sphere. Then, shake your sphere like a polaroid picture – the garlic cloves will just fall out of their skins!
Making little changes in your life can make the biggest difference. That's why you definitely won't regret switching to Visa contactless – a positive change we can all get on board with.