Spicy Fried Shrimp Tacos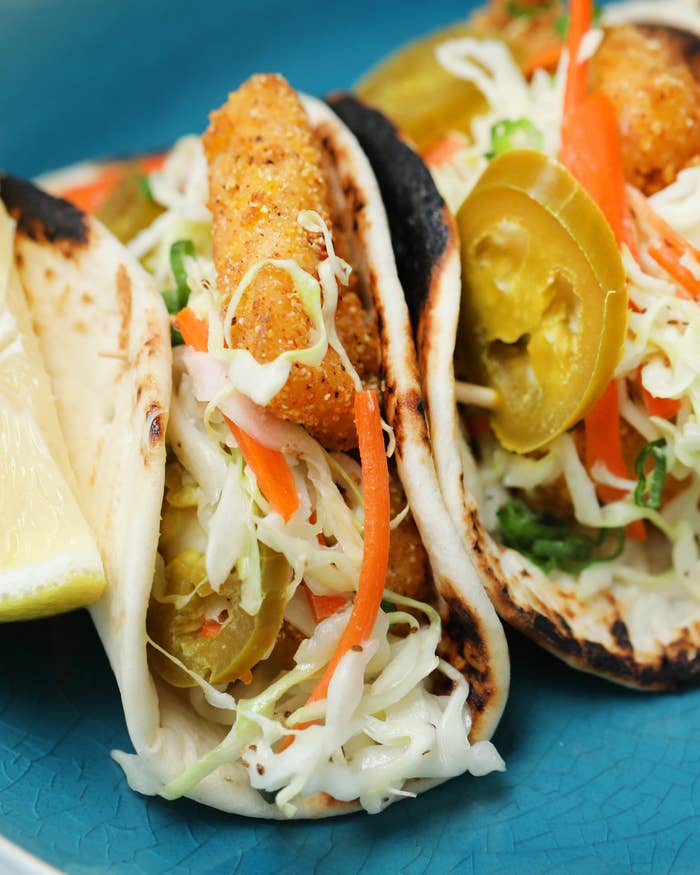 INGREDIENTS

Fish
1½ pounds flounder
½ cup milk
½ cup cornmeal
¼ cup flour
1 teaspoon salt
½ teaspoon garlic powder
½ teaspoon pepper
½ teaspoon paprika
½ teaspoon cayenne
½ cup vegetable oil

Coleslaw
½ cup mayonnaise
1 tablespoon sugar
1 tablespoon apple cider vinegar ½ teaspoon salt
½ teaspoon onion powder
½ teaspoon celery seeds
Half of a small green cabbage, shredded
½ cup shredded carrots

PREPARATION

1.Cut fish into 1-inch cubes. Soak the fish in the milk in a bowl. 


2.In a bowl, mix together the cornmeal, flour, salt, garlic powder, pepper, paprika, and cayenne. Drain fish from the milk. Toss fish in cornmeal mixture until evenly coated.


3.Heat oil in a cast iron pan. When oil has reached 350ºF/180°C, fry the fish cubes until golden brown all over, about 2 minutes on each side. Drain fish on paper towels.


4.Coleslaw: Whisk together mayo, sugar, apple cider vinegar, salt, onion powder, and celery seeds. Mix dressing with the cabbage and carrots until completely coated.


5.To assemble: Place a few pieces of fish on a tortilla. Top with coleslaw and jalapeños. Serve with lemon wedges.