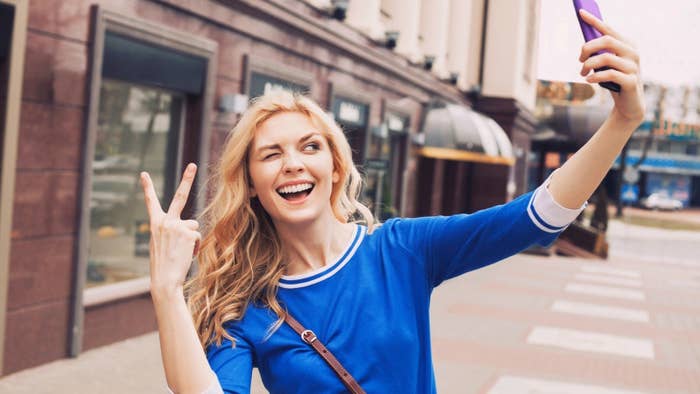 Introducing Selfin
In 2016, thirty two million Twitter accounts were hacked. Two years later, fifty million Facebook accounts were directly affected when the social media company was hacked, and hundreds of accounts on Instagram were taken over by cybercriminals. Despite all of social media's positive attributes, there is no question that when someone creates an account on any of these sites, they are putting themselves at risk of being hacked. However, even when cyber security systems are up and running, social media companies are known for selling user information to third parties and there is nothing anyone can do to limit how much or control the content of the data that gets sold for research, advertising and other purposes. With over 80% of the U.S. population having a social media account, that gives third parties about 264 million people worth of data.
It's almost kind of scary to think about, and up until now, there was no other way. So, people either risked being exposed or they simply avoided creating an account and missed out on all the fun photos, videos and interactions that their family and friends enjoyed. However, now there's a new social media company that is promising to keep all the things that people love about social media, and change all the things that people hate.
Imagine, if you never had to worry about your information being sold to unknown third parties. And what if all those awesome pictures you take in landscape mode didn't have to be cropped just so they fit into pre-determined photo slots on your social media wall? Just those two things alone would probably get a lot of people interested in learning more about this new social media company.
Co-founded by Akin Nefesogullari, an author and entrepreneur who immigrated to the U.S. from Turkey to study business, Selfin is a social media company that puts users in control of their online lives, offering a fun place to connect with family and friends, that doesn't sell your and their data. Selfin also honors your photography skills instead of trying to make them fit into a box along with the rest of the photos on the internet. Using the app, you can post photos in portrait and landscape modes. As the Selfin introductory packet points out, "There's a reason why we hold our phones horizontally when watching a video...people have a very wide angle of vision so why not take advantage of it and why not make a horizontal social media app." Looking at screenshots of the Selfin app, it somewhat resembles Instagram, with the exception of being able to turn the phone horizontally and scroll sideways instead of just up and down to get a better view of the landscape photos.
Another cool feature in Selfin is that they actually pay their users.That's right. Selfin has created a system for its social media users that consists of stars and self stars. Everytime you get a like, a follow or a share, your stars increase. Once you get to a certain level of stars, you have what Selfin calls "Self Stars." That's when you are considered to be an influencer and are eligible to make money from various posts and interactions.There are some similarities to the way YouTube pays its influencers except Selfin has no minimum follower limit. So, you can have a few hundred followers, and already be making bank. As for Selfin, their plan to financially sustain their company is to make money through sales from affiliate marketing of different brands. Instead of selling their users' data, Selfin plans to analyze it themselves and carefully pick and choose which brands to market on their site, based on the preferences of their users. This ensures that their users' data is kept private and gives users ads that are actually relevant to what they need or want.
It almost sounds too good to be true. However, while Selfin was inspired by the notion of cyber security, Nefesogullari said, "we haven't really thought about it," when asked what their plans were on preventing hackers from altering or breaking into Selfin's technology. Given that they are only a team of six people, it's understandable that they can't think of everything. But considering how much thought they've given to the security of other social media sites, it's interesting that they failed to consider it for themselves. "I don't personally use social media," Nefesogullari plainly stated, because he doesn't like how easily they are hacked and that they sell his data. Without a solid plan to keep hackers out of Selfin though, it could very well be that while Selfin won't be selling their users' data, they might just find themselves giving it away for free to hackers who don't bother to ask or pay for it. As Jay Kaplan, a former Defense Department cyber security expert, senior cyber analyst at the National Security Agency, and now chief executive of the cybersecurity company Synack told the New York Times in May 2017, "Most people don't think twice when they are posting on social media. They don't think about people using the information against them maliciously. They don't assume people on their network might be attackers." In fact, given the popularity and success of so many social media networks, it's likely that few people really ever think about it, but in the words of Mr. Kaplan, the problem is definitely "pervasive."
Unlike the lack of a plan to prevent hacking, Nefesogullari has an elaborate plan for marketing Selfin that involves using Brand Ambassadors from high schools and colleges to spread the word about their company. Nefesogullari who is a business major at Menlo College, has already convinced the President of the school to be one his brand's ambassadors. If the idea of using students to grow a social network sounds familiar, it's because Mark Zuckerberg did the same when he started Facebook. Though Nefesogullari refers to Facebook as "the Facebook mafia" due to their current business practices, even people who are out to revolutionize the way we use social media cannot argue with a proven method.
Other notable features of the Selfin app include a messenger, and a unique camera app that captures a photo with a simple swipe up anywhere on the screen. While Nefesogullari is not a fan of current social media sites, he uses LinkedIn for business and has an account on Instagram to stay in touch with his fans. His ultimate goal for social media is "to communicate and make money. I want an app that can show the whole image and will pay me for posts." Thinking like that just might one day make Nefesogullari and Selfin household names.
This post was created by a member of BuzzFeed Community, where anyone can post awesome lists and creations.
Learn more
or
post your buzz!