In cross-country skiing, you propel yourself across the snow using skis and poles. Cross-country skiing is an "original" Winter Olympic sport: the first Winter Games featured two medal events, including the grueling 50-km marathon.
The relay races are wonderful. In Sochi, Sweden became the first country to win both cross-country relays in the same Olympics since the Soviet Union in 1972.
In the men's relay (4 x 10 km) on Sunday, the Swedes dominated throughout the race, leaving Marcus Hellner enough time to wave his country's flag as he cruised ahead of Russia's Maxim Vylegzhanin and France's Ivan Perrillat Boiteux. It was France's first-ever men's relay medal, and Russia's silver means their 26-year relay drought is over. Russia's silver medal rested on the Alexander Legkov's mighty shoulders: the skier turned a monstrous performance gaining nearly 30 seconds on the Swedish leader and putting Russia in second place during the relay's third leg.
In the women's race (4 x 5 km) on Saturday, Charlotte Kalla erased a 25-second deficit on the final leg and won a three-way sprint at the finish line. The Swedish women's relay team made this list -- but in the end, it's all about Italy vs Norway in the 1990s.
7.
Turin 2006: Germany wins silver by 1 sec
6.
Vancouver 2010: Norway takes silver by .6 sec
5.
Turin 2006: Germany wins silver by .3 sec
4.
Sochi 2014: Sweden, Finland, & Germany put on a show
3.
2002 Salt Lake City: Italy vs Norway Part III, .3 sec
2.
1998 Nagano: Italy vs Norway Part II, .2 sec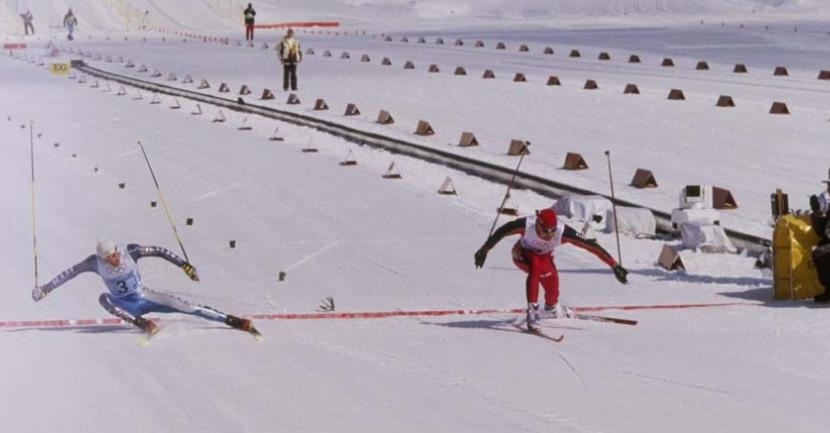 1.
1994 Lillehammer: Italy vs Norway Part I, .4 sec