No, there is no mistake in the title. On February 19, a real-deal judge sentenced a group of brutal criminals to a total of 58 years behind the bars in Moscow, Russia -- not Moscow, Vermont.
At least three gay men were killed in Russia's capital since March 2012 by Magomedkhan Megomedkhanov, Bakhmud Kaimarazov, and Magomed Magomedov. The killers, who are Russian citizens from the North Caucasus republic of Dagestan, looked for victims on dating websites catering to LGBT Russians. They arranged for "dates" at their victims' apartments, showing up to rob and kill the owners.
Russia's law enforcers deserve credit for solving this series of heinous crimes. According to the General Prosecutor's website, the perpetrators were sentenced under article 105, part 2 (murder of more than two individuals committed by an organized group), article 162, part 4 (robbery with violence by an organized group with the infliction of grave injury to the victim), article 161, part 3 (robbery committed by an organized on a large scale). Additionally, Mr. Madomedkhanov was found guilty of swindling and theft.
One of the murder suspects detained in Moscow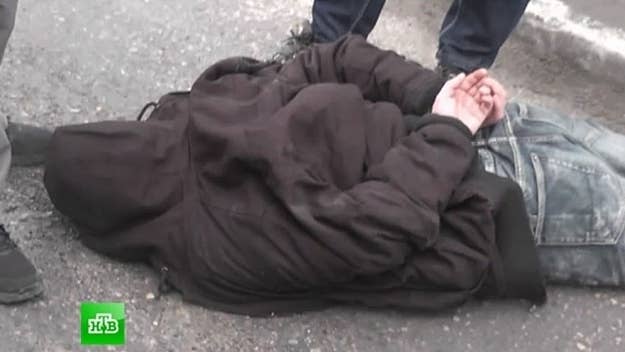 The deceased victims were men aged 27 to 38. A fourth victim survived; he was unconscious when the gang robbed his apartment. For their crimes, the gang members were sentenced to 25, 24, and 9 years in prison.
Although hate crime provisions weren't applied in this case -- and, truth be told, won't be applied in any case tried in Russia any time soon -- the punishment for the gang is severe. The murder charges do carry aggravating circumstances and were appropriately applied in this case.
Earlier in February, a court in the Far East convicted three Russian men of murdering a man in what appeared to be a homophobic hate crime: the victim, a 29-year-old the defendants believed to be gay, was beaten and stabbed to death in the Kamchatka region in May 2012.
Kamchatka is hard to get to: 4,224 mi from Moscow
Why are these cases important?
Two reasons: 1) the crimes occurred before the Russian Duma passed and Vladimir Putin signed the ban on "propaganda" of nontraditional sexual relations to minors; and 2) the Russian authorities did what they are supposed to do -- investigate, prosecute, punish.
The Russian government, like any modern state where same-sex relations are legal, is struggling with the problem of violence motivated by a sexual orientation and gender identity bias. The Moscow-based SOVA Center for Information and Analysis recorded 2 murders and 25 violent attacks on LGBT individuals in Russia in 2013. These numbers are much lower compared to ethnically motivated incidents (136 victims in '13) but growing as more LGBT people are out and willing to participate in public actions to affirm their rights. SOVA's data doesn't include the victims of the Dagestani gang, likely because the prosecutors didn't release any information about the case until the official sentencing -- a common practice that undermines the transparency of Russia's criminal justice system, but that's a whole other story.
The passage of the infamous "propaganda" law created new obstacles for the ability of Russian gays and lesbians to exercise their freedom of speech, assembly, and association. Yet queer communities are able to fight for their rights in courts while the "propaganda" law has little impact on the daily lives of Russia's LGBT people. Nikolai Alekseyev, who was fined under the federal anti-"propaganda" bill has already promised to file a legal complaint with the European Court, where he had achieved a key victory in Alekseyev v. Russia when the Court found Russia guilty of violating Article 11 (freedom of assembly), Article 13 (effective remedy), and Article 14 (prohibition of discrimination).
The "propaganda" law challenged
In another major victory, a regional court in Ryazan overturned an administrative fine for "propaganda" of homosexuality against rights activist Irina Fedotova in October 2013. Ryazan was the first region to adopt a "propaganda" law, which was used against Ms. Fedotova in 2009 when she stood with a sign in front of a school and a children's library. The activist took her case to the U.N. Human Rights Committee, which ruled in her favor pointing to Russia's undermining of the International Covenant on Civil and Political Rights by violating Ms. Fedotova's right to free expression and protection from discrimination.
Irina Fedotova was fined & un-fined for this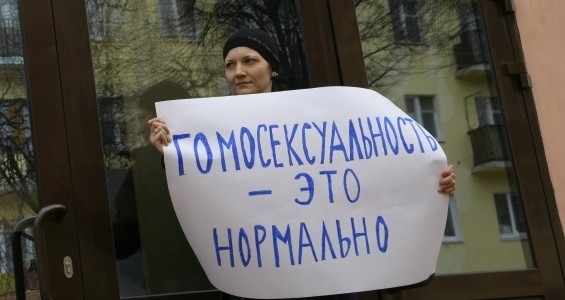 The court in Ryazan didn't have to overturn the initial verdict and its decision doesn't nullify either Ryazan's regional or the federal bans on "propaganda." Similarly, Nikolai Alekseyev's applications for a Pride Parade in Moscow continue to be denied despite the ECHR ruling. But it's significant that a Russian court accepted the Human Rights Committee's logic and ordered a fine to be reimbursed to an LGBT activist.
Mr. Alekseyev's street actions made him famous, his social media outbursts threatened to turn him into a pariah, but it's his court struggles that remain the backbone to the activist's ability to get his country to think and talk about LGBT rights.
As long as the Russian government protects its people when they become victims "in the streets," you can count on the Russian LGBT community to advance its struggle on the ground it's comfortable with -- the legal ground.
It works like this: you pay the fine first,
then you take them to court. Then you win.
The Russian tweet reads, "Now the 'propaganda' case will go to the Russian Constitutional Court and the European Court of Human Rights. And believe me, the Russian treasury will end up paying me much more."
The guilty verdicts in Moscow and Kamchatka show that Russia can live up to its obligation to investigate and prosecute attacks against people no matter who they are. This was acknowledged by Russia on the international level last year, when the Russian government agreed to "take all necessary measures to prevent violence and intolerance of a racist, xenophobia and homophobic character in conformity with international law and standard" during the country's Universal Periodic Review at the U.N. Human Rights Council.
The main problem with homophobic violence in Russia is that it's oft-ignored by law enforcement authorities who do a poor job in investigating and prosecuting such attacks. With the cases in Kamchatka and Moscow we see that the government can be serious about addressing acts of homophobic violence. As SOVA's decade-long data collection efforts show, Russia was able to make progress in addressing racist violence since the peak of such incidents in 2008 thanks to a much stronger law-enforcement response; one hopes the country is capable of doing the same to stem homophobic attacks--while investing more in efforts to stem all crime.
With or without "propaganda" laws, anything is possible in Russia