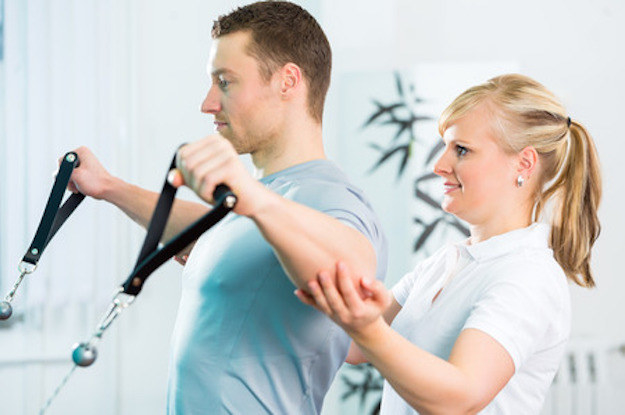 7 Things You Didn't Know About Physical Therapists
Physical Therapists, or PTs help people regain their mobility either after an injury, surgery, or major illness. Usually, the PT works to remove barriers to one's mobility with the help from other healthcare providers to reach a patient's goal as quickly and smoothly as possible. However, many people follow basic misconceptions about PTs that prevent them from wanting to become one or see one for treatment. Below, are the top seven things you didn't know about physical therapists, to help debunk the myths about this profession.
1. Personal Therapist Training has Gotten Harder
Nowadays, physical therapists have to pass a medical board exam before being able to treat patients in the field. Before, a bachelor's degree was enough for most PT jobs, but now, most jobs demand a three-year Doctorate of Physical Therapy for entry-level positions.
2. They Work With People of All Ages
People often assume that physical therapists only work with the elderly. However, in truth, physical therapists work with patients of all ages, from babies to seniors. This is because no matter what age you may be, you're bound to experience some sort of mobility challenges that a physical therapist will need to help you through.
3. They Work in a Variety of Settings
Often enough, physical therapists are assumed to work at facilities with exercise machines, traction tables, and other such equipment. However, physical therapists are very different from sports therapists and can be found in cardiac rehab facilities, hospitals, and outpatient clinics. Fortunately, physical therapists can be found nearly anywhere, from schools to emergency rooms. Not to mention, a lot of physical therapists work in nursing homes because older people require more assistance to prevent further injuries due to their aging bodies.
4. Pain Doesn't Mean Gain
Pain levels vary from patient to patient and case to case. In certain situations, like a patient with a frozen shoulder, they may feel pain during the treatment. However, in most cases, pain is not common and should not be expected. Positions and movements that cause pain to the patient should be avoided by the therapist.
5. Chronic Health Conditions
As a physical therapist, you will work with all sorts of people. A portion of the people who visit physical therapists is there to receive treatment for chronic health conditions. So many people in the country experience chronic ailments that have a direct impact on their day to day life. Two of the most common chronic health problems include arthritis and vertigo. People who suffer from these conditions and others can benefit a lot from regular trips to the physical therapist. In fact, some patients with vertigo say that they only need one session with a physical therapist to completely treat their condition. These people no longer must live with constant dizziness when they move, all thanks to the work of physical therapists.
6. Job Outlook is Bright
The need for people in the field of physical therapy is only growing. Those already in the field continue to thrive and grow as the number of people who need the services of physical therapists continues to remain high. Physical therapy is useful and often necessary for those suffering from all kinds of injuries and ailments. In fact, this kind of treatment can play a huge role in the rehabilitation process. Physical therapists are always needed and will be for a long time to come.
7. Home Care is Essential
Home programs are created by physical therapists to meet the specific needs of each and every patient. These programs play an important role in the rehabilitation process. However, many patients do not see these programs as essential and they fail to complete their at-home exercises. Unfortunately, when this happens, they may be back in the physical therapist's office sooner than expected. As a physical therapist, it is your job to stress the importance of the at-home exercise programs.
Physical therapy is a unique field that we encourage anyone to become a part of. Don't let rumors discourage you from looking for physical therapist jobs. Hopefully, with the help of this article, you'll be able to learn more about physical therapists and appreciate the hard work they do.
This post was created by a member of BuzzFeed Community, where anyone can post awesome lists and creations.
Learn more
or
post your buzz!