Sasha Pesic, a true hero.
In Serbia, there is a lot of stray dogs, for many reasons. First of all, spaying and neutering are expensive and people don't have money to do it. With an average salary of 336 Euros (364 US dollars) it is almost impossible to think about sterilizing your dog when it costs almost 100 Euros.
Secondly, in small towns and villages, people don't walk their dogs. Most of them -particulary small dogs- are free, not even tied to a doghouse, making it hard to resist the tentation to find a partner and, well, reproduce.
Finally, just like in many other countries around the world, people abandon their pets because it is too hard to take care of them, feeding them is too expensive and because of many other stupid reasons. Animals should never be abandoned, they deserve better and it seems that they found their guardian angel in the person of Sasha Pesic.
Sasha Pesic is 45 years old and umemployed, he lives in Nis, 220km south of Belgrade, and he dedicated all of his time and energy to his dogs. In 2008, he found four puppies in the forest next to his house and decided to keep them. He didn't know it, but it was the beginning of an amazing story.
"I know each of them, their stories, their personalities, when and how they arrived", says Sasha as he's rubbing a dog's belly.
In 2010, with the support of the former owner, he converted the old equestrian center into a temporary shelter. As he enters the shelter, about a hundred of dogs are coming to welcome him.
"Every single dog has been sterilized and has a microchip. In the evening, we put the dogs in the horse's stalls where they can be safe while they're sleeping. They are happy", adds Sasha.
In the beginning, he obtained his supplies from bakers and butchers, but quickly that turned out to be insufficient, there were too many dogs and not enough food for them. It costs between 5'000 and 6'000 Euros per months to feed the 450 dogs.
"We received a lot of donations, thanks to social medias. People from all around the world are moved by our story and they're helping us."
Sasha is not alone, he's helped by six volunteers and Ana Mitrovic, 35 years old, is one of them.
"I really hope that the town council will help us to find a new and better place", she says.
Sasha had a few problem with the local authorities, they claimed the equestrian center belonged to them and that Sasha had to leave it. But it's all over now, the town council supports his work and together they are trying to find a new and better place for the dogs.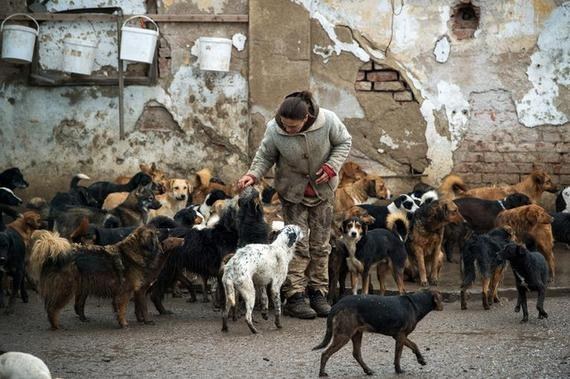 "What Sasha does is amazing, we're supporting him and, of course, we don't want those dogs to end up in the streets again, it would be a disaster", says Jovan Stojkovic, the town councillor.
"I spend my whole day with the dogs, sometimes I don't have the time to eat or to have a personal life. It's an everyday battle, we must provide the medical care to the dogs and make sure they have enough food", says Sasha.
And like every fairytale, this story has a happy ending.
"Since the opening, 250 dogs have been adopted!", says Ana with a great smile.
Link if you want to donate to Dogs of Serbia: http://harmonyfund.org/news/hero-risks-life-to-save-dog-freezing-riverbank


Link to his Facebook if you want to thank him or to donate:
https://www.facebook.com/sasha.pesic.56
This post was created by a member of BuzzFeed Community, where anyone can post awesome lists and creations.
Learn more
or
post your buzz!
Looks like there are no comments yet.
Be the first to comment!